A protein and iron rich homemade baby food that introduces chickpeas alongside sweet, delicious roasted tomatoes and a hint of rosemary. This gourmet baby puree is ideal for your baby's first taste of beans. An excellent source of plant based iron for Vegetarian and vegan babies. suitable from 6 months plus.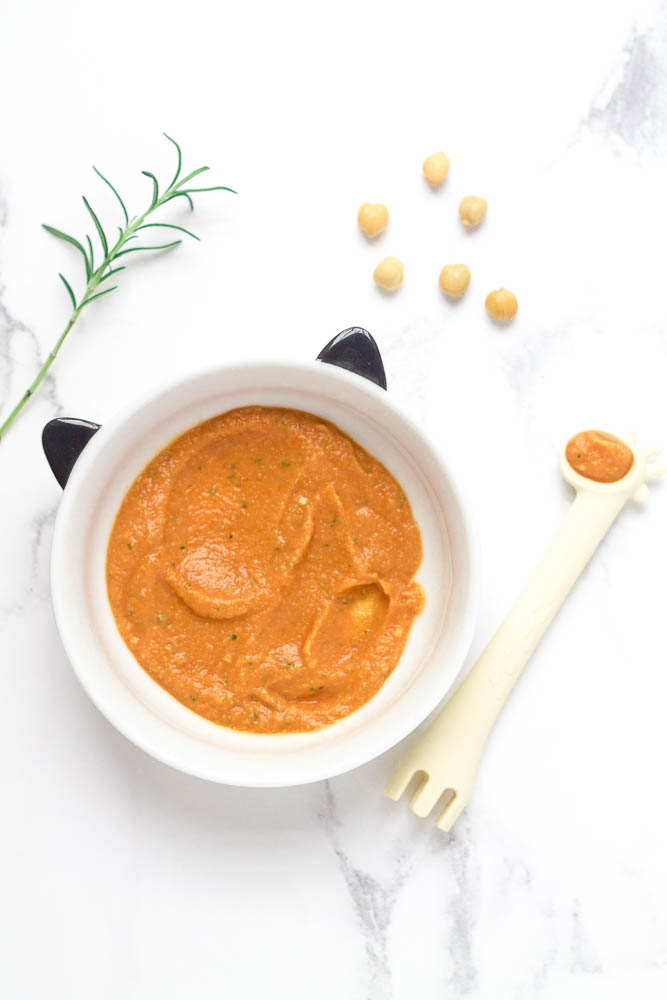 This puree is straight up delicious, and not just for your baby.
It's a little more work than some baby food recipes, and definitely more work than using one of those steamer + blender tools, but I enjoy making baby food that I find delicious myself, and that fits in with the flavor profile of how I generally cook.
Since, after all, these kiddos have 18 years of my cooking to deal with, I really need them to embrace things like chickpeas, roasted tomatoes and herbs.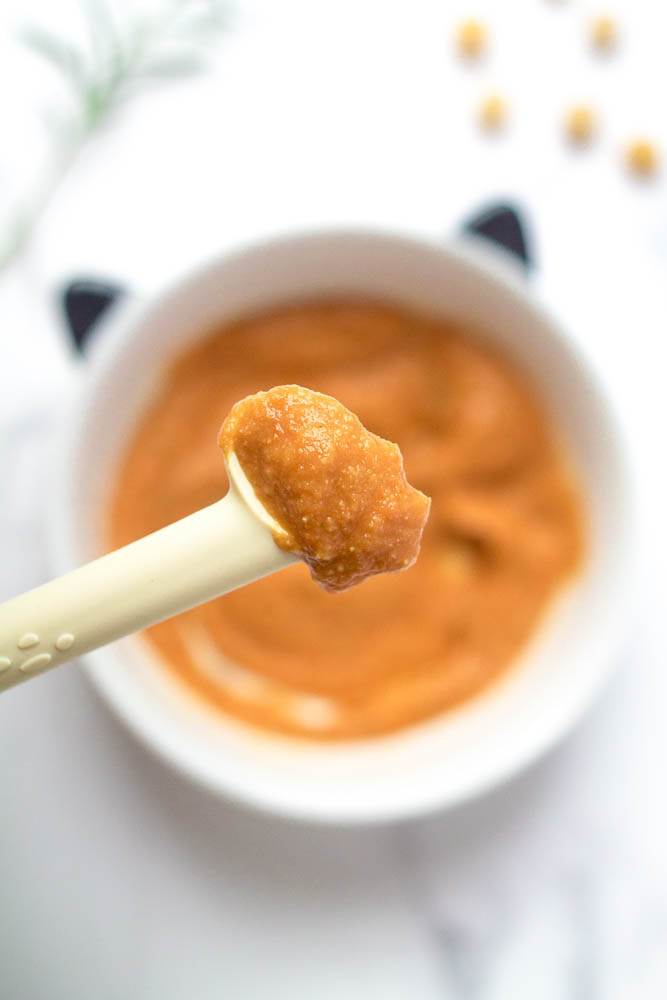 Chickpeas make this baby food Iron Rich
Iron is an important nutrient to include in your baby's first tastes, because it's the first thing milk stops being able to completely meet their needs for. Especially for those exclusively breastfed.
It's generally accepted that this will happen from around the 6 month mark, so it makes sense to prioritize iron from the get-go.
If you don't eat meat, or don't wish to introduce meat yet, there are plenty of plant based iron sources to look to. In this case… chickpeas, aka garbanzo beans.
Chickpeas, like all beans and legumes, can be an excellent source of iron. Though it's important to pair with a source of Vitamin C to ensure that the body absorbs the iron properly. Enter the roasted tomatoes!
Adding Tomatoes to Baby Food
This is an ideal recipe to introduce tomatoes. Roasting them draws out the natural sweetness and it helps to balance out the earthier chickpea and rosemary tastes to make it extra palatable.
The end result is a creamy texture, so not too acidic for small tummies. Though if your baby suffers from reflux I would probably avoid tomatoes until it passes.
How to make it
There is a printable recipe card below, but I will give you a visual run down first so you can see what you're signing up to!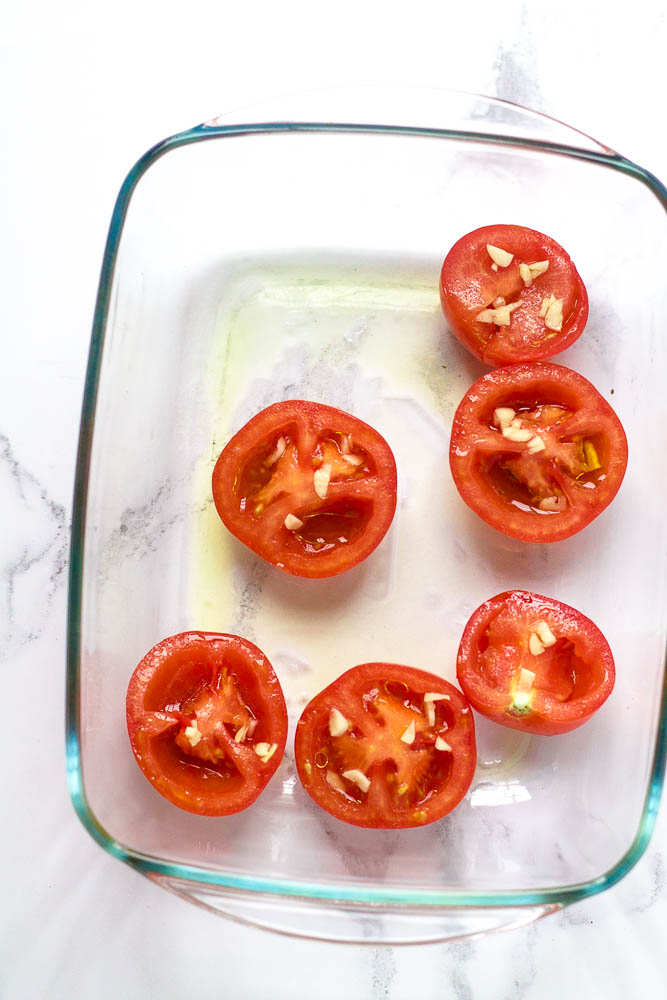 Tomatoes! You're going to scoop out the seeds, scatter with garlic and then roast them in the oven.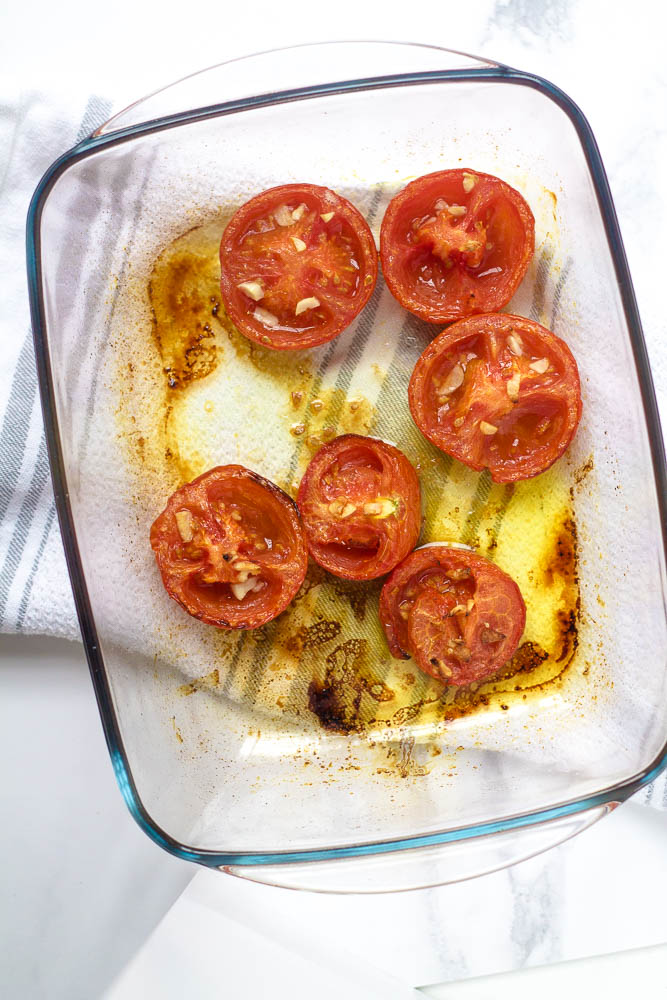 'Til they are roasty toasty.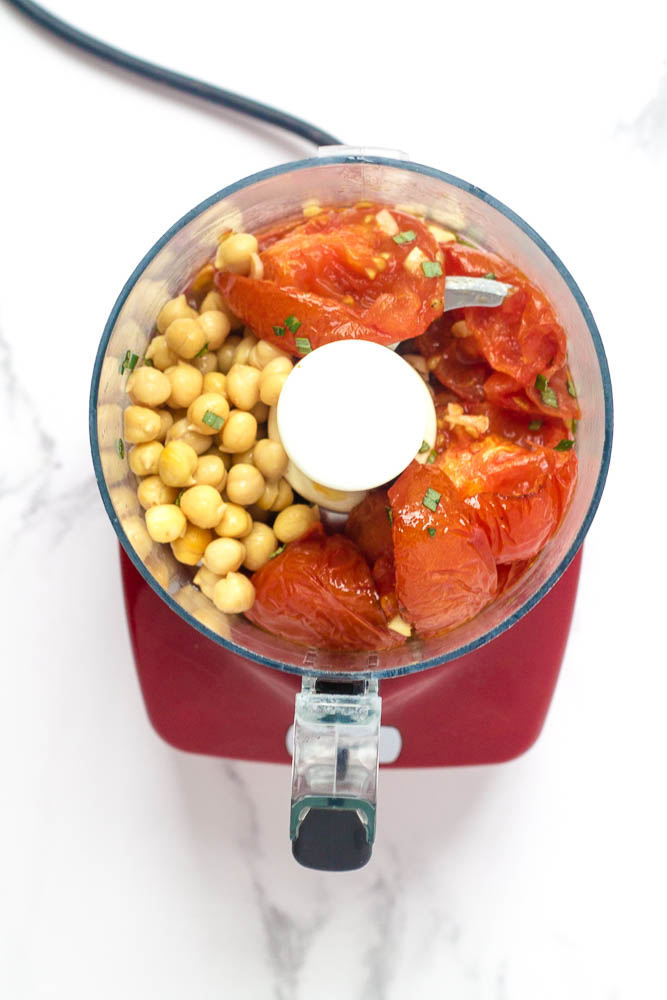 You will then blend them in your blender with some chickpeas and rosemary. Ideally, you'll have popped the skins off the chickpeas to keep the texture as silky smooth as possible.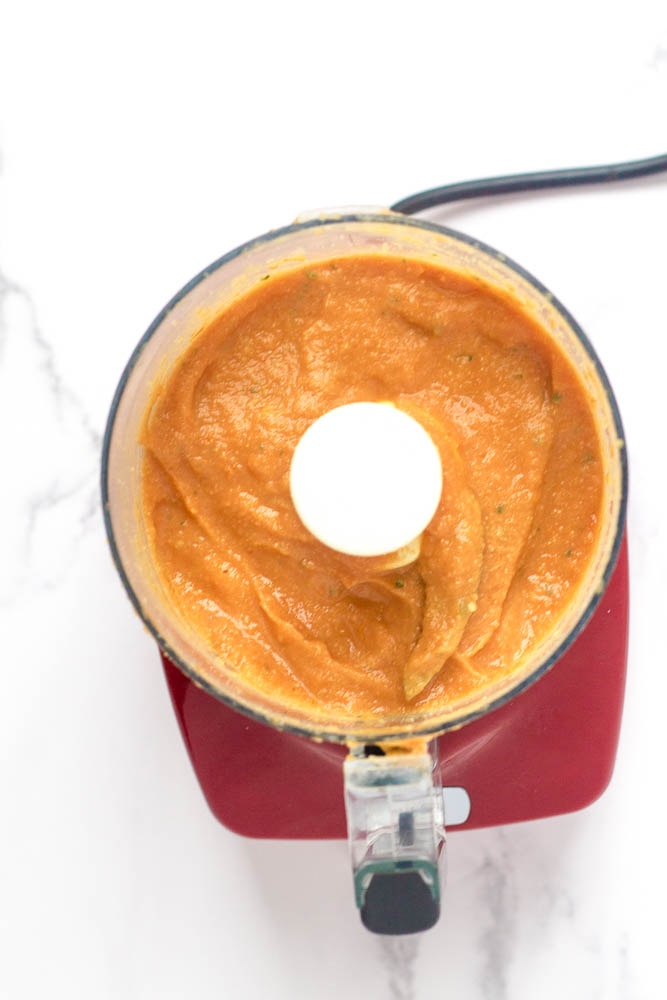 Yum! See how smooth and creamy that looks?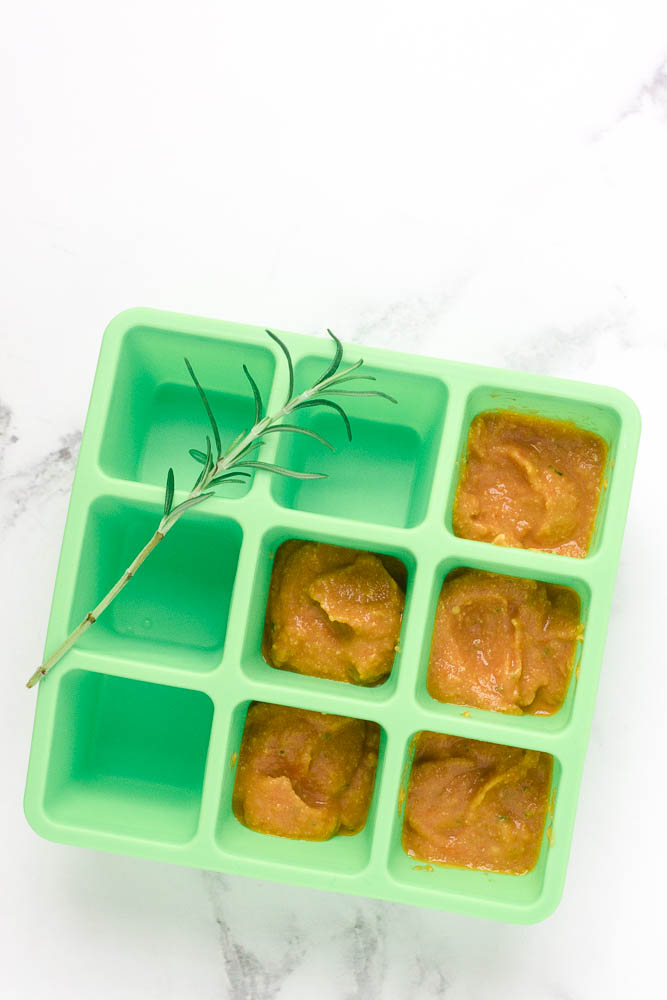 This puree is suitable from 6 months PLUS
You can introduce this puree from 6 months of age. I'd just start with small doses if it's their first taste of beans to see how their tummy manages.
If you're following a specific food introduction plan, you'll want to check with that first on where chickpeas and tomatoes come in.
I aimed to make this puree as smooth as possible, which is why I de-seed the tomatoes and skin the chickpeas. Nevertheless, unless you're using a Vitamix or other professional blender, it's not going to have the silky smooth finish that you get with ingredients like sweet potatoes or avocado. There's a very slight graininess to it.
That is something to bear in mind if your baby has texture issues. My daughter would have struggled, but my son was more than fine (and it was one of the very first purees he tried).
For older babies, you could make this a little more chunky and not worry so much about taking the skins off the chickpeas or scooping the seeds from the tomatoes if you know your baby is cool with more texture.
Freezer Friendly
You can freeze this puree for up to 6 months. Once you're past the puree stage, the leftovers would make a great pasta sauce or dip!