Baked potatoes stuffed with a vegetarian lentil taco filling and all your favorite toppings! A healthy, fun meal that the entire family will love. Canned lentils make for a fast and easy vegetarian baked potato filling which brings lots of protein to the table.
This Taco Baked Potato recipe has been years in the making. My entire adult life, in fact.
The first recipe I ever put together from my own twisted imagination. I am not sure how I've never shared it here before.
The earlier version was born in my early days at university, where it became my staple meal. It was also the first meal I ever cooked for Mr. Veggie, after moving to London. I called it The Taco-tato. It was legendary.
Baked potatoes are one of those fantastic staple meals that you know will be filling, can be made to fit with any of kind of food craving, and that are easy to cook for one. So there's a good reason why they're popular with students and young people. Especially us veggies! Great vegetarian baked potato fillings are plentiful.
But even when you're older and have all the fancy kitchen stuff, sometimes a baked potato for dinner is just what the doctor ordered. And I still love to make Taco-tatoes from time to time, and Mr. Veggie is always happy to hear they're on the menu.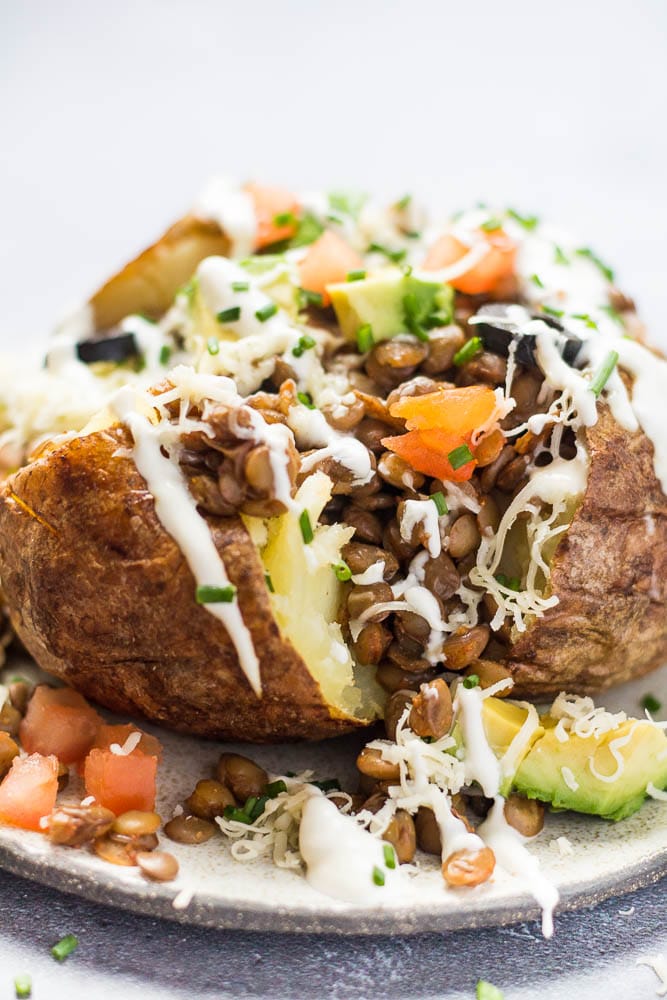 Now, what you're looking at here is not the original Taco-tato. Not quite. I grew up and it evolved.
It used to go like this: baked white potato topped with a pre packaged vegetarian ground beef substitute, cooked in taco seasoning, topped with handfuls of grated cheddar cheese and copious amounts of sour cream. Oh, it was good. But lets face it- at this point in time, no one was expecting my future to involve publishing recipes on the internet.
I am now really enjoying this version made with lentils and with more variety of toppings (because let's face it, my 36 year old self has a better stocked kitchen).
It doesn't really take any longer to put together – canned lentils are every bit as convenient as frozen vegetarian crumbles… and so much healthier. Easy win!
Using lentils as a vegetarian taco filling
This is one of my favorite ever discoveries. Draining a can of lentils and cooking them up with taco style seasonings (feel free to use a packet, or mix your own, it's all good in my book) is a really delicious way to enjoy lentils. There is just no need for expensive processed meat substitutes.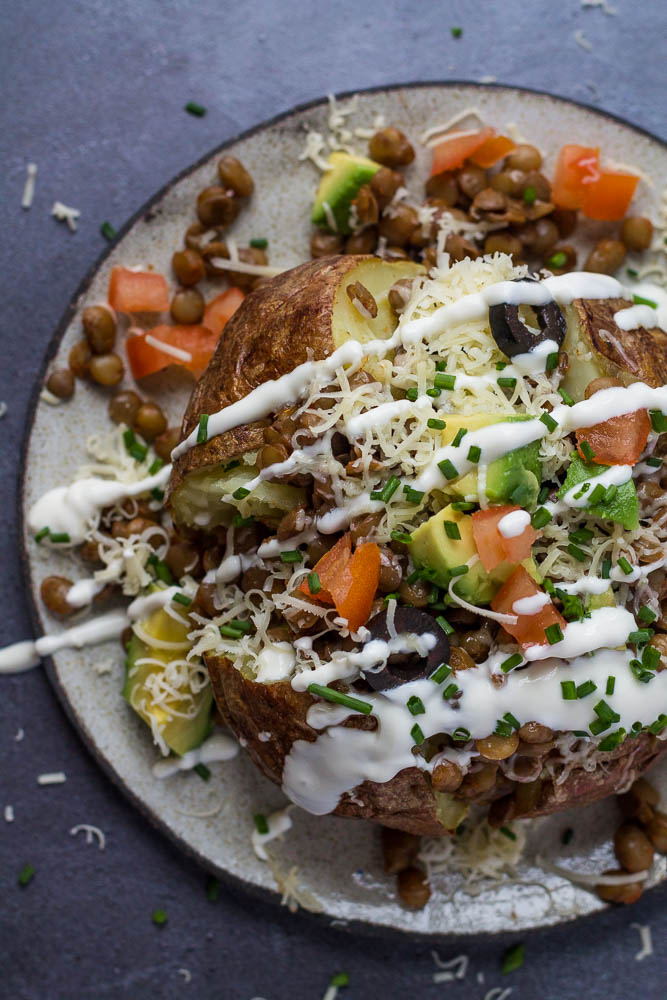 In this recipe, we use the lentil taco "meat" as a baked potato filling, but you can always use this part of the recipe to make actual tacos too. In fact, one of those taco dinner kits + a can of lentils is one of my go-to meals when we're travelling and not using our own kitchen.
By all means – if you have the time and the inclination, bulk out the filling with some veggies! I often sautee onions and mushrooms with my lentil taco filling. I was just feeling lazy today.
As an aside, if you love cooking with lentils, I do have a bunch of other recipes which use them. They are one of my favorite things.
How to assemble your Taco Baked Potato
So, I like to air fry my baked potatoes these days but you can bake them in the oven or microwave them in a pinch.
I like to cut my baked potato into quarters before piling the toppings on.
I skip the butter, since we have so much else going on, but if you can't imagine a baked potato without a layer of butter first, you should not compromise on your principles for my sake.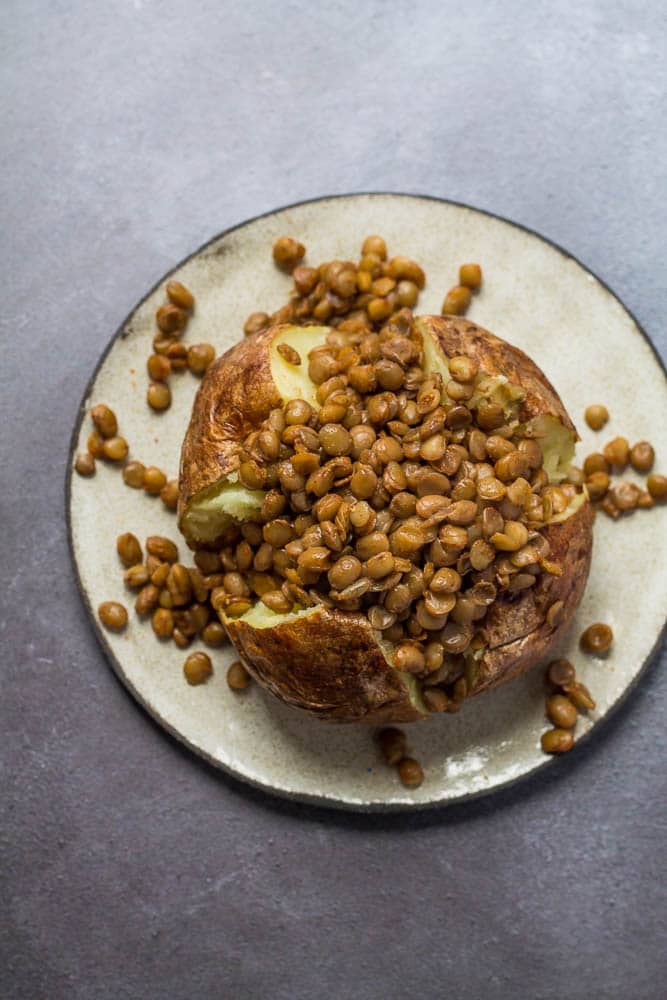 Then the lentils go on! I portion out 1/2 a can of lentils per person. It's a lot, there is loads of overspill, but this is good. You won't run out of filling before the potato is done.
Lentils are immediately followed by cheese.
And then it's sour cream, avocado, chives, sliced olives, chopped tomatoes, anything else you like. Be as creative or as lazy as you like here.
To be fair, I don't usually add such a variety if I am not taking photos of it. But today I am trying to present you my very best Taco Stuffed Potato.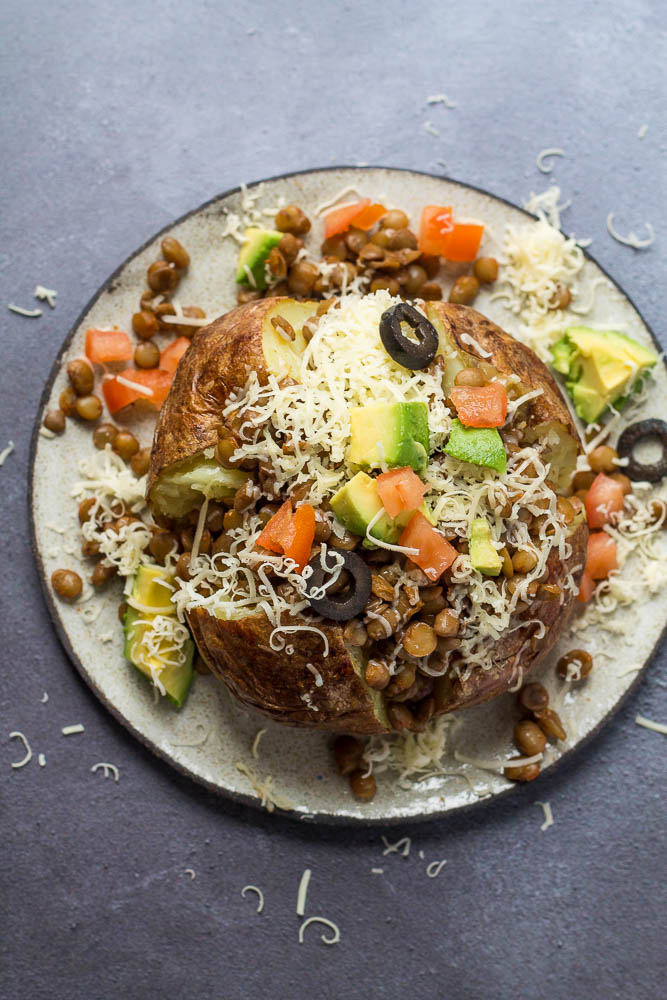 Full disclosure: I add a bunch of extra sour cream to the plate. Just on the side. I don't want to pile too much on top of the potato and cool down the filling, but I do like a lot of sour cream.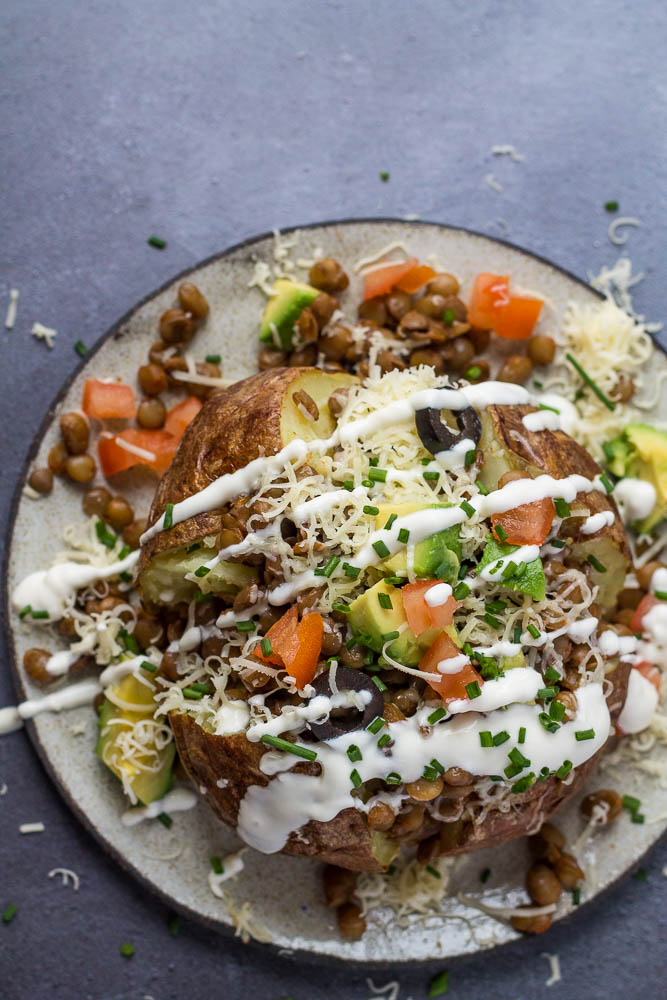 Healthier Swaps for your Taco Baked Potato
We already replaced meat with lentils so we're ahead of the game here, but I know that this is still a pretty epic load of carbs and saturated fats.
If that makes you nervous, let's see what we can do about it.
Replace the sour cream with a light greek yogurt. Easy! Add some chives to the yogurt if you want to give it a little boost.
Replace the white potato with sweet potato. Deeeeelicious, and quicker to make too.
Replace the grated cheddar with some crumbled feta. Feta is more strongly flavored, so you need less of it to make an impact.
Make it vegan. Skip the cheese and sour cream and add a big huge pile of of guacamole instead.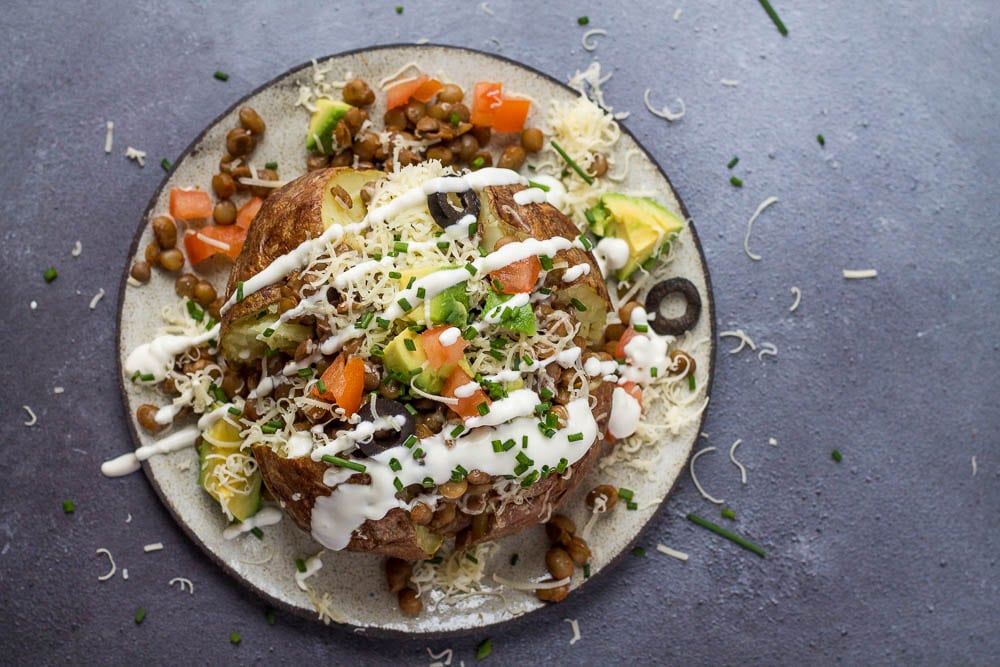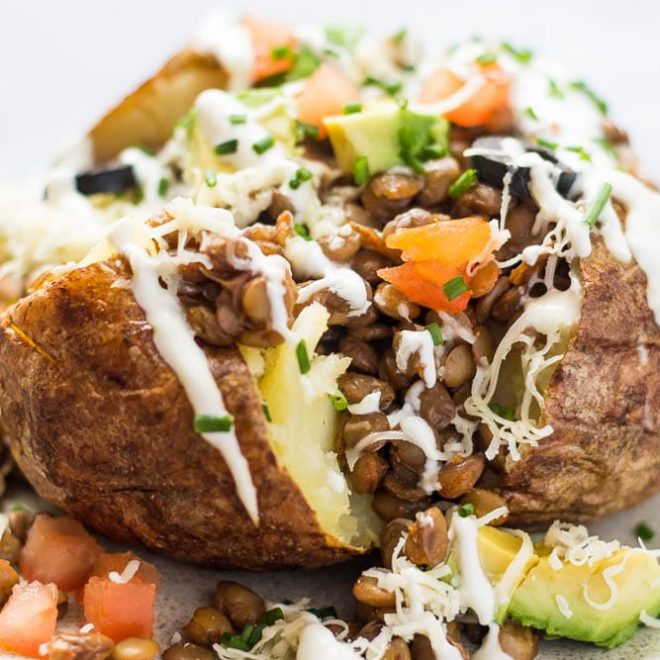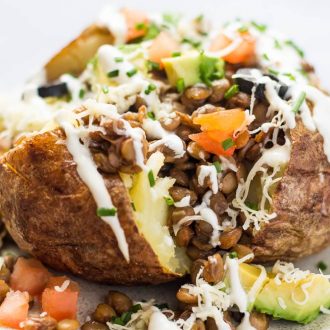 Vegetarian Taco Baked Potato
Baked potatoes stuffed with a vegetarian lentil taco filling and all your favorite toppings! A healthy, fun meal that the entire family will love. Canned lentils make for a fast and easy vegetarian baked potato filling which brings lots of protein to the table.
Ingredients
2 large baking potatoes
¼ cup (25 g) grated cheddar cheese
1 avocado, cut into small chunks
¼ cup (60 ml) sour cream
1 small tomato, deseeded and sliced
2 olives, sliced
1 Tbsp fresh chopped chives, or green onions
Lentil Taco Filling
1 can of green lentils, (15oz or 400g)
1-2 Tbsp taco or fajita seasoning
Instructions
Bake your potatoes using your preferred method. My own method is this: I piece them a few times with a knife or fork, microwave mine for 5 minutes and then put them in the oven, brushed with a little olive oil, for about 45 minutes (200C / 390F).

You can use this time to prep your toppings.

When your potatoes are about 5 minutes from being done, prepare the lentil taco filling. Saute your lentils in a frying pan with a tiny bit of oil and the taco seasoning.

When your potatoes are ready, open them up, scoop the lentils on top and then scatter with cheese, sour cream and your other toppings.
Notes
You can easily swap in canned brown lentils, or pre made lentils in pouches instead of cans. We're not picky!
Serving: 1g, Calories: 734kcal, Carbohydrates: 88g, Protein: 29g, Fat: 32g, Saturated Fat: 11g, Polyunsaturated Fat: 17g, Trans Fat: 1g, Cholesterol: 56mg, Sodium: 1166mg, Fiber: 20g, Sugar: 8g