5 Ingredient Easy Lentil Lasagne
This vegetarian lentil lasagne is the easiest lasagne you will ever make. Throw it together on a weeknight with some ready-made soup, pesto and canned lentils! No pre-cooking at all. Just layer it up and bake. This is easily made vegan using vegan soup and pesto, and replacing the cheese layer with crispy breadcrumbs or vegan parmesan!
I used to be such a food purist when I had a lot more time on my hands.
I would shun recipes that were naturally easy, always seeking a big fun challenge.My first food blog was born during this phase and this lentil lasagne would have taken 3 hours to make.
But it wasn't, and it doesn't, because noawadays I have zero qualms about taking shortcuts and that's good news if you're looking for an easy lasagne recipe.
Even though I will always love cooking from scratch, I try to be much more open minded now. I have to be, because life keeps getting busier and sometimes it's just too much effort to tackle a 2 hour recipe on a Monday night.
I realize I'm stating the obvious here.
So finding a way to surprise your family with lasagne at the end of a busy weekday is just as exciting to me now. Is there any household that doesn't consider lasagne a treat?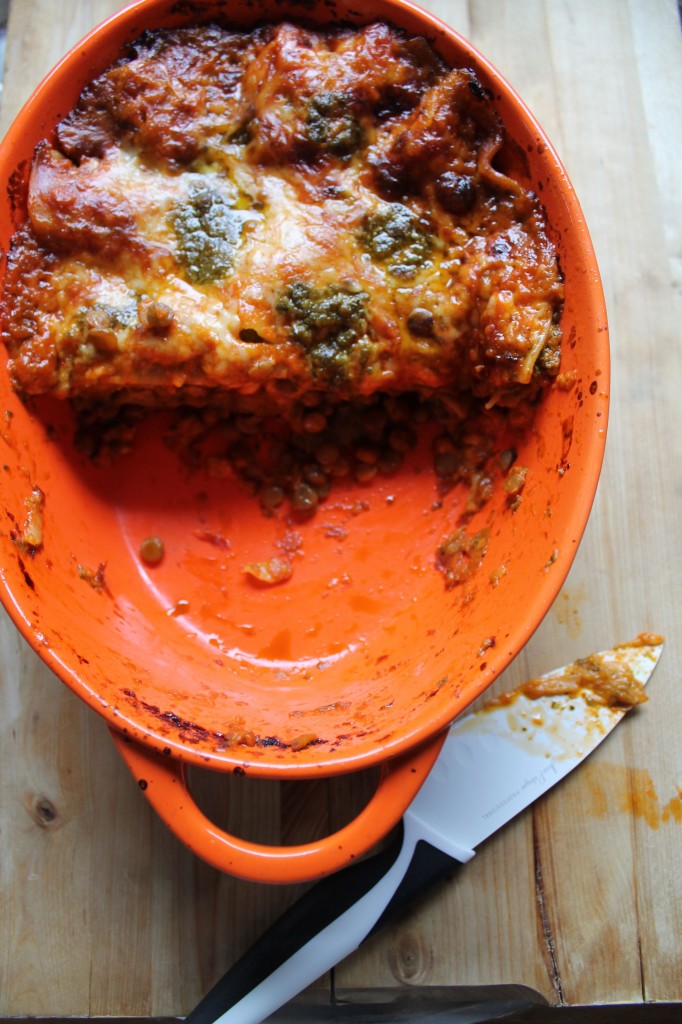 How to make the easiest lentil lasagne ever
So here it is. This lasagne is made from some convenience foods but not the predictable jarred bechamel / bolognese combo.
A fresh tomato soup and some jarred or deli pesto are much nicer, and no less convenient.
And if you're using ready made lentils, pre shredded cheese and lasagne noodles that don't require pre cooking, you won't have to prep anything at all.
You are just going to open up your packages and layer stuff up.
Best Ingredients to Make This Lentil Lasagne
I like to use Covent Garden soups (tomato and mascarpone or tomato and basil flavors both work very nicely) and ideally a fresh made pesto from the supermarket, but if using jarred, I like Sacla basil pesto.
The beauty of this recipe is that you can experiment with different soups and pesto varieties to shake things up. Try mushroom soup, wild garlic pesto, or anything else you can find that sounds good.
You can easily make it vegan by selecting a dairy free pesto and soup with no cheese on the top.
Experiment away!
Please note that this recipe serves 2-4. Double the ingredients for a larger batch!