Gnocchi with Smoky Tomato Cream Sauce
This simple gnocchi is served in a creamy roasted tomato and smoked cheese sauce for a luxurious meatless dinner. It's packed with flavor, so no one will miss the meat in this bowl of pure comfort food. Despite its gourmet taste, this is easy to make with minimal prep, perfectly achievable any night of the week with supermarket staple ingredients.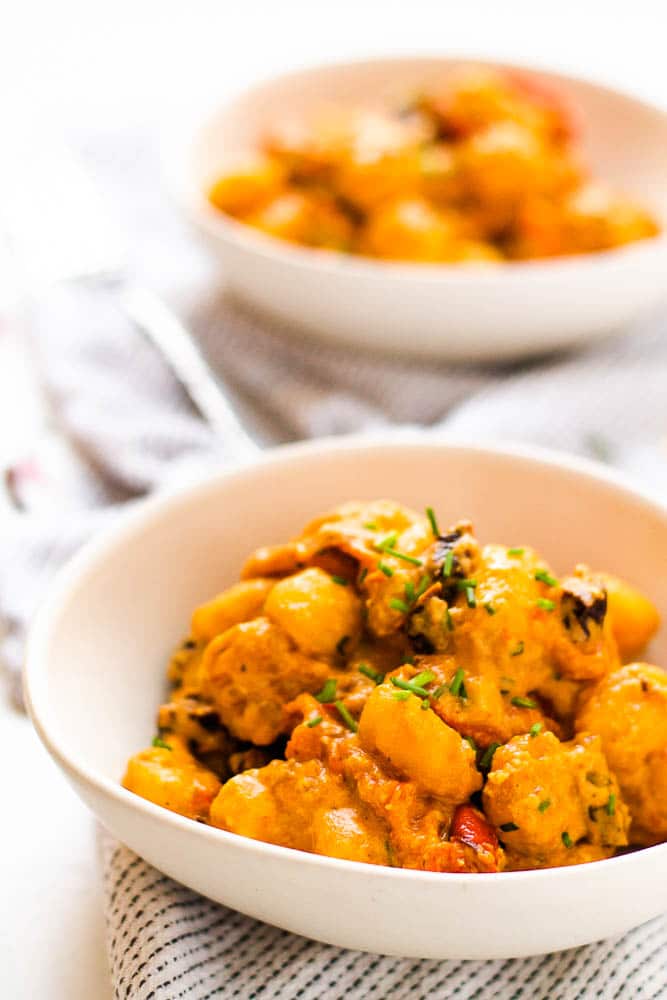 Life with a new baby is chaos at the best of times, but life with a new baby and a toddler? Yeah, my usual organized approach to meal planning went out of the window there for a while.
Packaged gnocchi and filled pasta have been keeping us alive around here, paired with any old thing we had in the fridge.
But every once in a while something genius would emerge from this system, and this was one of those dishes, because it is pretty close to perfect in my estimation.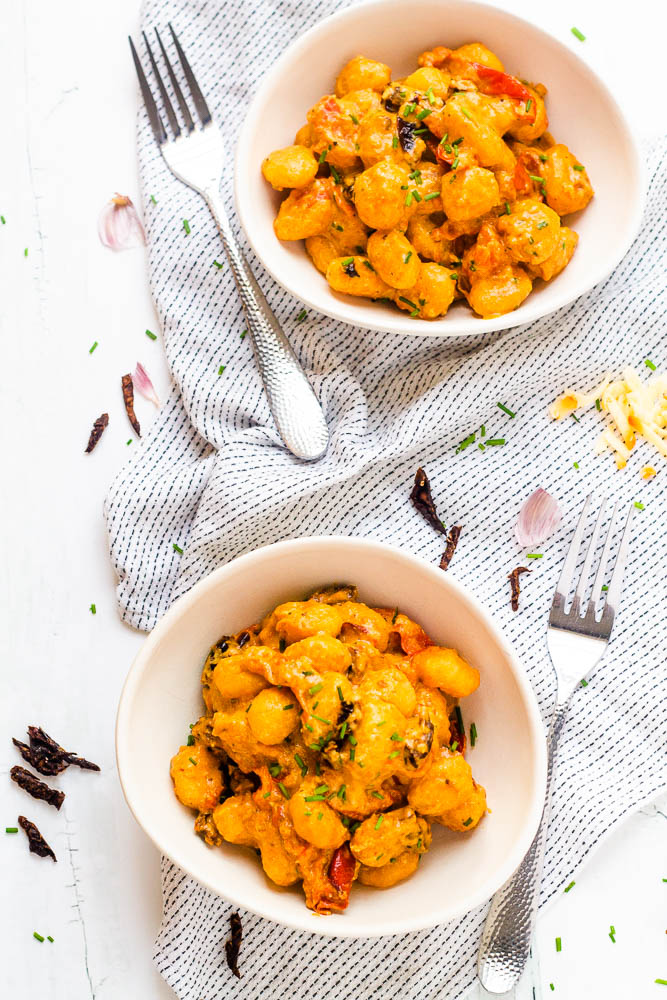 I give you crispy roasted gnocchi in a cream sauce packed with roasted tomatoes, smoked cheese and cream. There's some slices of crispy garlic, sundried tomatoes, and chives peppered through for extra flavor and texture.
Gnocchi in cream sauce can be a big bowl of mush, but by roasting our gnocchi to a golden crisp first and adding a few other textures, we get something that doesn't feel too uniform / blah / every bite's the same.
I love the smoked cheese in this, not just because I love smoked cheese in anything, but because it adds a little something extra to this dish that helps ensure our omnivore friends aren't going to think "oh, if only there were ham or bacon". See, vegetarians can do smoky too!
It works for dinner parties, date nights, or "I've had a hard day so imma bust out the cream and treat myself" kinda nights.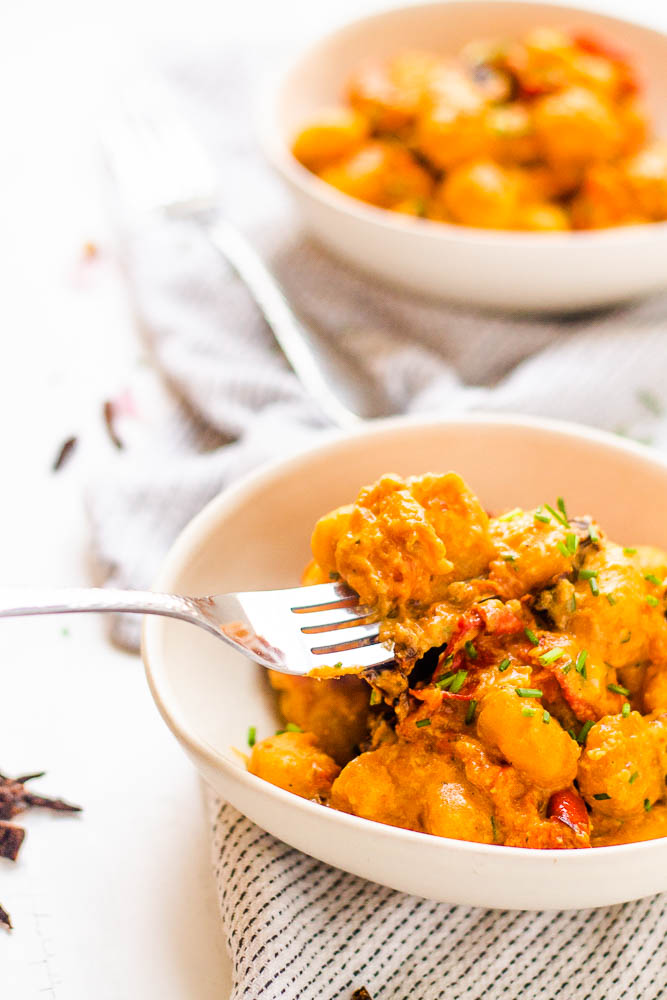 Notes for your Shopping List
This recipe doesn't have a lot of ingredients and they are all supermarket staples; in fact I can find all these ingredients at my local Aldi or Lidl which makes it cheeeeeap.
The ingredients list is in the recipe card below but I just wanted to clarify a few things:
You're just looking for dry packaged gnocchi, nothing fancy here! I used the kind that costs 60p. And it's pretty darn good.
For the smoked cheese, I am using smoked cheddar but I see no problem with swapping in a smoked gouda or even a smoked processed type cheese. A smoked mozzarella or something fancier would certainly be nice, but since you're just melting it into a sauce, it may not be the best use of your money to get too fancy with this. If you can't find smoked cheese, just use normal cheese but think about adding some smoked paprika or liquid smoke when you're roasting the tomatoes.
You can use dried or jarred sundried tomatoes. If you use the dried ones, just rehydrate them in boiling water for a few minutes. If you use the ones jarred in oil, you may want to rinse off the oil first. Or not. Depends if you like all the flavors they're soaking in?
I love chives in this recipe but I see no reason not to add other herbs such as basil or parsley if you have them hanging around.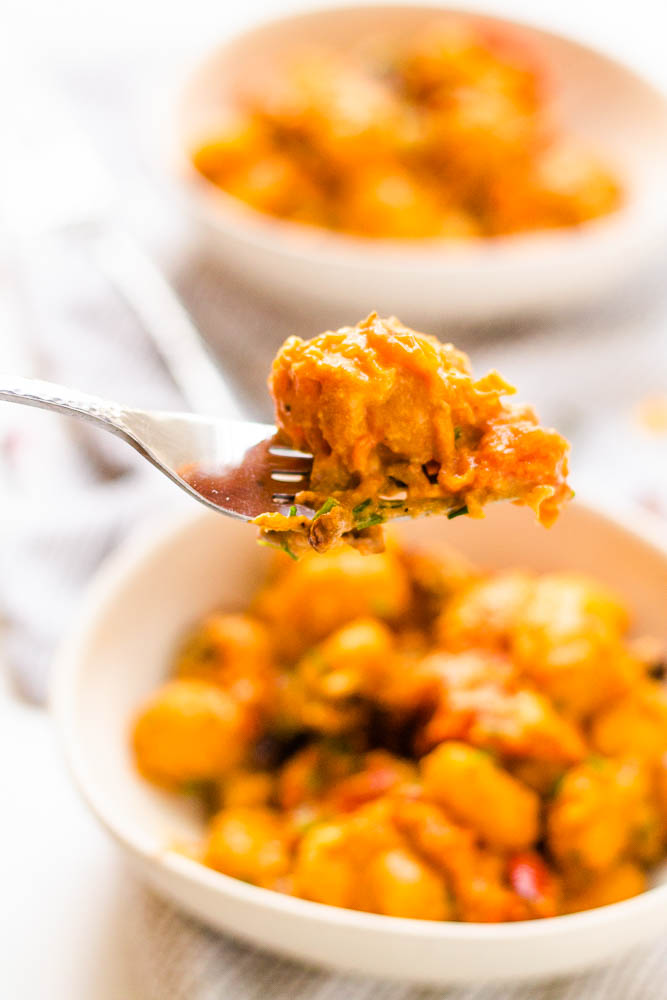 How to make it
While it feels a little fancy, it's easy to make and not at all intimidating. Everything roasts in the oven!
There is, as ever, a printable recipe card down below with full instructions, but I'll just walk you through some visuals so that you can approach it with that extra bit of confidence.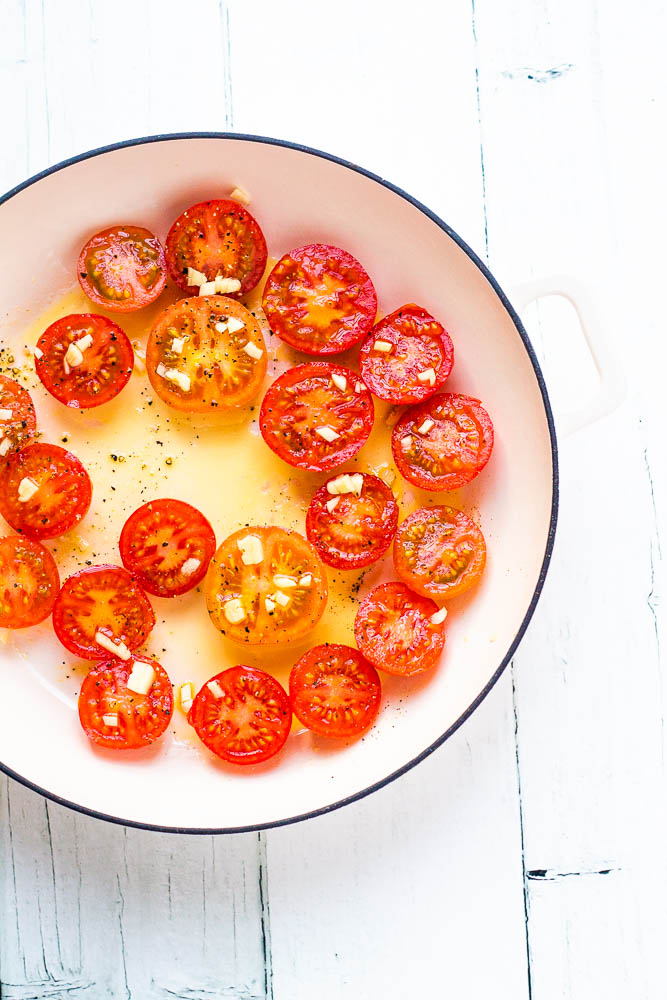 First, you're going to get your tomatoes ready. You can use cherry tomatoes, larger sliced tomatoes, or a combination of the two. I like to use a casserole dish that can go in the oven and on the stovetop (you'll see why later).
They'll roast in the oven for 40 minutes. Set the timer…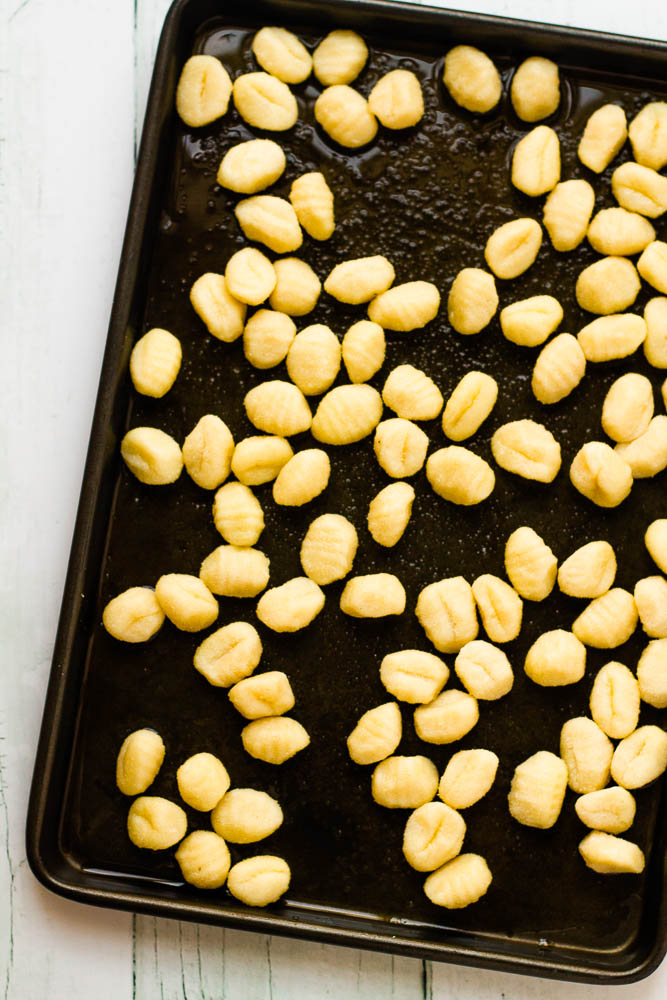 … and 15 minutes in, we'll throw in the gnocchi on another oven shelf. While everything's a'roasting, you can grate your cheese and prep the sundried tomatoes and chives.
The gnocchi and tomatoes should be ready at the same time, and you'll add that delightfully crispy gnocchi to the pan with the tomatoes.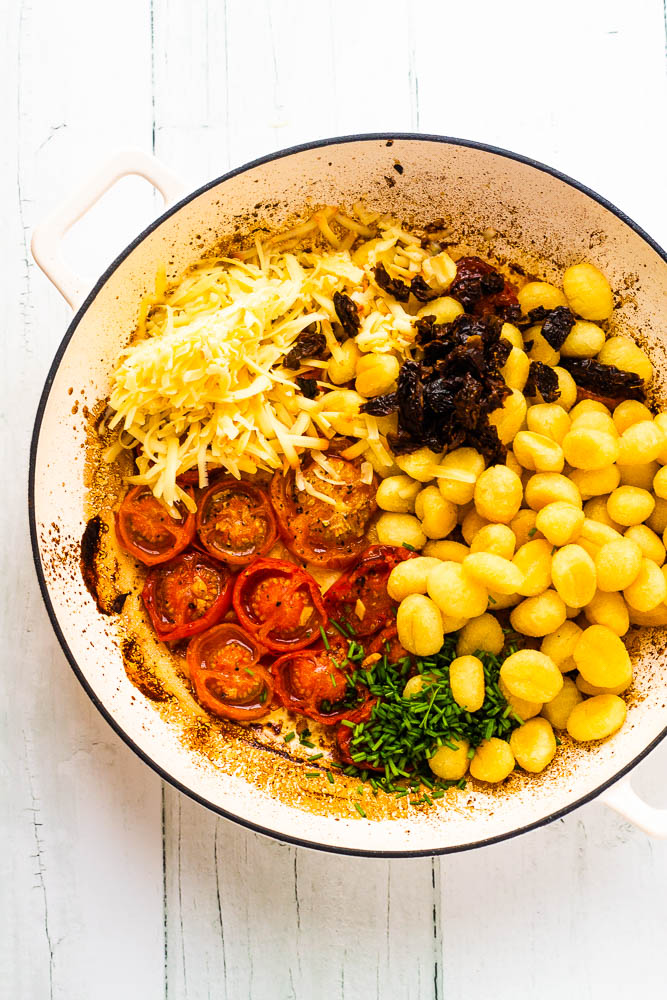 Add the cream, cheese and chives and give it a good stir.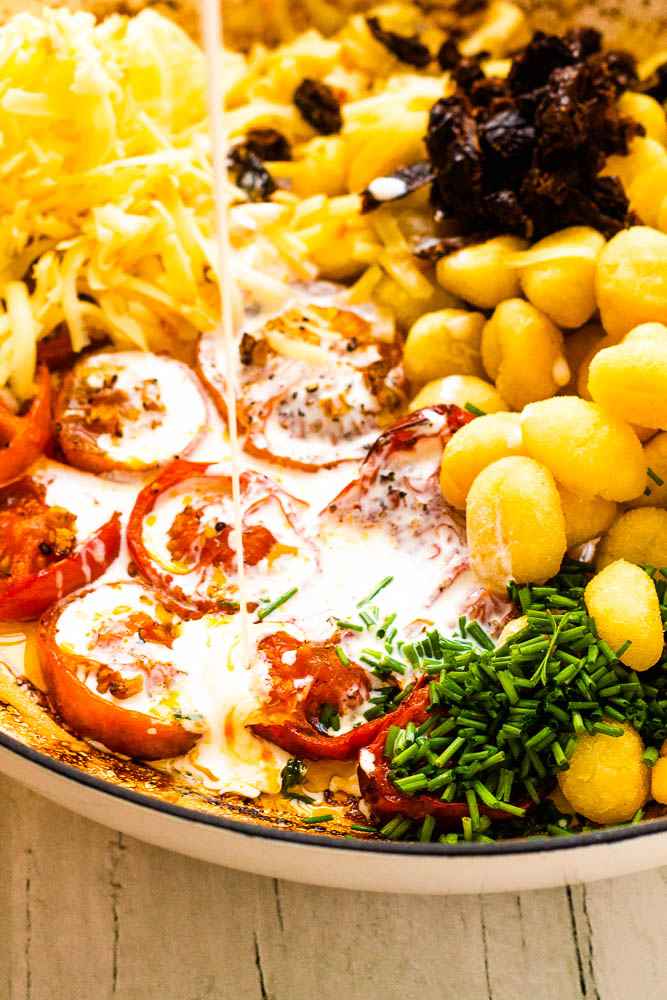 Assuming you use a casserole dish that can go on the stovetop, put it on a low heat until the cheese is all melted and a nice thick sauce has formed.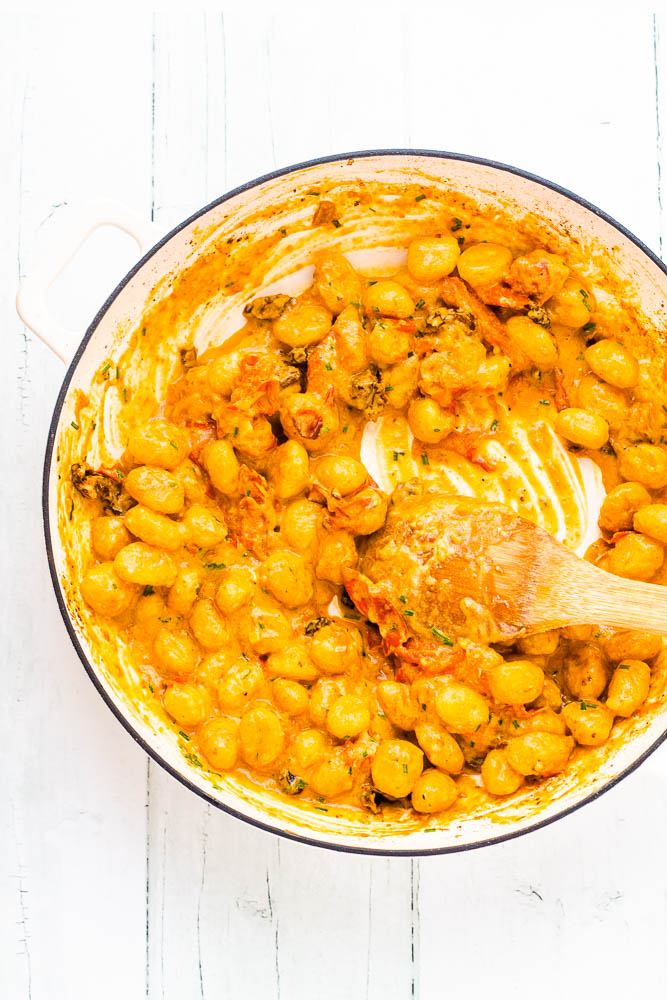 If you don't have a magical pan that can do this for you, feel free to just stir it all together and throw it back in the oven for another few minutes, and stir again. You should be ready to roll.
Dinner is served!