A delicious bowl of baby yogurt with roasted strawberries, walnuts and oats! A filling, protein packed puree for your baby or snack for your toddler.
This is one of my staple recipes for our newest Veggie Jr, and definitely his favorite so far. Lots of good stuff going on in that bowl.
The talking points, as I see them:
It's the perfect way to introduce strawberries to your baby. The strawberries are roasted which brings out their natural flavor and sweetness, and helps them to puree a little more smoothly.
It's a filling and rounded baby breakfast. We get protein from the yogurt and walnuts, calories and carbohydrates from the banana, fibre from the oats.
It's a way to introduce walnuts which are an excellent plant based source of Omega-3s.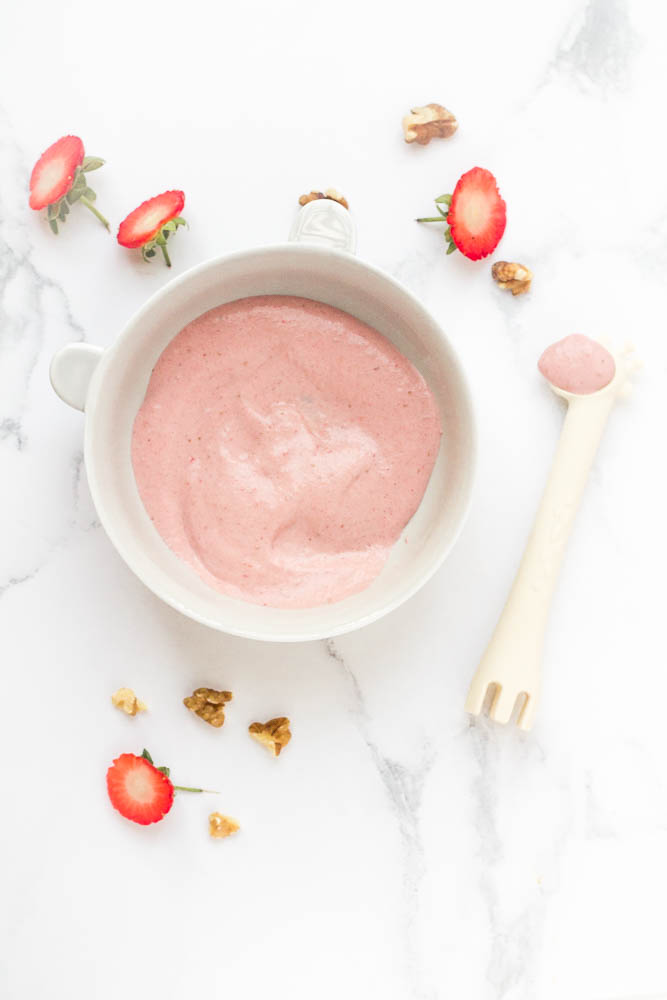 Let me answer all your questions
What age is this puree for?
This is suitable for babies 6 months plus.
What is the texture like?
Smooth, but depending on your equipment, it's may not be super duper smooth. <— Sure, that's a technical term!
Strawberries can be seedy and walnuts can be gritty (though we soak them to make them as creamy as possible) so you may have a little bit of texture going on. You're not likely to get the silky finish that you'd expect from, say, an avocado or a sweet potato.
But this should only be an issue if your baby legit hates texture.
My son was totally fine with this, but my texture-averse daughter probably would not have been.
What equipment do I need?
I suggest a quality hand blender for this one. I made it in an 800W hand blender with a jug which, for small batch recipes like baby food, gives me a smoother finish than my mini food processor where everything would just stick to the sides.
If you're using a jug blender or mini food processor, I'd scale the recipe up by a few times and make more of it so that it can puree properly.
How many servings does the recipe make?
4-8 servings, depending on the size of your storage containers. It's very filling with all those oats, so smaller containers might make sense.
Scale up as needed, but I like to make my baby food in smaller batches so that I can keep offering new things and because they won't be eating purees for all that long.
Can I freeze it?
Yes! It freezes for up to 3 months. It's a great one to pack for days out, because it can defrost en route and be eaten cold.
When it's not fully defrosted, it's a nice cold treat for teething babies.