A delicious first tomato pasta sauce for babies with tomato, veggies and extra iron! Your baby will love this first taste of tomato sauce. This recipe also works as a healthy "hidden veggie" pasta sauce for picky toddlers.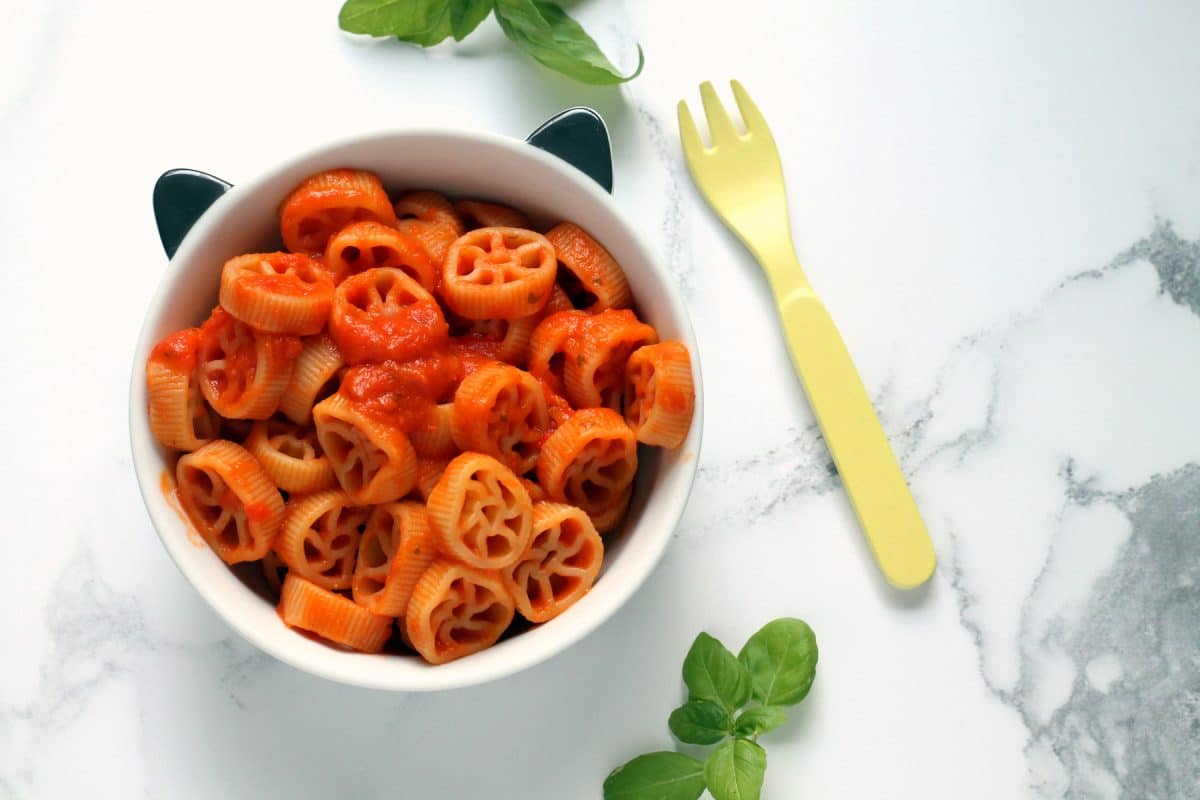 Your baby's first big bowl of spaghetti with tomato sauce – and the subsequent mess and adorable photos – is kind of a parenting rite of passage.
Here at Veggie HQ, pasta is on the menu several times each week, so we were particularly excited by the moment our little tot first tried it. We knew she would love it too. It's in her blood!
And actually, it took several tries to find the right shape for her (more on that later), but at 19 months old she is every bit as enthusiastic about pasta as we are. And unfortunately for our floor, her favorite sauce is firmly tomato sauce.
Why is this a pasta sauce for babies?
This sauce is super tasty for anyone, but I designed it around the needs of babies and toddlers, with the following in mind:
I wanted it to be salt and sugar free for the under 1's. So it's sweetened by the inclusion of red pepper and carrot.
I wanted to throw in some extra iron, because that always a good idea with first foods. So there's some pureed white beans in the sauce (with the vitamin C from that red pepper and carrot to help make sure it can be absorbed).
I wanted it to to have a fairly thick texture so it's not too slippery for babies to eat with their hands. The beans serve that purpose too.
I wanted it to be dairy free, for vegan parents or those with allergies, but still have a creamy texture (thanks again beans!)
I wanted it to be very easy to make, and it is. Just sauté the veggies, add your tomatoes and beans, simmer for a few moments and then puree it before serving. (A hand blender makes this especially easy.)
What is the best pasta shape for babies?
Fusilli is often recommended as the best pasta shape for baby led weaning / baby self feeding. It is easy to grip and suck sauce from or gum down.
But if fusilli is too chewy for your tot, I recommend angel hair / spaghettini. When chopped up, it is fine enough to be very easy to chew and pick up bite sized amounts. This was the first pasta that worked for us.
For spoon fed babies exploring texture, a shape like orzo or mini stars would be perfect.
For slightly older babies and toddlers with a pincer grasp and good biting / chewing skills, I love the pasta wheels pictured. Very easy to grip and take bites off, and they grab lots of sauce.
Variations on This Baby Pasta Sauce
While I like to use soft white beans to thicken the sauce, red or yellow lentils work well too. Add 2-3 tablespoons of dried lentils + the equivalent amount of water and cook the sauce for at least 15 minutes, until the lentils are cooked, before pureeing.
Up the calorie content of this pasta sauce with some ground almonds. Add a spoonful or two + the equivalent amount of water alongside the canned tomatoes, and they will puree nicely into the sauce.
Even More Pasta for Babies
Once your tot has learned to love pasta, they might also enjoy: