A delicious baby pasta sauce with tomato, veggies and extra iron! Your baby will love this first taste of tomato sauce. This recipe also works as a healthy "hidden veggie" pasta sauce for picky toddlers.
Your baby's first big bowl of spaghetti with tomato sauce – and the subsequent mess and adorable photos – is kind of a parenting rite of passage.
Here at Veggie HQ, pasta is on the menu several times each week, so we were particularly excited by the moment our little tot first tried it. We knew she would love it too. It's in her blood!
It took several tries to find the right shape for her (more on that later), but once she was in the groove, she became enthusiastic about pasta as we are. And unfortunately for our floor, her favorite sauce has always been tomato sauce.
Why is this a pasta sauce for babies?
This sauce is super tasty for anyone, but I designed it around the needs of babies and toddlers, with the following in mind:
I wanted it to be salt and sugar free for the under 1's. So it's sweetened by the inclusion of red pepper and carrot.
I wanted to throw in some extra iron, because that always a good idea with first foods. So there's some pureed white beans in the sauce (with the vitamin C from that red pepper and carrot to help make sure it can be absorbed).
I wanted it to to have a fairly thick texture so it's not too slippery for babies to eat with their hands. The beans serve that purpose too.
I wanted it to be dairy free, for vegan parents or those with allergies, but still have a creamy texture (thanks again beans!)
And of course, for the parent's sake, because introducing solids is a lot of work, I wanted it to be an easy to make! And it is. Just sauté the veggies, add your tomatoes and beans, simmer for a few moments and then puree it before serving. (A hand blender makes this especially easy.)
What is the best pasta shape for babies?
Spoon Feeding Babies:
For spoon fed babies exploring texture, a shape like orzo or mini stars would be perfect.
If you're making this for a spoon fed baby alongside an older sibling, spaghetti chopped very finely will work here too.
Older Babies and Toddlers:
For slightly older babies and toddlers with a pincer grasp and good biting / chewing skills, I love the pasta wheels (route) pictured. Very easy to grip and take bites off, and they grab lots of sauce.
If they're learning to use forks and spoons for the first time, I like macaroni for it's size, it is easier for them to get on a fork than something like penne, fusilli or bow ties.
Baby Led Weaning:
This sauce is perfect for baby led weaning spaghetti! The sauce is a little thicker and stickier than the usual marinara which really helps them to keep it in their hands. Chop the spaghetti and let them dive in. Have a bath ready!
That said, my daughter did better with angel hair / capellini than actual spaghetti. She had a harder time with chewing, and angel hair is much easier to chew and swallow because of how fine it is.
Fusilli is often recommended as the best pasta shape for baby led weaning / baby self feeding. It is easy to grip and suck sauce from or gum down, and it's recommended that you overcook it a little to keep it soft.
Variations on This Baby Pasta Sauce
While I like to use soft white beans to thicken the sauce, red or yellow lentils work well too. Add 2-3 tablespoons of dried lentils + the equivalent amount of water and cook the sauce for at least 15 minutes, until the lentils are cooked, before pureeing.
Up the calorie content of this pasta sauce with some ground almonds. Add a spoonful or two + the equivalent amount of water alongside the canned tomatoes, and they will puree nicely into the sauce.
More pasta ideas for babies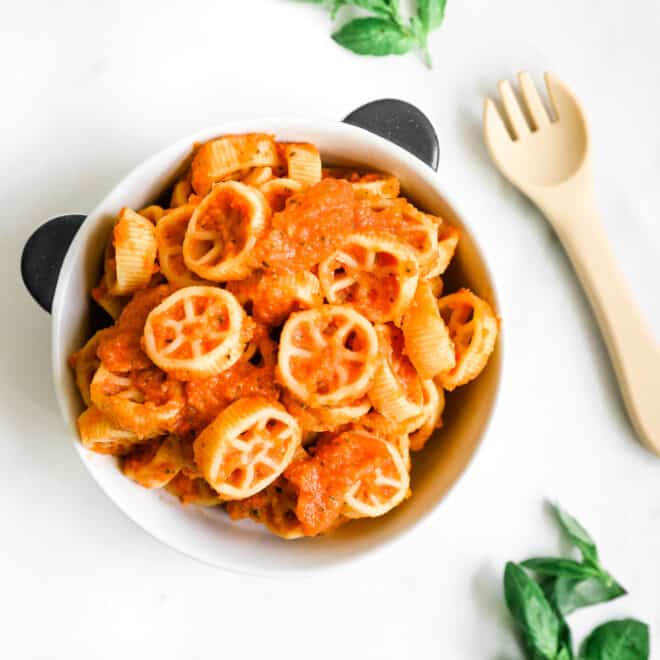 First Tomato Pasta Sauce for Babies
A delicious baby pasta sauce with tomato, veggies and extra iron! Your baby will love this first taste of tomato sauce. This recipe also works as a healthy "hidden veggie" pasta sauce for picky toddlers.
Ingredients
1 Tbsp olive oil
¼ small red pepper, chopped into small pieces
1 inch chunk of carrot, chopped into small pieces
2 cloves of garlic
¼ tsp of dried Italian herb mix
400 g (14 oz) can of chopped or whole tomatoes
4 Tbsp (¼ cup) cooked white beans, rinsed
5 fresh basil leaves
Instructions
In a small saucepan,sauté the carrots and peppers in olive oil until they have softened.

Add the garlic and herbs, and cook for another minute or two, until fragrant.

Add the tomatoes and beans. Heat until bubbling and then turn off the heat, add the basil leaves, and allow the sauce to cool down for about 5 minutes.

Puree the sauce with a hand blender or in a jug blender or food processor.

Toss into cooked pasta and serve.
Notes
This makes enough for 5 portions. Freeze in 90ml /3oz baby food containers. I used butter beans to make this sauce, but any other white bean (cannellini, haricot / great northern) should work just as well!
Calories: 52kcal, Carbohydrates: 6g, Protein: 1g, Fat: 3g, Saturated Fat: 0.4g, Polyunsaturated Fat: 0.4g, Monounsaturated Fat: 2g, Sodium: 157mg, Potassium: 200mg, Fiber: 2g, Sugar: 2g, Vitamin A: 732IU, Vitamin C: 13mg, Calcium: 31mg, Iron: 1mg
Family Pasta Dinners – when baby is ready for more texture and flavor