This salty, squeaky non melting cheese is a staple of vegetarian cooking across Europe and the world! There are several ways to prepare it – read on for full instructions and cooking tips for every method, as well as lots of recipes to help you get the most from this amazing cheese.
So you've discovered the magic of our squeaky friend halloumi and you want to eat it every. single. day.
Hi! I'm here to help. I adore halloumi, I live in a nation of halloumi lovers, and I have published several very popular halloumi recipes here.
For the uninitiated, halloumi is a Cypriot cheese made from goat's and sheep's milk, which is made in such a way that it can not melt. Somewhat like paneer, but with a saltier taste, a firmer bite and a signature "squeaky" texture.
Because it doesn't melt, it is fry-able, grill-able and oh so lovable. It makes a versatile vegetarian protein source that can do just about anything.
And it isn't complicated to prepare. Cooking with halloumi at home is incredibly easy and satisfying. You'll love it! I am going to walk you through all of the main cooking methods, each with some recipe ideas to get you excited, followed by a big troubleshooting / FAQ section. Let's go!
Where to Buy Halloumi
Halloumi is widely available across Europe and the Middle East, and is now being imported worldwide. Here is a summary of the major English speaking countries, with a guide to price (per 200-250 gram block) in local currencies:
In the UK : Pretty much any large or small supermarket, and most will have their own brands (£1.50-£2.50) as well as name brands such as Dodoni and Yamas (£3-4).
In the USA : Trader Joes, Costco and Aldi have all been known to stock halloumi. Price point starts around $4 for Aldi, up to around $8 elsewhere.
In Canada : In many supermarkets around the $6-8 mark.
Australia and New Zealand : Readily available including local budget brands ($4 range) and imports around the $8 range.
Outside of Europe, you'll find a mix of imported Cypriot halloumi and locally produced imitations. My Troubleshooting guide discusses the relevance of this in more detail.
Pan Frying Halloumi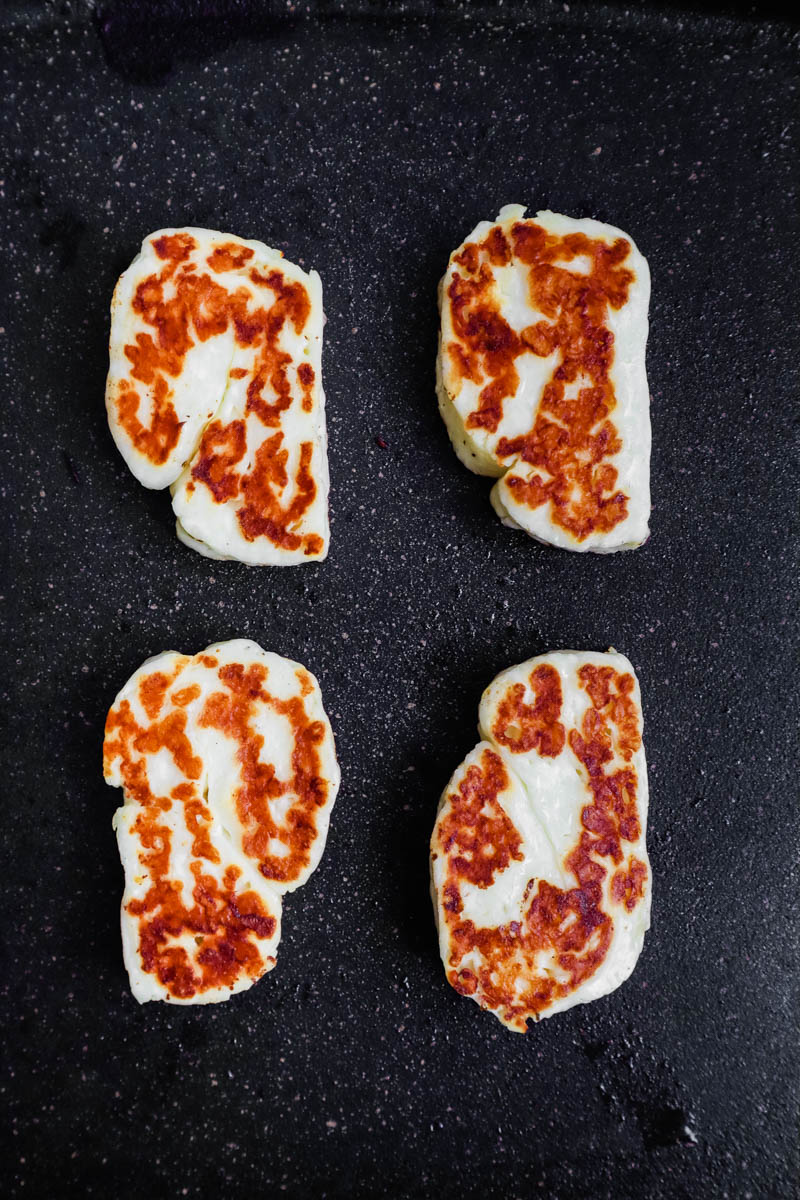 Pan frying your halloumi is the fastest and easiest way to get a crispy, golden, juicy, delicious result. You can pan fry larger slices or small cubes depending on what your recipe requires.
Simply heat up a small layer of oil in the pan, at a medium-high heat, then add the halloumi and cook for a few minutes on each side until golden. This is usually about 2 minutes on each side.
You can use anywhere from no oil (on a non stick pan) to lots of oil depending on how crispy and decadent you want the result to be.
Pan Fried Halloumi Recipes:
Grilling Halloumi in a Grill Pan
Not dissimilar to pan frying, but using a grill pan means you get grill lines! This is a nice presentation and adds some textural difference too. This works best for larger slices of halloumi.
If you're using a cast iron grill pan, pre-heat it over a medium heat for about 5 minutes before you get started.
Brush a light coating of oil over the grill pan and place your halloumi onto the grill. Cook for around 3 minutes on each side, until it's browned and the lines have clearly appeared.
You can swap out grilled halloumi instead of pan fried in any recipe. The recipe pictured is Halloumi Caesar Salad with Yogurt Dressing.
Roasting Halloumi in the Oven
You can pop sliced halloumi in the oven for 20 to 25 minutes. At 20 minutes you'll get a softer, more melty halloumi. At 25 minutes, you'll get a really brown crispy result. This is a slower route than pan frying but there are two instances where it really makes sense:
When it's part of a larger tray bake / sheet pan meal, cooking alongside other ingredients, or
When you'd like to infuse it with flavor and spice as it cooks.
The downside to roasting is that it can dry the halloumi out if you leave it in for too long, or don't add enough oil, so watch out for that.
Roasted Halloumi Recipes:
You can also bake larger slabs of halloumi at a lower temperature, for a softer, almost juicy result. This Bruschetta Halloumi uses half slabs of halloumi to take the place of chicken.
Grilling Halloumi under a Broiler / Oven Grill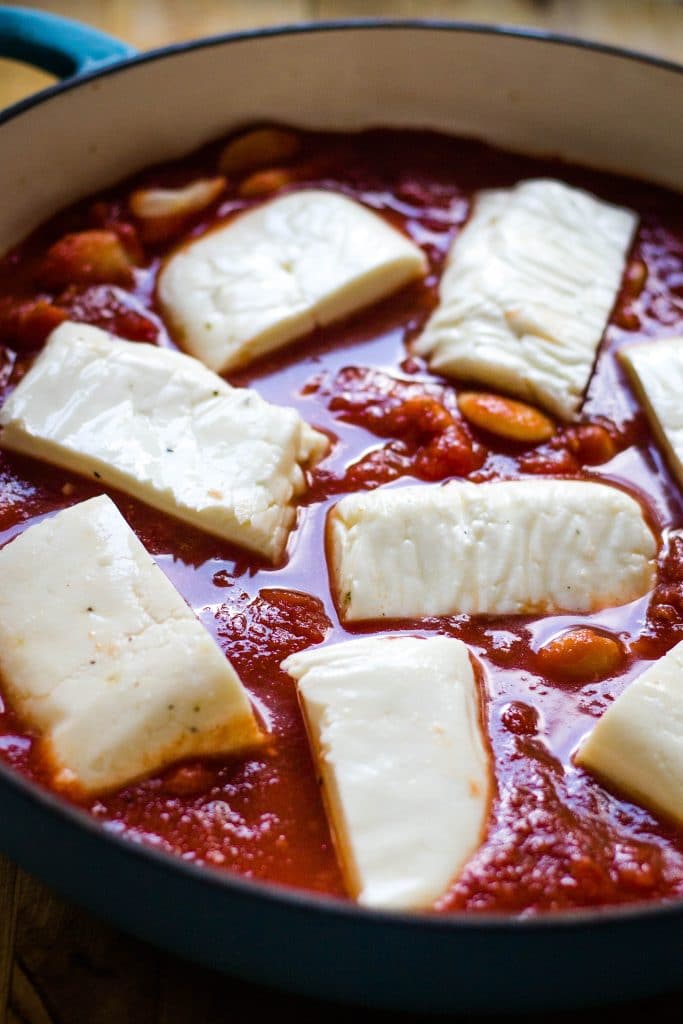 This works really well when you're cooking the halloumi as a topping for a casserole. You prepare the rest of the dish, add the halloumi, and then place under the grill / broiler to crisp it up. This gives you a perfectly browned topping, but since you're only doing it on one side, your halloumi stays moist and juicy underneath.
Grilling slices of halloumi can also work as an alternative to pan frying if you prefer not to cook with too much oil or use the stove / hob, but want a faster result than oven roasting. It is less likely to dry out than if you use the oven, but the flip side is that you have to watch it closely to make sure it doesn't burn. It should only need a few minutes on either side, but don't pay attention to the clock – just watch it closely because it goes from perfect to charred very quickly.
Broiled / Grilled Halloumi Recipes
Air Frying Halloumi
Air frying enthusiasts will love how crispy air fried halloumi can be, even with minimal (or no) oil. Air frying for 10-12 minutes at 180C / 360F will do the trick, though it depends on the size of your slices. I have a full guide to air frying halloumi right here.
Air fried halloumi slots into any recipe which calls for pan fried or grilled halloumi.
Grilling Halloumi on the Barbecue
Halloumi is a perfect option for a vegetarian alternative at a barbecue, and grills like a dream. I would suggest cutting a block into 5 or 6 slices widthways, and then a few minutes on each side should do the trick, once you see those grill marks set in.
Halloumi Burgers
Grilled halloumi makes the perfect vegetarian BBQ food! The halloumi slabs can go straight into a burger bun. You can even buy packaged halloumi burgers that are round in shape, though in my experience they have often been sliced too thinly, and dry out easily, so sense check that before buying. If you're serving halloumi burgers at your BBQ, be sure to buy extra – halloumi is so popular, the meat eaters will usually want to get involved!
Halloumi Skewers
This is a more time intensive option, but skewered halloumi is another great option for outdoor grilling. Try kebab style or lollipop style skewers.
Good to Know: Authentic Cypriot Halloumi versus Locally Produced Versions
Within the EU, "halloumi" is a protected name. Cheese can only be given this name if it was made in Cyprus AND if it adheres to the required ratios of goat's, sheep's and cow's milk.
There are "halloumi-style" and "haloumi" (with one L to side-step the name protection) cheeses on the market which do not meet these requirements, either because they're made elsewhere or use more cow's milk than a true halloumi would.
And if you are outside the EU's jurisdiction, the protection on the name "halloumi" won't apply so even cheeses with the "ll" spelling might not meet those requirements if you're in the US or Australia for example. A quick label check should tell you if it's made in Cyprus and whether it's exclusively or mostly sheep's milk.
It's worth understanding this because the imitations won't always behave the way Cypriot halloumi would, and most recipes are written assuming you're using the "real deal". Often the differences don't matter all, so it's great to keep your food miles down and support your local cheesemakers. We are not food purists around here! But it's still worth knowing because occasionally the imitations will have the wrong texture or even manage to melt.
Halloumi Cooking Troubleshooting and FAQ
My halloumi melted
So, I've had this feedback on my recipes a few times. It's frustrating when this happens to my readers because, well, the point of halloumi is not to melt! Since legitimate Cypriot halloumi can't melt / won't melt, the likely problem is that you're using an imitation which didn't follow all the rules of Cypriot halloumi making and therefore does have a melting point. (My previous section covers this in a little more detail.)
If this is what you've got to work with, it might just take a little trial and error. Try frying it more quickly at a higher heat, and maybe sealing in breading first, as if you were making fried mozzarella. Also have a look at the recipes where halloumi is cooked under the grill as a topping – it won't matter if it melts down a little.
Is it worth paying extra for the premium halloumi?
It can be. Of course, it's always worth trying the most affordable halloumi to see how you find it. But it's worth paying more if the cheaper halloumi isn't "real" halloumi and melts OR if you can afford to upgrade and have a recipe where a better halloumi can really shine.
Sometimes the cheaper halloumi is more dry and tough, and the more expensive ones can be more springy and more juicy. Strange words to describe cheese, I know! But springy and juicy are just what comes to mind when I think about some of the more upmarket halloumi I have tried. This is a worthwhile upgrade in recipes where the halloumi needs to shine (such as a simple salad) and less important in the recipes with a lot of other things going on (such as fajitas).
My halloumi is too tough / rubbery
This can happen when it's cooked for too long in the oven, so next time try a lower cook time or thicker slices. It can also happen when it's been sitting out for too long, or with reheated halloumi.
Water is coming out of my halloumi when I cook it
Typically this means your heat is too low / oil wasn't preheated enough. You want a medium-high heat. A great way to assess to whether the pan is ready for the halloumi is to use the Breadcrumb Test. Throw a breadcrumb into the oil and if it sizzles upon contact, you should be good to go.
Also, if you're pan frying your halloumi, you generally want to be cooking it on it's own – not in a pan with a bunch of other stuff that will crowd it and bring the overall temperature down.
If this happens to you, don't stress. You just need to cook it longer. The excess liquid will evaporate and the halloumi will eventually crisp up.
Can I reheat halloumi?
You certainly can, if you have leftovers from your meal, but I wouldn't plan to. It's not something I'd purposely make ahead, or make extras for storing. It does reheat much better if it wasn't cooked to a crisp – so if you know you're going to be reheating the dish, try to keep the halloumi on the softer side.
Can I eat raw halloumi?
You can, it's safe, but I wouldn't. It's not its best self raw.
Halloumi fans, please use the comments to let me know if you have any great uses for halloumi that I haven't covered or any questions I could answer!
How to Cook Halloumi Cheese
This salty, squeaky non melting cheese is a staple of vegetarian cooking across Europe and the world! There are several ways to prepare it – read on for full instructions and cooking tips for every method, as well as lots of recipes to help you get the most from this amazing cheese, plus a printable recipe for pan fried halloumi which is my favorite preparation method.
Ingredients
250 g (8.8 oz) halloumi cheese, sliced into 6 slices
olive oil, for frying
Instructions
Heat up a small layer of oil in a frying pan or grill pan, at a medium-high heat. If you're not sure whether the oil is ready, slice a tiny piece of halloumi to put in and see if it sizzles. If it does, you're good to go!

Add the halloumi to the pan. Cook for a few minutes on each side until golden. This is usually about 2 minutes on each side. If you're using a grill pan, you can press down on the halloumi a little while it cooks to get good grill marks. If you're using a frying pan, don't press down – doing so just releases moisture into the pan and stop it crisping up as well as it could have.
Serving: 3g, Calories: 304kcal, Carbohydrates: 1g, Protein: 18g, Fat: 25g, Saturated Fat: 15g, Polyunsaturated Fat: 1g, Monounsaturated Fat: 8g, Sodium: 1000mg, Potassium: 0.05mg, Fiber: 0.1g, Sugar: 0.4g, Calcium: 833mg, Iron: 0.03mg