A simple mushroom curry in a richly spiced tomato sauce. Easy to make and no one will miss the meat! Flavorful portobello or cremini (baby bella) mushrooms shine as the filling for a vegetarian and vegan curry worthy of being a main dish.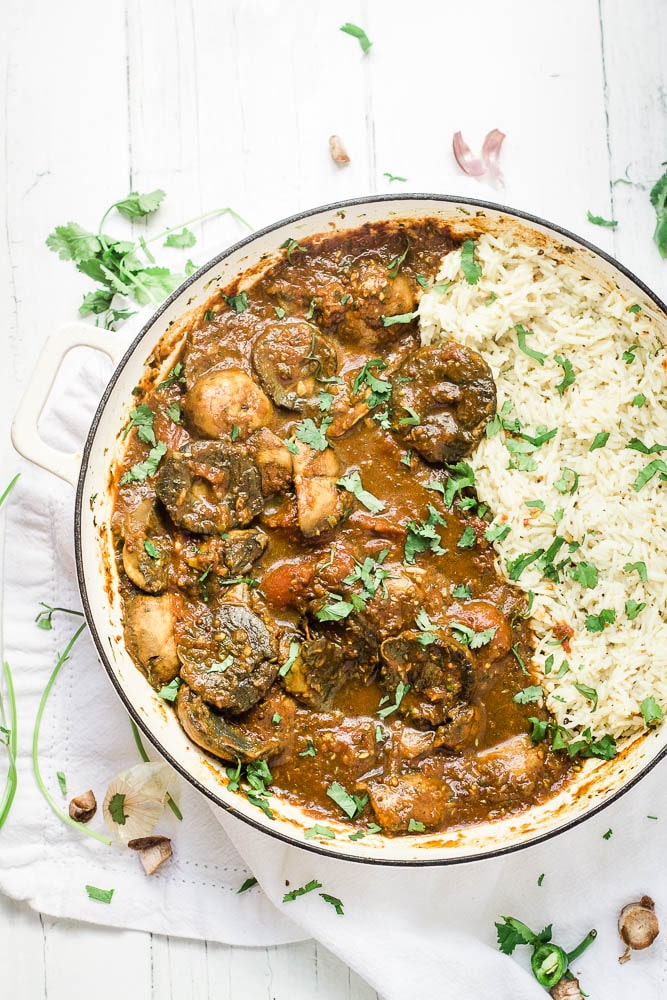 I've got another easy curry recipe for you today, because curries are I are having a moment.
I've taken two 9 month long curry sabbaticals in recent years, during my pregnancies. Both times, it was completely unappealing for the entire time I was pregnant, but as soon as the babies arrived, the love of curries returned even stronger than before.
Which means that since Veggie Baby 2 was born last summer, I have a ton of new curry recipes that I am working to perfect. If you love vegetarian curry too, you'll like the direction this blog is heading!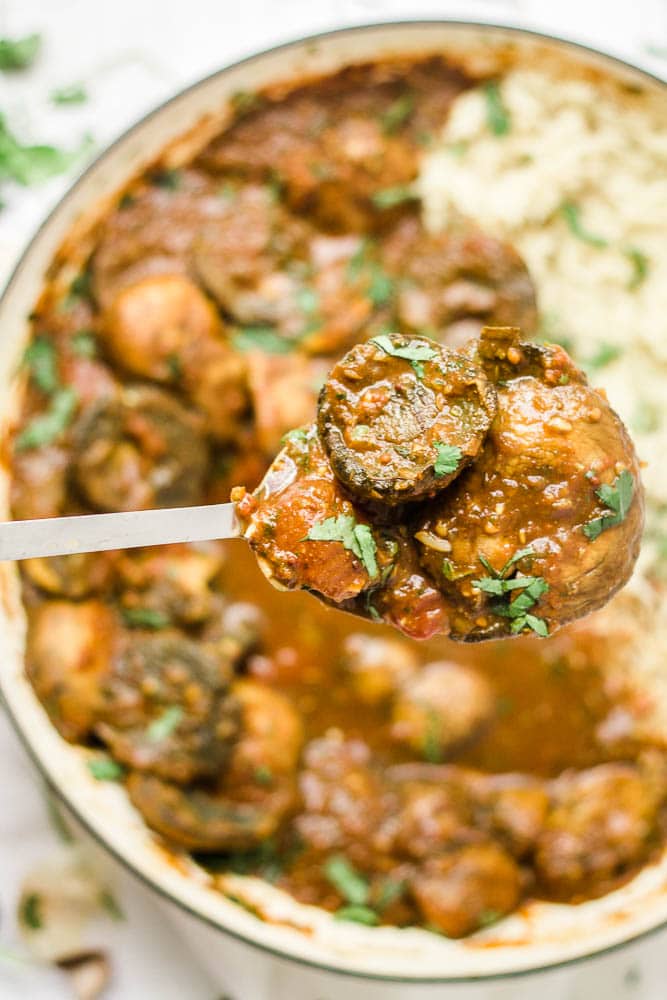 This one was a staple here last winter. It's super warming with big, meaty chunks of mushroom in a rich, spiced tomato sauce and it tastes amazing with rice and garlic nan.
I never got around to sharing it last year, but as autumn approaches and we think to warm, comforting foods again, it's definitely time!
The Best Mushrooms for this Curry
Mushrooms are a wonderful vegan curry ingredient and they show up in a lot of mixed vegetable curries, but in this recipe, they take center stage. So we need to choose the right mushrooms with the best flavor and texture.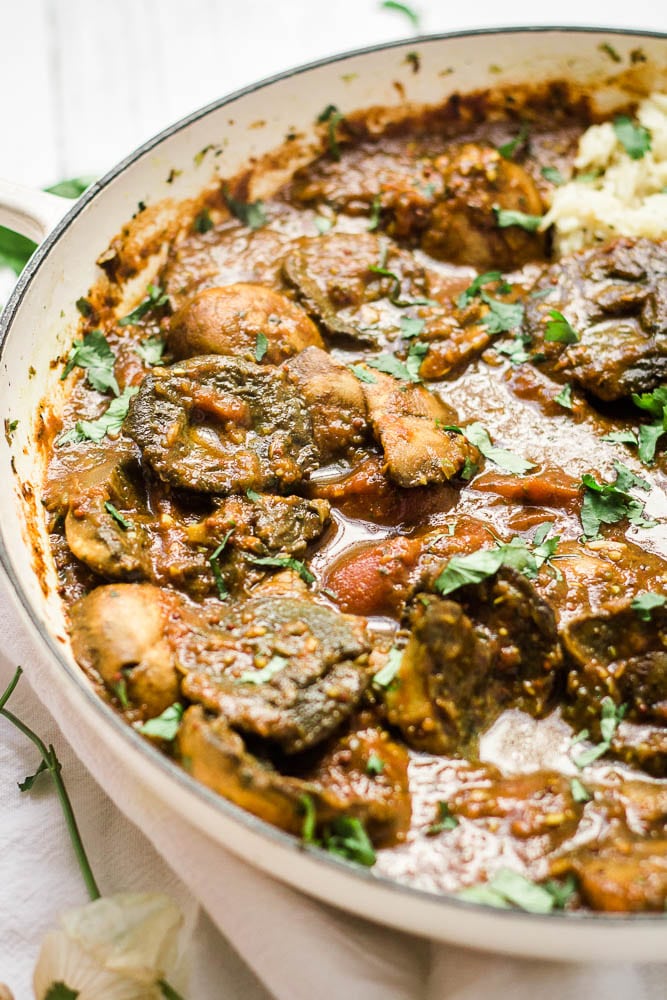 Portobellos* and their mini version (known as portabellini, cremini or baby bella) are my mushrooms of choice here. They're substantial with a meaty texture, and they have a great deep flavor which leaches into the sauce. The result feels filling enough to be a main meal.
(* Portobellas? Portabellas? I've seen it spelled every which way and I'm confused!)
If you're using large portabellas, you will slice them into big strips. If you're using creminis, like the curry pictured, you will de-stem them but leave them whole.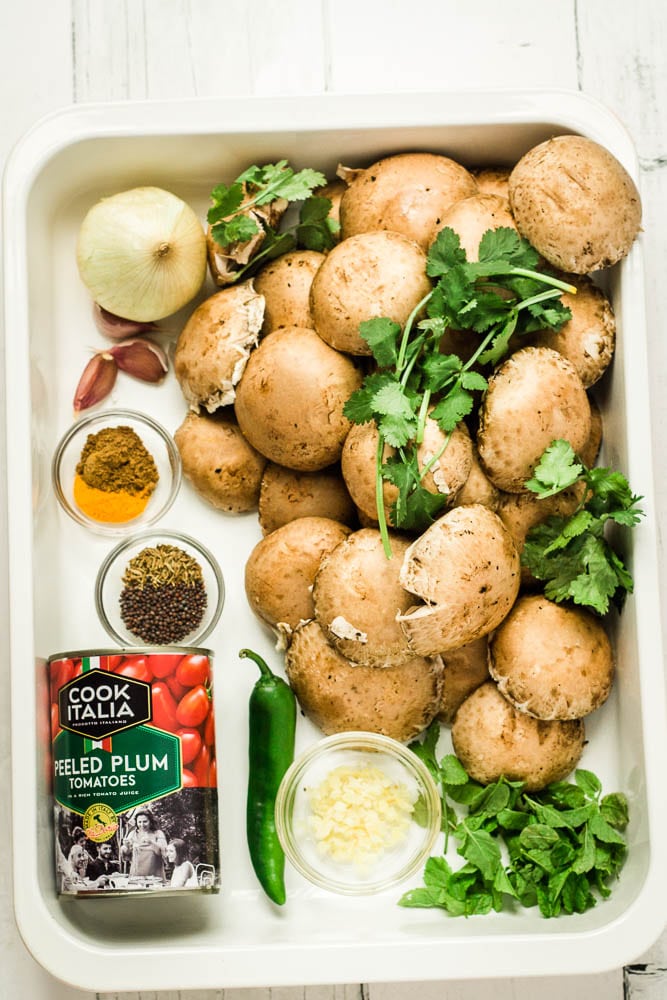 Variations to your mushroom curry
This is an easy one to customize.
If you want to add some protein, you can easily halve the mushrooms and add chickpeas or tofu instead. Or paneer, if you don't need it to be vegan.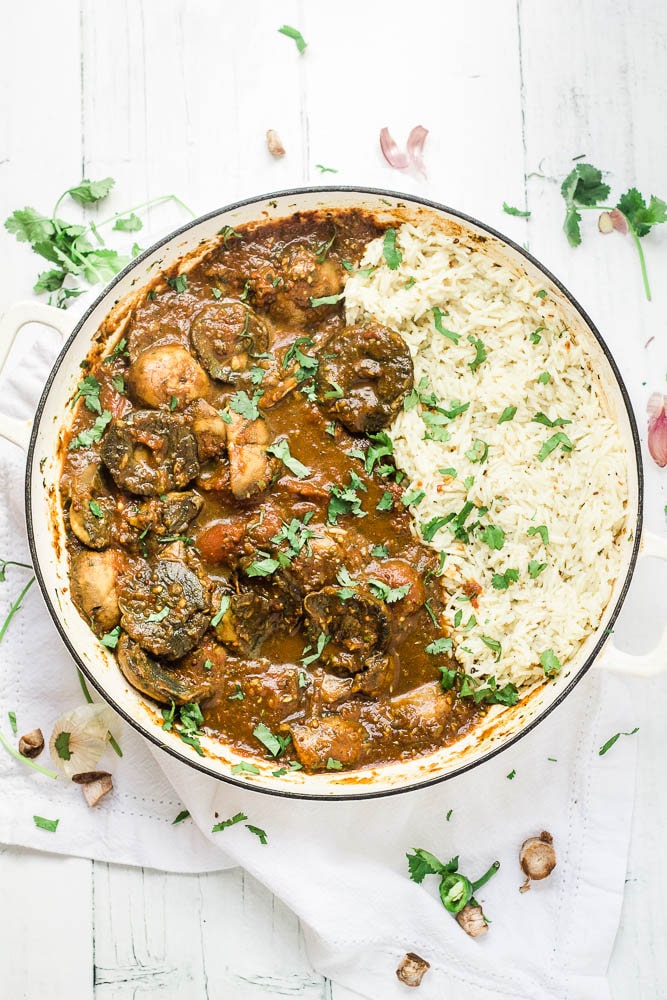 If you want some greens, stir spinach in at the last minute until just wilted.
I like the sauce to be pure tomato, but you could certainly give it a creamy finish with coconut milk or cashew cream if you fancy.
The Method – in Photos
This recipes comes together fairly simply. The fresh ingredients go in the blender, leaving you with fairly minimal chopping.
We don't make a curry paste, per se, but the blender chops up the herbs, onion, garlic, ginger and chilli nice and fine.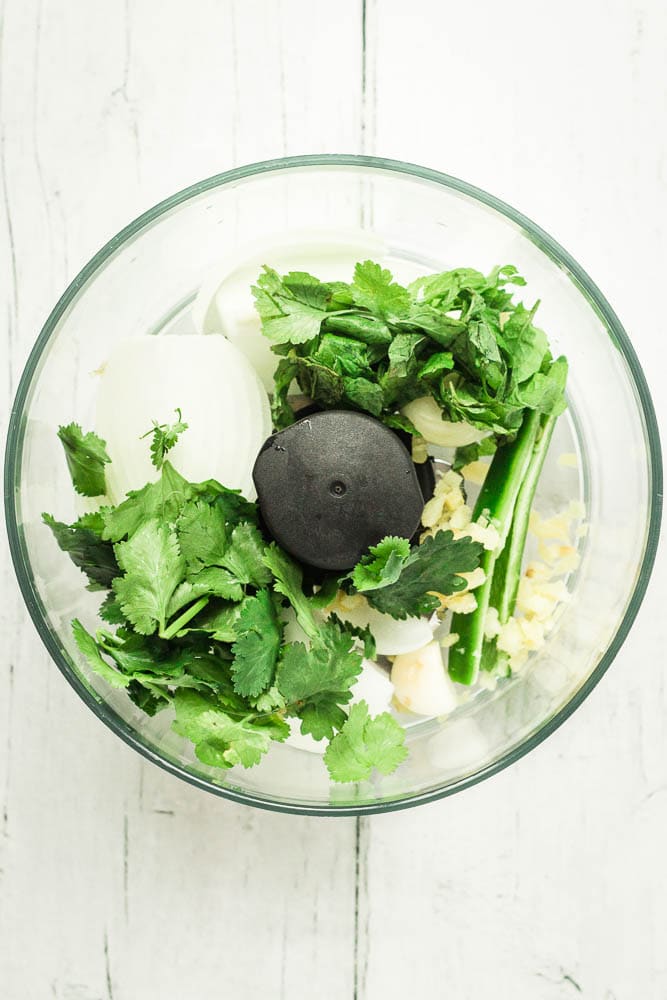 You'll then cook them alongside the whole spices before adding your mushrooms.
Because of the volume of mushrooms in this recipe, and the fact that mushrooms reduce quite a lot when you cook them, you can't put them all in the same pan at the same time.
I find it easiest to have two pans side by side. I quickly pan fry the mushrooms, in batches, in a frying pan before adding them to the main curry pan which has your spices and onion-herb mix in it.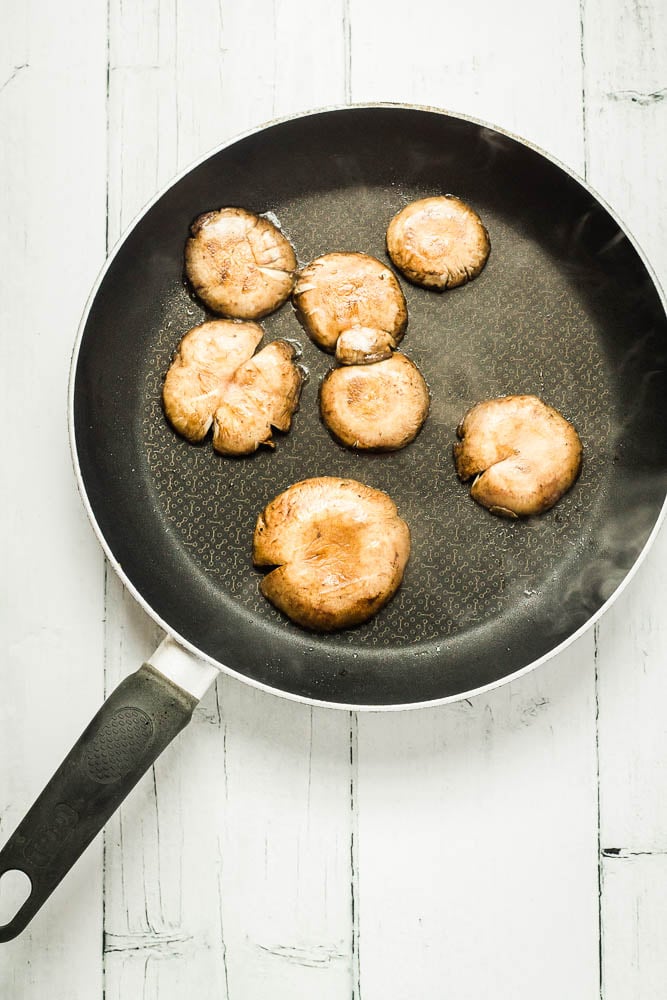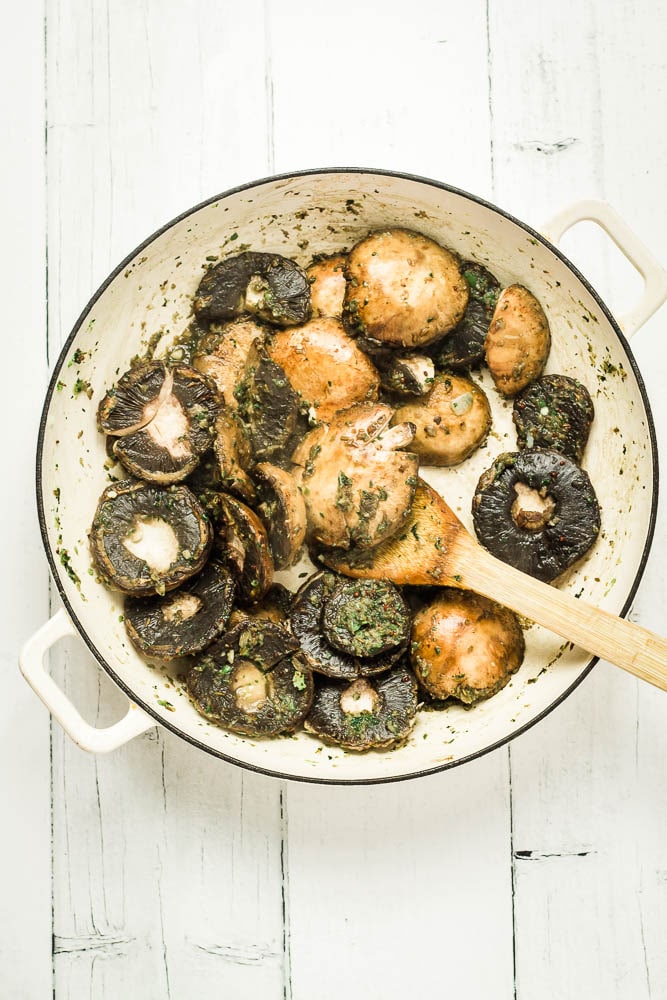 Once all the mushrooms are nicely coated in the mixture, you add the tomatoes, let it simmer for a while, and then it's ready to go!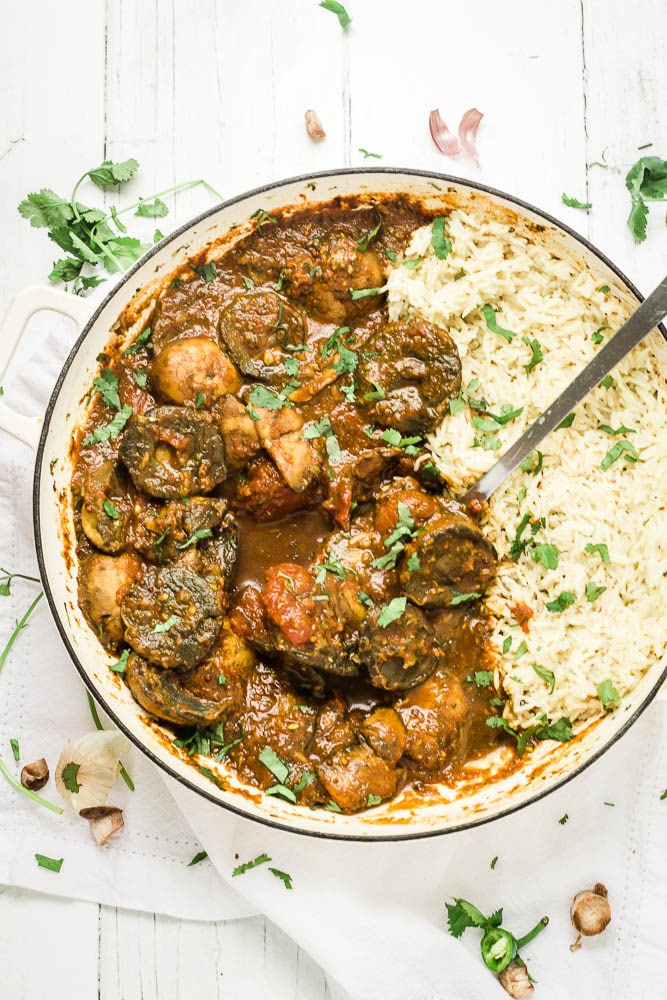 Serving suggestions
If you're looking to pair this with other curries for a more elaborate spread, it would work beautifully alongside something green.
Because it's fairly hands on to make, you'll want the other recipe(s) you make alongside to be less so. Try my slow cooker sag aloo recipe for maximum hands-off factor. Or you could try my kale paneer, which can be made first and then happily sit in a pan for a while you tackle this one.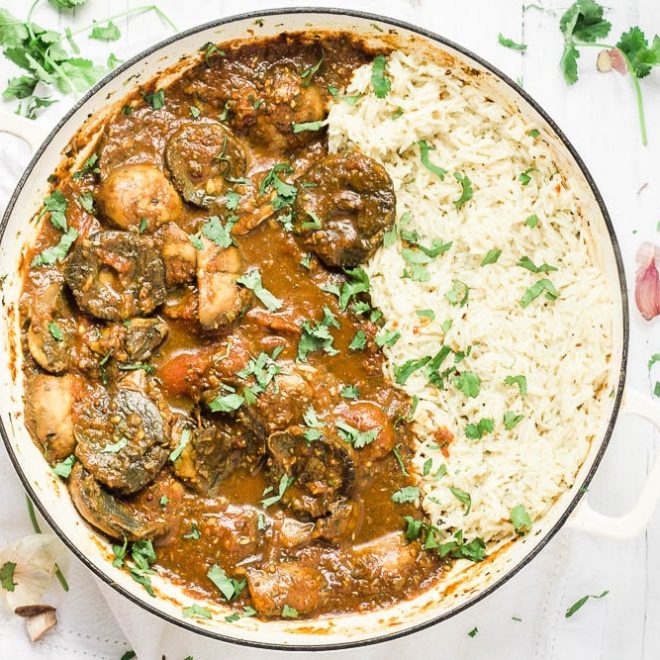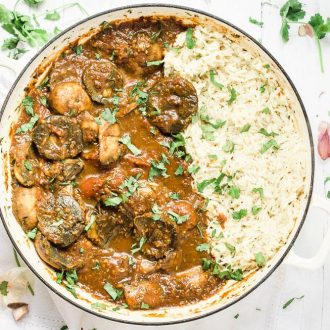 Vegan Portobello Mushroom Curry
A simple mushroom curry in a richly spiced tomato sauce. Easy to make and no one will miss the meat! Flavorful portabella or cremini (baby bella) mushrooms shine as the filling for a vegetarian and vegan curry worthy of being a main dish.
Ingredients
1 green chili, deseeded
1 small or 1/2 large onion
3 cloves of garlic
2 tsps of ginger
Handful of mint leaves
Handful of cilantro, coriander leaves
1 tsp cumin seeds
1 tsp mustard seeds
600 g (1.3 lb) portabella or cremini mushrooms , see notes
½ tsp turmeric
1 tsp garam masala
1 can whole tomatoes, (400g / 14oz size)
Instructions
Add the onion, garlic, chilli, ginger, mint and cilanto (coriander) to a small food processor and pulse until finely chopped. Alternatively you can finely chop all of the ingredients and mix them in a bowl.

In a large shallow casserole dish or skillet, heat a little olive oil and toast the cumin seeds and mustard seeds until fragrant. Add the onion mix from the blender and saute until the raw onion smells starts to dissipate.

In a seperate frying pan, heat some olive oil on high heat and pan fry the mushrooms in batches until they just start to reduce. Transfer them into the pan with the spices and onion mixture (keep that pan on a low heat throughout if you can manage the two pans simultaneously, otherwise keep the heat in that pan off until they've all been added).

Once all of the mushrooms are added, stir the tumeric and garam masala through and add the canned tomatoes.

Simmer for 15 minutes while you prepare your rice, or longer if you have the time.

Serve.
Notes
If using full size portabellas, this would be 6-8 mushrooms. Prepare them by taking our the stem and slicing them into large strips. If using cremini mushrooms, take our the stem but leave whole. Creminis are also known as portabellini or baby bella mushrooms.
Serving: 1g, Calories: 174kcal, Carbohydrates: 14g, Protein: 10g, Fat: 9g, Saturated Fat: 3g, Polyunsaturated Fat: 4g, Cholesterol: 25mg, Sodium: 506mg, Fiber: 3g, Sugar: 3g