These tasty Italian inspired fries are loaded up with mozzarella, pesto and tomatoes! These are a great way to use up leftover ingredients or to just indulge a little more with your favorite pesto sauce.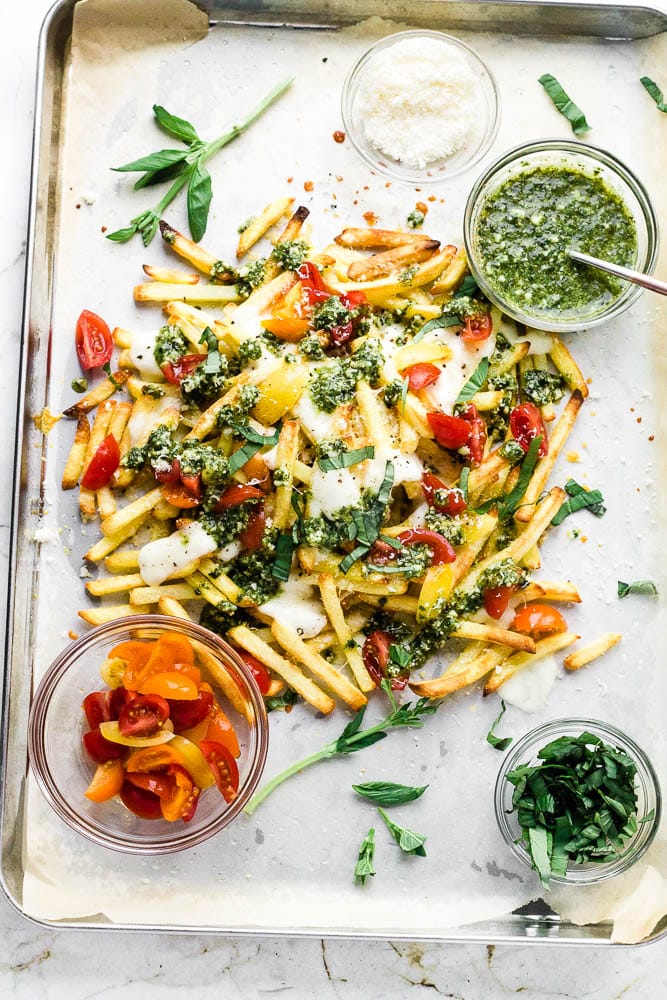 This is a fun one! Crispy fries loaded up with pesto, cherry tomatoes, two different cheeses and basil. A great side dish, appetizer or snack. Or hey, just add a fried egg and it's dinner.
If you can't get enough of basil pesto, this recipe is for you! And it's a great way to use up a partial batch of pesto, too, if you made some or opened a jar and now need to use it up.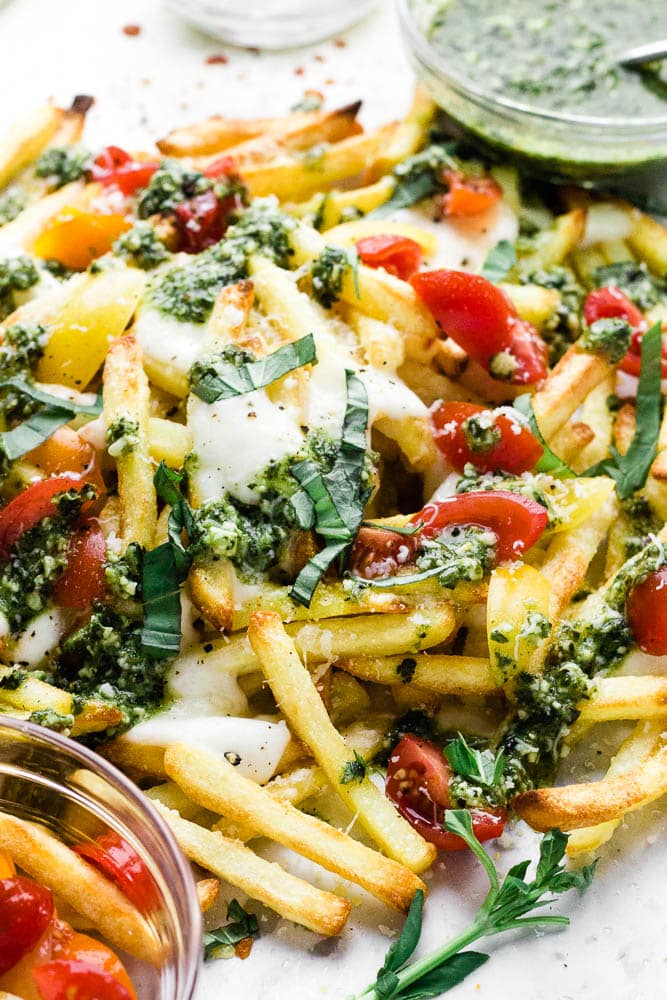 The process is really, really simple here.
We prepare some fries, melt some mozzarella and parmesan style cheese on top, add a bunch of quartered baby tomatoes, basil, more parmesan… and then drizzle some glorious, glorious pesto all over it.
You have options…
You can make these with frozen fries, or you can make oven fries from scratch. I used the frozen ones because I like this recipe with fairly crispy skinny fries and the frozen ones coming pre sliced, with a flour coating in place for extra crisp, just kinda make sense to me. If you want to go fully homemade, check out this recipe from Holly at Spend With Pennies.
You can make these in the oven or the air fryer. I prepared mine in the oven, but the air fryer would serve you well. You would add the cheese and melt it directly in the air fryer basket. You can follow my air fryer truffle cheese fries recipe and just adapt the topping.
You can easily scale the recipe up or down. I made a batch of fries that fit comfortably on a half sheet pan (that's an 18×13 inch or 46×33 cm size pan)
Recipe Tips and Variations
Pesto can be problematic for vegetarians due to the inclusion of parmesan, which uses animal rennet. You either want a homemade pesto (I have the perfect recipe for you right here!), or one that uses a different cheese. My personal top pick is Tesco's Finest brand, which uses a rennet-free pecorino, but I know Sacla have both vegetarian (with rennet free cheese) and vegan (with no cheese) varieties.
Mixing the pesto with mayonnaise to make a pesto mayo sauce is a great way to stretch out your pesto if you only have a small amount, and it makes this even more decadent. I actually prefer it this way if I only have jarred pesto.
I recommend fresh mozzarella, the kind that is stored in water, over the dry pre-shredded kind. I like the softness and stretchiness of it, as you can see here…
… though if pre-shredded is all you have, go ahead and use it! Just keep a close eye on it when it is under the broiler / grill because it browns really fast.
Don't hesitate to use parsley instead of basil, or you can leave off the fresh herbs altogether, no big deal.
More Ways to Enjoy Pesto…
What to do with leftovers
Fries are never going to be their best selves reheated, especially if they're smothered in toppings, but this holds up better than you'd expect. Just place them back on a baking tray in a hot oven, or into an air fryer, until they are warmed through. The cheese will return to it's stretchy glory, and the pesto is oily enough not to dry out or be absorbed by fries so it stays fairly distinct too.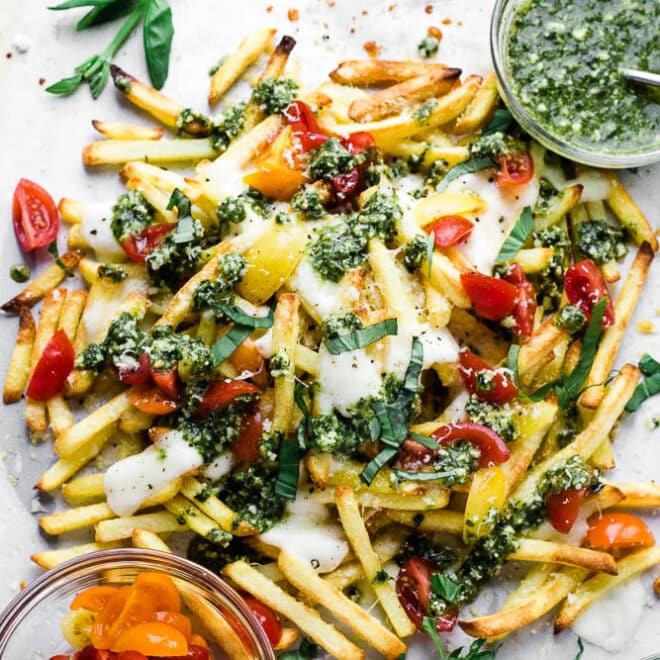 Loaded Pesto Fries
These tasty Italian inspired fries are loaded up with mozzarella, pesto and tomatoes! These are a great way to use up leftover ingredients or to just indulge a little more with your favorite pesto sauce.
Ingredients
1 large baking tray full of frozen fries
4 Tbsp basil pesto
4 oz (125 g) fresh mozzarella, chopped
3 Tbsp parmesan, pecorino or Italian hard cheese , finely grated
0.5 cup (75 g) cherry tomatoes, quartered
1 small handful basil leaves, chopped
Instructions
Prepare the fries according to package instructions (if pre-prepared) or recipe you're following (if homemade). Once the fries are cooked, remove from the oven and turn the oven to its hottest grill / broil setting.

Push the fries all together on the baking tray to make a pile.

Add the mozzarella and most of the parmesan (reserve a little for topping) to the top of the fries.

Place under the grill / broiler until the mozzarella is melted.

Scatter the tomatoes, basil and remaining cheese over the top of the fries, then drizzle the pesto over the top and serve immediately.
Calories: 407kcal, Carbohydrates: 33g, Protein: 11g, Fat: 26g, Saturated Fat: 10g, Polyunsaturated Fat: 1g, Monounsaturated Fat: 11g, Cholesterol: 26mg, Sodium: 835mg, Potassium: 497mg, Fiber: 5g, Sugar: 1g, Vitamin A: 565IU, Vitamin C: 11mg, Calcium: 218mg, Iron: 2mg