Freshly prepared fresh basil pesto tossed into angel hair (capellini) pasta – this is a staple recipe worth mastering! This recipe adds a little baby spinach to the pesto for a nutritional boost, and I like to serve it with some fresh cherry tomatoes for a quick healthy dinner.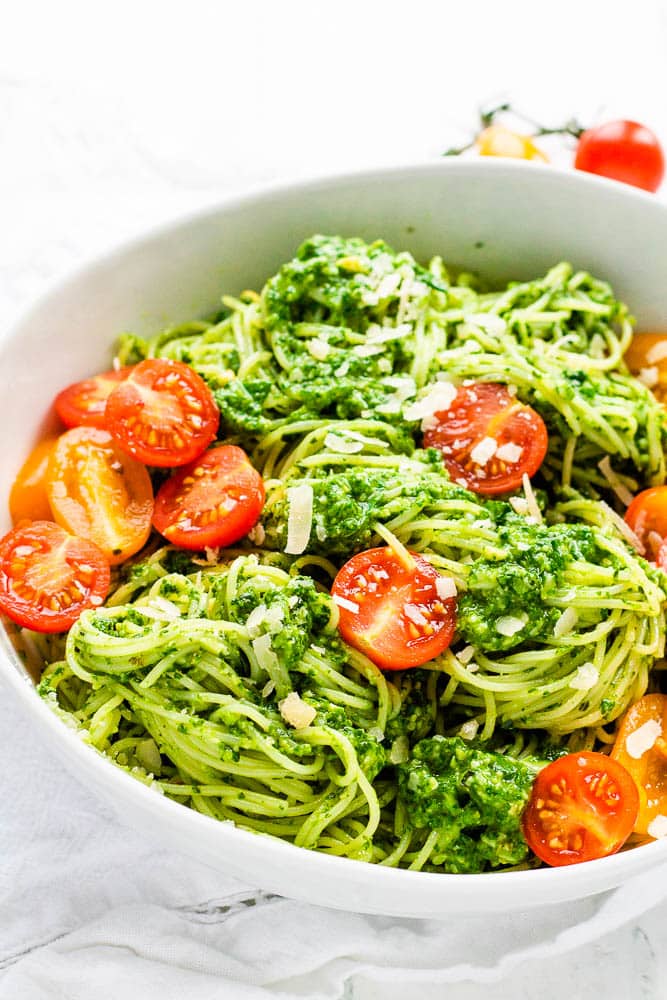 Does anyone else just really love angel hair pasta (also known as cappelini)? I think it's my favorite pasta shape, or at least it's in the Top 3, and it works perfectly with pesto sauce.
The pesto in this recipe is absolutely dreamy. It is vibrant, fresh and legitimately SAUCY, not oily like some of the jarred ones can be.
This is a staple recipe that is so worth mastering, memorizing, and keeping in your rotation, especially if you have access to an abundance of basil. We also add a little baby spinach to the pesto (you won't even know it's there) to give a little nutritional boost, and negate any potential shortfalls in your basil stash. With cherry tomatoes on top, dinner is ready super fast!
What is angel hair pasta / capellini?
Angel hair is a long but thin pasta, like a skinny version of spaghetti. I've always called it angel hair but its official name is Capellini.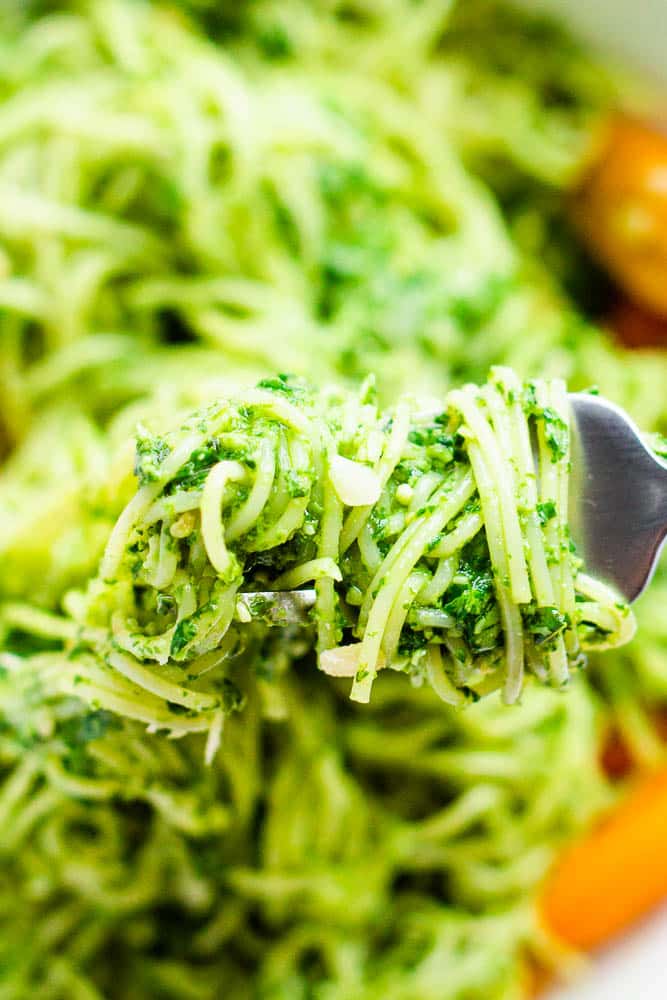 There's a lightness to capellini that you don't get with any other pasta, and it pairs so perfectly with pesto sauces allowing maximum flavor in every bite.
It cooks in just a few minutes, so fits into your dinner prep so easily.
Why We are Adding Spinach to Pesto
While I've taken a reasonably traditional route otherwise, the handfuls of baby spinach in this recipe are definitely a deviation. The logic is twofold:
Firstly, to address any shortfall of basil. You need a lot of basil leaves to make a nice vibrant pesto with a soft velvety texture. That can get expensive if, like me, basil doesn't grow well for you and you're needing to buy those little supermarket pots and packets. Adding some spinach to the recipe helps boost the leafy component of the pesto very easily, helping keep the color and texture on point. Of course, the spinach doesn't carry any flavor so you ideally don't want to replace too much of the basil with spinach, but play around with this and see what works for you.
BASIL TO BABY SPINACH RATIOS: I work on the basis that I want 4-5 cups / 80-100g of leaves in here, with as much of it being basil as possible. If a quarter of that is spinach we still end up with a really nice, strong basil flavor. The more you shift towards spinach and from basil, the strength of the flavor will shift too. But that is still better than just making the pesto with fewer leaves and losing the saucy texture.
Second, the spinach adds a little nutritional boost! Maybe not enough to be a deal breaker, maybe not enough to be a full serving, but every little bit helps, doesn't it? You can't taste the spinach, you wouldn't know it was there, so it's also a fairly perfect way to sneak some extra nutrition into pesto pasta for kids or toddlers too.
How to get the best texture for your pesto in a food processor
Traditionally, pesto genovese would be made in a pestle and mortar. It would be slowly ground down and crushed, but it wouldn't be anything like the super smooth purees you can buy from a jar. When making homemade pesto though, the pestle and mortar… is just not going to happen.
I value the convenience of my mini food processor, but I still like to try to bring a little texture to the mix to give it a more rustic and authentic finish. And we can do that if we're willing to blend our ingredients in stages. So this is where we land:
It's a subtle difference that has a big impact, making sure that each bite is not too homogenous. You have some bigger pieces of basil, some discernible bits of cheese and some whole or larger pieces of toasted pine nuts which are kinda great to find on your fork.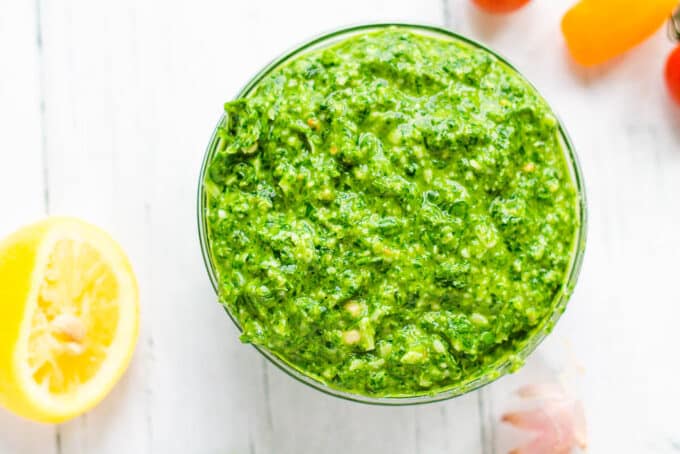 How to make pesto suitable for vegetarians
Clearly there is no meat in pesto, so you'd be forgiven for thinking it's a default vegetarian ingredient. However, genuine parmesan cheese will contain animal rennet and therefore is not classified as a vegetarian friendly ingredient. More on that here if you're curious. The good new is that vegetarian friendly alternatives are widely available and might go by the names "Pasta cheese", "Vegetarian hard cheese", "Italian hard cheese" etc. I personally use an M&S brand Italian hard cheese to make this pesto. These alternatives are rarely as deeply flavored or salty as the real parmesan, so adding a little salt to our pesto makes sense to help compensate for that.
How to Serve your Angel Hair Pesto Pasta
For me, this is a great dinner with the addition of cherry tomatoes on top but there are so many ways you can go with this:
The cherry tomatoes could be roasted, if you have the time.
Mix in any other vegetables you enjoy. Peas can cook easily alongside the pasta for an added veggie that doesn't extend the cook time at all.
Serve alongside a protein (this would be a great base for my Bruschetta Baked Halloumi)
More Ideas for You
If you'd like to try a less traditional pesto, I have this guide to pesto with links to some of the most creative pesto variations you can ever imagine.
If you're looking for angel hair pasta recipes in general, my Pasta Burrata Bruschetta uses an incredible no-cook tomato sauce that works beautifully with capellini.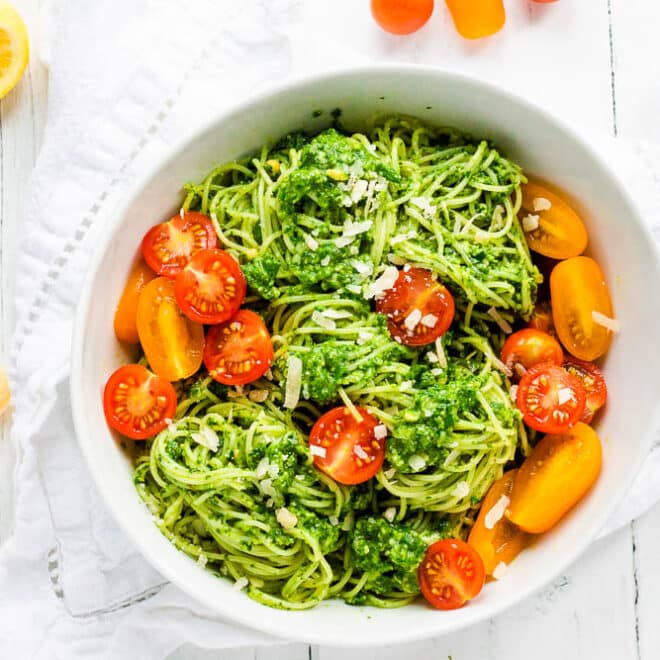 Angel Hair Pesto Pasta
Freshly prepared fresh basil pesto tossed into angel hair (capellini) pasta – this is a staple recipe worth mastering! This recipe adds a little baby spinach to the pesto for a nutritional boost, and I like to serve it with some fresh cherry tomatoes for a quick healthy dinner.
Ingredients
12 oz (340 g) angel hair (capellini) pasta
1.5 cups (225 g) cherry tomatoes, halved
Pesto
3 Tbsp pine nuts
3-4 cups (75 g) basil leaves
⅓ cup (45 g) parmesan or Italian hard cheese, grated
2 cloves garlic
1 lemon, juiced
1 cup (30 g) baby spinach, optional, scale amount up or down if you wish
⅓ cup (80 ml) olive oil, you may want more, up to 1/2 cup
Instructions
Toast your pine nuts. Heat a frying pan on a low heat, without any oil, and add the pine nuts for a minute or two, mixing regularly, until they're lightly browned and smelling toasty.

Add the garlic, spinach and MOST (about 2/3rds) of the basil, pine nuts and cheese to your food processor or mini chopper. Add a few grinds of salt. Blend until finely chopped.

Add the lemon juice and blend, slowly adding the oil to the mixture, until smooth.

Now add the reserved basil, pine nuts and cheese into the food processor with the remaining oil. Pulse gently until these ingredients are incorporated into the pesto but in larger pieces. Add more oil if you think it needs it.

Set the pesto aside while you boil your pasta according to package instructions.

Once the pasta is ready, remove from the heat and toss with the basil pesto. Serve immediately, with cherry tomatoes and additional cheese (if desired) on top.
Calories: 568kcal, Carbohydrates: 71g, Protein: 17g, Fat: 25g, Saturated Fat: 4g, Polyunsaturated Fat: 5g, Monounsaturated Fat: 14g, Cholesterol: 6mg, Sodium: 153mg, Potassium: 502mg, Fiber: 5g, Sugar: 5g, Vitamin A: 1999IU, Vitamin C: 33mg, Calcium: 173mg, Iron: 3mg