15 Slow Cooker Vegetarian Soup Recipes for Lazy Winter Days
15 easy and delicious slow cooker vegetarian soups to feed your family this winter… with minimal effort! Each soup is filling and meal-worthy, and packed with veggies, grains, beans or lentils.
Guys, I need to get myself together and start eating more soup.
Soup is cheap, soup is healthy, soup is warming, and soup is SO EASY to make with a slow cooker. This needs to be the year of soup. Who's with me?
Here I have collected 15 slow vegetarian soup recipes that can be made in the slow cooker. They are easy peasy dinners for your whole family.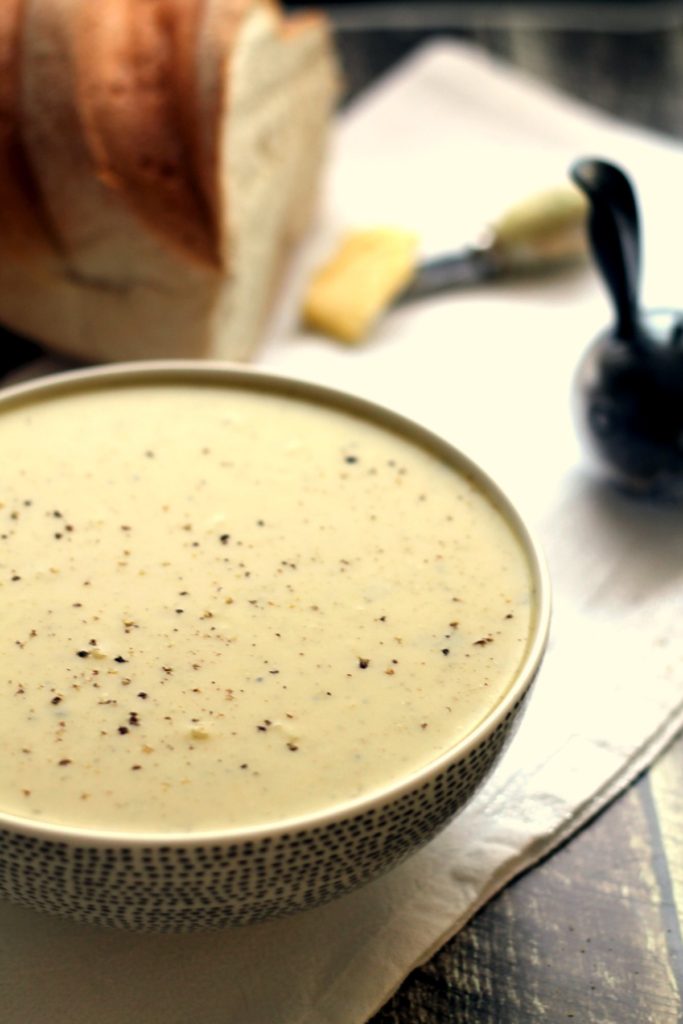 Slow Cooker Broccoli Stilton Soup by meeeeeeeee.
This classic British soup is bulked out with some potatoes to make it extra filling and economical… while feeling super fancy since it's packed with blue cheese flavor!
Tex Mex Enchilada Chowder from Cindy at Vegetarian Mamma.
I mean, do you SEE how creamy and amazing that is? This is a near perfect veggie meal with layers of flavor, plus creamy and crunchy toppings.
Red Lentils with Chickpeas and Orzo by Jenn at Veggie Inspired.
Full of creamy lentils and chickpeas and orzo pasta in a smoky tomato broth, this amazing stew is guaranteed to satisfy.
Curried Cauliflower Sweet Potato Soup from Gwen at Delightful Adventures.
With a hit of curry flavor to keep soup night interesting, this veggie packed soup is nourishing, creamy and all round delightful.
Spicy Slow Cooker Bean Soup by Bintu at Recipes from a Pantry.
The soup you need when cold season gets the better of you, this healing soup is packed with protein and goodness with a spicy kick.
Slow Cooker (or Instant Pot) Lentil Soup by Sarah at Sustainable Cooks.
Ya'll know how I feel about the humble lentil. Well this incredible soup is jam packed with both lentils and veggies, and a special ingredient for extra flavor too.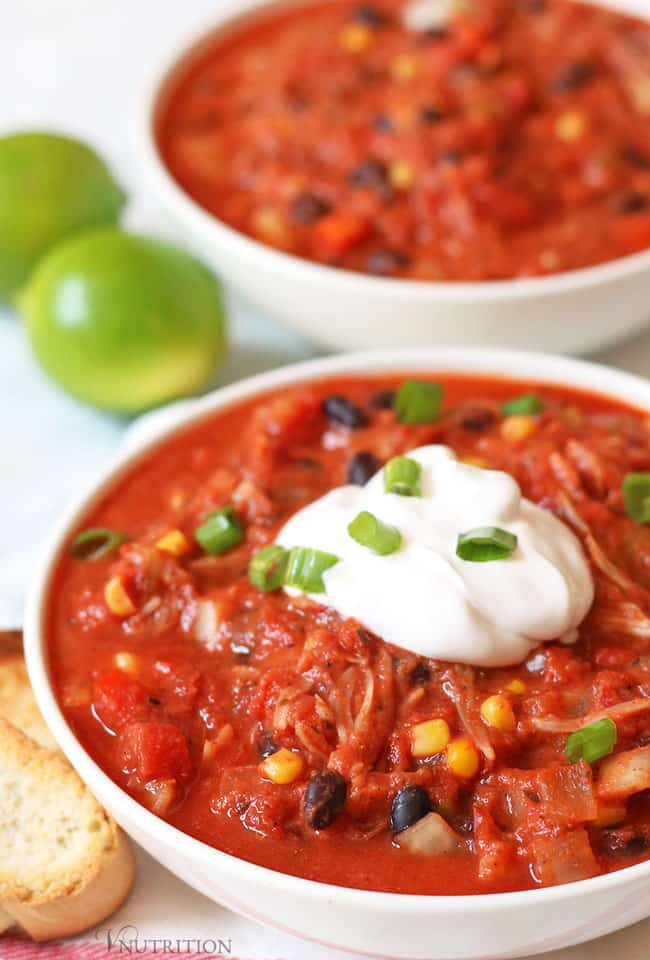 Slow Cooker Jackfruit Chili by Mary Ellen at V Nutrition.
Bored of all bean chilis? Try something new! Jackfruit adds a fun pulled chicken-like texture to this tasty chili which you will be happily feasting off for days to come.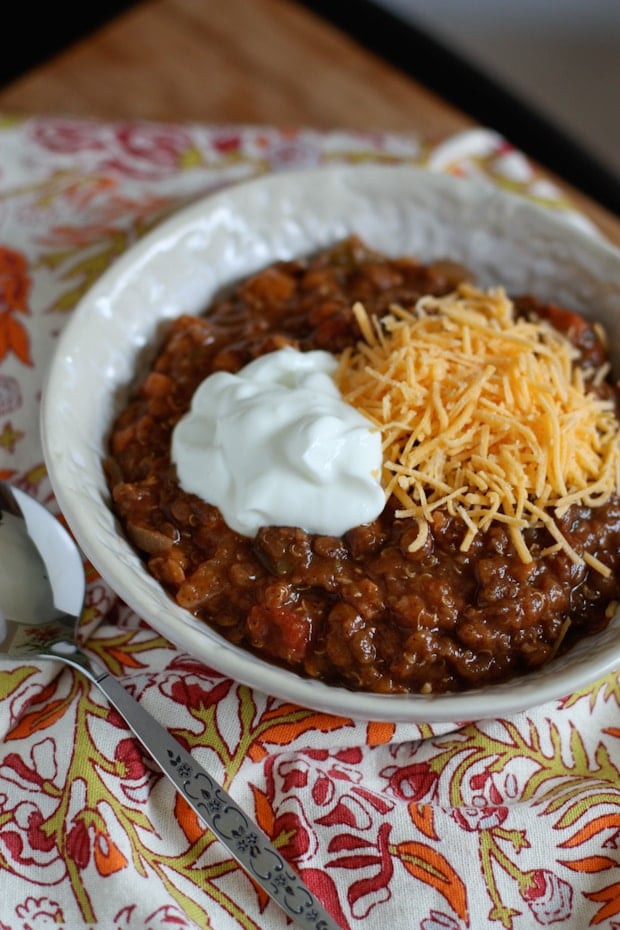 Lentil & Quinoa Chili by Aggie at Aggie's Kitchen.
Oh hi again, lentils. LOVE YOU. Another brilliant spin on vegetarian chili, with protein packed legumes and quinoa. A double dose of goodness!
Crockpot Vegetarian Pasta e Fagioli by Natasha at Salt & Lavender.
This bright and beautiful soup is a perfectly rounded meal with veggies, carbs, beans and a nourishing broth.
Butternut Squash Apple Soup by Julia at A Cedar Spoon.
A hit of apple in this creamy and delicious butternut squash soup adds a fun new spin to a classic! Guaranteed to please.
Spicy Coconut Roasted Red Pepper Soup by Angela at The Mighty Mrs.
Coconut milk adds a delicious spin to this must-try spicy vegan soup. Adding a loaf of fresh bread will help you make a meal out of it.
Wild Rice Vegetable Soup by Kristine at Kristine's Kitchen
This hearty soup contains a whole butternut squash and some extra green goodness from the addition of kale. Delicious!
Slow Cooker Chickpea Curry by Katie at Hey Nutrition Lady
This super flavorful curry packs a bunch of extra veggies on top of nutritious chickpeas. If you don't feel like cooking a pot of rice, just scoop this deliciousness up with some store bought naan bread.
Beer Cheese Soup with Cauliflower by Sarah at Champagne Tastes
This is less of a "set and forget" recipe because you'll need to pre roast some veggies before transferring to the slow cooker, but it's worth it for a beer cheese soup packed with veggies that you can actually make a meal out of!
Vegan "Beef" Irish Stew by Alex and Linda at Veganosity
Another one that is slightly more effort because you'll need to pre-saute and make a roux, but this incredible stew which swaps mushrooms for meat is well worth your time on a lazy weekend day.