This veggie packed lentil bake is pure comfort food with a smoky, Mexican inspired twist! You can personalize this recipe with your favorite vegetables, toppings and cheeses and it always turns out delicious thanks to the incredible mix of spices. It's a well rounded, protein filled vegetarian dinner that is completely stress free to prepare.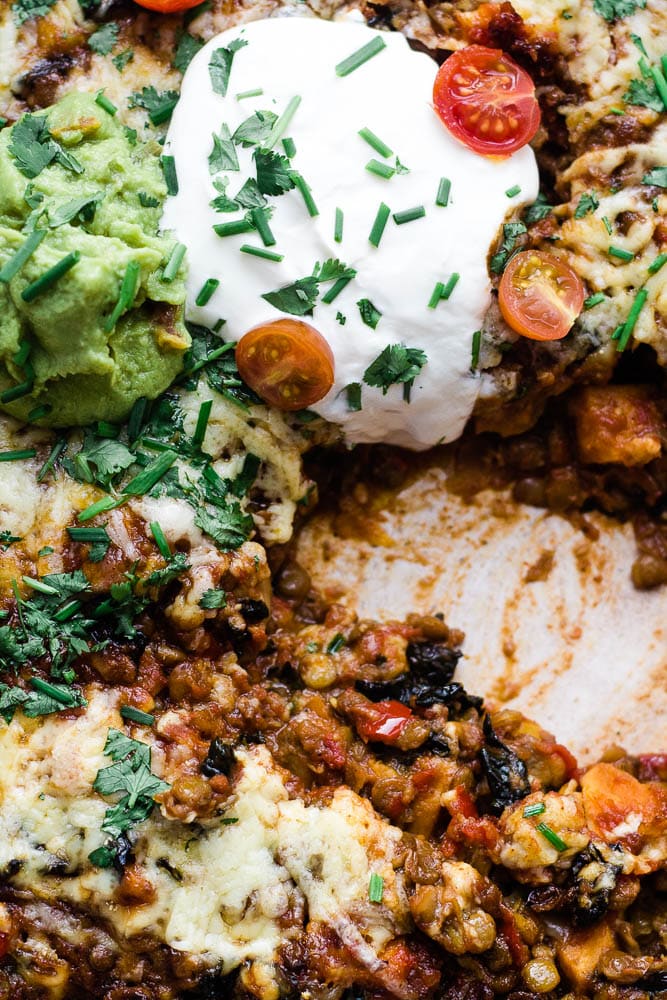 A lentil bake! Well that's always going to be a tough sell. But this will take you by surprise. It's a secret weapon. No one expects a bowl of lentils and vegetables to taste so good.
What we've done here is mimic the concept of a taco casserole, bringing a bunch of smoky spices to the party and adding some taco-esque toppings like guacamole and sour cream.
A One Pot Dinner – More or Less
Everything comes together in one pan! Maybe!
This is a one pan dinner IF you have precooked lentils. If not, you're cooking your lentils in a different pan. And IF you have the kind of casserole dish you can use on the hob (stove) as well as in the oven.
Let's take a quick look at the process. You just saute your vegetables for a bit, add the spices and remaining ingredients bit by bit, and eventually cover it with cheese and bake it in the oven.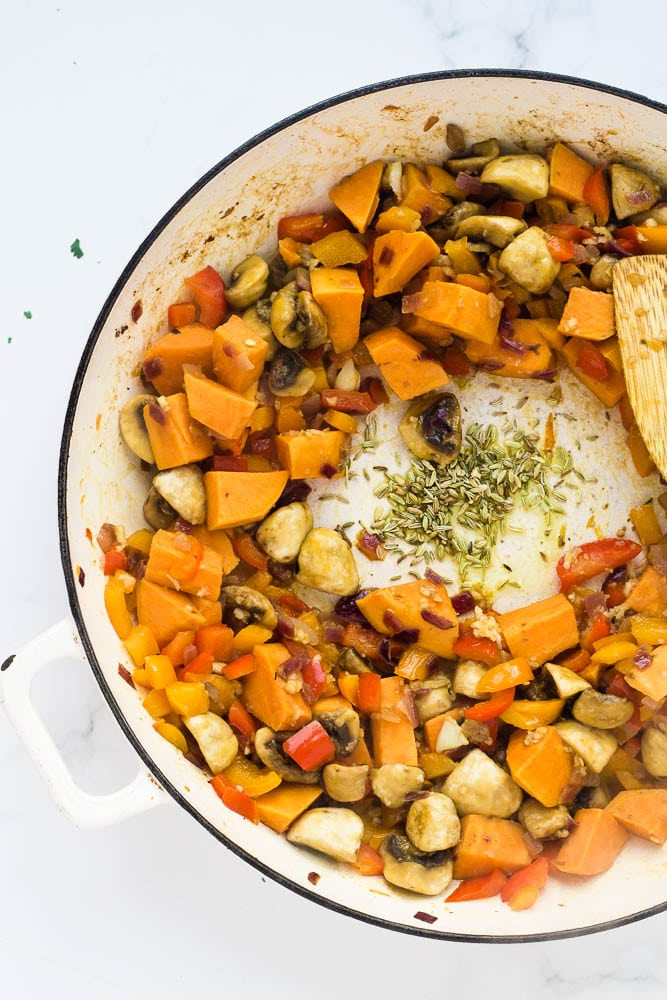 The Best Vegetables for the Job
I want this recipe to serve you as a fridge clearer-outer or a chance to just buy whatever has been marked down at the shops because it's best before date is tomorrow. So it is reasonably flexible. Take a look at the recipe ingredient list and feel free to swap around but I think it is nice to have something from each of these groups: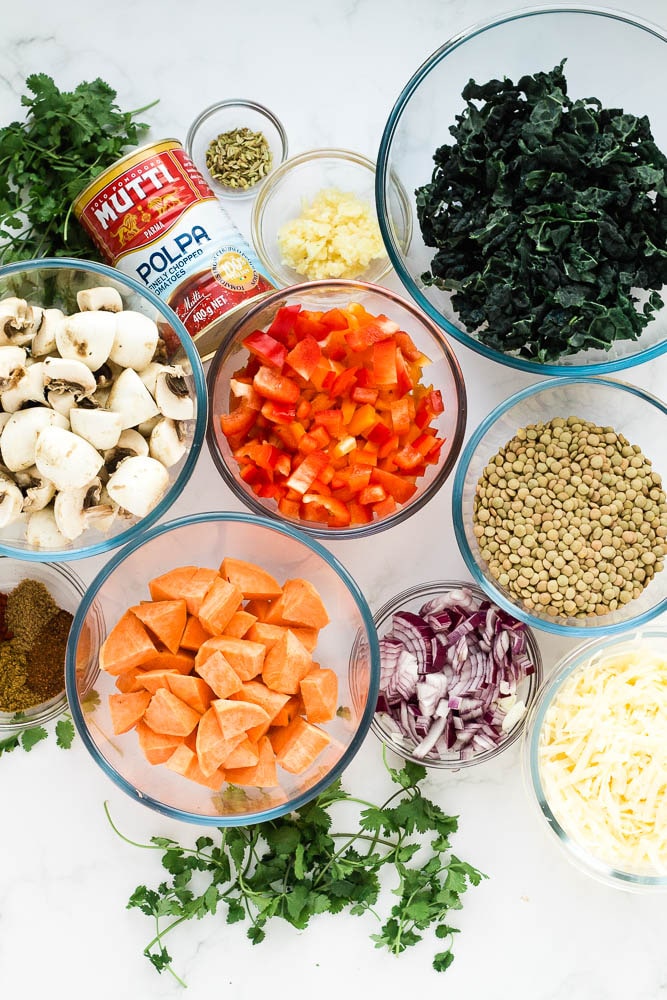 Roots and tubers for the carb factor – while this recipe calls for sweet potatoes, you're not bound by that. I've tried with regular potatoes too, and I see no reason not to try squash of some kind. Just note that regular potatoes and some other root vegetables will result in a longer cooking time so check that they're tender enough before taking out of the oven.
Mushrooms – unless you dislike mushrooms, I would definitely recommend including some because they will give off some liquid to keep things moist and add to the flavor. Cheap mushrooms do just fine here.
Peppers for sweetness and light capiscum factor – red and yellow are my faves, but there is a case to be made for including green in this recipe. Bell peppers, baby peppers, romano peppers, any peppers will do.
Greens – I love love love cavolo nero in this, and in basically everything, because why is this leaf so good? But spinach and normal kale work well too.
Things I didn't use but you could
Carrots – because sometimes you need one carrot, have to buy a big pack, and then need to work carrots into everything you make for the next week or two. This recipe will gladly accept your carrots. I didn't make them part of the recipe because I didn't want this to be the recipe that made you buy the bag. Trying to break the chain for you. (See also: celery)
Eggplant: it's just not my fave, but I can see how a little eggplant would be right at home here. Same story with zucchini.
Corn always feels right in Mexican-y stuff.
Cauliflower: I tend to only like cauli when its roasted or in a soup or something. But again, if cauliflower makes you happy, then small pieces in this would work. Just keep them small.
Fresh Tomatoes : I use a few as a topping, but some cherry tomatoes in the vegetable mix can't go wrong.
The Lentils
Green or brown. Either work. But don't try red – they fall apart too easily and this casserole needs texture.
The recipe calls for 1 cup (190g) of dried green lentils which will yield 2.5/3 cups (700g) after being cooked.
Using canned lentils is fine, you will want two cans which works out to the right amount.
I personally love this recipe best when the lentils are cooked from dried because they just have that little more bit flavor to them, and since there is a fair bit of prep to do with this recipe, I find it easy enough to cook them while I chop vegetables so it doesn't add any time. I use my instant pot to cook them which is extra hands off.
The Cheese
Oh, the cheese.
As you can see, we've gone for a cheesy topping here but there is also the option of mixing some cheese into the lentil filling for extra creamy goodness. This will depend on your priorities – are we going for maximum comfort factor or are we wanting something lighter and healthier?
I should also point out that the recipe, as written, only contains cheddar cheese – but this is actually incredible with feta and/or mozzarella added to the topping.
The Toppings
This is where we get to take things to the next level.
Some options:
I personally lean into the Mexican vibe and serve this casserole with the sort of toppings I'd have on tacos, namely sour cream or avocado / guacamole.
A more Mediterranean spread would work well too – hummus, tzatziki and olives?
Bake some eggs into the top! Instead of a cheesy topping, bake for 20 minutes without any cheese and then remove from the oven, create wells in the casserole, break the eggs in, and return to the oven for another 10-15 minutes.
Forgo the toppings and just serve alongside a crispy salad.
Now, before I go, if hearty casseroles are your thing, I want to bring a few others to your attention: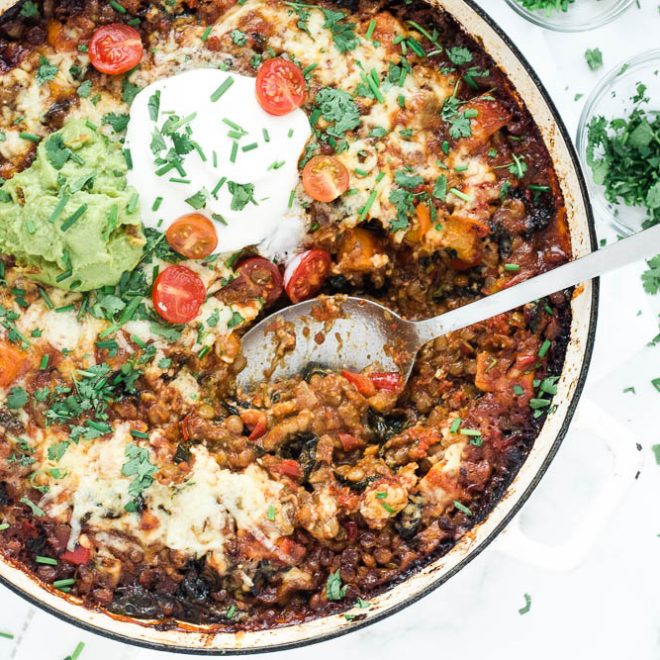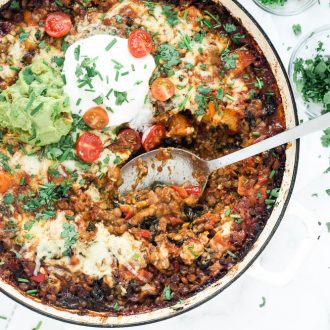 Smoky & Cheesy Vegetable Lentil Bake
This veggie packed lentil bake is pure comfort food with a smoky, Mexican inspired twist! You can personalize this recipe with your favorite vegetables, toppings and cheeses and it always turns out delicious thanks to the incredible mix of spices. It's a well rounded, protein filled vegetarian dinner that is completely stress free to prepare.
Ingredients
1 large onions, chopped
5 large cloves garlic, crushed
200 g (7 oz) mushrooms, chopped, with stems removed
2 small red peppers, deseeded and chopped
1 small sweet potato
1.5 tsp fennel seeds
1 tsp dred coriander
2 tsp smoked paprika
1 Tbsp chili powder, Swap in additional smoked paprika if you prefer. I use a very mild but smoky ancho powder.
2 tsp cumin
100 g (3.5 oz) kale or cavolo nero, finely chopped with stems removed
200 g (1 cup) dried green lentils, or 2.5-3 cups (700g) already cooked
1 handful fresh coriander (cilantro)
200 g (2 cups) grated cheese, see notes
1 can chopped tomatoes, (400g / 14oz size)
Optional Topping
Additional chopped fresh coriander (cilantro)
Chives
Guacamole
Sour cream
Chopped cherry tomatoes
Instructions
Preheat the oven to 200C / 390F.

In a shallow casserole dish, heat a little olive oil and saute the onions and garlic until softened.

Add the sweet potatoes and cook for about 5 minutes before adding the peppers and mushrooms. Cook until the mushrooms are reduced and the peppers are soft. (The sweet potato won't be soft yet but don't worry – it will fully cook in the often, for now we are just giving it a head start.)

Push the vegetables to the sides of the pan to leave a gap in the middle. Add the fennel seeds and a tiny bit more oil, and allow them to toast for a few moments until you can smell them. As soon as they become fragrant, add the remaining spices (chili powder, cumin, smoked paprika, coriander) and mix it all through the vegetables until they are coated.

Add the kale and mix through until it starts to reduce a little. If things get sticky in the pan, add a little water to loosen things up.

Add the lentils, half of the cheese (reserving the rest for the topping) and most of the coriander (just reserving a little bit for the garnish) and mix through.

Finally, add the tinned tomatoes and mix through.

If your pan is not oven-safe, you will now transfer the mixture to a casserole dish that can go in the oven. Otherwise, carry on with the same pan.

Sprinkle the remaining cheese over the top, cover with foil, and place in the oven.

Bake for 20 minutes covered, then remove the foil and bake for another 15 minutes until the cheese is bubbling.

Add toppings and serve.
Notes
Cheese – you can cut the amount of cheese down if you don't mix any into the filling and only use it as a topper. Or you can use additional cheese if you'd like to bring in different textures – feta and mozzarella both work beautifully as part of the topping!
Calories: 329kcal, Carbohydrates: 36g, Protein: 21g, Fat: 12g, Saturated Fat: 7g, Polyunsaturated Fat: 1g, Monounsaturated Fat: 3g, Cholesterol: 35mg, Sodium: 353mg, Potassium: 906mg, Fiber: 14g, Sugar: 6g, Vitamin A: 6746IU, Vitamin C: 64mg, Calcium: 344mg, Iron: 5mg