Roasted Vegetable & Feta Cheese Quinoa Bake
An array of Mediterranean flavors and feta cheese are baked into this hearty quinoa casserole. It's an easy to make vegetarian dinner and works as a main dish or a side. Healthy and fresh, with just the right about of indulgence from the feta cheese, this is a vegetarian recipe for everyone.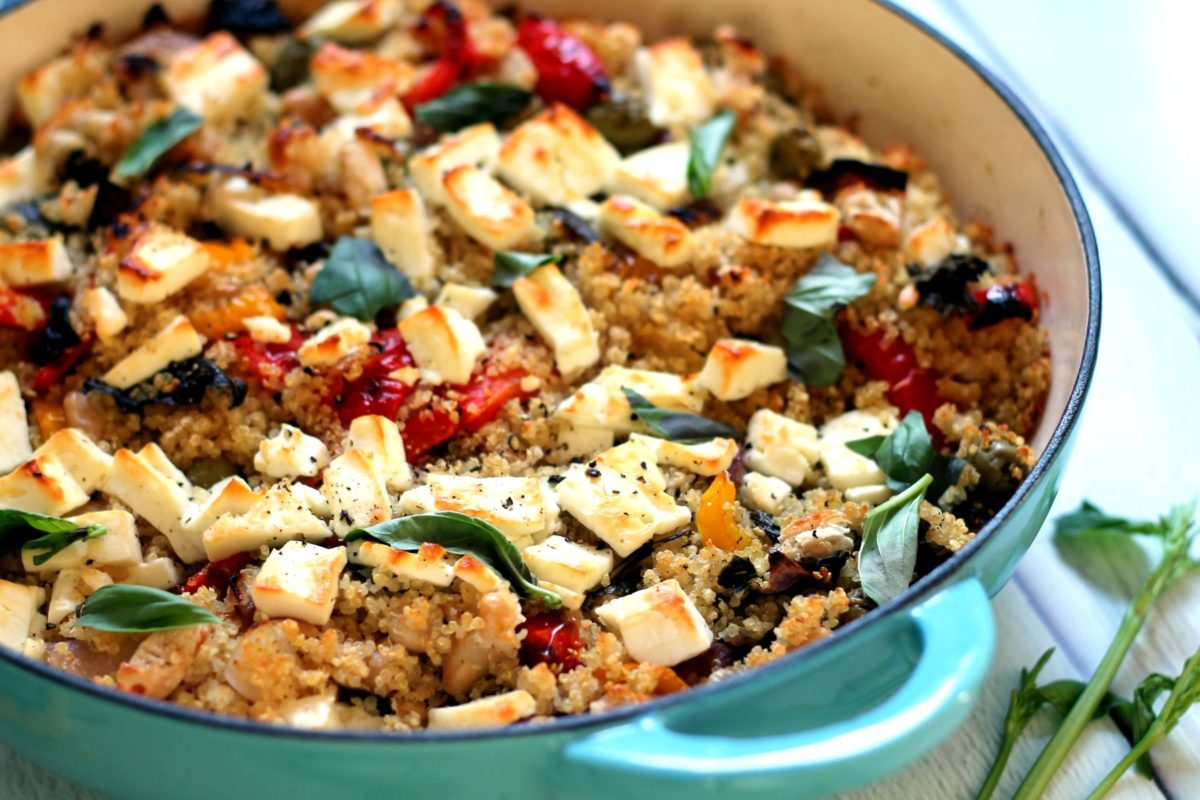 You may have noticed – and I'm sure I've said it before – but my default midweek dinner starts with pasta. Any time I can't think what to make… my eyes just wander on up to the jars of pasta on the shelf. I can't help myself!
So I bought myself this skillet / shallow casserole dish type thing. It can go on the hob / stovetop or in the oven.
I felt like it was the sort of cookware that would inspire me to just throw together a bunch of yummy grains and veggies and cheese and whatever else I had to hand and bake it into a hearty casserole.
It's that kind of effortless cookware where everything always comes out delicious.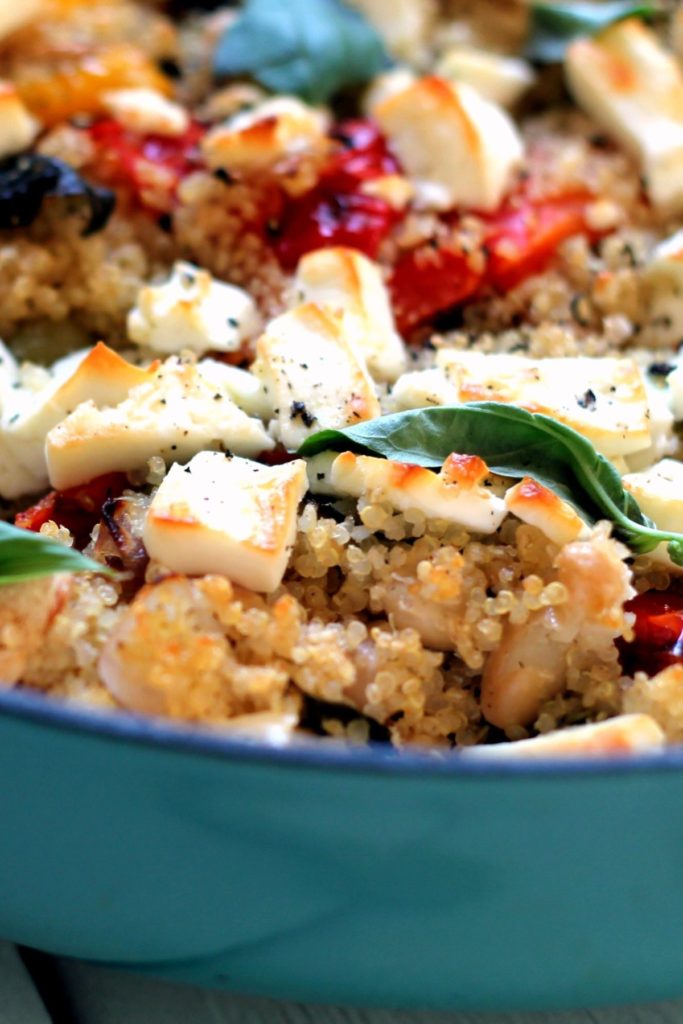 And so far, so good on that front!
It may have to do with my eternal stash of yummy ingredients that I buy but can't ever seem to keep up with! This gives me an easy way to clean out the fridge.
So about this quinoa casserole…
So today's quinoa bake combines a bunch of Mediterranean flavors.
Roasted peppers and red onion, white beans, olives, lemon, basil… and melty feta cheese! Casserole style, with the texture and bulk of quinoa to fill you up, and the melty richness of feta cheese to make it really special.
I used to think I didn't like quinoa. Despite it being brilliant, some quinoa recipes are a little too clean for me.
The addition of all the flavors (especially the feta cheese) in this bake makes this dish truly exciting. This quinoa bake could cure the quinoa skeptic in your life too!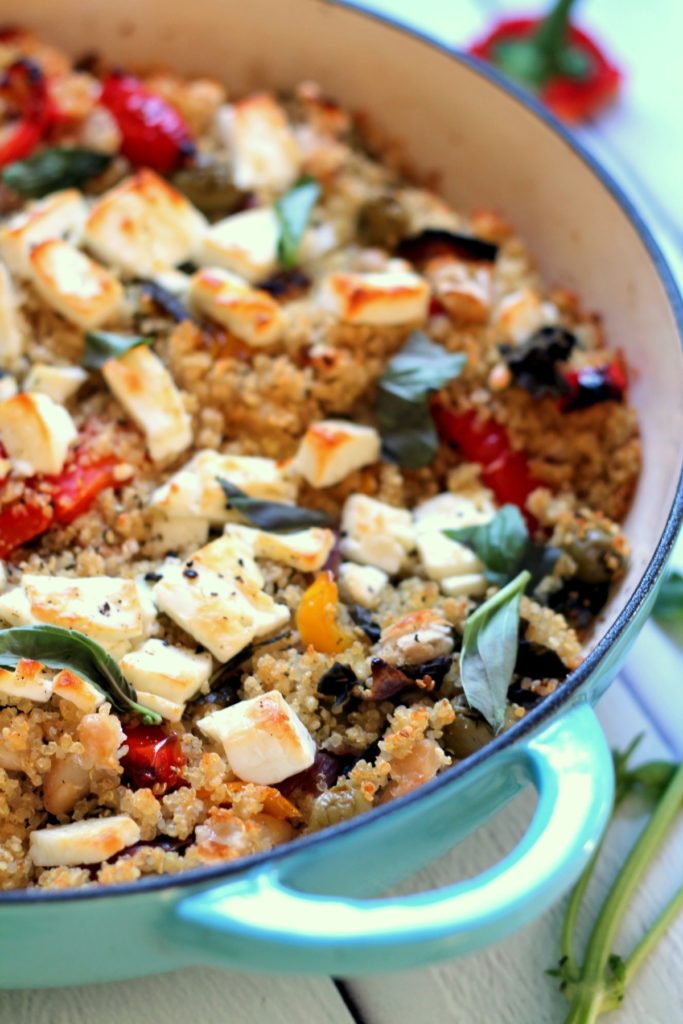 Other Vegetables to use in this Quinoa Casserole
This is a super flexible recipe! Add whatever fresh, seasonal vegetables you have to hand!
In the summer, add some zucchini and some cherry tomatoes.
In the fall and winter, try using a mix of squashes and root vegetables (you may need to roast them a little longer before adding the quinoa).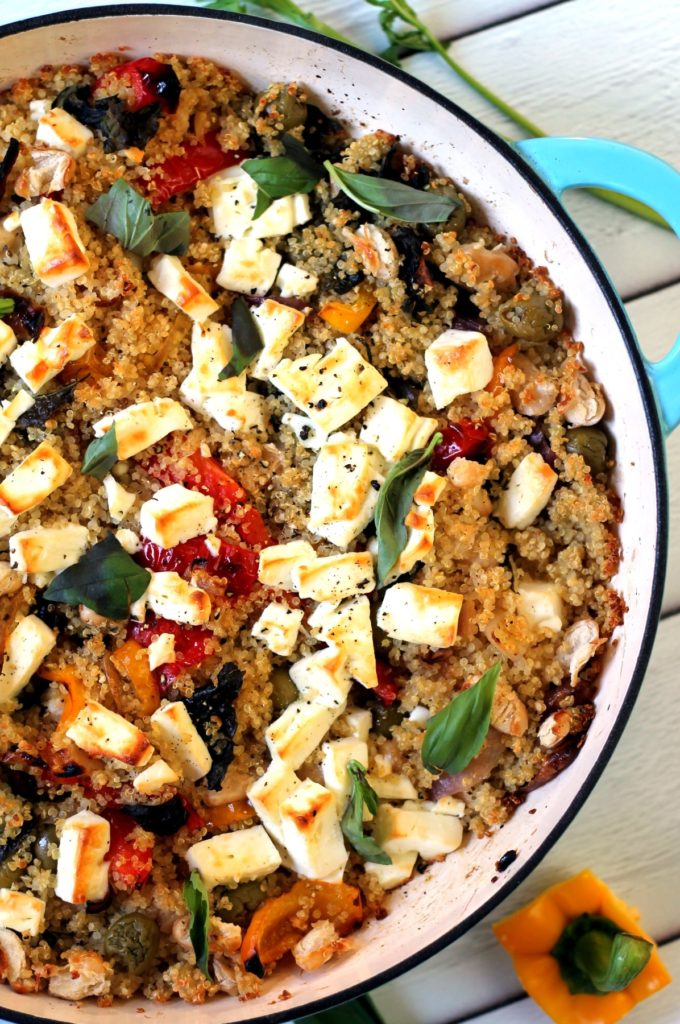 Any Questions about this Quinoa Casserole?
Can I freeze this quinoa casserole?
Yes! You can freeze it for up to 6 months.
What can I use instead of feta cheese?
If you need to swap feta, try goat cheese or halloumi.
Can I make a vegan version of this quinoa bake?
Yes! You could make this dish vegan by using a tofu feta. Check out this  tofu feta recipe on Green Evi.
What can I use instead of quinoa?
Try giant couscous (aka pearl couscous), barley, or freekeh.
Love vegetarian feta cheese recipes?
Here are some more feta cheese recipes from Happy Veggie Kitchen, as well as some picks from around the web.