Vegetarian Asparagus Carbonara with White Wine & Manchego
A vegetarian pasta carbonara recipe that really packs in the flavor. The manchego cheese and white wine sauce is creamy and decadent, and beautifully coats the roasted asparagus and garlic. With so much good stuff packed in every bite, no one will mind that it's meatless! It comes together in half an hour for an easy veggie pasta dinner.
This vegetarian carbonara looks so simple, but don't be fooled – it is mighty.
If you've read my avocado pesto spaghetti genovese post, you might recall that I think plain penne with green stuff is totally boring. And that I gave poor Mr. Veggie a really hard time for making it too often. And yet. Here we are. Yep.
Meet my new friend, the asparagus manchego carbonara. With penne. Because it's Mr. Veggie's favorite.
This pasta looks simple, but it really packs a punch. Each of those perfectly al dente penne bites are coated in egg, olive oil, white wine reduction and grated manchego cheese. Every single bite.
But wait! (excuse my aggressive "fork coming right at you" shot.) It gets even better. Right at the end of that forkful, you may notice something small and dark. That, my friend, is a bit of caramelized garlic. Yep. You're going to roast a whole load of garlic in there with the asparagus. It will add a ton of flavor but, also, some bites are going to go all brown and sweet and crunchy and caramelized, and you're going to love it when they show up on your fork.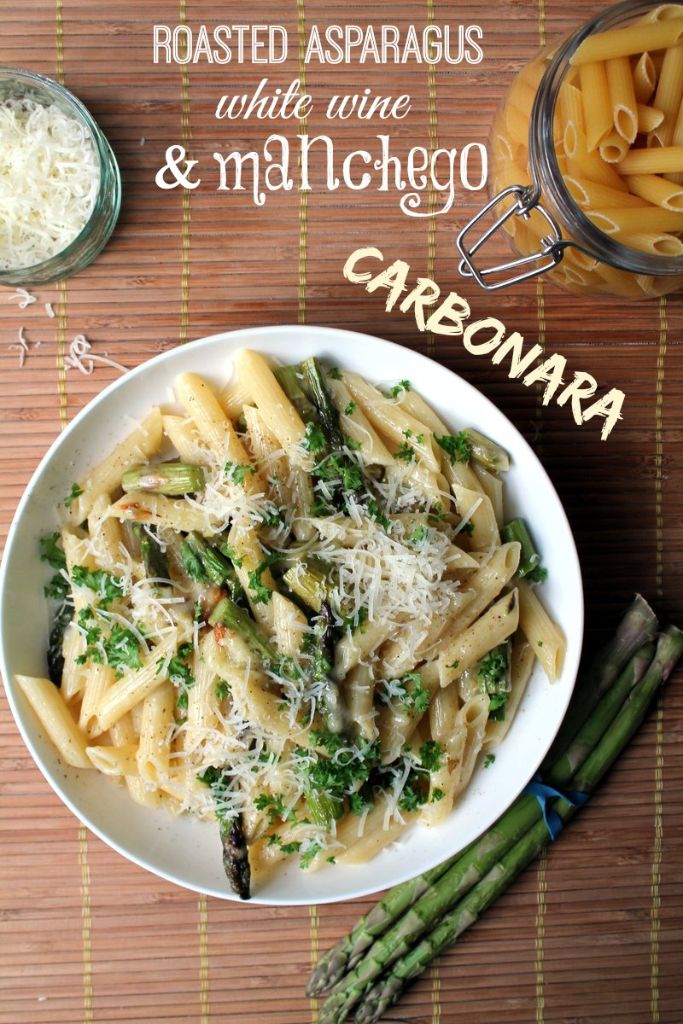 Let's talk about manchego cheese. I love this Spanish sheep's milk cheese, which has a nutty taste and a fabulous texture. It's pretty easy to find in the UK, I use Waitrose own brand. But if you live far away and the import prices are extortionate, you might want to use fresh parmesan, romano or asiago?
Oh and guess what? This pasta is really quick to throw together too. I wasn't even trying to make it easy. Reducing wine? Why not! It's a Saturday!
But if you plan it just so, you can get it on the table in half an hour, no problem. It's just a bit of a juggling act. Conveniently, roasting an asparagus takes just a little more time than boiling penne, which takes just a little more time than reducing wine.
So, while you need to act quickly and confidently, it can be ready much quicker than you'd think.