A quick and easy homemade garlic bread, cooked in the air fryer! Fresh ingredients and crispy toasted ciabatta will make this homemade garlic bread the perfect finishing touch for your next pasta dinner.
Given how much pasta we eat around here, it's no surprise that we are quite big fans of garlic bread too. But I've become accustomed to keeping a stash of the ready made stuff in the freezer, and heating it up in the oven.
Tasty store bought garlic bread is pretty cheap and easy, so I'd never given much thought to making my own, but this air fryer garlic bread has been a revelation.
Thanks to my precious new toy, the air fryer, I really think we'll be a homemade garlic bread kinda household from now on.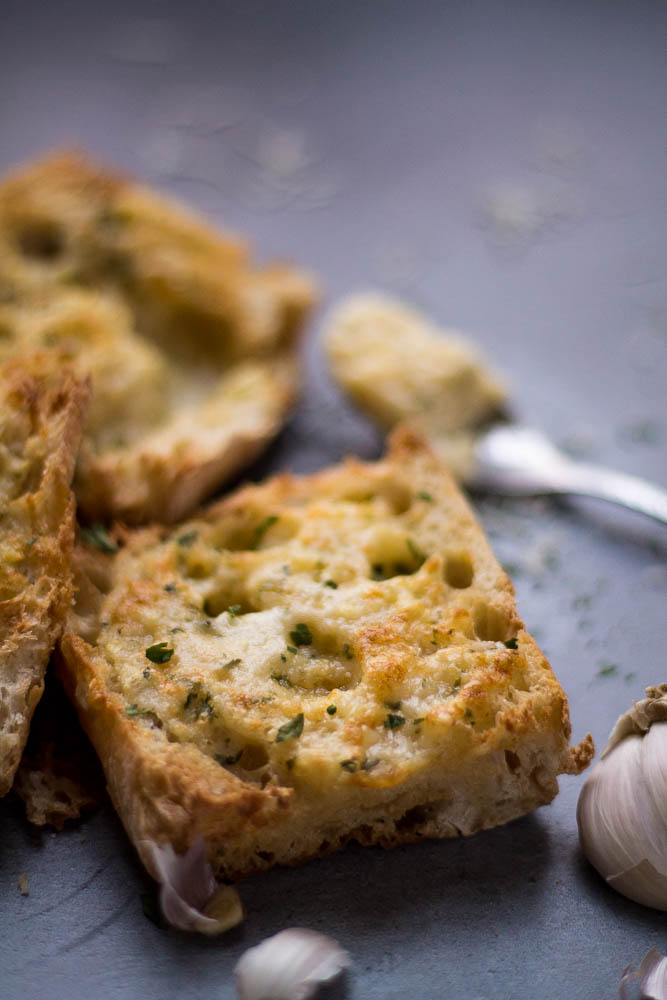 Why make garlic bread in the air fryer?
It is so, so quick.
Your garlic bread cooks in less than 5 minutes, yo. And the air fryer takes very little time to pre heat.
So if you're aiming for a lightning fast dinner, and don't want to wait 10 minutes for the oven to preheat and another 15-20 for the frozen garlic bread to cook, this is a very handy method.
And it's actually not a huge effort.
If you're making pasta, there is a good chance you already have some garlic getting crushed and some parmesan cheese being grated so the incremental prep is minimal.
The benefits of homemade garlic bread
Ever looked at the ingredients for store bought? A lot of the time they aren't using pure butter, or any butter at all.
I do know that margarines can be a healthy choice for those who need to watch their saturated fats. And that includes my husband.
But I prefer the real deal for myself and especially for my growing toddler, who needs lots of calories and fats.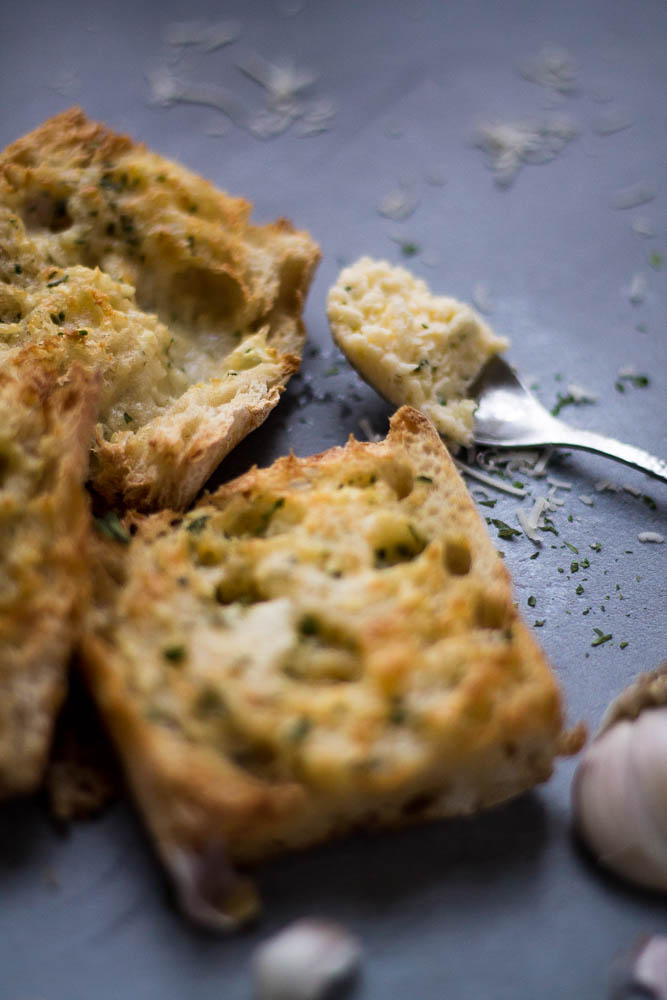 Making your own garlic bread gives you control over how garlicky your bread is. I use three cloves and it's pretty mild, so feel free to add another clove or two.
You can play around and add cheeses! I use parmesan style cheese in this and it's another little flavor kick. You could add some grated mozzarella on the top if you like.
Or go wild and experiment with different cheeses to add, if you're a cheese person.
I don't consider home made garlic bread as a cost saving measure, because frozen garlic bread is cheeeeeap, but it's tastier and faster to make… so for me it makes sense.
How to make garlic bread in the air fryer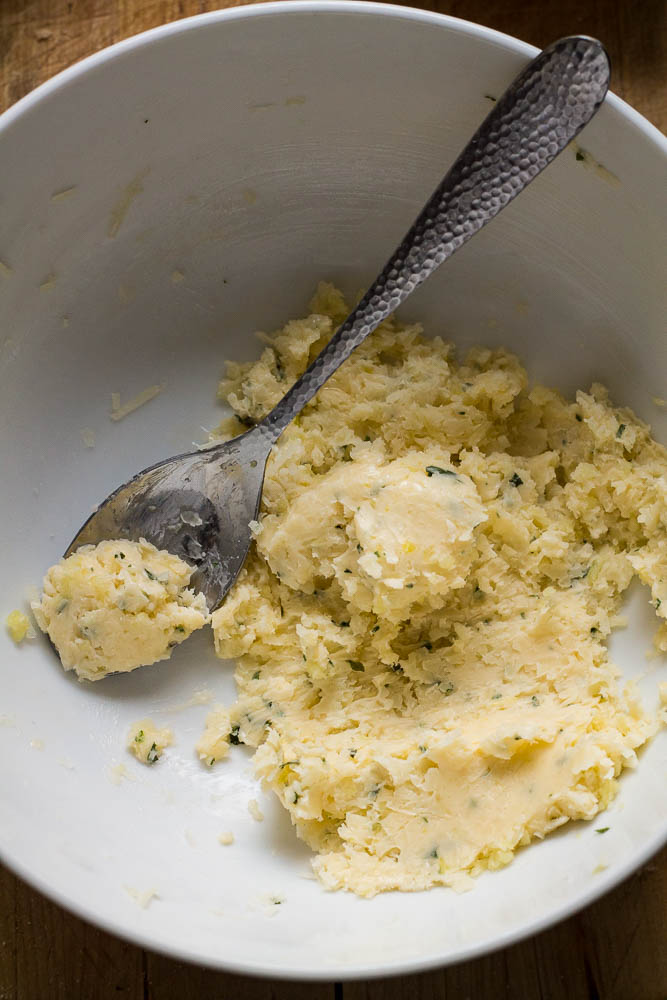 You'll first prepare your garlic butter. Crush a couple cloves of garlic, grate some parmesan (or another Italian hard cheese), mash into butter with a couple pinches of dried parsley.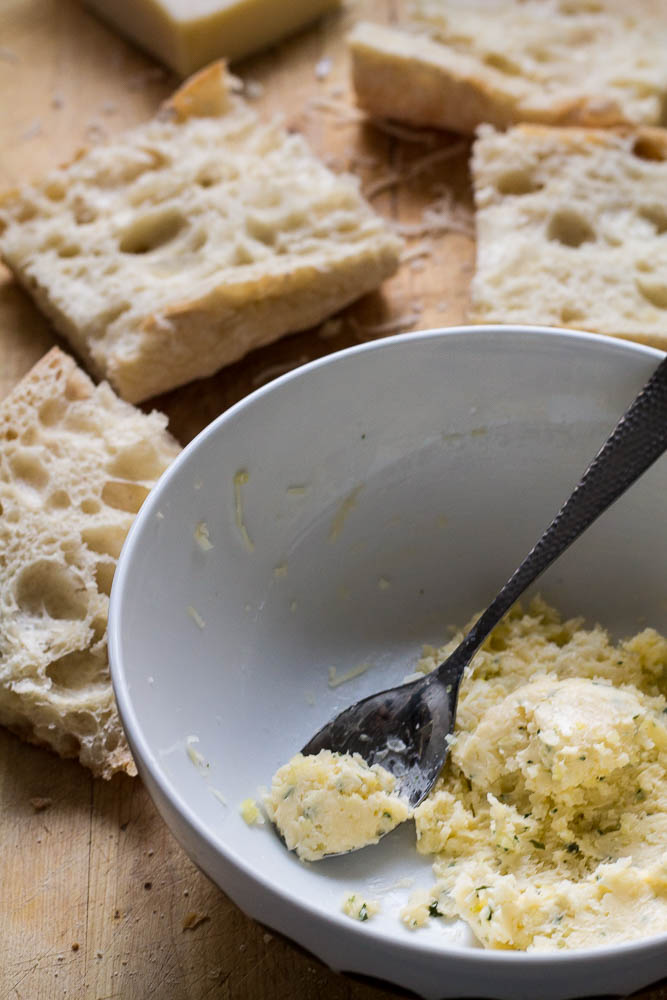 You'll spread the garlic butter on some sliced ciabatta and then air fry for 3 to 5 minutes.
For me, 3 and a half minutes was about right. Yep. It really is fast.
Note that the air fryer does need to be pre heated for it to be this quick!
I air fry the individual slices rather than making a loaf, simply to maximise the basket space (and because it's easier!) This means your result is more of a garlic toast than a big soft garlic bread loaf.
What bread is best to use for my air fryer garlic bread?
I like to use ciabatta. It toasts quickly and ends up a little crispy. Baguette works well too for a more traditional garlic bread.
This is a great way to use up bread that is going slightly stale, and you'll get a crispier finish with older bread. If your bread is really fresh, you will get some nice softness. Both are great!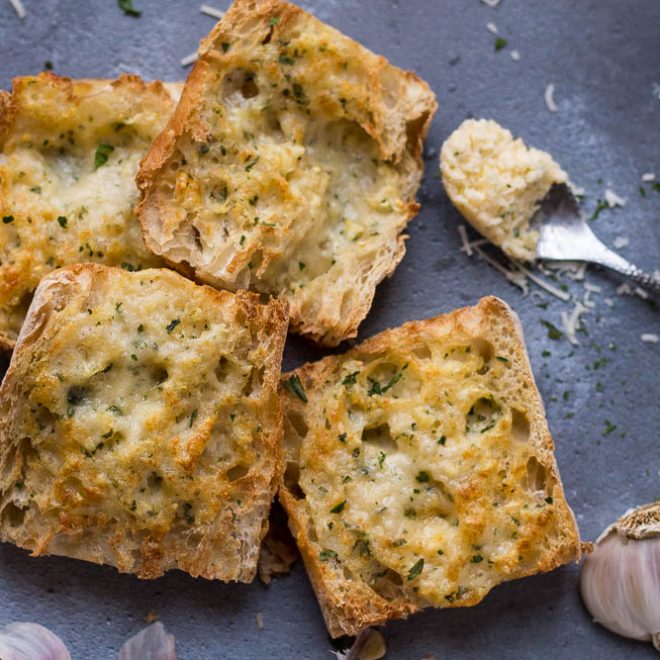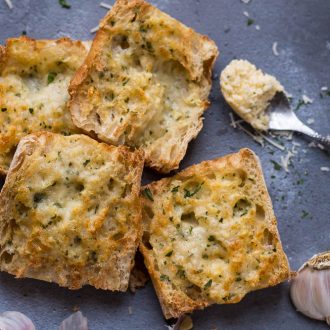 Air Fryer Garlic Bread
A quick and easy homemade garlic bread, cooked in the air fryer! Fresh ingredients and crispy toasted ciabatta will make this homemade garlic bread the perfect finishing touch to your next pasta dinner.
Ingredients
4 slices ciabatta
1 Tbsp (20 g) salted butter
3 cloves garlic, crushed
a few pinches of dried parsley
¼ cup (4 Tbsp) freshly grated parmesan, or any parmesan style hard cheese
Instructions
Start preheating your air fryer to 180C / 360F.

Place the butter in a small bowl. Microwave for around 10 seconds until it's soft. Mix in the garlic, parsley and cheese.

Spread the butter onto the ciabatta slices.

Arrange the slices in the air fryer's tray and air fry for 3-5 minutes (check in after 3 to see how it's doing) until it's cooked to your liking.
Serving: 1g, Calories: 290kcal, Carbohydrates: 35g, Protein: 10g, Fat: 12g, Saturated Fat: 7g, Polyunsaturated Fat: 5g, Cholesterol: 28mg, Sodium: 629mg, Fiber: 3g, Sugar: 4g