12 Vegetarian Recipes to Try This Summer
Summer is just around the corner so I wanted to share some easy, fresh meatless recipes for your warm weather menu!
These recipes make use of spring / summer produce, are quick and easy to make, and will be perfect for dining al fresco with a glass of wine.
These are the best of Happy Veggie Kitchen's warm weather line up…
Enjoy!
12 Vegetarian Recipes to Try This Summer
Total Time 1 hour 10 minutes Yield 4 individual pizzas
A simple recipe for homemade pizzas with burrata caprese topping. The dough is baked with a garlic parmesan butter and then topped with fresh cherry tomatoes and burrata cheese. These delightful burrata pizzas are the perfect summer comfort food! 
Total Time 30 minutes Yield 6-8 tacos (or 12-15 mini tacos)
Quick and easy oven roasted BBQ paneer tacos! The Indian cheese paneer makes for an amazing meatless taco filling, roasting beautifully in the oven in a BBQ taco glaze, then topped with an avocado mango salsa. This delicious and unusual fusion meal comes together in just 30 minutes.
Total Time 30 minutes Yield serves 2 as a main course, 4-6 as a side dish
A quick and easy way to make roasted corn salad! Canned corn is roasted in the oven with smoky spices and added to a crunchy, fresh salad with creamy mozzarella and avocado and a honey lime dressing. Refreshing and vibrant, full of different textures and flavors, this tastes amazing with Mexican food or as a whole meal in itself.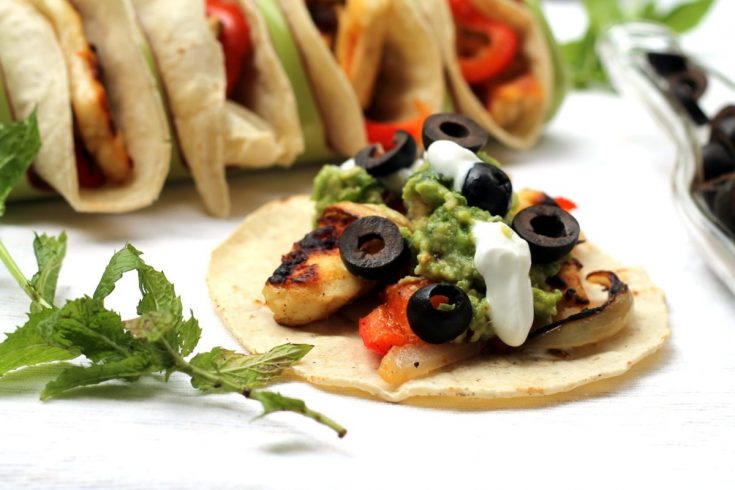 Total Time 35 minutes Yield 8 tacos
Crispy grilled halloumi makes the perfect vegetarian tacos. Everyone will want a taste! A Greek / Mexican mashup that works beautifully, these tacos are made on the grill but can easily be adapted to be pan fried or oven baked. These tacos are one of the best vegetarian barbecue recipes I've found!
Total Time 2 hours 20 minutes Yield 4 large servings
Nora Ephron's take on the beautifully simple Italian classic recipe Pasta alla Checca. Linguine is mixed with a fresh, cold tomato sauce, with a light and flavorful result. This pasta is simple to put together and a wonderful way to use up fresh seasonal tomatoes.
Total Time 1 hour 20 minutes Yield 4 servings
Healthy, simple vegetarian enchiladas packed with roasted seasonal veggies and creamy goat cheese. Red peppers, broad beans (aka fava beans), asparagus and herbs from the garden make this a truly summery enchilada recipe. Easily adapted to include what you've got in season locally to you! 
Total Time 40 minutes Yield 6 servings
An easy, 6 ingredient recipe for peanut butter frozen yogurt with flecks of dark chocolate throughout! This is a healthier frozen dessert with an amazing tangy, creamy flavor that you will love. 
Total Time 15 minutes Yield 4 servings
A 15 minute spaghetti caprese recipe, perfect for weeknight meals! If you love the combination of fresh juicy tomatoes, mozzarella and basil, this will become your new favorite simple spaghetti recipe and a go-to for your busy evenings. Everything can be prepared while the spaghetti cooks, making it quick and easy to get a fresh and healthy dinner on the table. 
Total Time 20 minutes Yield 2 portions
Balsamic baked halloumi cheese with a bruschetta topping. A fresh, summery and quick vegetarian dinner that tastes amazing! It's ready in 20 minutes, including side dishes. This is a delicious meatless alternative to the popular dish Bruschetta Chicken.
Total Time 35 minutes Yield 10-12 servings
This healthy Greek yogurt potato salad is such a hit at BBQs! It's easy to make and the silky greek yogurt sauce packs a real punch while being a lighter alternative to mayo. I also love to serve this still warm.
Total Time 30 minutes Yield 2-4 servings
A vegetarian taco salad packed with smoky roasted veggies! Crispy, creamy, smoky and filling, this veggie taco salad will soon become your favorite healthy Mexican inspired dinner.
Total Time 20 minutes Yield 3-4 servings
A healthy, quick and easy spaghetti dinner packed with gorgonzola, lemon and spinach. The sauce is light but creamy, and coats every spaghetti noodle with an amazing flavor. Eating your greens has never been more delicious, and the it only takes as long to make as the pasta takes to cook!