A deliciously creamy tomato sauce with the addition of capers for extra depth of flavor! This vegetarian sauce is an umami lover's dream and comes together in just 30 minutes for an easy weeknight dinner.
Hey, remember when I shared my brother's spaghetti sauce recipe?
Well, if you liked that, here's the sequel. One morning I woke up to a Facebook message from my brother outlining a recipe for this creamy, dreamy tomato sauce chock full of capers.
Full disclosure: he made it with seafood. Since I don't eat seafood, his suggestion to me was to try it with some extra caper power. Which I did. And it was excellent.
If, like me, you don't eat seafood (or don't feel like it tonight, or don't have any in the house) but you love to see a briney, umami kick to your pasta sauce… well, let's talk. This is the recipe for you.
This creamy caper sauce makes for a fairly easy weeknight meal. Because it's so flavorful with all the capers, veggies and parmesan cheese, we can get away with cooking it fairly quickly.
Of course, the leftover sauce is even better, but isn't it always?!
How to make the creamy tomato caper sauce
Let's watch the magic unfold.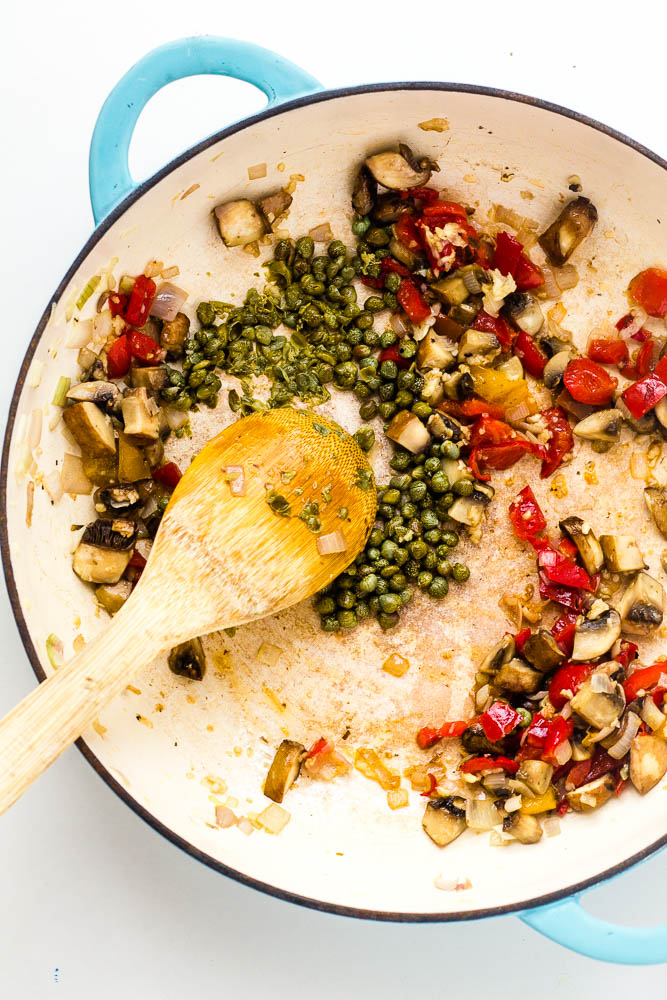 First, you'll sautee some shallot, garlic and veggies together. Then we'll throw in our capers and use the back of the spoon to kind of mash some of them down as they cook to release lots of brine into the sauce.
Mmm. It's smelling kinda good already.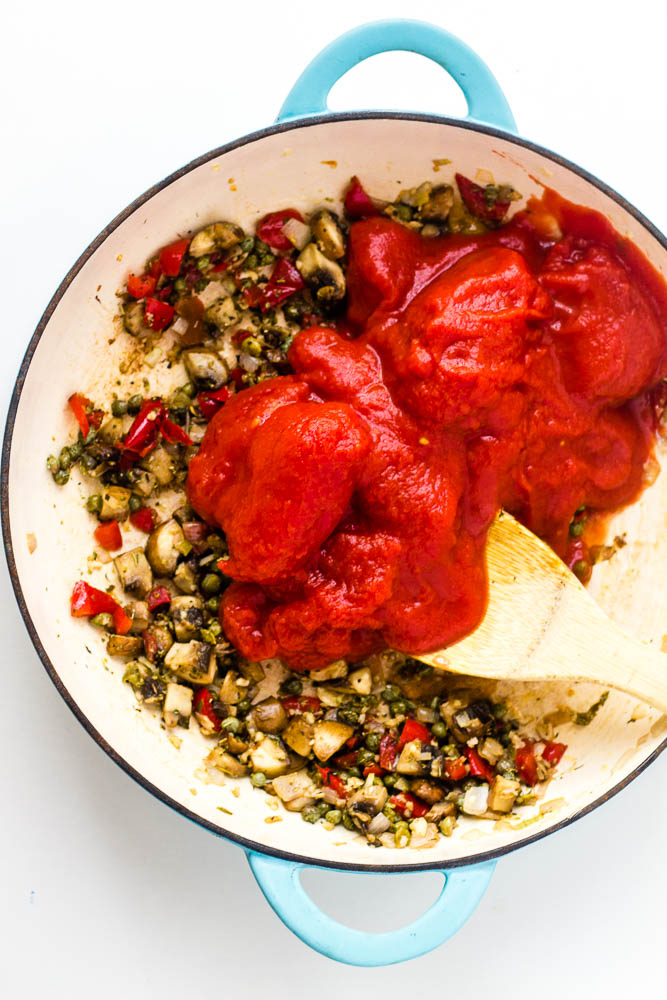 In go the herbs, in go the tomatoes.
I like to use Cirio brand canned whole plum tomatoes (and then I mash them up a little with the back of the spoon too) but just use your personal fave. Let it all simmer while your pasta cooks.
And actually, you could stop there. You could stop there and keep this sauce super vegan and super healthy.
You could.
But I didn't.
Let's carry on and add some bad stuff.
Just before the pasta is ready, in goes lots of grated parmesan cheese which melts into the sauce.
And in goes some cream.
Red is now orange!
Just look at how rich and silky that sauce is.
Sooo good.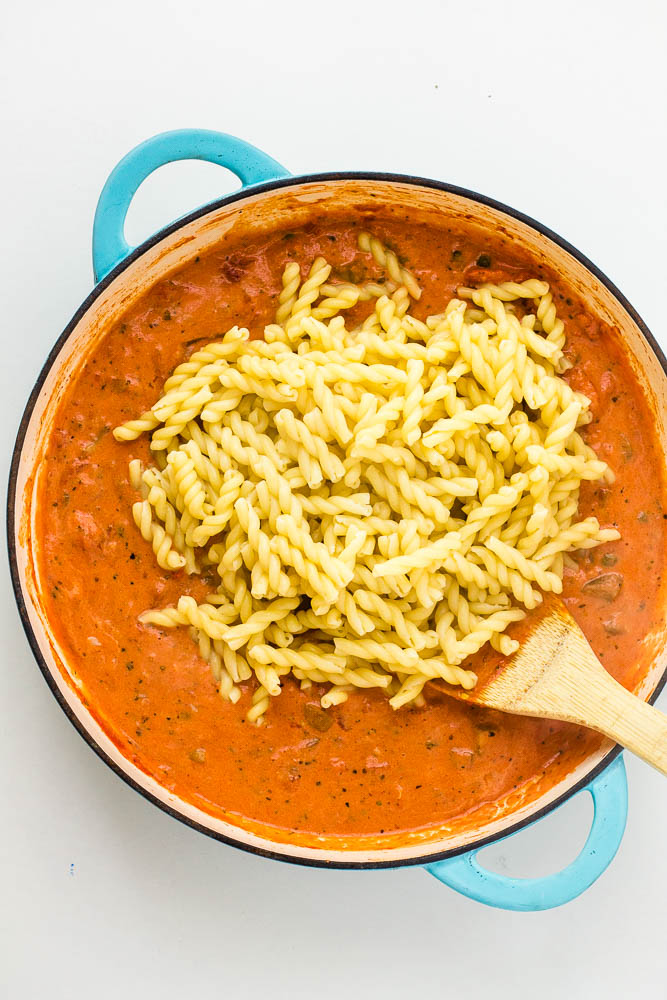 In goes your pasta! I used gemelli pasta today, but I have previously served this with fusilli and linguine, and my brother's original was served on top of spaghetti.
It's an excellent all-rounder sauce for whatever shape you like best.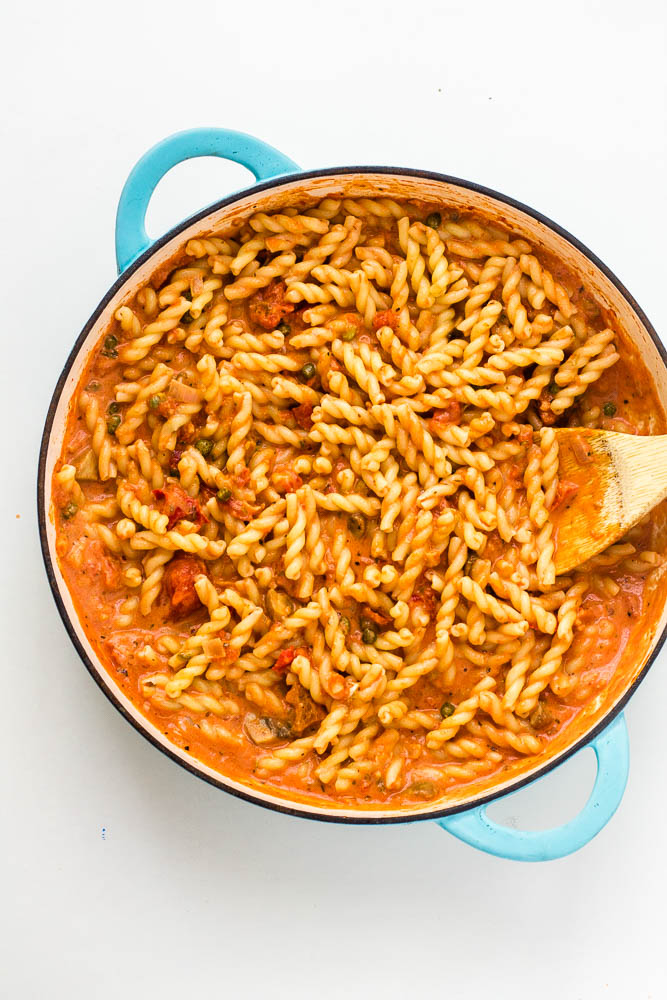 You can top with some more parmesan and capers, if you like.
Ta da!
Plate it up…
… And watch it disappear.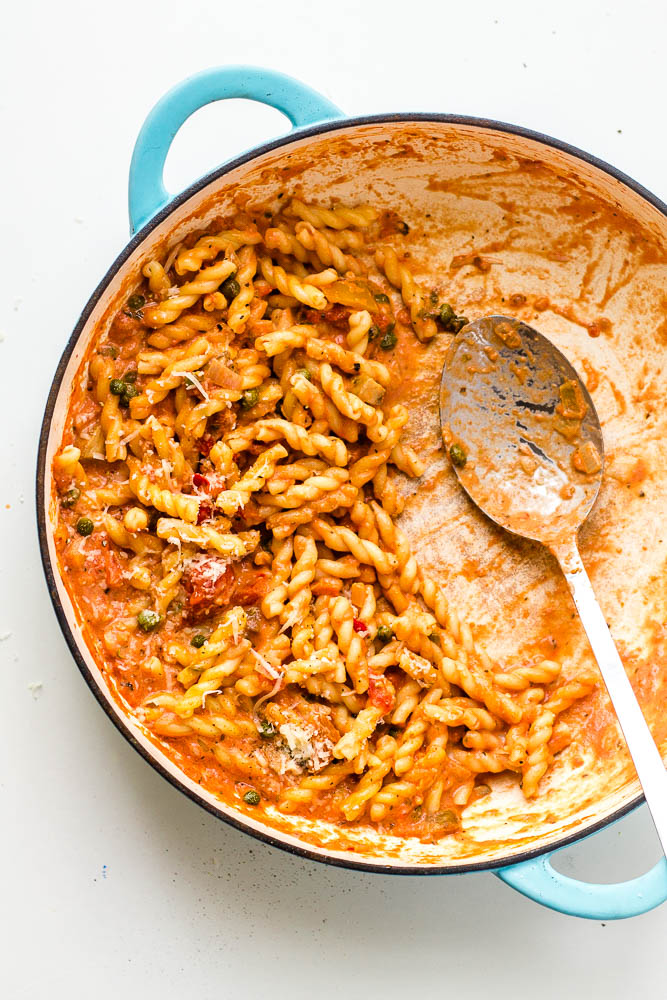 Really, this sauce is an easy crowd pleaser. Everyone loves creamy tomato pasta sauces. Everyone.
You can very simply make it vegan by either omitting the cheese and cream, as we discussed previously, or by subbing nutritional yeast and cashew cream (because vegans like creaminess too, I know!)
You can use gluten free pasta, zucchini noodles or spaghetti squash for the gluten intolerant / carb dodgers.
And I wouldn't rule out this being a kid friendly dinner, even with all the capers. My toddler gobbled this sauce up, unbothered by them. She did leave any visible capers in the bowl, but plenty went in on her fork and she was cool with that. The flavor is there, but it's subtle and not overpowering.