A tapas favorite made easily at home! You can get delightfully crispy potatoes without deep frying by using your air fryer, and the homemade bravas sauce is simple to make with readily available ingredients.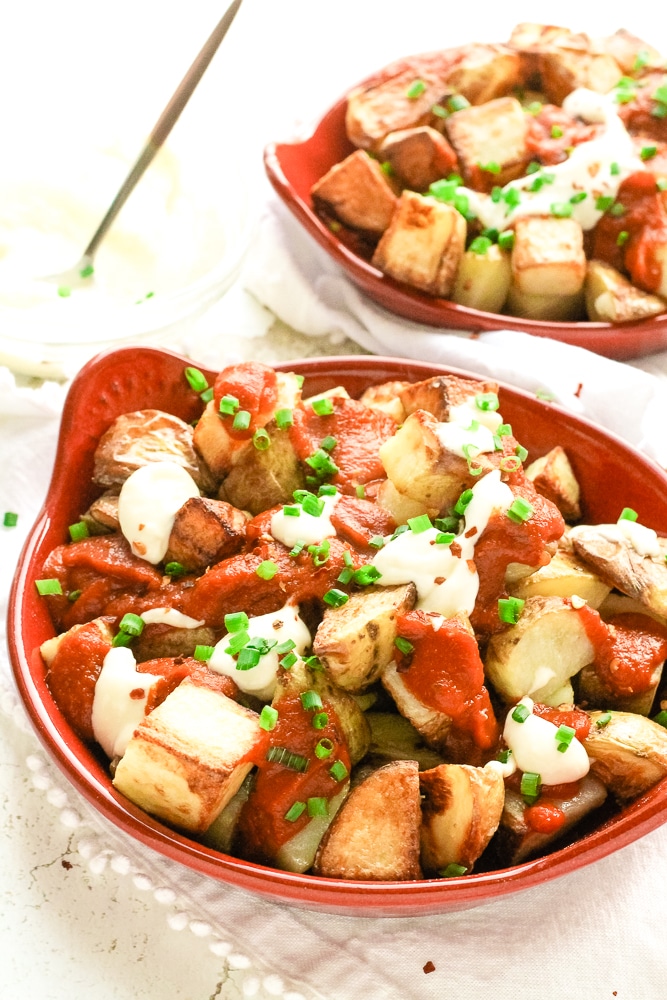 If you're looking for an easy way to make patatas bravas at home, look no further than your air fryer!
For those unfamiliar with patatas bravas, it is a fairly ubiquitous tapas dish with deep fried cubed potatoes topped with a spicy bravas sauce and garlic aioli. They are a lifesaver for vegetarians in a tapas situation, which can otherwise be fairly meat-centric, and my absolute must-try whenever I am somewhere that serves food in Spain!
There was a time in my life (like, a full decade ago) when I actually owned a deep fryer and made patatas bravas in it, but those days of endless time for kitchen experimentation are in the past. So I decided to revive it for 2023 as an air fryer recipe! Because that is what makes sense these days. The air fryer makes this a much simpler recipe to make at home. While they are not exactly the same as deep fried potatoes, air fryer potatoes can be delightfully crispy, especially in smaller batches.
Ingredient Notes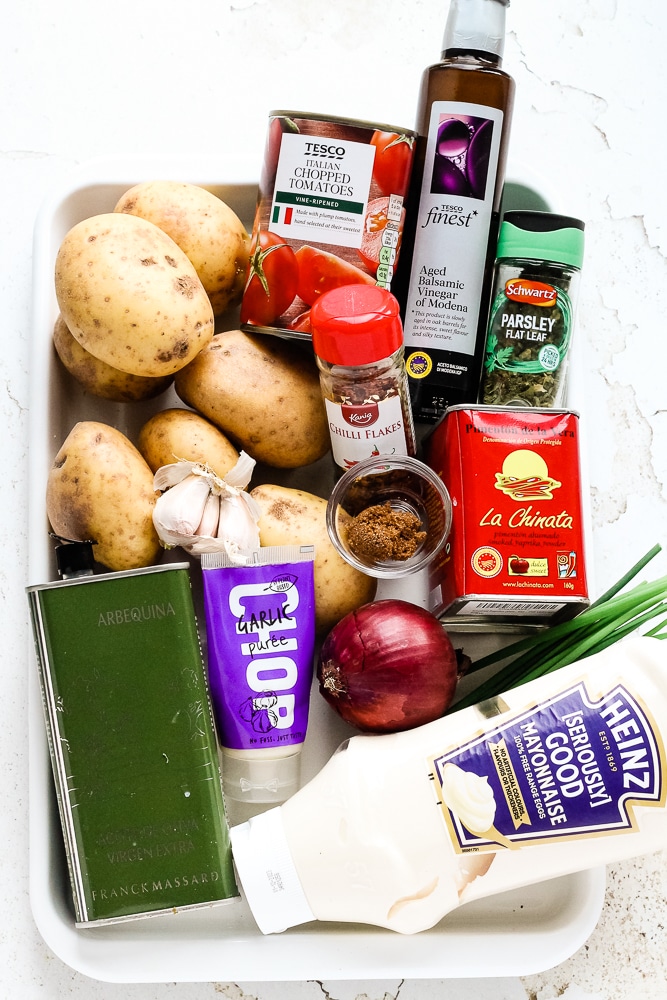 Potatoes: You can use large potatoes cut into cubes, or baby potatoes which I would recommend quartering. The potatoes should be bite sized, and the sizes should be fairly even to make sure they all cook in the same time frame.
Red onion and garlic: white onions, brown onions or shallots work too.
Smoked paprika: Gives the sauce that essential smoky Spanish feel.
Brown sugar: You want the sauce to have a little sweetness to it too.
Red wine vinegar / balsamic vinegar: Also critical to get the flavor right, and either choice of vinegar works well.
Dried parsley: Not a deal breaker but worth using if you have it.
Canned tomatoes: I use chopped tomatoes, but you can use whole or diced, it doesn't really matter since they're getting pureed in the end anyway.
Mayonnaise + olive oil + garlic: I find mixing these things together creates a nice pourable garlic sauce, similar to aioli.
Top Tip : Scaling the recipe
This recipe makes a lot of the bravas sauce – about twice as much as you actually need for the amount of potatoes! This is because we use a can of tomatoes, and I don't see the point of using a partial can. So you can freeze the leftover sauce for another day, or know that you could double the potatoes and not need to make any extra sauce. Equally, you can make less potatoes and just have more sauce to store.
Air Frying Potatoes: What You Need to Know
I like to soak the potatoes for at least 5 minutes before cooking. This helps them to be soft in the middle once cooked and they cook a little faster. But you do need to pat them dry – the drier they go into the air fryer, the crispier they will end up. Feel free to skip this step – your cook time may go up a little.
You don't want to overcrowd your air fryer's basket, or the potatoes will struggle to crisp up. I was pushing my luck with 800g of potatoes in this recipe – it turns out better with about half of that amount. So adjust the recipe according to the size of your air fryer + how much you are happy to compromise if you have a lot of people to feed.
Shake the potatoes every so often while cooking. Every air fryer is different but some won't cook as evenly as others without the food being shaken and flipped around. My mini Philips Viva could have probably handled this recipe without the potatoes being touched, but my larger Instant Vortex needs the shaking.
More Small Plate Ideas
If you're serving patatas bravas as part of a small plates style meal, check out these other recipes that would work nicely alongside: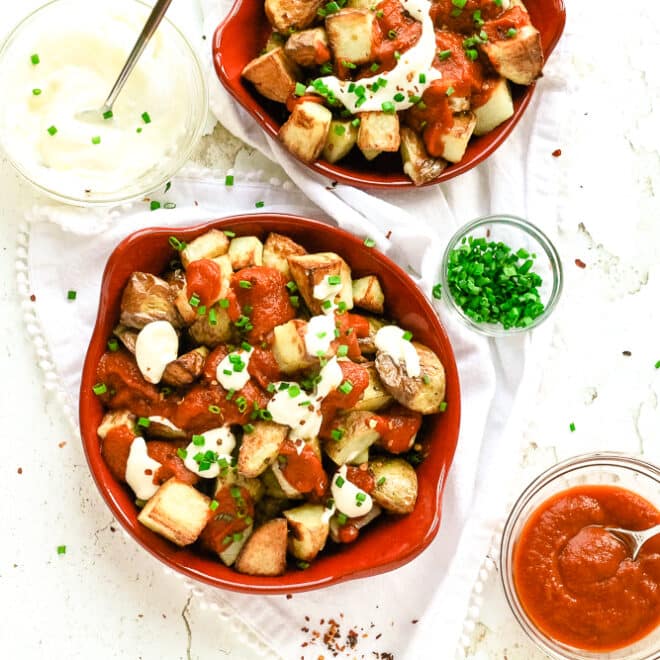 Air Fryer Patatas Bravas
A tapas favorite made easily at home! You can get delightfully crispy potatoes without deep frying by using your air fryer, and the homemade bravas sauce is simple to make with readily available ingredients.
Ingredients
1.75 lb (800 g) potatoes, chopped into small cubes
For the bravas sauce
½ red onion, diced
3 garlic cloves, minced
2 tsp smoked paprika
1 Tsp brown sugar
1 tsp dried parsley
1 Tbsp red wine vinegar or balsamic vinegar
14 oz can of chopped tomatoes
Salt and pepper, to taste
For the quick aioli
2 Tbsp mayonnaise
1 tsp minced garlic
1.5 tsp olive oil
Instructions
Prepare the bravas sauce first. Heat a little bit of oil in a deep wok or saucepan, and saute onions until soft and lightly browned. Add garlic, parsley and smoked paprika, and saute for a couple more minutes until the flavors are released (being very careful not to let the garlic burn). Add the chopped tomatoes, sugar and vinegar and allow the sauce to simmer away while you prepare the rest of the recipe.

Now chop your potatoes into cubes. Soak them in boiling water for 5 minutes while you preheat the air fryer.

Preheat the air fryer to 200C / 390F.

Drain the potatoes, pat them dry and toss in olive oil. Make sure each potato is well coated with oil. Add salt, then add them to the air fryer basket and cook for 15 minutes. At this point, check for readiness and add another 5 minutes to the cook time if needed.

While the potatoes are cooking, prepare the aioli by whisking all ingredients into a small cup.

Puree the bravas sauce in the blender or by using a hand blender.

Once the potatoes are done, remove from the air fryer and assemble! Put the potatoes in a dish, add a little salt, then pour the bravas sauce and aioli on top. Finish with chives or parsley if using.
Serving: 1g, Calories: 530kcal, Carbohydrates: 69g, Protein: 16g, Fat: 23g, Saturated Fat: 4g, Polyunsaturated Fat: 18g, Cholesterol: 192mg, Sodium: 346mg, Fiber: 9g, Sugar: 10g