A deliciously fruity iron rich baby food puree! Roasted blueberries, pear and vanilla are paired with white beans to make a creamy, smooth puree. A delicious way to pack iron and protein into baby's meals, with the added benefit of antioxidants from the blueberries.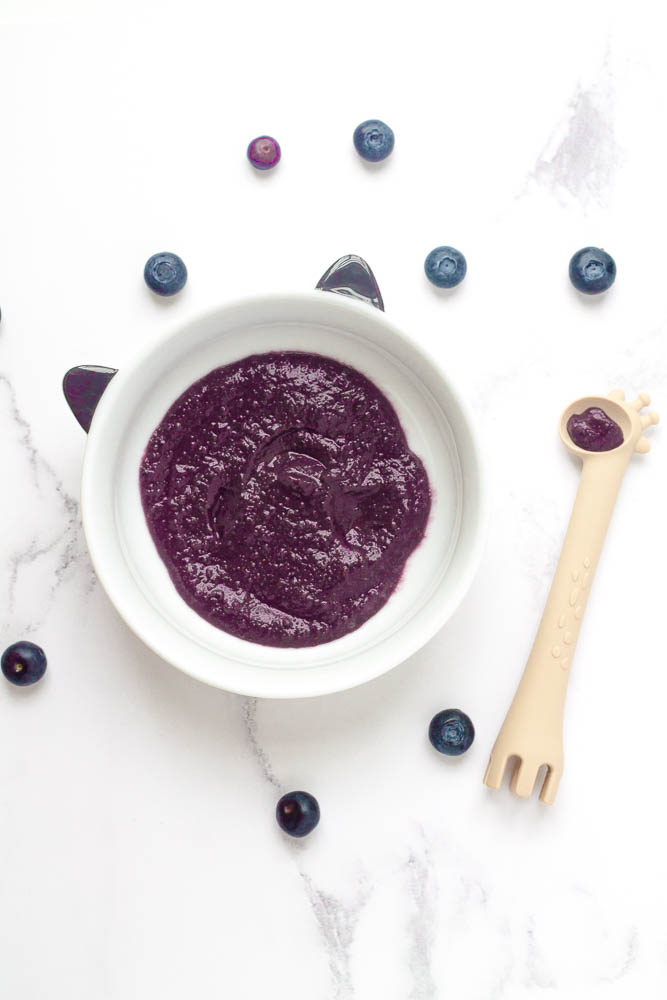 Blueberries and WHAAAT?
I know, this is an odd one.
I am guided here by the recent trend of adding beans to desserts (black bean brownies? chickpea cookies? anyone?) and the fact that babies don't care about our preconceived notions of what goes with what anyhow.
My logic here is:
a) Berries need something to cut through their intensity, and while you can use other sweet fruits to make a delicious fruity puree, the white beans stop this from being a pure fruit / sugary puree. It doesn't taste like beans, the fruit and vanilla flavors completely overwhelm the bean, but it dilutes the intensity of the fruit and has so much to add nutritionally. Like…
a) Iron! Babies need iron in their first foods. Beans have iron. Plant based iron needs to be paired with vitamin C to be more easily absorbed by the body. Fruit has vitamin C. Tick, tick. This is a match made in heaven, really.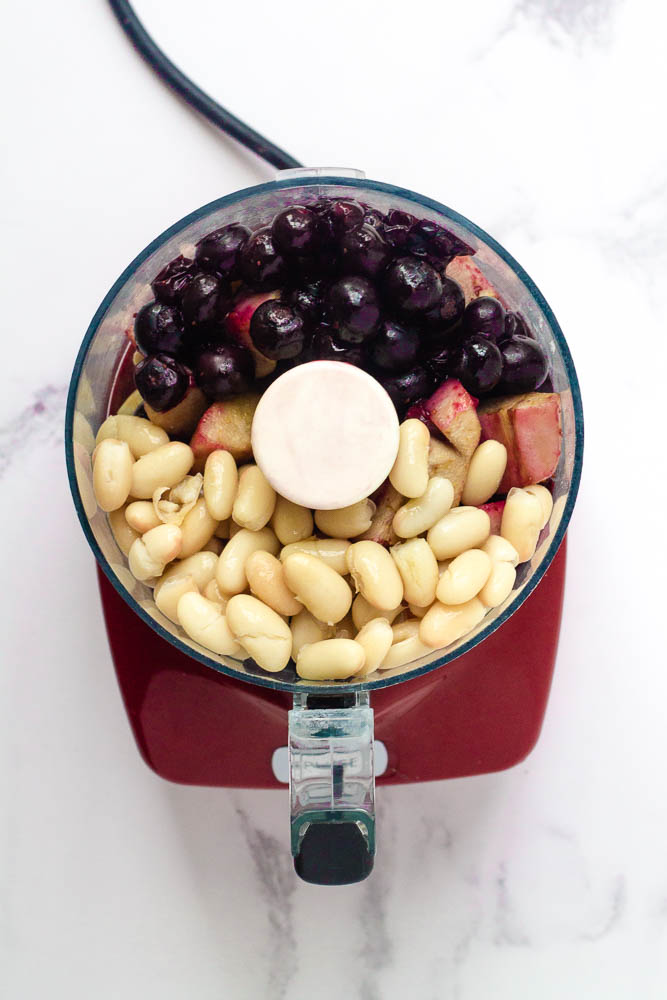 What ingredients does this puree contain?
Blueberries: Roasted, to bring out the natural sweetness and make them more silky when blended.
Pear: Also roasted, the pear balances out the tartness of the blueberries and makes the puree sweeter.
Vanilla Extract: Adds a subtle vanilla flavor and helps to over-ride any beany taste. Some vanilla extracts are alcohol based which can cause concern. I don't worry about it in such tiny quantities but by all means swap in a vanilla paste or non-alcohol based extract if you wish.
Cannellini beans: You could swap in another white bean such as butter bean or haricot (navy) beans if you prefer. For such a small quantity it makes sense to use canned beans, but be mindful with the sodium content. Choose the brand with the lowest salt content and give the beans a good rinse to remove as much as possible.
What age is this puree suitable for?
6 months plus. You don't want to introduce beans before 6 months, and some food introduction schedules would delay beans until 8-10 months, so if you're following a more rigid plan be sure to double check.
If this is your baby's first exposure to berries, go easy on the first taste and keep an eye on their face if their food gets all over it. Some babies' skin can react a little to the acidity. It's nothing to worry about.
SERVING SUGGESTIONS
I like to serve this puree as a dessert, after a meal that didn't include enough protein on it's own. Because of this I like to freeze it in slightly smaller quantities than other baby food meals.
You could also mix this into greek yogurt or oatmeal for breakfast.
How many servings does this make?
6-12 servings, depending on your containers. I got 8 portions of approx 60ml (2oz) each.
Can I freeze it?
Yes! It can freeze for up to 6 months.
Look at the color of it though… Is this going to get as messy as I think it is?
Um, yes.
Sorry 'bout that.