This homemade creamy pesto salad dressing will only take five minutes to put together but tastes amazing! It's the perfect accompaniment to an Italian meal. This recipe makes enough basil pesto dressing for one salad.
Tomorrow is the start of June so… it's salad time.
Time to stop comfort eating and start appreciating the cooling, crunching joy of a fresh salad.
And I don't know about you, but I am always on the hunt for a good salad dressing.
Hel-LO, creamy basil pesto dressing.
I think we can all agree that store bought dressing doesn't taste as good –  but sometimes making a great dressing from scratch feels like too much effort on a lazy summer's day.
When the sun is shining, you don't want to be hovering in the kitchen too long. Many home made dressings require you to squeeze lemons, chop herbs, blend stuff… how many times have you planned to do this and then resorted to just using oil and vinegar because you couldn't be bothered to get out the food processor?
Nothing wrong with oil and vinegar. But sometimes you want something a little different.
Like this super creamy pesto dressing with the delicious flavour of basil knocking around.
This is a little bit of a compromise because you are using some jarred mayonnaise and jarred pesto for the sake of ease. But it still tastes a whole lot fresher than a bottled dressing from the supermarket, for absolutely minimal effort.
And if you're like me, these things are always in your fridge. (Especially since Sacla pesto started coming in squeeze bottles– how cool is that?!) So you can make this whenever you want with no pre-planning required.
Green or Red Pesto?
Classic basil pesto is my default for this, but I have tried it with red pesto, and it's delicious too!
This is a great way to use up homemade pesto too. If you're making some homemade pesto, just set aside a little to make this dressing the next day.
(Speaking of which, check out my guide on How to Make Pesto in Every Color for 65 amazing homemade veggie pesto recipes!)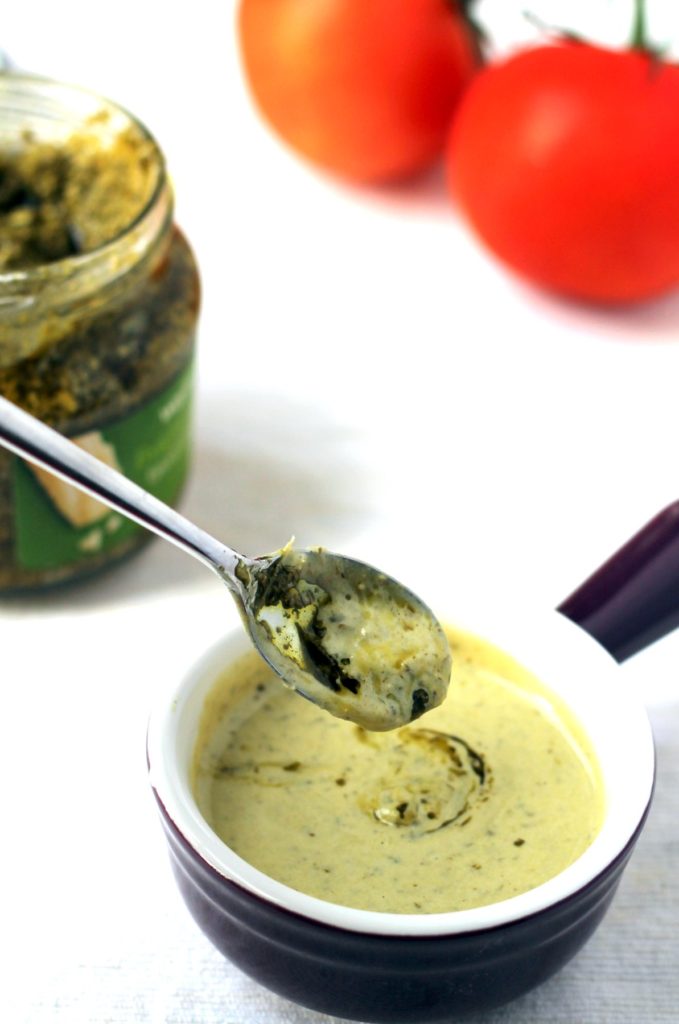 What to do with your pesto salad dressing
Wellll, you'll probably want to put it on a salad. Naturally. But more specifically…
Mix into a super leafy, crunchy salad with lots of tomatoes, cucumbers, red onions and olives.
Use it in a pasta or tortellini salad (but make sure the pasta or tortellini is cold before you add it, because anything with mayo is weird warmed up and then cooled down again).
Make an Italian inspired potato salad with artichokes, olives and red onions, and use this as a dressing.
This would be awesome on a salad pizza! Bake a pizza and scatter some rocket / arugula on top, then drizzle this pesto dressing over the whole thing.
Love simple salad dressings?
You should also check out my smoky yogurt ranch dressing!