I'm a little apologetic about this recipe.
Deep fried potatoes smothered in cheese sauce? Well, of course it's yummy!
Ideally, I don't really want my blog to be another website full of unhealthy foodporn. I feel like that's cheating. I want it to be full of recipes which are clever enough to be delicious without having to resort to being deep fried and cheesy. Things like vegan caesar salad and chili paneer lettuce wraps.
But, you know how it is. Those recipes are hard to come by.
And despite my love of properly thought out recipes, sometimes I am a scatterbrain who forgets to eat for too long, and then gets really hungry and loses their mind a little and cooks up stuff like this.
And then gets out the camera in a low blood sugar induced frenzy.
Snap, snap snap.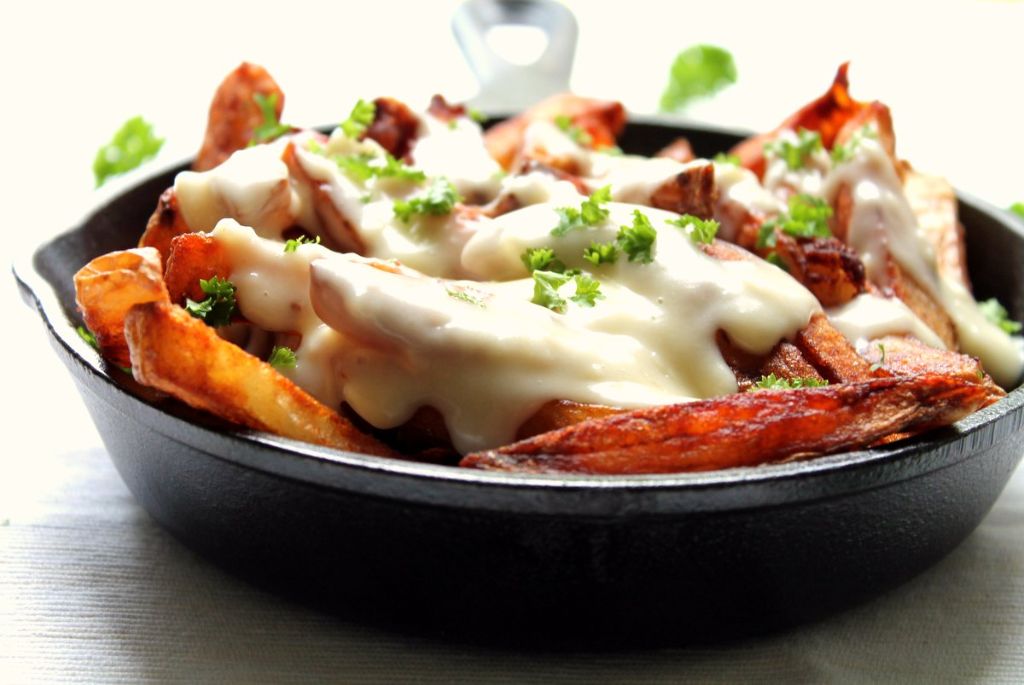 And then apologizes incessantly if I feel like what I cooked wasn't totally ideal in every possible way.
So, that's me.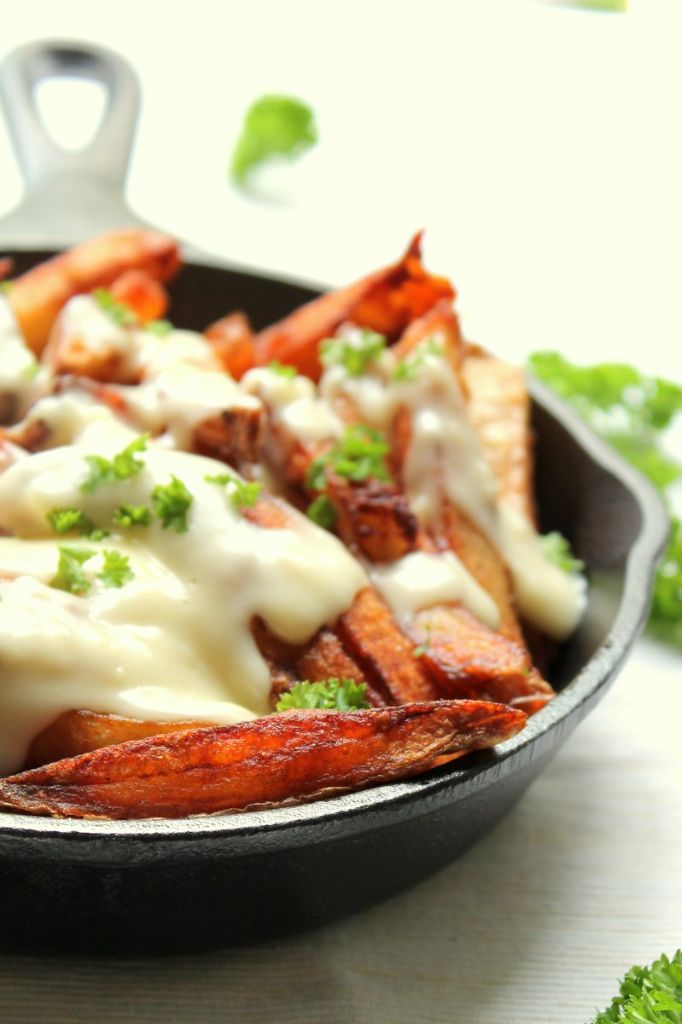 This recipe is exactly as described. We're going to cook some fries, and we're going to make some fondue, and then instead of fussing about dipping bread in the fondue we are just going to pour it all over the fries. And eat it with a fork.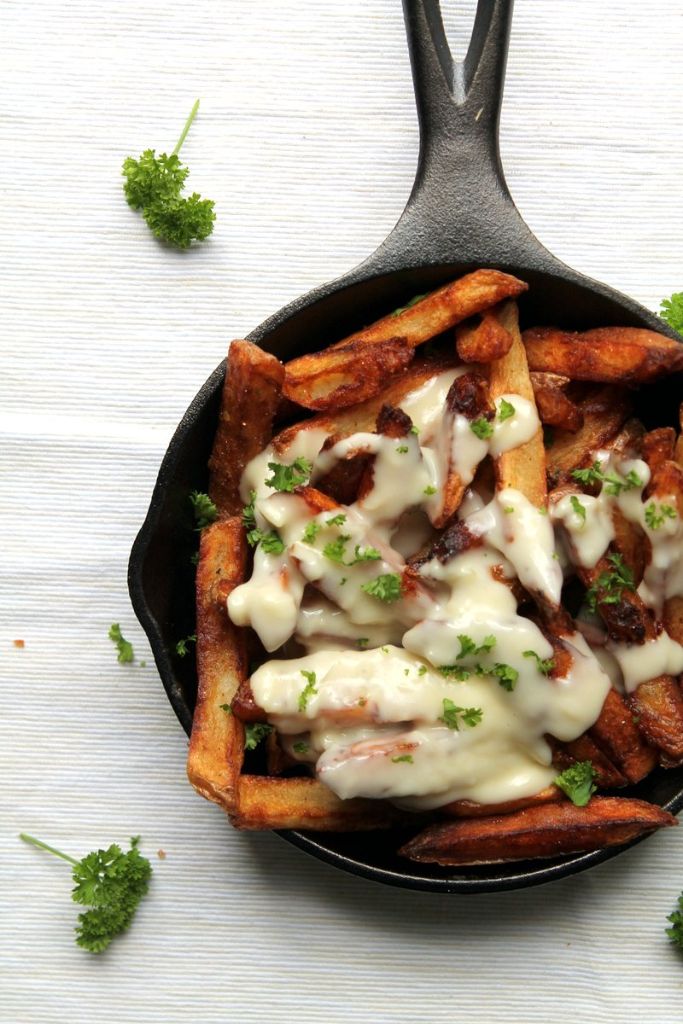 Because it's not going to end up anywhere fancy, the fondue recipe is going to be really quick and easy. Gruyere, wine, garlic and an optional dash of kirsch. That's it. We are not going to spend an awful lot of time on this, because it's the sort of food you're probably going to make while you're too hungry to make good decisions (and therefore in a rush). Or after a few beers (while somewhat incapacitated).
One thing to note. Because I wanted to take photos in my new cute little skillet, the photo does not represent the entire portion. It was a little more than half what this recipe actually created. A good snack for two.
(Full disclosure: I was home alone and I ate all of it myself.)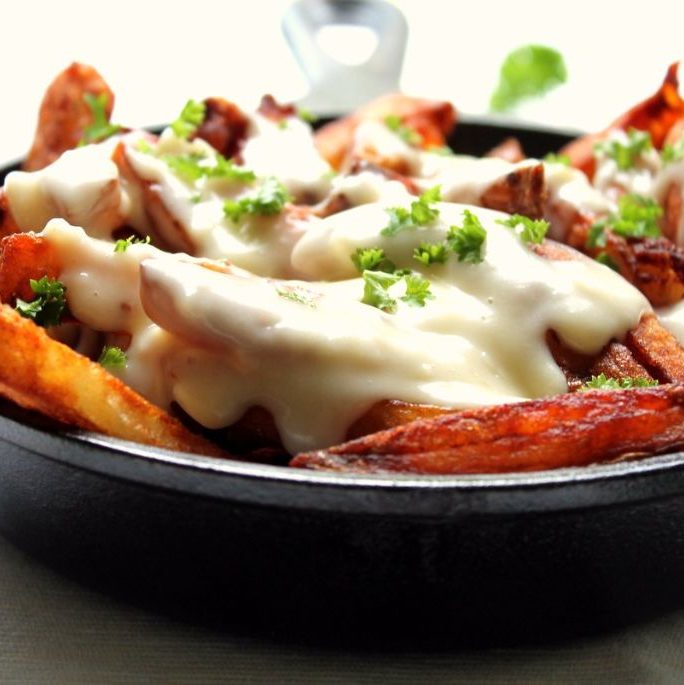 Fondue Fries
Ingredients
3 small-medium sized potatoes, cut into fries
For the sauce
½ cup white wine
1 clove garlic, crushed
⅔ cups (0.61 cups) grated gruyere cheese
1 tsp flour
1 tsp kirsch or sherry
Instructions
Prepare your fries in whichever method you prefer. I have a deep fryer so I double fry them (10mins at 150C/300F, a further 5 minutes at 190C/375F). You could also oven bake them or air fry them if you like.

In a small saucepan, bring the white wine and garlic to a boil. Mix the grated gruyere and flour together and then add it in too. Finally add the kirsch (if using) and whisk constantly until the cheese has melted and is bubbly.

You know what to do! Dump the fries on a plate, pour the sauce in, and grab a fork.
Serving: 1g, Calories: 328kcal, Carbohydrates: 36g, Protein: 11g, Fat: 13g, Saturated Fat: 6g, Polyunsaturated Fat: 7g, Cholesterol: 29mg, Sodium: 271mg, Fiber: 4g, Sugar: 2g