A simple, delicious recipe for baked spinach rice with juicy cherry tomatoes and a fresh mozzarella topping! A great way to pack lots of nutritious greens into a comforting casserole. Using all fresh ingredients, this is a healthier twist on spinach rice.
What am I doooing, posting baked rice in the middle of a heatwave?
I know, right. If you're in a part of the world that is also suffering from ridiculously high temperatures, I understand if you decide to move on from this recipe today.
But please go ahead and bookmark / pin it for later won't you?
It will be cool again one day. Apparently.
The origins of this Spinach Rice Casserole are fairly straightforward. I am on a big "let's eat all the greens" kick.
It's funny what having a toddler at the dinner table can do to your eating habits. I am suddenly all too aware of how many of my staple vegetarian meals have no actual vegetables in them. So, yeah, that needs to change.
This is an excellent way to serve spinach because there's none of the chewy cooked leaf that some people (especially people of the toddler variety) find off-putting. It's barely there.
What's in the spinach rice casserole?
Let's break it down.
Underneath that crispy tomato mozzarella topping is a casserole full of rice, parmesan, flecks of finely chopped spinach and basil, and some seriously juicy roasted cherry tomatoes.
So you can imagine it tastes pretty darn good.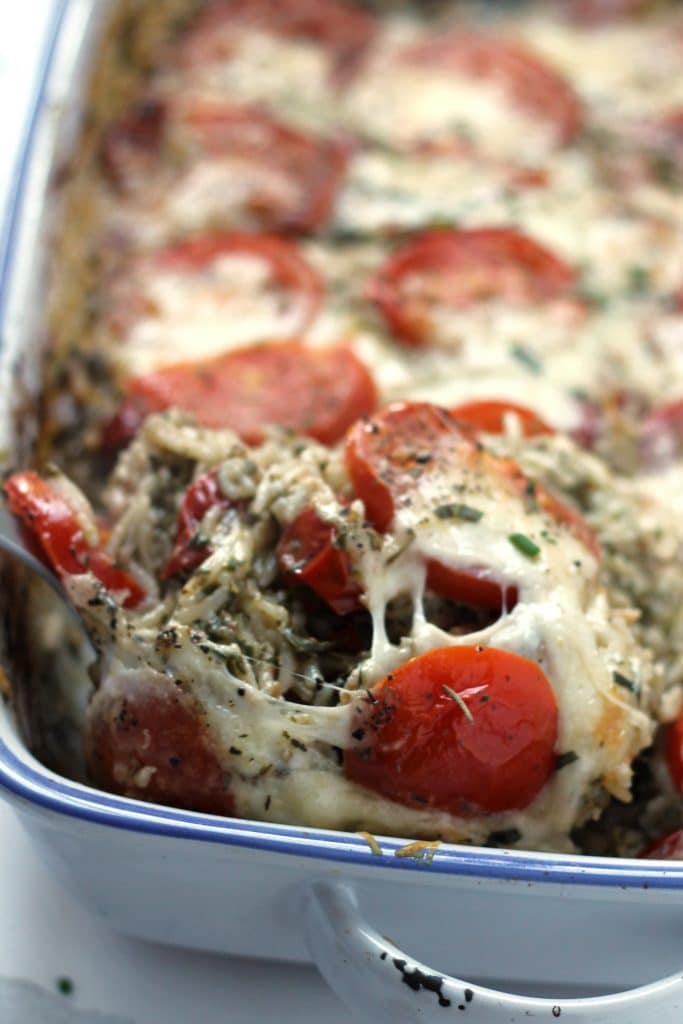 A healthier way to serve spinach rice
This casserole has a lot of nutritional advantages over other spinach rice dishes I've come across.
Many recipes use drained frozen spinach but we use fresh spinach. Frozen spinach is not in itself inferior to fresh, but it does require thawing and draining so some of the nutrients can be lost along the way. Here, we are adding fresh chopped spinach direct to the casserole dish and letting it cook in there, with all of the moisture and nutrients retained.
There is no cream, cream cheese, sour cream or other sources of creaminess. The casserole is perfectly moist from the juicy tomatoes and the spinach juice (for lack of a better term!) For flavor, we do add parmesan (or a vegetarian hard cheese alternative, see the recipe card for options) but a little goes a long way with such a strongly flavored cheese.
The delicious addition of lots of fresh, juicy tomatoes! I used a mix of cherry and grape tomatoes.
And you can ramp up the nutritional value even more with these suggestions.
Use brown rice instead of white. I personally used white because it cooks in the time it takes for the cherry tomatoes to roast, and this makes the recipe's workflow seamless. But if you have more time, or if you have pre cooked brown rice, it will swap in easily.
Mix up your grains. Replace half of the rice with quinoa.
You can eliminate the parmesan cheese but I'll warn you that the dish comes out a little bland that way, so only do it if you're serving this as a side dish to something really tasty. When I made it sans parm, I added a bunch of hummus to the bowl for flavor.
Add a can of drained white beans alongside the spinach.
You can add more spinach if you are a spinach lover! I've made it with double the amount and it works just fine but I was a little conservative with the final recipe since I'm trying to pass it off as kid friendly 😉
So is it a good way to get my toddler or kid eating spinach?
It could be, if the issue with spinach is about the texture of cooked spinach. If you chop the spinach very finely in a food processor, this recipe can neutralize the texture and make it disappear into the background.
So if you know your kid loves rice and cheese, you could be on to a winner. Adding some extra cheese to their portion can help too because the flavor is not super duper cheesy as it is.
If they find the color green off-putting, this is clearly not the solution.
How to make caprese spinach rice casserole:
Sold? Ready to do this? Yay! I'll walk you through the steps, and there's a printable recipe card with full instructions below.
This is easy to make and it's all in one dish. You just add things in two different stages and watch the magic happen.
First, you will roast the cherry tomatoes in a casserole dish for about 25 minutes. While you do this, you can cook your rice and chop your spinach and basil.
As you can see, the cherry tomatoes will burst and get really juicy.
So now you just need to add everything else to the pan with the tomatoes.
First, the chopped spinach and basil mixture. I'm not going to lie. When you first mix the spinach in, it will wilt and look a bit blah. You will question your decisions.
But no need. It's all going to work out.
The cooked rice and cheese follow.
Just stir them all in together.
Now it looks a little closer to edible.
So finally, you'll add the tomato mozzarella topping. Overlap your tomato slices with your mozzarella slices, and top with salt, pepper and a scattering of herbs.
You will bake it for about 20 minutes until the top is crispy.
Serving suggestions for your spinach rice bake:
A side dish for a big family dinner or potluck dinner.
As the main event: a big portion served in bowls with some pan fried asparagus or grilled mushrooms.
As a light dinner or lunch alongside some salad.
The leftovers freeze well and it tastes even better the next day.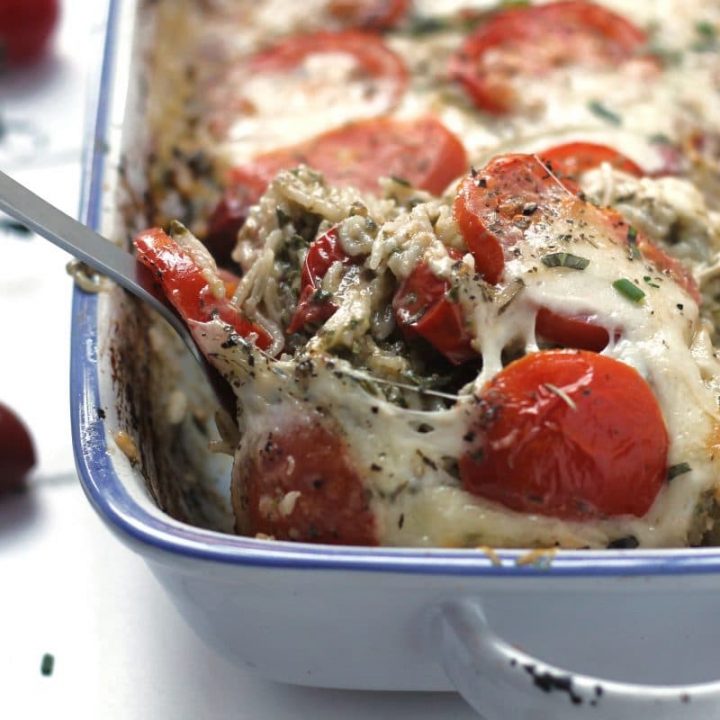 Caprese Spinach Rice Casserole
A simple, delicious recipe for baked spinach rice with juicy cherry tomatoes and a fresh mozzarella topping! A great way to pack lots of nutritious greens into a comforting casserole. Using all fresh ingredients, this is a healthier twist on spinach rice.
Ingredients
1 cup (158g) uncooked white rice
200 g (7 oz) fresh spinach
A few handfuls of basil
700 g (25 oz) cherry tomatoes
150 g (5 oz) parmesan or parmesan style cheese, (I personally use a vegetarian hard cheese that doesn't contain animal rennet)
2 tsps balsamic vinegar
250 g (9 oz) fresh mozzarella, sliced
3 large tomatoes, sliced
Salt, pepper and mixed Italian herbs for sprinkling
Instructions
First, you will roast the cherry tomatoes in a large casserole dish. Toss with olive oil and put them in the oven uncovered for 20-25 minutes at 220C/430F. You want them to be burst and a tiny bit charred.

Meanwhile, set your rice cooking in a small pan according to package instructions or by using a rice cooker.

While the tomatoes and rice are both cooking, chop your spinach and basil very finely. I use a food processor to do this – a few pulses and they are in tiny pieces.

When the tomatoes are done, take them out of the oven and turn the temperature down to 200C / 390F.

Add the chopped spinach, basil and balsamic vinegar to the pan with the tomatoes. Stir through and let it all bubble for a moment while the spinach wilts.

Add the rice to the pan with the spinach, basil and tomatoes and mix through.

Finally, stir in the parmesan.

Top the mixture with overlapping layers of mozzarella and sliced tomato.

Top with salt, pepper and dried herbs to taste.

Bake for 20mins, uncovered, or until the mozzarella is just browned and starting to crisp.

Let it sit out for about 5 minutes before serving.
Serving: 1g, Calories: 313kcal, Carbohydrates: 31g, Protein: 17g, Fat: 14g, Saturated Fat: 8g, Polyunsaturated Fat: 5g, Cholesterol: 44mg, Sodium: 654mg, Fiber: 3g, Sugar: 5g