These flavor packed vegan refried beans are made in the slow cooker and have a delicious smoky edge to them! Cooking dried pinto beans in the slow cooker is an economical way to fill your freezer with tasty refried beans for quick and easy weeknight meals.
Refried beans, yo.
How many new vegetarians get caught out by refried beans in restaurants that use lard? I know that's the more authentic way to prepare them, but beans can be just as delicious when made vegetarian and vegan style.
And when I go to the effort of making a batch of refried beans, I want those beans to be tasty enough to just throw in a lettuce wrap or on some tacos and for them to be enough to carry the meal. I don't just want them to be a side dish.
So where does this leave us?
Here! These are the beans.
Lots of garlic, onion, spices and mild chilis leave these vegan refried beans super flavorful, with a little kick and a smoky undertone.
And wow, did it take me forever to get the recipe right. This post has been sitting in my drafts for years. Not months. YEARS.
Years of eating homemade refried beans and being, like "Well these are good but I need to add a little something more." And just constantly pondering the route to success with refried bean making.
Finally, here we are with my most perfect beans.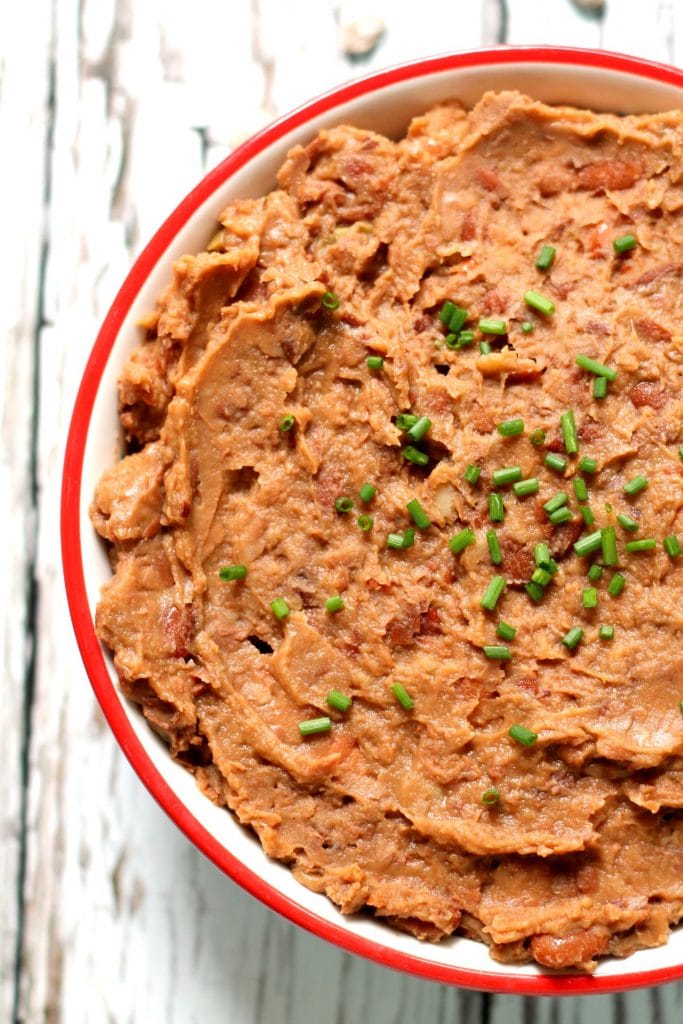 How to make vegan refried beans in the slow cooker – my method
Using a slow cooker means you can make these with dried pinto beans. This is soooo much cheaper, healthier and tastier than using canned.
My method is not as hands off as many other slow cooker refried bean recipes. But I make them when I am in the house, and therefore able to add things in two stages, check in and stir / adjust water every so often. I've given instructions for a more "set and forget" method in the recipe card if that's what you need, but there is a trade off in flavor.
Do you need to soak the beans?
Soaking dried beans is the best practice, and many swear by soaking as a way to reduce the gassy effect of beans. But they will cook just fine if you don't, and I usually forget, and I can't say it gives me any trouble. Your choice.
Step 1 : Browning the onions, garlic and spices
You'll first throw your onions, garlic, spices and oil into the slow cooker and let them cook for a while on their own. On a high heat, your slow cooker will sauté them a little and make those flavors pop. I find this takes 45 minutes or so.
Some slow cookers have a browning function. Use that if yours does! But I find that the high heat setting + a little bit of time does the job well in a normal slow cooker.
Then you'll add your beans and water and let them cook for several hours.
Step 2 : Leave the beans to cook
I like to cook my beans in just the right amount of water so that I don't need to drain any liquid at the end. This keeps more flavor in, but the water to bean ratio is not an exact science, so it's possible they can start to dry out while cooking. It also means that the beans on the top could undercook if you're not careful, because they aren't always fully under water.
To counter this, I go in a few times while they're cooking and stir them. This ensures that no beans undercook due to being stuck at the top the whole time. I'll add some extra water if they seem too dry. When they start to soften, I give them a frequent stir to get them breaking down. The resulting texture is amazing and I don't need a blender to get them smooth.
Easy things to make with vegan refried beans
Well, now that you have a batch or refried beans, what ever shall you do with them? Here are some thoughts:
Smoky Vegan Refried Beans | Slow Cooker
These flavor packed vegan refried beans are made in the slow cooker and have a delicious smoky edge to them! Cooking dried pinto beans in the slow cooker is an economical way to fill your freezer with tasty refried beans for quick and easy weeknight meals.
Ingredients
1 Tbsp coconut oil
5 cloves garlic, sliced
1 small/medium onion, chopped
2 jarred green chilis or jalapenos, deseeded and sliced
1 tsp of cumin
1 tsp of oregano
½ tsp of chili powder
½ tsp of ground coriander
2 tsp of smoked paprika
2 cups dried pinto beans
4-5 cups of water
1-2 tsp of salt*
Instructions
Add the coconut oil, onions, garlic, chilis and spices to your slow cooker. Leave cooking on high for about 30-45 minutes, until the scent of garlic and spice starts to fill the room and you can see the onions and garlic are a little bit cooked.

Add the beans, salt and 4 cups of water. Leave cooking on a high heat for around 5 hours, or low heat for around 8 hours.

After a couple of hours cooking, check in our your beans and stir them to make sure the ones at the top get submerged into the water.

Stir hourly until they are fully cooked. As they start to cook and soften, stir them quite aggressively and mash them with the spoon against the side of the pan to encourage the beans to break down. Add more water (half a cup at a time) as needed, if the beans look too thick or are sticking to the pan.
Notes
*I like the full two teaspoons of salt, but if you tend to prefer less salty food, that might be too much for your taste. One teaspoon will certainly suffice. Alternative EASY Method if you need to leave the house : Add in all ingredients at the same time. After you add the beans, pour in enough water to go a couple inches above the top of the beans. Cook them on LOW heat for about 8 hours. When they are done, ladle out as much of the excess liquid as you can and set it aside. Use a potato masher or immersion blender to break the beans down, and add the cooking water back in as needed to achieve your desired texture. Storage : These keep well in the fridge or freezer. They will thicken quite a lot, so you may wish to add a little water when you reheat. If you're not eating any on the day you cook them, I would add another cup of water when you're cooking them and aim to have them a bit more runny than you actually want them to be. They will thicken when you store them so should end up at the right texture this way.
Serving: 1g, Calories: 95kcal, Carbohydrates: 15g, Protein: 5g, Fat: 2g, Saturated Fat: 2g, Polyunsaturated Fat: 1g, Sodium: 616mg, Fiber: 5g, Sugar: 1g