Crispy, garlicky, cheesy broccoli at lightning speed… air fryer broccoli is a revelation! You will be amazed at how well your air fryer cooks vegetables. This broccoli is the perfect place to start.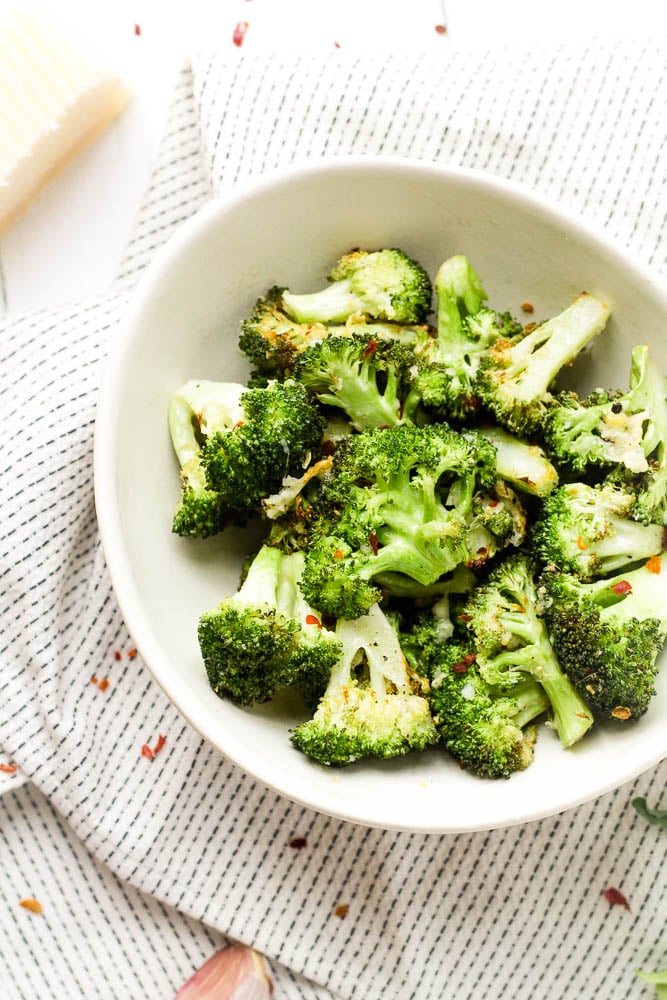 So, I don't know if you've figured this out yet but…
Air fryers are all about the vegetables
Not the fries. The real vegetables.
I was intrigued by the idea of an air fryer for a while before I bought one, but realistically? I worried that a gadget which just allows me to make healthy versions of deep fried treats was not going to get a lot of use around here.
I need gadgets that help me make real food for the dinner table and actually save me effort. I quickly discovered that for me, the benefit of the air fryer is not making food that you'd usually expect to be deep fried, it's for making food that would otherwise be roasted or baked. Like this broccoli!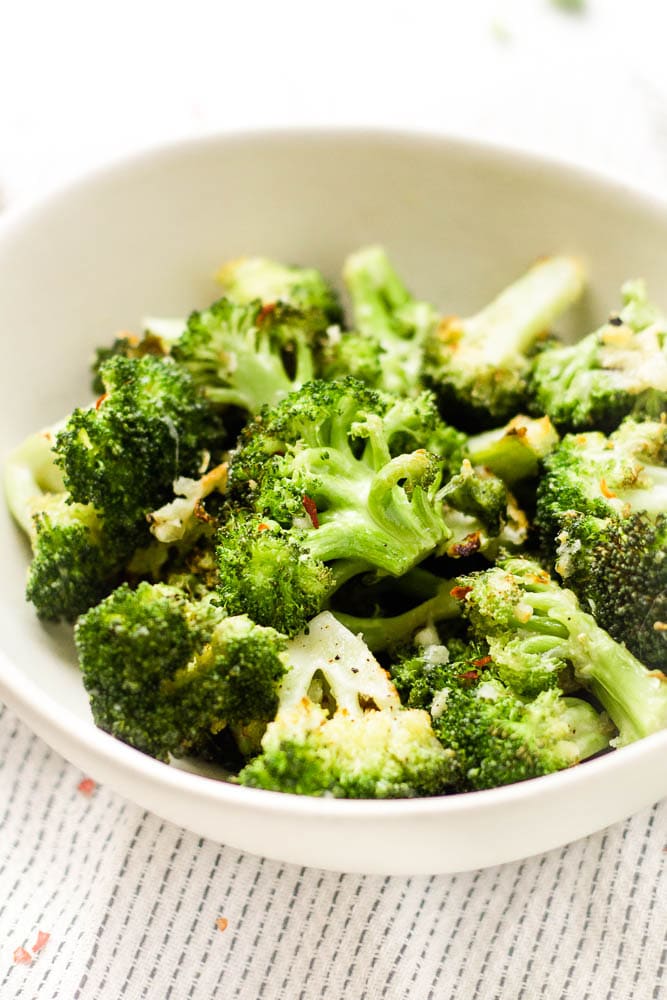 Why making broccoli in the air fryer is so great
Do you like roasted broccoli? Duh. Well air fryer broccoli is like roasted broccoli, but it takes around 3 minutes for the fryer to pre heat and then around 5 minutes to cook. That is fast.
And it tastes better. I love the texture and find it superior to any roasted broccoli I've made in the oven. It's al dente, it's crispy, and the garlic and parmesan you coat it with are going to make it soar.
I am generally averse to making too many components to any one dinner (I go into a tailspin when there's too many logistics to organize) but this is so achievable it will simply help me to eat more broccoli. Which is always a good thing.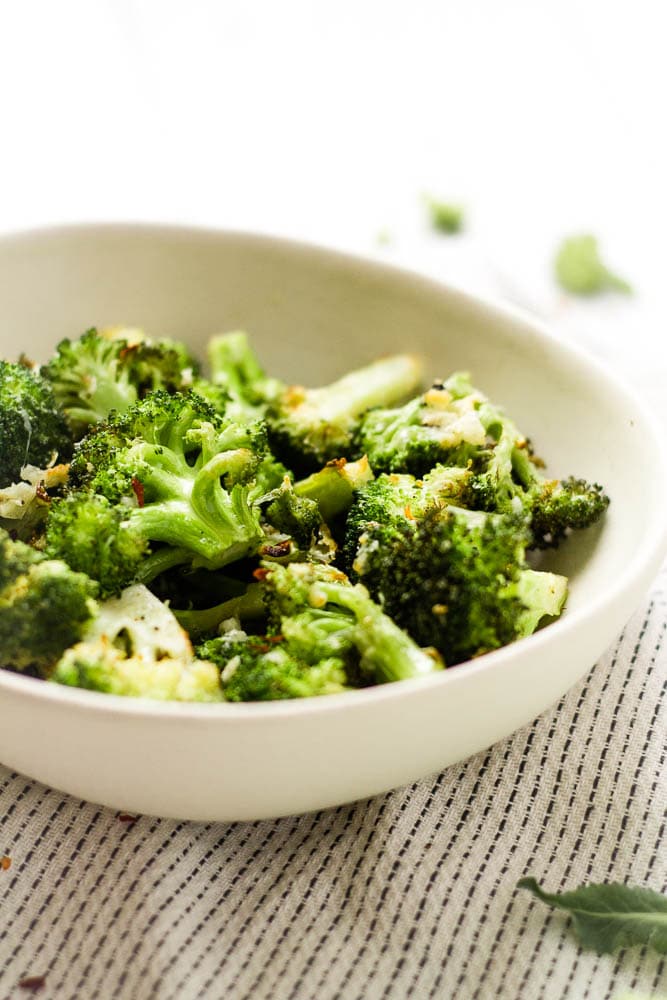 "I could just eat a giant mound of this broccoli", Mr. Veggie said to me when I first made it. If you've never tried broccoli that made you feel this way, you'll need to try this now.
Like, right now.
Let's do it! How to air fry broccoli
The basic idea is that we will prep the raw broccoli by coating it lightly in an olive oil, garlic and parmesan mixture. Then we'll throw it in the pre heated air fryer basket, and away we go.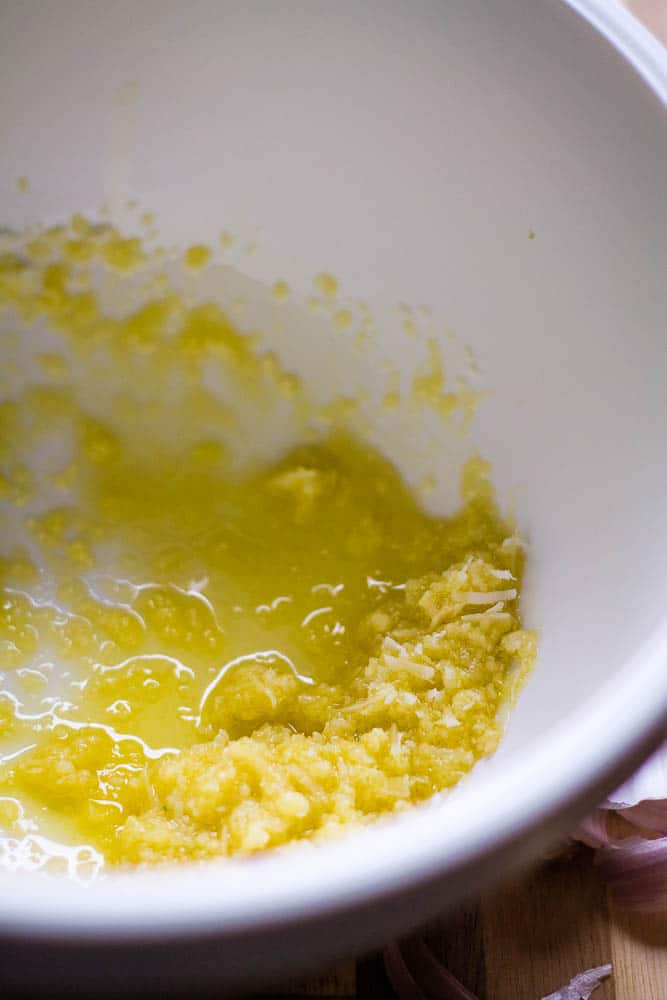 When we are mixing the broccoli in with the mixture, we want to kind of smush that garlicky cheesy stuff into the broccoli florets. Get it all wedged in there so it doesn't just drop right off the broccoli while it's cooking.
You'll lose some of the coating – it'll fall off the broccoli and go through the grate in the basket. But that's OK! You'll keep enough of it for good flavor.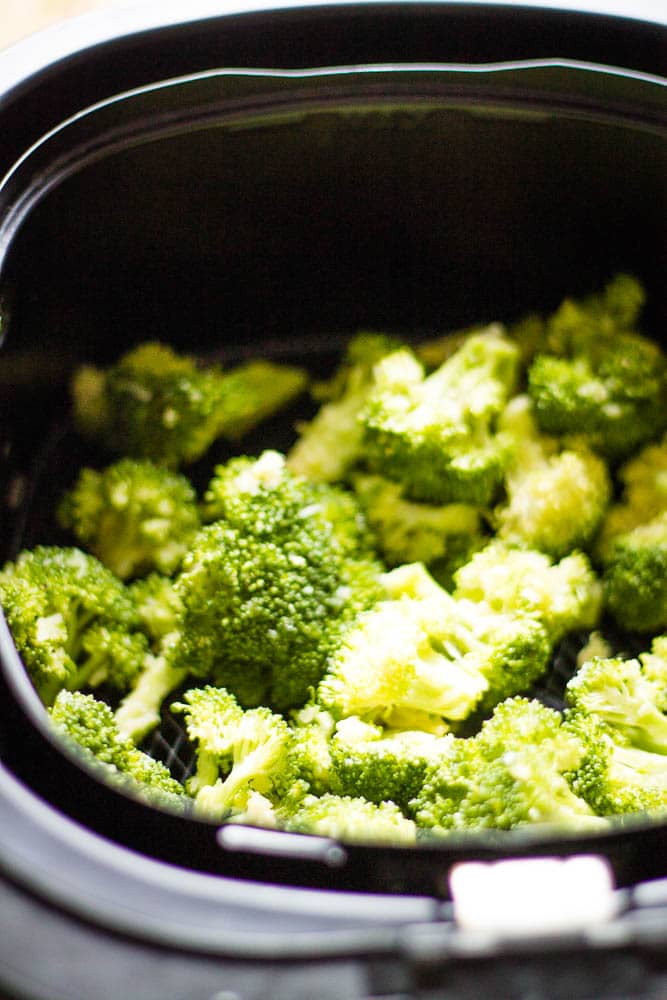 Aaaaand five minutes later – you're done. Here she is, your new happy place:
Serving Suggestions for your Air Fryer Broccoli:
More things you need to know about: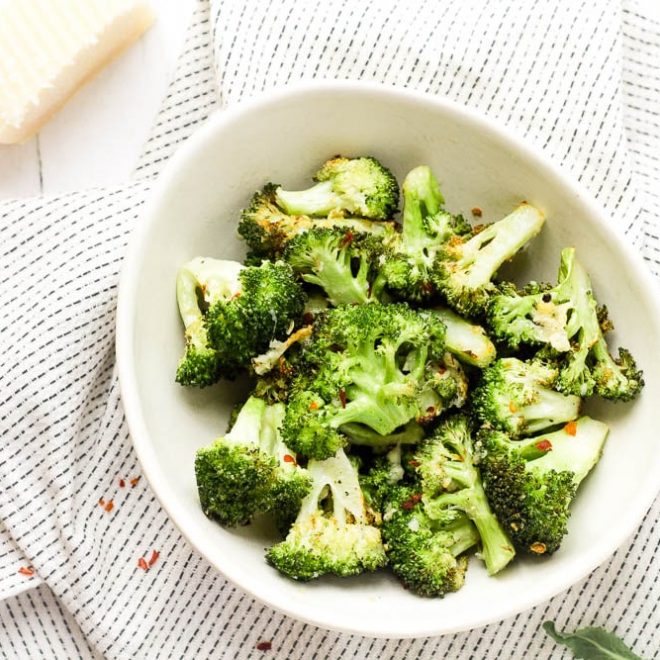 Air Fryer Broccoli Parmesan
Crispy, garlicky, cheesy broccoli at lightning speed… air fryer broccoli is a revelation! You will be amazed at how well your air fryer cooks vegetables. This broccoli is the perfect place to start.
Ingredients
1 small head of broccoli, chopped into florets
2 garlic cloves, minced
2 Tbsp extra virgin olive oil
¼ cup (4 tbsp) grated fresh parmesan or parmesan style* cheese, more for topping, if desired
Optional : chili flakes for garnish
Instructions
Pre heat your air fryer to 180C / 360F.

In a bowl, mix the garlic, olive oil and parmesan cheese.

Add the broccoli to the bowl.

Use a spatula to mix it in, ensuring each floret is coated with the mixture. You want to make sure every bit of garlic and cheese is pressed into the nooks and crannies of the broccoli florets. This will help avoid it from falling off in the air fryer.

Place the broccoli florets in the basket. If you like, you could sprinkle some extra cheese on top now. (I didn't in the broccoli photographed)

Air fry for 3 to 5 minutes, until they are the desired crispiness.

Sprinkle chili flakes on top for garnish, if desired.
Notes
*Parmesan cheese uses animal based rennet as an ingredient (it has to in order to be called parmesan within the EU) so it is technically not a vegetarian friendly food even for lacto-ovo vegetarians who eat dairy products. Which is me. I use the term parmesan across this site for ease of understanding, because that is the style of cheese we want, but I use these alternatives myself because they are more or less interchangeable.
Serving: 1g, Calories: 122kcal, Carbohydrates: 8.2g, Protein: 5.2g, Fat: 8.8g, Saturated Fat: 1.9g, Cholesterol: 3.6mg, Sodium: 122mg, Fiber: 3g, Sugar: 2g