Homemade cheese and onion rolls are so much yummier than store bought! These cheddar cheese and caramelized onion rolls are simple to make – the filling ingredients bake together in the oven to streamline the process. Serve fresh from the oven at parties or pack them in a picnic basket in the warmer months.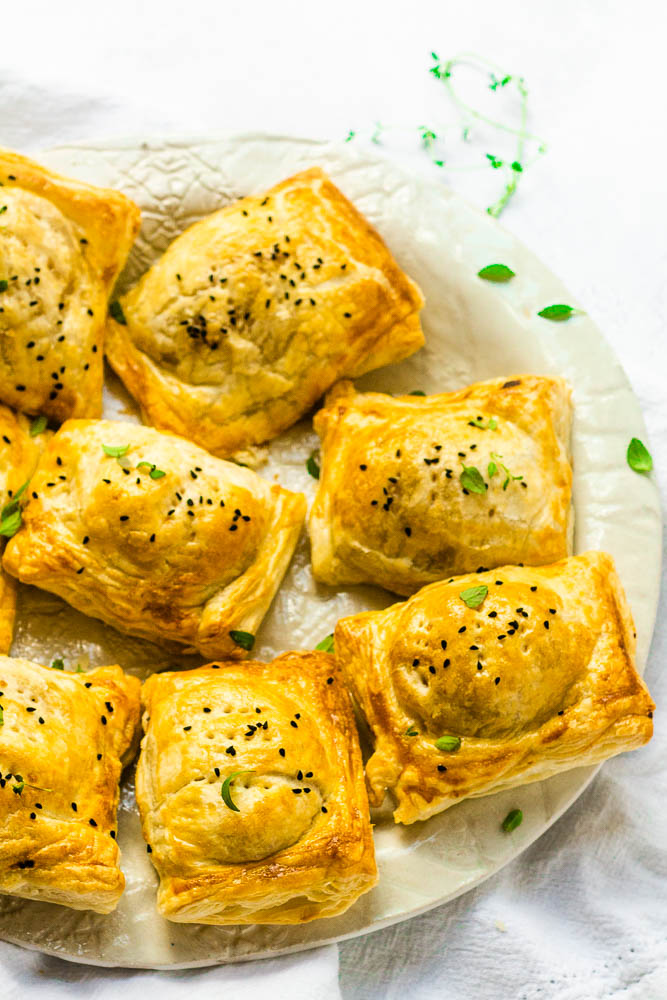 Making your own cheese and onion rolls may seem like a lot of hard work and I won't lie, this recipe takes a little while to come together and is not one of my easy breezy dinners. But there's a lot of good reasons to make homemade cheese and onion rolls!
Let's discuss.
What are cheese and onion rolls anyway?
Cheese and onion rolls are puff pastry squares or rectangles that are filled with a potato, cheese and onion filling. Yes, you read that right. We stuff cheesy mashed potatoes into pastry. Double carbs for the win!
Of course, this little Q&A is for the benefit of my non British readers. Here in the UK, they are fairly ubiquitous as a vegetarian alternative to sausage rolls and no explanation is needed. Classic British party and picnic food!
Why make homemade cheese and onion rolls?
If you are in the UK and can buy cheese and onion rolls in any supermarket, or in many bakeries and cafes, why make your own? Lots of reasons!
First of all, I have made these with what I believe to be a far yummier filling than any of the ones I've tried before. Cheese and onion rolls are glorious when done well, but they can be bland. My filling includes caramelized red onions, smoked paprika and wholegrain mustard, and a mix of strong cheddar cheese and parmesan style cheese.
Store bought versions can also be a little dry. But the filling in this recipe is moist, thanks to caramelizing the onions, and you get to enjoy them straight from the oven before the pastry dries out.
This is how pastry wants to be eaten!
How to make cheese and onion rolls as easily as possible
There's no two ways about it – it's going to take a little time to make these because you need to caramelize your onions and cook your potatoes to make your filling. You'll then need your filling to chill.
The easiest workflow I've found is to prepare the onions and potatoes simultaneously in the oven. You can caramelize your onions in a glass dish, while baking your potatoes alongside. Baking everything takes an hour but it's fairly passive. You certainly can boil the potatoes and caramelize the onions in a pan, and this may save you a little time, but then it's more hands on. So that's up to you!
For ease, I am using ready made and rolled frozen puff pastry sheets for this recipe. I am no pastry whizz and I am more than happy with the supermarket options here.
To assemble your rolls, you just lay out the pastry, slice it into 8 pieces, and scoop some of your cold filling onto one side, like so…
And then you want to brush the pastry with an egg wash. This helps to seal your rolls and stop the filling from spilling out while they bake and the filling becomes super moist and gooey…
Stretch the other side up and over the filling…
And then pinch all of the sides closed. I also like to pinch around the folded side, so that it matches.
You'll lay them all out on a baking tray, then score with a fork. I also like to use a fork to press down around all the edges. You want them to be nicely sealed, because again, when the filling heats it gets really gooey and will leak out if the rolls aren't well sealed.
Now give the outsides a really good brush with your egg wash…
Sprinkle some seeds on top and they are oven ready!
Going in like this…
Coming out like this… crispy and golden!
Now plate them up for your lucky family or guests to devour.
Can I make these in advance?
Yes, just store them in the fridge ready assembled but don't add the egg wash until you go to bake them.
How can I reheat them after they're cooked?
A few minutes in the oven or air fryer is the nicest way to bring the pastry back to life.
How to serve your cheese and onion rolls
For lunch, with a salad.
Serve up a tray as a party food or appetizer.
Pack into a picnic box to eat cold.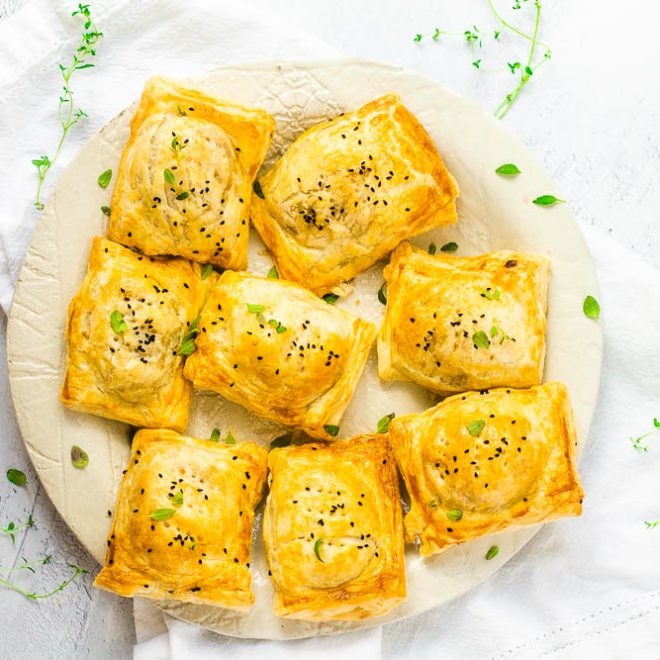 Cheese & Onion Rolls
Homemade cheese and onion rolls are so much yummier than store bought! These cheddar cheese and caramelized onion rolls are simple to make – the filling ingredients bake together in the oven to streamline the process. Serve fresh from the oven at parties or pack them in a picnic basket in the warmer months.
Ingredients
4 small/medium potatoes, I used Maris Pipers
3 medium red onions
30 g (2 tbsp) 2 Tbsp Butter
1 tsp smoked paprika
1 Tbsp wholegrain mustard
1-2 Tbsp fresh herbs, I used thyme and rosemary
150 g (1.25 cups) grated mature cheddar cheese
50 g (½ cup) grated parmesan*
2-3 ready rolled puff pastry sheets**
1 egg, whisked
Nigella seeds or poppy seeds for sprinkling
Instructions
Preparing your filling
Heat the oven to 200C / 400F.

Grease a small to medium sized glass baking dish and place your sliced onions inside. You don't want the onions to be completely spread out – the dish should be small enough for them to overlap and form a pile so that they are not roasting and crisping up. Add the butter, cover and place in the oven.

Prepare your potatoes for baking. Poke them a few times with a knife, and wrap them in foil. Place them in the oven next to the dish with the onions.

Bake for 1 hour, but go in every 15 minutes to give the onions a stir and a shake to stop them from burning or sticking. Your onions may not need the full hour. Take them out once they have reduced and are getting soft and sticky.

Stir the fresh herbs into the dish with the onions and then pour the onions into a bowl.

Unwrap the potatoes, and leave to cool down until they can be handled.

Slice open the potatoes and scoop the filling into the bowl with the onions. Add the mustard and smoked paprika and mash with a fork and get everything combined. Add salt and pepper to taste.

Now place in the fridge until the potato and onion mix has cooled down.

Once cool, stir the grated cheese into the mix and we are now ready to prepare the rolls.
Preparing your rolls (please refer to the photos in the blog post if unclear!)
Heat the oven to 200C / 400F.

Whisk an egg in a small glass or bowl.

Cut your puff pastry sheet into 8 equal blocks, and spoon out some of the filling onto one side of each block.

Use a baster to brush some of the egg onto the pastry around the filling.

Stretch the pastry up and over the filling, and seal it on all sides. Use the edge of a fork to press the sides down and ensure the pastry is properly sealed all around.

Score the top of the pastry with the fork a few times, and brush the whole outside with the egg wash.

Repeat for each roll, and then transfer to a baking sheet lined with parchment paper.

Sprinkle with a few seeds on top of each roll.

Place in the oven for 15mins until the pastry is crisp and golden.
Notes
*If you are cooking for vegetarians, use a Parmesan style vegetarian hard cheese . Parmesan contains animal rennet and is not vegetarian friendly – you can however buy cheeses that are made in the same style, usually called something like "Italian hard cheese" or "vegetarian hard cheese". In the UK, Sainsbury's and Ocado both make their own brand of vegetarian hard cheeses and Twineham Grange's version is widely stocked too. If you can't track it down, just use more cheddar. **This recipe easily makes 16 rolls, from two puff pastry sheets, and you may find you have leftover filling. This would depend on the size of your pastry sheets and how big your potatoes were.
Serving: 1roll, Calories: 227kcal, Carbohydrates: 20g, Protein: 5g, Fat: 14g, Saturated Fat: 4g, Polyunsaturated Fat: 10g, Cholesterol: 18mg, Sodium: 167mg, Fiber: 1g, Sugar: 1g