Homemade cheese and onion rolls are so much yummier than store bought! These cheddar cheese and caramelized onion rolls are simple to make – the filling ingredients bake together in the oven to streamline the process. Serve fresh from the oven at parties or pack them in a picnic basket in the warmer months.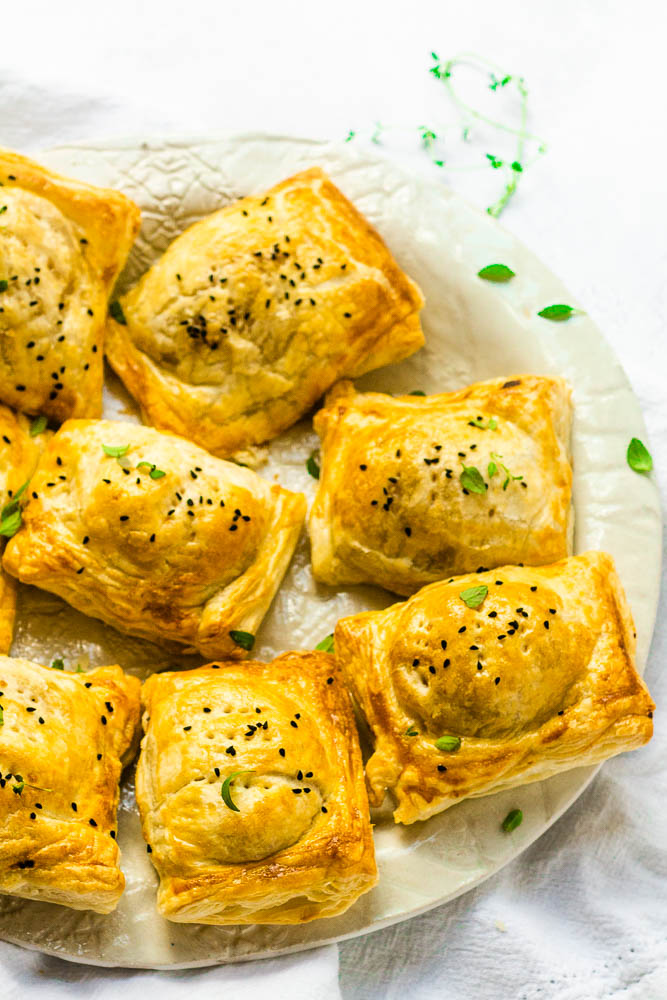 Making your own cheese and onion rolls may seem like a lot of hard work and I won't lie, this recipe takes a little while to come together and is not one of my easy breezy dinners. But there's a lot of good reasons to make homemade cheese and onion rolls!
Let's discuss.
What are cheese and onion rolls anyway?
Cheese and onion rolls are puff pastry squares or rectangles that are filled with a potato, cheese and onion filling. Yes, you read that right. We stuff cheesy mashed potatoes into pastry. Double carbs for the win!
Of course, this little Q&A is for the benefit of my non British readers. Here in the UK, they are fairly ubiquitous as a vegetarian alternative to sausage rolls and no explanation is needed. Classic British party and picnic food!
Why make homemade cheese and onion rolls?
If you are in the UK and can buy cheese and onion rolls in any supermarket, or in many bakeries and cafes, why make your own? Lots of reasons!
First of all, I have made these with what I believe to be a far yummier filling than any of the ones I've tried before. Cheese and onion rolls are glorious when done well, but they can be bland. My filling includes caramelized red onions, smoked paprika and wholegrain mustard, and a mix of strong cheddar cheese and parmesan style cheese.
Store bought versions can also be a little dry. But the filling in this recipe is moist, thanks to caramelizing the onions, and you get to enjoy them straight from the oven before the pastry dries out.
This is how pastry wants to be eaten!
How to make cheese and onion rolls as easily as possible
There's no two ways about it – it's going to take a little time to make these because you need to caramelize your onions and cook your potatoes to make your filling. You'll then need your filling to chill.
The easiest workflow I've found is to prepare the onions and potatoes simultaneously in the oven. You can caramelize your onions in a glass dish, while baking your potatoes alongside. Baking everything takes an hour but it's fairly passive. You certainly can boil the potatoes and caramelize the onions in a pan, and this may save you a little time, but then it's more hands on. So that's up to you!
For ease, I am using ready made and rolled frozen puff pastry sheets for this recipe. I am no pastry whizz and I am more than happy with the supermarket options here.
To assemble your rolls, you just lay out the pastry, slice it into 8 pieces, and scoop some of your cold filling onto one side, like so…
And then you want to brush the pastry with an egg wash. This helps to seal your rolls and stop the filling from spilling out while they bake and the filling becomes super moist and gooey…
Stretch the other side up and over the filling…
And then pinch all of the sides closed. I also like to pinch around the folded side, so that it matches.
You'll lay them all out on a baking tray, then score with a fork. I also like to use a fork to press down around all the edges. You want them to be nicely sealed, because again, when the filling heats it gets really gooey and will leak out if the rolls aren't well sealed.
Now give the outsides a really good brush with your egg wash…
Sprinkle some seeds on top and they are oven ready!
Going in like this…
Coming out like this… crispy and golden!
Now plate them up for your lucky family or guests to devour.
Can I make these in advance?
Yes, just store them in the fridge ready assembled but don't add the egg wash until you go to bake them.
How can I reheat them after they're cooked?
A few minutes in the oven or air fryer is the nicest way to bring the pastry back to life.
How to serve your cheese and onion rolls
For lunch, with a salad.
Serve up a tray as a party food or appetizer.
Pack into a picnic box to eat cold.