Pasta Burrata Bruschetta
Angel hair spaghetti with a fresh raw tomato bruschetta sauce and burrata topping! This is the perfect luxurious summer pasta dish. The delicate bruschetta pasta complements your creamy, cool burrata perfectly and lets this amazing cheese take center stage at dinner time!
Burrata and pasta! It needed to be done.
These days, I don't get to go out for dinner a lot, so sometimes it's nice to just make something a little fancy at home and burrata is one of those special things you can buy that allows you to treat yo'self after a difficult Monday.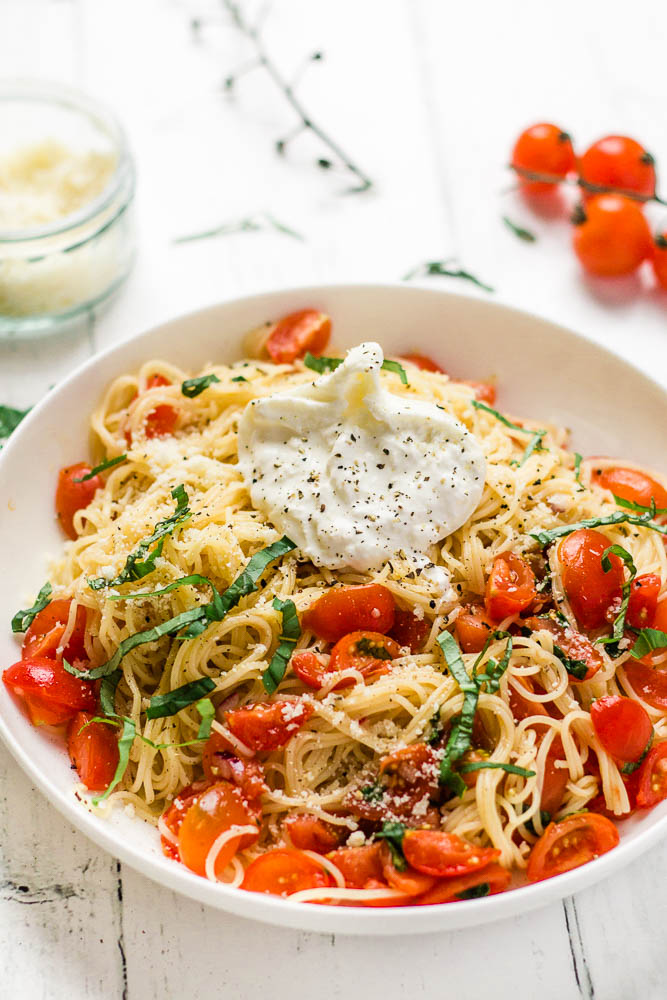 This recipe channels one of my fave meals from last summer which is pasta with raw tomato sauce – formally known as Pasta alla Checca.
I wrote about Nora Ephron's recipe last year, which I made over and over again. This bruschetta pasta is quite similar in that we use cold, fresh tomatoes and mix it into hot pasta, letting the end result be warm but not piping hot.
Today we are making the raw tomato sauce reminiscent of a bruschetta topping by adding lots of basil (or mint!), olive oil, garlic, and a little red onion. I'm also using juicy, sweet cherry tomatoes. There's no need to peel or de-seed with cherry tomatoes – so it's really easy to throw this pasta together.
The bruschetta pasta is the perfect backdrop for your burrata. Everyone loves burrata with tomatoes – it's the perfect combo!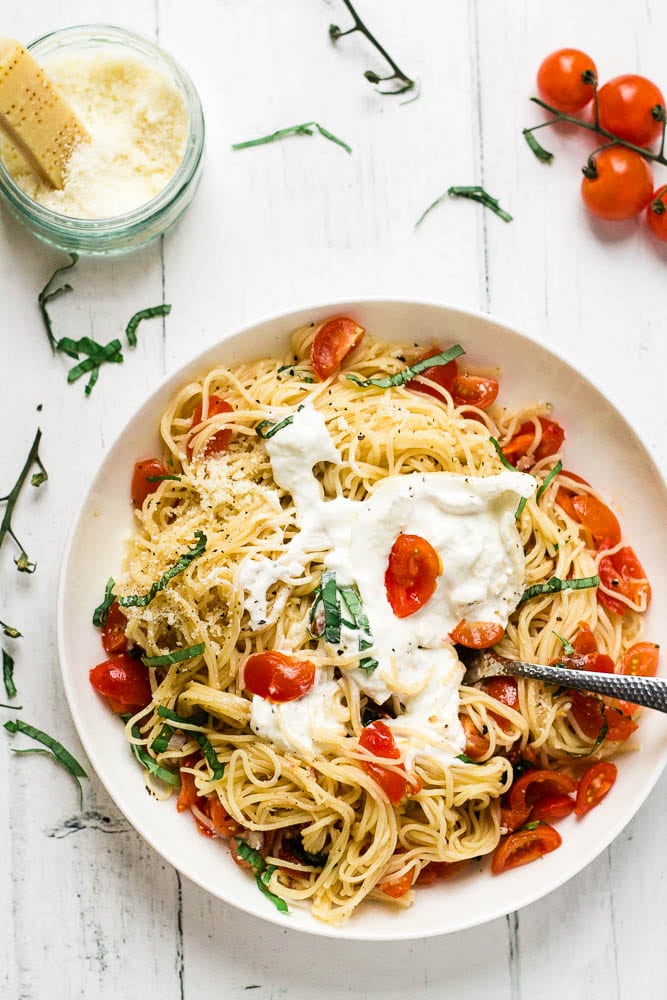 What's the best pasta shape to use?
Angel hair is an amazing pasta shape in this recipe. It's delicate and soaks up so much tomato juice and burrata cream. YUM.
If you prefer more substantial pasta shapes though, I imagine tagliatelle or fusilli being excellent so feel free to swap.
What herb should I use in my burrata pasta?
So, basil is the obvious choice for a bruschetta topping and to pair with burrata. Like, duh. It's BASIL.
However. The first time I made this recipe, I used mint. And I loved loved loved it. So I am going to leave you to make up your own mind here, whether you want to stick to the classic or go out on a limb and try mint… or just make this twice and try both?
You can't go too wrong.
Pasta Burrata Bruschetta is a super quick dinner…
Because angel hair pasta is so quick to cook, this can be ready really fast. But there is a caveat!
If you can, it's great to let the bruschetta mixture marinade for a while, if it can sit in the fridge for a few hours, or even overnight. And then you will have this ready in lightning speed when you come to prepare it.
To make the bruschetta mix, you will quarter your cherry tomatoes and add some garlic, minced red onion, basil, olive oil, a tiny bit of balsamic vinegar and salt and pepper.
You'll leave it to sit in the bowl for as long as you can.
When the pasta is cooked, it goes straight into the bowl still hot.
And you just mix it up so all the juices coat the pasta.
The resulting pasta is not piping hot, because the cherry tomatoes were cold or room temperature, but it's really yummy that way.
Then you plate it up, add half a ball of burrata per portion, and a little grated parmesan cheese if you're so inclined.
I think this is going to go down as my fave recipe of the summer. If you try ONE new thing this summer, let it be this!