Gemelli Pasta with Herbed Ricotta & Cherry Tomatoes
A quick and easy gemelli pasta recipe with herbed ricotta and burst cherry tomatoes! This is a delicious, fresh vegetarian dinner recipe that comes together in 20 minutes and is packed with delicious garden flavors. The herbed ricotta sauce is creamy and luscious, while being a much healthier alternative to cream sauce. This is light, fresh summer eating at its best.
I originally made this pasta to use up a bunch of herbs we had. Is this a problem you have right now? An abundance of herbs in your garden? Well then, lucky you! Let's talk.
This gemelli pasta recipe has very few ingredients but it packs a real punch. We mix the ricotta with some lemon juice and then four different summer herbs: basil, mint, cilantro and chives.
The herb situation is fairly flexible I'd say. I consider the chives essential (there's no garlic anywhere, we want some kind of allium kick in there) and maybe the basil too, because, well, it's basil.
But if there are herbs you have in your garden, maybe some parsley, go ahead and mix it up. If you hate cilantro (coriander), you can pass on it.
What I love about this ricotta sauce is how creamy it is while being fluffy. Yes, fluffy! I'm not sure how to explain it. But you want to try it.
I love a decadent cream sauce as much as the next person, but this lighter alternative really won me over. It just makes sense for a light, herby, summery pasta.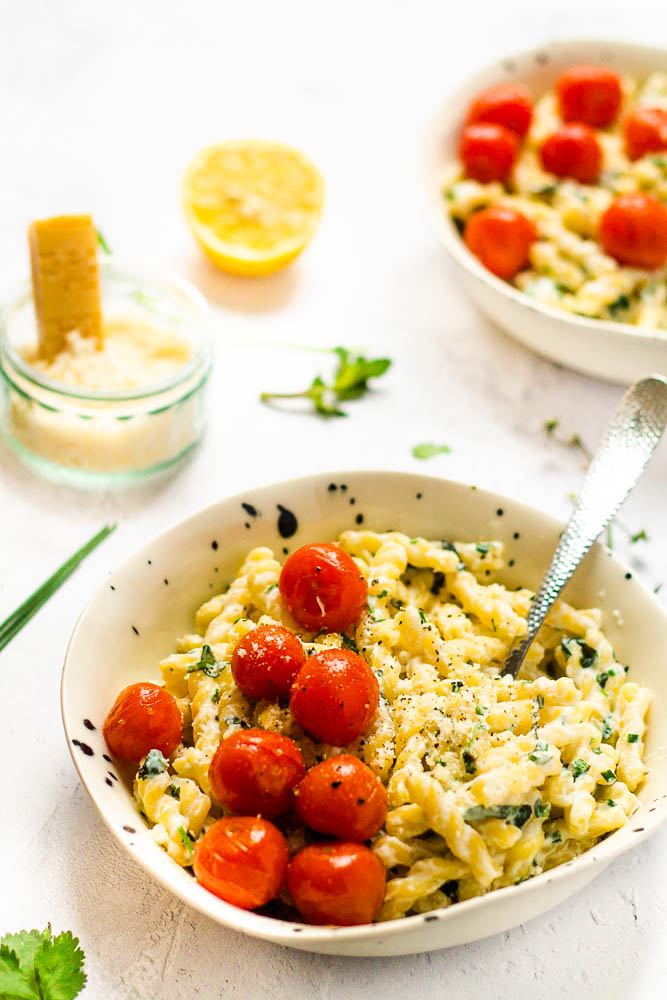 I LOVE gemelli pasta in this recipe. It's like a more tightly wound version of fusilli. If you can't find any though, try another small, short shape such as fusilli, pennette or orecchiette.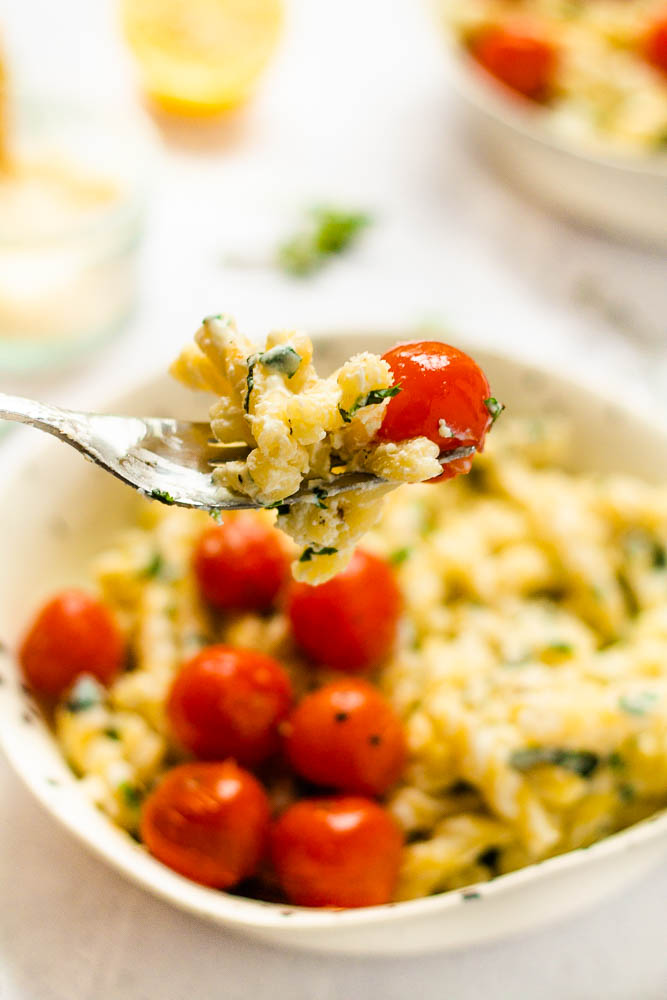 We polish it all off by pan frying some cherry tomatoes to make a quick topping, and everything is ready super quickly!
And now you just have a decision of whether to chop up all the tomatoes in your bowl and let the juices mix together with the herbed ricotta sauce (Mr. Veggie's method) or whether to just grab the tomatoes on your fork alongside the pasta, and keep them distinct (my method).
If you'd rather not use / do not have any cherry tomatoes, I think the herbed ricotta pasta would also be delicious with green vegetables. Maybe cook some peas with the pasta (even easier!) or pan fry some asparagus.