A fresh and easy appetizer which everyone will enjoy, these cherry tomato bocconcini skewers pair perfectly with a creamy, herby avocado pistachio dip. They are an ideal snack to bring out for picnics, barbecues and garden parties! If you're looking for a simple bocconcini appetizer, or a way to turn your favorite salad into a fun finger food, these caprese skewers are ideal!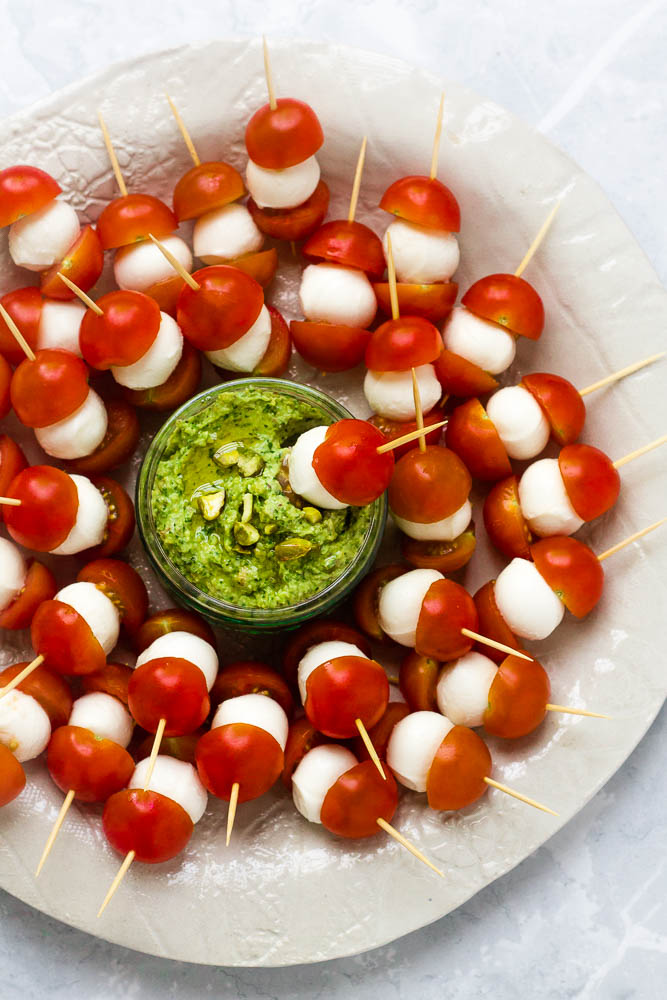 I don't post a lot of "entertaining recipes", but I know that for many of us the summer involves lots of picnics, barbecues and garden party type affairs where we are either hosting or asked to bring a dish.
So we all need a full arsenal of good, easy vegetarian appetizers up our sleeves and these caprese skewers are my offering.
They are such an easy win on the entertaining front. Tomato and bocconcini (mini mozzarella balls) dipped in a creamy avocado herb dip. I'd say that's pretty universally appealing, but without being dull. Party food perfection.
How to Make the Bocconcini & Tomato Caprese Skewers
Easy! Just put some mini mozzarella balls (aka bocconcini) and cherry tomatoes on a toothpick.
You could simply stack a whole cherry tomato with a whole ball of mozzarella, but I decided to slice the tomato and sandwich the bocconcini in the middle.
For me, that's a lot easier to eat than when there is a whole cherry tomato. And it doesn't take too long to assemble.
For toddlers and young children, you definitely want to slice the tomatoes because whole cherry tomatoes can be a choking hazard.
How to Make the Avocado Herb Dip
Also easy! Just blend stuff!
The dip is very similar to an avocado pesto. There's a whole avocado, pistachio nuts, some garlic, lemon, olive oil and a bunch of herbs.
The recipe calls for basil, mint and chives and you can definitely add to this with cilantro and/or parsley if you have any of those available too!
It's super thick and creamy, with lots of flavor, and so much fun to dip.
What to do with leftovers
If you have leftover dip, use it as a pesto tossed with pasta! If you have leftover skewers too, you can toss the cherry tomatoes and mozzarella in with the pasta. This works hot or cold.
Leftover skewers can also be taken off the toothpicks and marinated in olive oil to serve as a salad another time.
Variations and Substitutions
If you don't have bocconcini available, you can of course chop a fresh ball of mozzarella and use that instead. It's not as aesthetically pleasing, but still very tasty!
The herb mix in this dip is pretty flexible. I love the combo of basil, mint and chives, but if you don't like any of these flavors just swap them out.
Feel free to throw in parsley and cilantro, which would be a natural fit in this dip too.
I didn't feel the need, but you could pop a basil leaf into the skewers too for some extra herb power.
You can swap in grape or baby plum tomatoes instead of cherry if you prefer these varieties, or if that's what you've got available.