This gnocchi dinner is comforting, creamy and delicious to fill little tummies. Better yet, it has hidden health power thanks to red lentils in the sauce! Lentils add protein and fibre to the dinner table while blending seamlessly into the tomato sauce for a reassuringly smooth finish.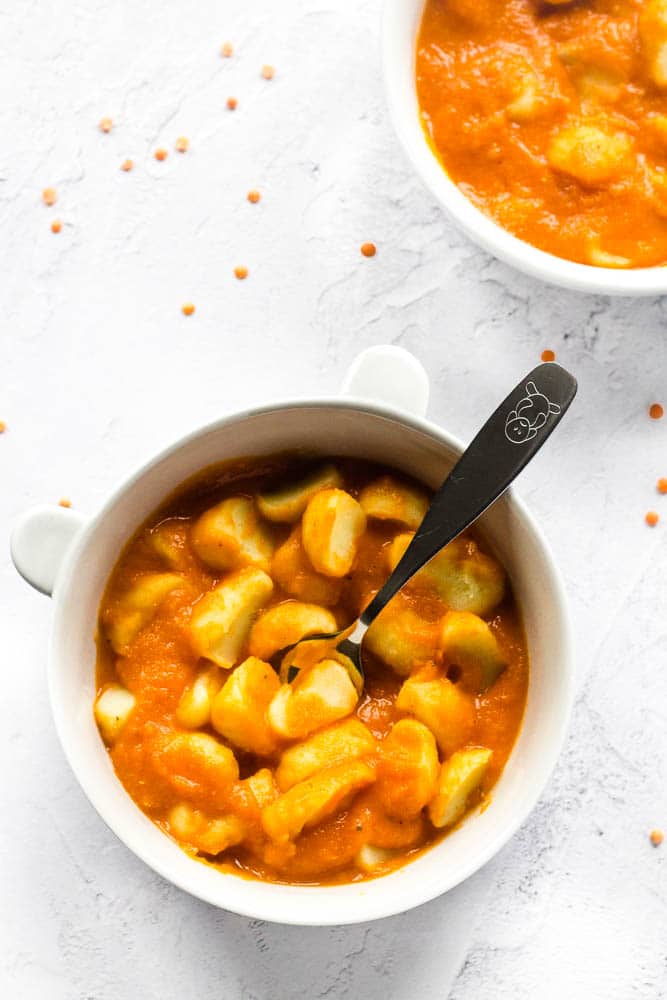 This gnocchi is getting a lot of love around here, and I am one happy mama for having another dinner I can add into the rotation for our extremely… particular, shall we say?… 4 year old.
This dish is tasty enough, though maybe a little bland for most adult palettes (I give some suggestions for how to jazz it up at the end of the post). Overall I made it with kids in mind. Kids who need filling, carbohydrate and protein packed meals with predictable qualities.
This sauce's superpower is the "hidden" protein from red lentils (plus lots of tasty cheese) blended into the sauce.
This sauce is Perfect for "Picky" or Texture Averse Kids
If you have a toddler or preschooler (or older? I have no idea when this stops!) who likes their sauces smooth, you'll love this recipe.
Red lentils blend beautifully into tomato sauce and just make it thicker and creamier.
The end result is more orange than red, but if this is a concern to your little one who will only entertain truly red sauces (been there), you can darken it back up again with some concentrated tomato paste.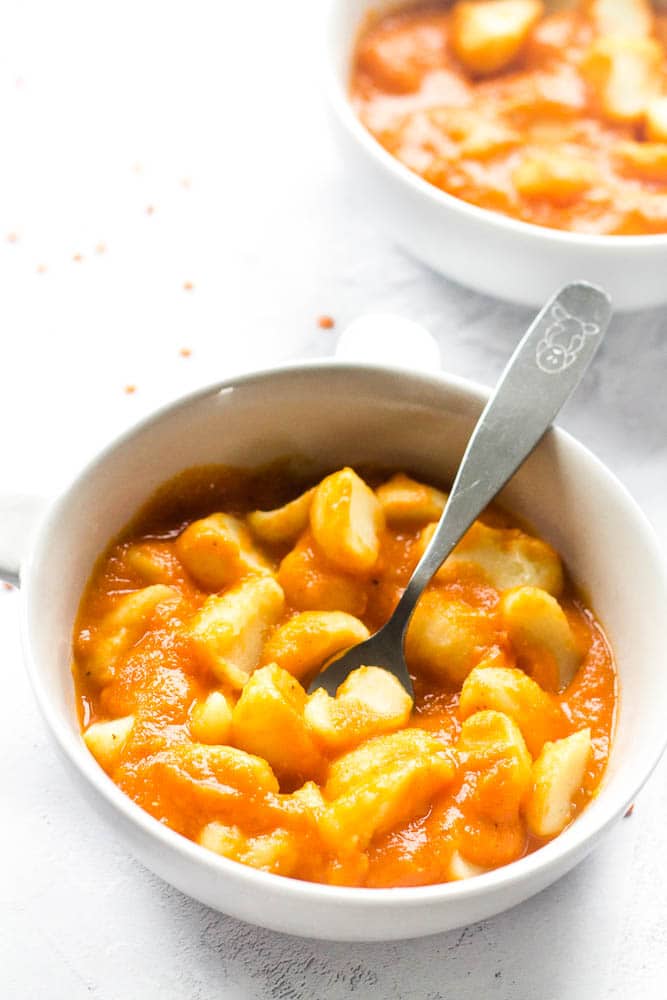 Are we hiding the lentils?
The lentils aren't whole in the recipe so in that sense they're "hidden". And it used to be that I always poured in those lentils when my preschooler daughter wasn't looking. And I regret nothing.
But recently she wanted to make dinner with me, and this forced me to confront the situation. I braced myself. Then I told her, trying to be nonchalant, that it was time to add the "orange sprinkles" to the sauce now.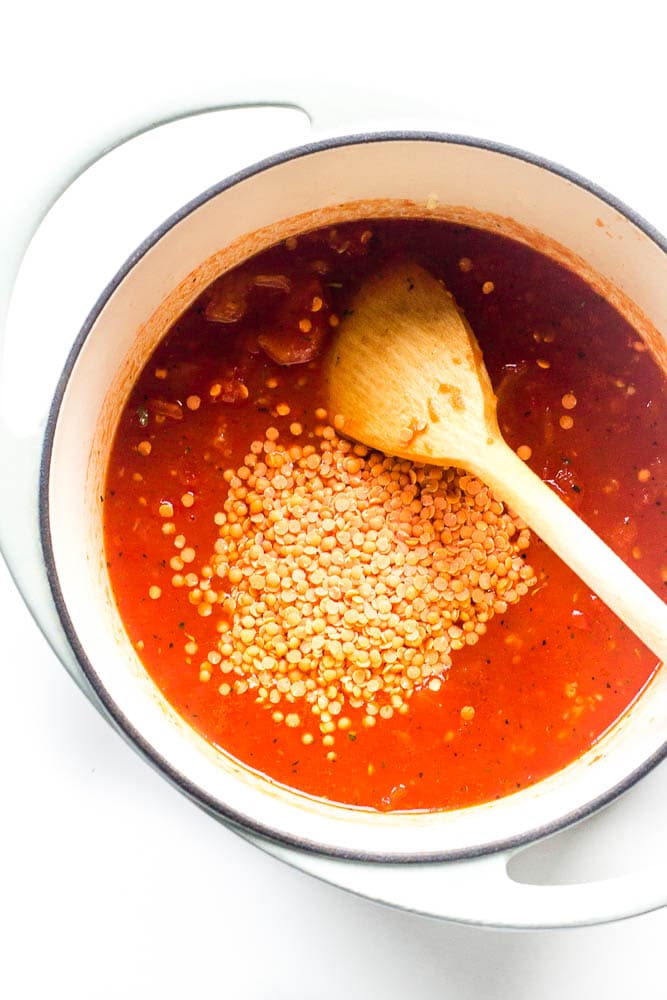 Her face lit up at the mention of sprinkles, and she helped me pour those lentils into the pan. "They are beeeeeautiful sprinkles, mummy!" she exclaimed. I told her the sprinkles made the sauce extra special to help her grow. She was delighted. And no more was said.
So, that was a win in my book. We still blend the sauce, but she knows that the lentils are in it and maybe now we can try lentils in other dishes too.
Anyway, I tell you this in case you are also trying to move beyond "hiding" foods whilst still being realistic about what they will tolerate in their actual bowl.
How to serve Gnocchi to babies
Gnocchi is dense and can be sticky, so it's not going to be the easiest food for a younger baby and it can be a choking hazard. So let's discuss.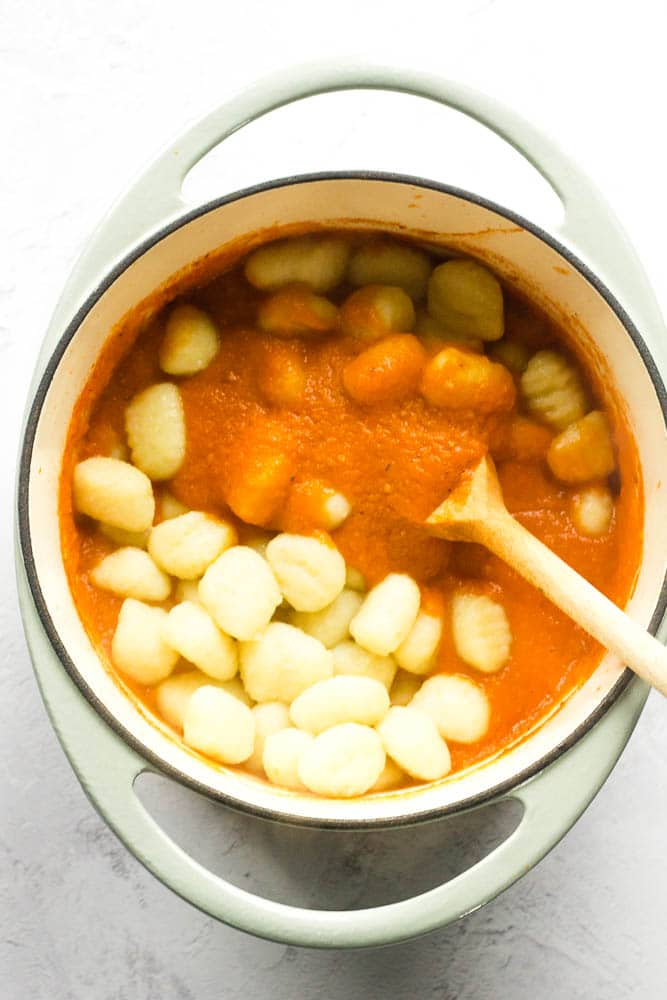 What age?
Gnocchi is theoretically fine from the age of 6 months, but you'll need to choose the right moment to introduce it based on their ability to manage thicker, stickier foods. For my kids this was after 1 year old, but mine were both late to get their teeth and slow to acclimatise to chewing. Other babies I know could have managed this dish before then.
You'll also need to choose the right preparation. You absolutely need to cut your gnocchi into smaller pieces before serving to a baby or toddler, because as they come they're a choking hazard. The plated up gnocchi you see in my pictures is sliced in half, suitable for a toddler or preschooler, but you'd need to go further for babies.
If you've got a baby led weaning superstar on your hands you could slice that gnocchi vertically to create little "strips" of gnocchi. Then they have pieces to pick up and gum on. Kitchen scissors might be the easiest way to go about this.
If you've got an older baby who has their pincer grip and is very competent at chewing, chopping the gnocchi into small, pea sized bites should work.
For babies learning to use forks
This is perfect for babies learning to use forks. The gnocchi can easily be stabbed with the fork and then it sticks well.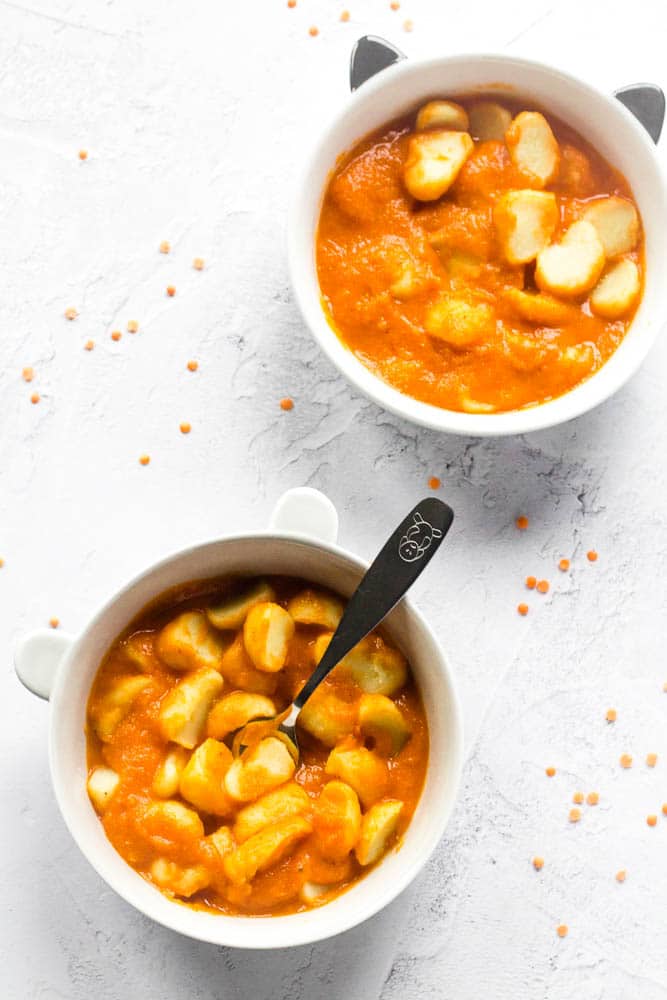 How to Serve Gnocchi to Toddlers and Preschoolers
Toddlers will be more competent at chewing and managing heavier, stickier foods but I would still slice the gnocchi in half vertically (as shown in these photos) just to stop it from being that big round shape which is associated with choking hazards.
How to add extra flavor
This recipe is super simple and "safe" for pickier kids, but it's also a jumping point for you to customize to your own children's needs.
The recipe makes a lot of sauce for the amount of gnocchi in most packages, so you can easily throw in some of your kids' favorite vegetables alongside.
As mentioned above, adding some concentrated tomato paste / puree would ramp up the red color and tomato flavor.
For kids who like a bit more flavor, add some extra herbs, maybe some smoked paprika, or use sundried tomato paste.
Red peppers sautéed before adding the garlic are a delicious addition.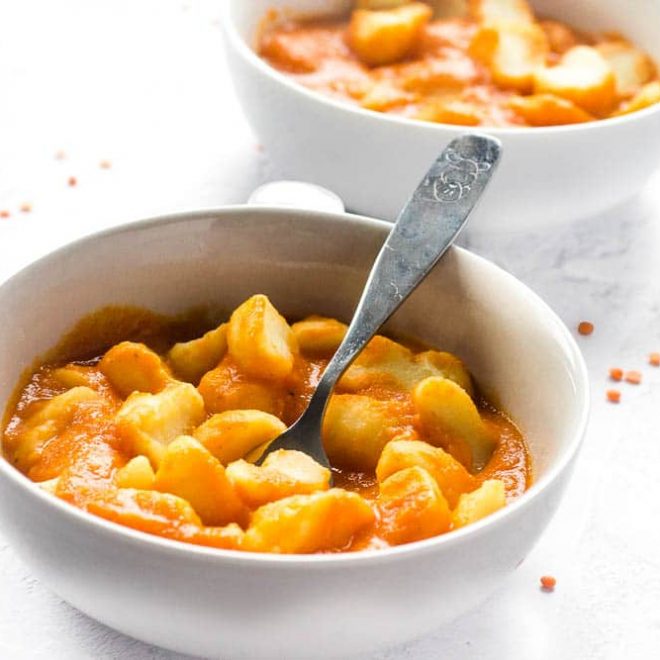 Healthy Gnocchi for Kids, Babies & Toddlers
This gnocchi dinner is comforting, creamy and delicious to fill little tummies. Better yet, it has hidden health power thanks to red lentils in the sauce! Lentils add protein and fibre to the dinner table while blending seamlessly into the tomato sauce for a reassuringly smooth finish.
Ingredients
1 package of fresh or dried gnocchi, usually 500g / 16oz
2 cloves of garlic
½ tsp dried Italian herb mix
14 oz (400 g) can of tomatoes*
¼ cup (4 Tbsp) dried red lentils
Handful of grated cheese**
Instructions
In a saucepan, heat a little olive oil and sauteé the garlic until soft. Add the herbs and mix in until fragrant (just a few seconds) before adding the canned tomatoes.

Fill the empty can 1/3rd full of water and then add that to the pan with the lentils.

Heat until bubbling and then reduce the heat and simmer for about 20 minutes, until the lentils are soft.

Puree the sauce with an immersion blender, or by transferring to a blender.

Add the cheese over a low heat until it's melted through.

Cook the gnocchi according to package instructions and add to the pan.
Notes
* I'd recommend using whole tomatoes canned in juice. They are usually tastier than chopped canned tomatoes. ** You want a flavorful cheese – like a mature (sharp) cheddar, or parmesan for older kids.
Serving: 1g, Calories: 166kcal, Carbohydrates: 28g, Protein: 6g, Fat: 3g, Saturated Fat: 2g, Polyunsaturated Fat: 1g, Cholesterol: 25mg, Sodium: 58mg, Fiber: 2g, Sugar: 1g