Tasty and nourishing lentil soup bursting with smoky, spicy taco flavors and loaded with all your favorite toppings. You will love this fun and delicious spin on lentil soup, and can personalize it to your own tastes. Vegetarian or vegan depending on the toppings.
Lentil soup is a fairly classic staple of vegetarian cuisine, and has that elusive combination of being incredibly comforting whilst super healthy. We like those recipes!
Today, we're giving this lentil soup a spicy makeover by bringing in the delicious flavors (and toppings) of tacos. The ingredients are basic, the process is simple, and the magic is all in the spices and the toppings. Which makes it flexible too! You can control the spice / heat level to your liking by selecting your own chili powder and the quantity you use. You can control whether it ends up creamy / cheesy or whether it stays vegan and fresh when you choose your toppings.
You can make this with green, brown or black lentils
Unlike red lentils which go smooth and creamy in soups, green, brown or black lentils will retain their shape well so they're great in this kind of chunky, veggie packed, textured soup. The kind of soup you'd eat as your main dinner.
Since this recipe is based loosely on taco soup, the lentils are designed to replace the ground meat crumbles you'd find in a taco soup – and while no one is going to think this soup has meat in it, I think they do a fantastic job as a vegetarian stand in.
Oh and guess what else I love about lentils? They're so cheeeeap! This recipe is super economical, as long as you have a reasonably well stocked spice collection, because we are using dried lentils which give you so much bang for your buck.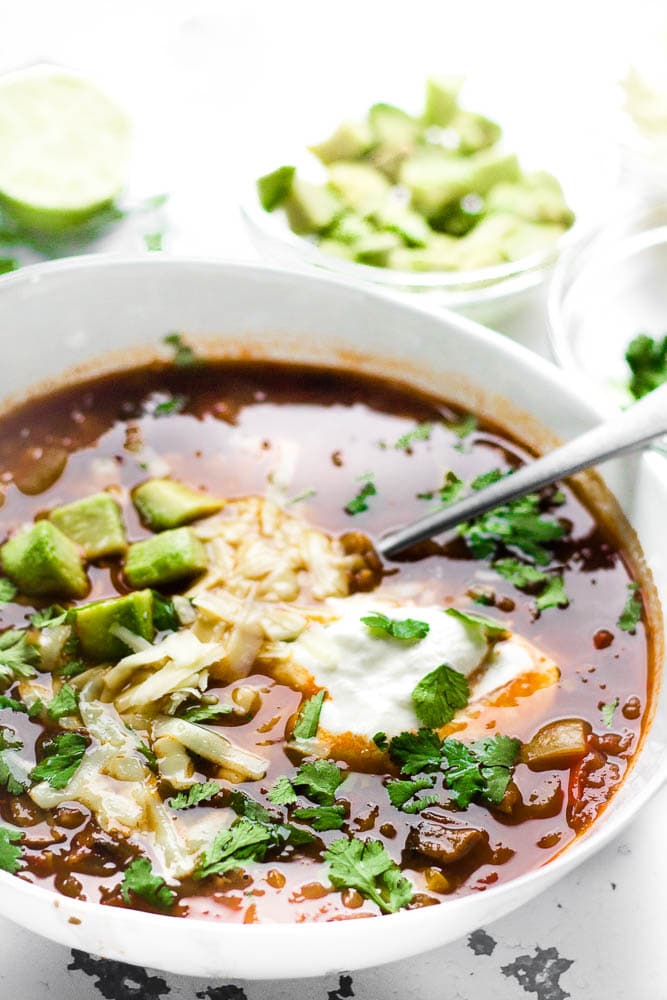 Recipe Q&A
How Spicy is this soup?
As spicy as you want it! The spices in this soup are nice and punchy, but as written, it's very mild in terms of heat. Most of the smoky flavor is from the smoked paprika.
If you like your food spicier, please feel free to throw more chili powder in there until it's at a level you are happy with. But if you want it spicy, you also need to use a spicy chili powder. Something like ancho (which I love for it's mildness) might not cut it so get something with a higher heat rating.
Is this soup vegan?
The soup itself, as written, is completely vegan. As pictured, there is cheese and sour cream on top but you can choose whatever toppings you prefer. Just using avocado and cilantro / coriander, it would still be delicious. Coconut yogurt could also be an excellent topper.
How easy is it to make?
Very! This is just a straightforward soup recipe, we are not doing anything crazy and it's ready within an hour! Here is the plan:
You'll saute your veggies in a delicious combo of Mexican inspired spices.
Cooked down for a while with the spices, they reduce and almost caramelize in the mushroom juices – take note of how they look in the image below. So good, right?
Then you just add your lentils, stock/broth and tomatoes. And in half an hour, you have a chunky, smoky, spicy soup that you can starting piling your toppings on.
What toppings should I use?
The fun part! This is what makes taco soup so good. Instead of a big bowl of uniform soup, you put lots of things on top so that every bite is a little different.
Whatever you'd put on a taco is welcome on this soup! Here's some thoughts:
Avocado or guacamole (guac will melt in a little, but what the hey)
Sour cream or yogurt (non dairy versions keep it vegan)
Grated cheese – it gets all melty and sinks in a little. We love.
Fresh coriander / cilantro
Crunchy slaw
Black olives
Chopped green onions
Sliced jalapeños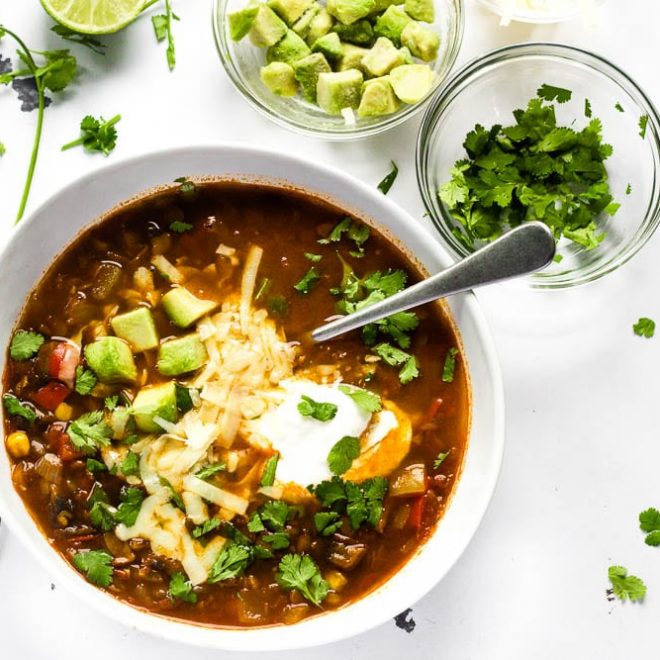 Loaded Lentil Taco Soup
Tasty and nourishing lentil soup bursting with smoky, spicy taco flavors and loaded with all your favorite toppings. You will love this fun and delicious spin on lentil soup, and can personalize it to your own tastes. Vegetarian or vegan depending on the toppings.
Ingredients
1 onion, minced
3 portobello mushrooms, finely chopped
½ red bell pepper, minced
6 cloves garlic, crushed
1 Tbsp smoked paprika
1 Tbsp oregano
2 tsps cumin
1 tsp coriander
1 tsp chili powder, increase this for a spicier finish
2 tsps soy sauce
½ tsp fennel seeds
14 oz (400 g) can of chopped or diced tomatoes
¾ cups (140 g) dried green lentils
4 cups (950 ml) vegetable stock, see notes
½ cup (8 tbsp) frozen sweetcorn kernels
Toppings of Choice
Sour cream
Grated cheese
Olives
Avocado slices or cubes
Cilantro, coriander leaves
Instructions
Heat a few tablespoons of olive oil in a big soup pot.

Saute your onions and peppers for a few minutes until soft.

Add your mushrooms and garlic and cook until the mushrooms are reducing.

Time to add in the seasonings! The fennel seeds go in first – mix them through until the fragrance is released. Then add the smoked paprika, oregano, cumin, coriander and chili powder. Mix through until the spices are well incorporated with the vegetables and the fragrance is released.

Add the soy sauce and stir until incorporated. Cook until your vegetables are soft and caramelized. (There's a picture in the blog post to show what they'll look like.)

Add the tinned tomatoes and dried lentils, mix through.

Finally add the vegetable stock and frozen sweetcorn and bring to a simmer.

Simmer for 20-30 minutes until the green lentils are soft.

To serve, ladle into bowls and add your toppings of choice.
Notes
Nutritional information excludes toppings. This makes 4 meal sized portions but can stretch to feed 6 if you're serving alongside something else. (A cheese quesadilla for dipping perhaps?) For the vegetable stock / broth, I just like to round up to two stock cubes to my 5 cups of water – this is a little more concentrated than the recommended amount but it works out fine.
Serving: 1g, Calories: 307kcal, Carbohydrates: 36g, Protein: 12g, Fat: 15g, Saturated Fat: 4g, Polyunsaturated Fat: 10g, Cholesterol: 11mg, Sodium: 1008mg, Fiber: 12g, Sugar: 10g