A simple and healthy dinner with a touch of fancy, this umami-packed spaghetti is full of tasty balsamic roasted vegetables and truffle oil! It couldn't be easier to make, is easily customized to your own tastes, and is vegan / plant based too.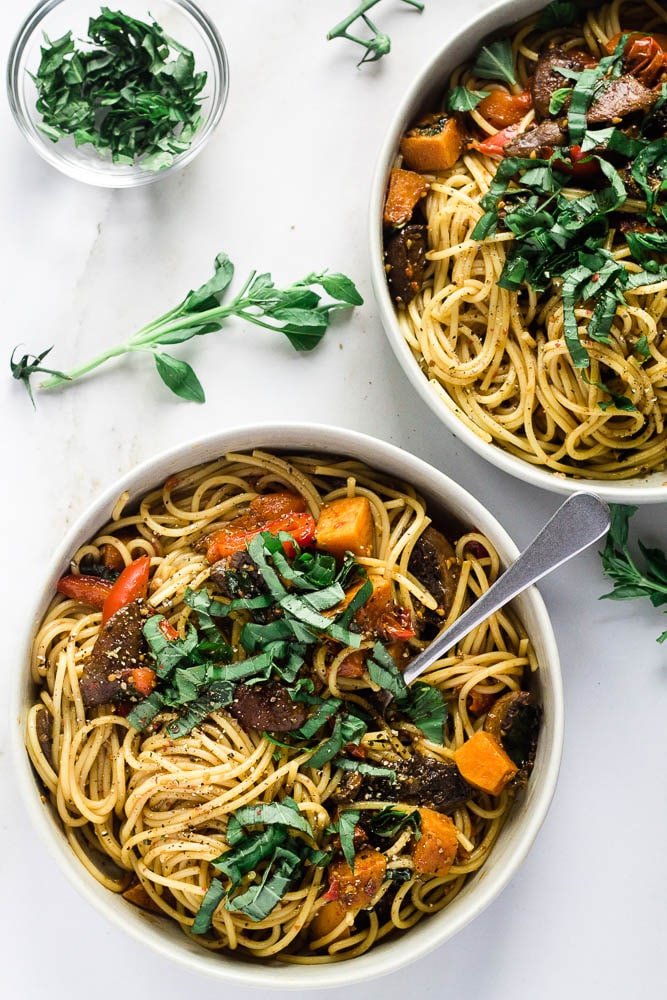 It is my belief that a bottle of truffle oil is a must have for any vegetarian or vegan cupboard, and while I know that some Proper Food People have all sorts of opinions about truffle oil, I will be happily clinging to my bottles of Truffle Hunter.
For a home cook, truffle oil is just a lovely easy way to stop a boring meal from being boring and what's not to love about that?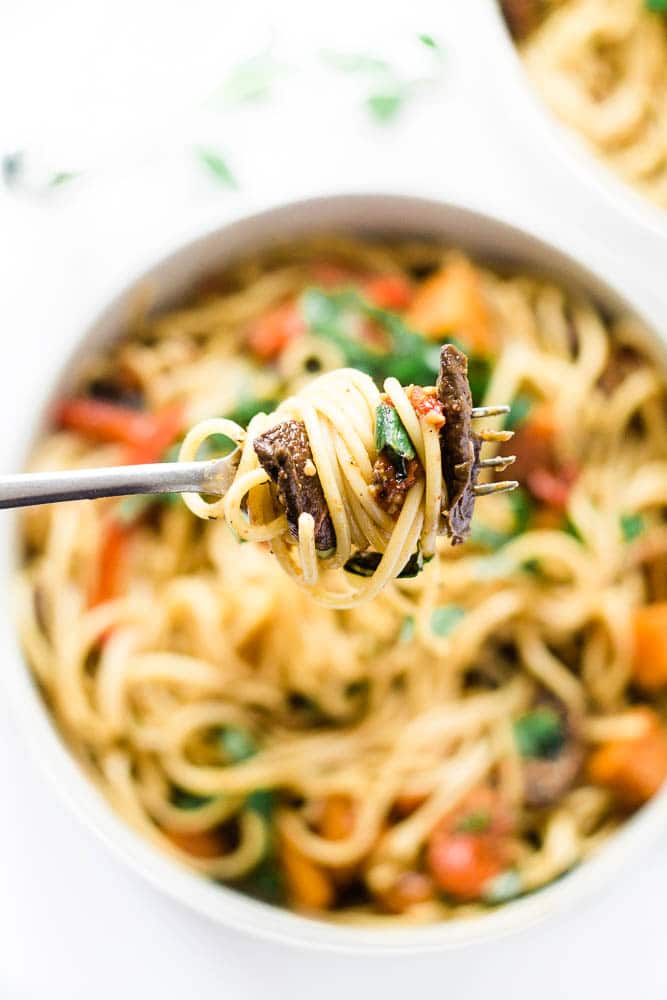 So today we have a vegan pasta recipe which involves roasting lots of vegetables in a balsamic marinade, and then drizzling them with truffle oil to double down on that umami flavor.
Then we add spaghetti and basil. Ta da! Easy dinner, decidedly not boring.
See it unfold…
Top Tips for the Dreamiest Truffle Oil Pasta
Be mindful with your mix of vegetables: I use cherry tomatoes, mushrooms, peppers and sweet potato. There is room to change things around here but you shouldn't take out the cherry tomatoes or the mushrooms if you can help it. They melt in with the balsamic glaze and keep things juicy. Without them your pan of veggies gets pretty dry and doesn't have the ability to coat the pasta the same way.
See in the above image? There's just a very light, but very necessary coating on all of the pasta strands that you need to preserve.
Get good truffle oil if you can afford it! I will never buy anything but Truffle Hunter. It's just… SO GOOD. Insanely good. For this recipe I used their black truffle oil (the single concentrate one – they also do a restaurant strength version which is excellent for fries, but in a dish like this you'd need to adjust the amount down). Anyway, Truffle Hunter is made with real truffles so I feel like even the haters should respect this stuff.
If you're not vegan, you could definitely add cheese (or vegan cheese if you've got a brand that you're into) and it will never be a bad idea! But I did try to make this pasta flavorful enough without the cheese. The balsamic marinade, the truffle oil, the herbs, lots of salt and pepper… you're good to go, I promise!
(Now real quick, before we get to the printable recipe, if you are armed with a bottle of truffle that you love, can I also point you in the direction of some Air Fryer Truffle Cheese Fries or some Creamy Butternut Pasta with Truffle Oil for another night? Yes? No?)