Sweet, spicy, buttery, crispy and sticky… these hot honey potatoes do it all and they are completely irresistible. The perfect side dish when you want to treat yourself!
👩‍🍳 Introducing Hot Honey Potatoes
Have you tried hot honey? It's a spicy chili infused honey and it's the perfect condiment for those of us who like their flavors to err on the unexpected side.
These smashed potatoes cook in a hot honey, sage and garlic butter which brings huge flavor plus caramelization from the sugars. We add a little extra honey on top at the end, plus a few squeezes of lime or lemon juice, and we are left with the most incredibly flavorful potatoes.
And it's not just the flavor that's amazing, it's the texture too! Smashed potatoes always have an amazing range of textures from where they are crushed and partially opened up. Here we have the caramelized potato skins, the crisp sage, and the drippy butter that works its way into the crevices. It's a lot to love.
Where to find hot honey, or how to make your own
Hot honey used to be a fairly niche gourmet ingredient that you'd need to go out of your way to source. I used Wilderbee hot honey from Amazon to make this, but I've noted that both Rowse and Hilltop have their own hot honey available at larger supermarkets now, so it need not be expensive or difficult to find anymore! In the US, it's available at Trader Joe's and probably other places too.
You can make your own pretty easily too! Check out this DIY Hot Honey recipe at The Endless Meal.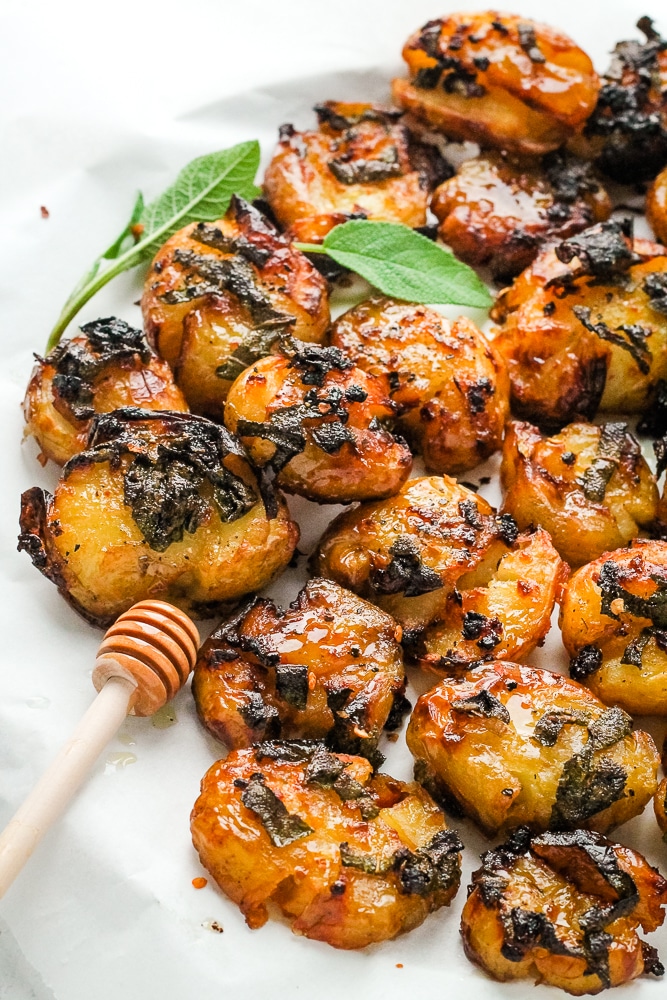 Top Tips for making these smashed potatoes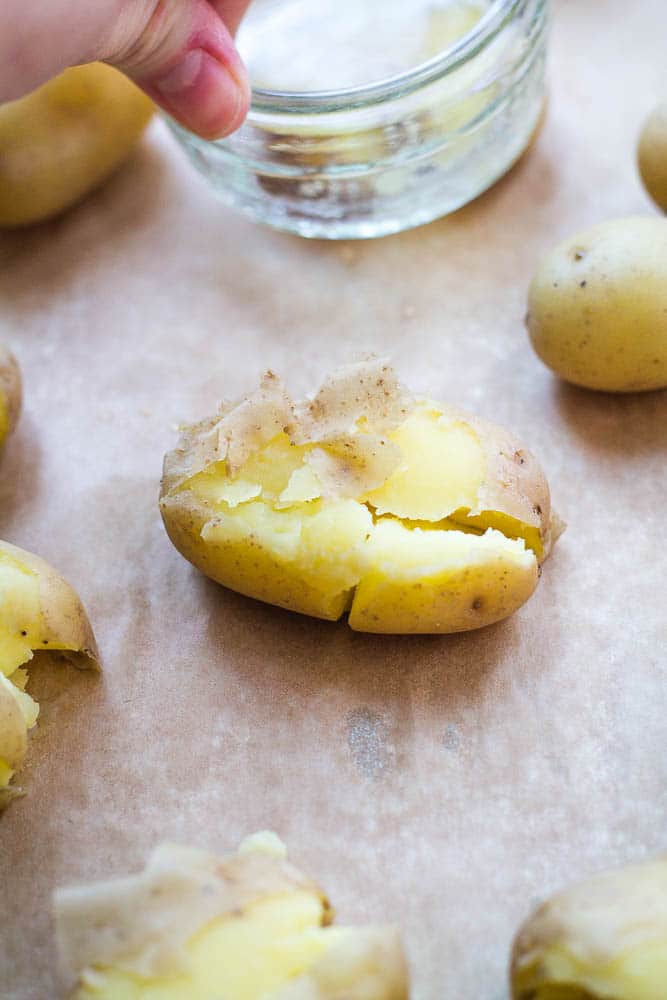 Potatoes can vary a little in terms of size and variety, so the cook time may be a little more or less than what is in the recipe. I've tested these using new potatoes and jersey royals and the photographs are of the jersey royals which are insanely delicious (and a little quicker to cook). The first time you make this, just check in a lot and look at the texture more than the clock.
When smashing the potatoes, sometimes the skins are surprisingly elastic and don't open up so much. This will vary by type of potato but if this happens to you, peel back some of the potato skin with your fingers if necessary to make sure that some of the potato flesh is exposed and the butter is able to get inside.
No sage? No problem. Try thyme, rosemary or even dried herbs.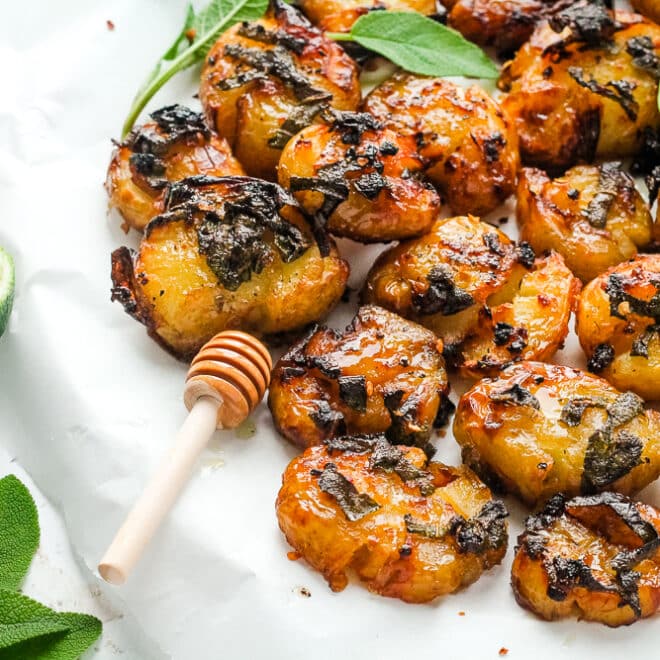 Smashed Hot Honey & Sage Potatoes
Sweet, spicy, buttery, crispy and sticky… these hot honey potatoes do it all and they are completely irresistible. The perfect side dish when you want to treat yourself!
Ingredients
1.5 lbs (680 g) baby potatoes
salt and pepper, to taste
1 lemon, for squeezing
1 tbsp hot honey, for drizzling
chili flakes, optional
Sage Butter
⅓ cup (80 g) salted butter
20-25 sage leaves, chopped
3 cloves garlic, crushed
1 tbsp hot honey
Instructions
Preheat the oven to 200C / 390F

Boil the potatoes (whole, with the skins on) for 10-12 minutes until they're just tender. A knife should go through them smoothly, but don't leave them any longer than that. Once ready, drain and place on a baking tray lined with parchment paper.

Meanwhile, combine all of the ingredients for the sage butter in a small saucepan over a very low heat. Allow the butter to melt, stirring regularly, until it's all incorporated. Your goal isn't to cook the sage or the garlic, just to melt the better and let the flavors infuse. Take off the heat and set aside.

Use a heavy glass, bowl or potato masher to press each potato until they smush up a little (a glass ramekin is my favorite tool for this job!) You don't want them to fully break, but you want them misshapen.

Pour the garlic sage butter mixture over all of the potatoes, making sure they are all well covered. Add salt and pepper to taste.

Place in the oven for 25-30 minutes, until browned and crispy. Remove from the oven and drizzle a little more of the hot honey over each individual potato. If your honey is very thick, microwave it in a small bowl for 15 seconds to make it runny and pour-able.

Squeeze a little lemon or lime juice over the top and add the chili flakes (if desired). Serve immediately.
Calories: 270kcal, Carbohydrates: 40g, Protein: 4g, Fat: 12g, Saturated Fat: 7g, Polyunsaturated Fat: 1g, Monounsaturated Fat: 3g, Trans Fat: 0.5g, Cholesterol: 31mg, Sodium: 102mg, Potassium: 743mg, Fiber: 4g, Sugar: 10g, Vitamin A: 359IU, Vitamin C: 37mg, Calcium: 30mg, Iron: 1mg