Transform your oyster mushroom cluster into a meaty "steak" with this easy air fryer recipe! We marinate it in a garlicky balsamic glaze, then air fry to crispy perfection. This is a great way of recreating favorite recipes to be vegetarian or vegan, or simply for enjoying oyster mushrooms in a new way!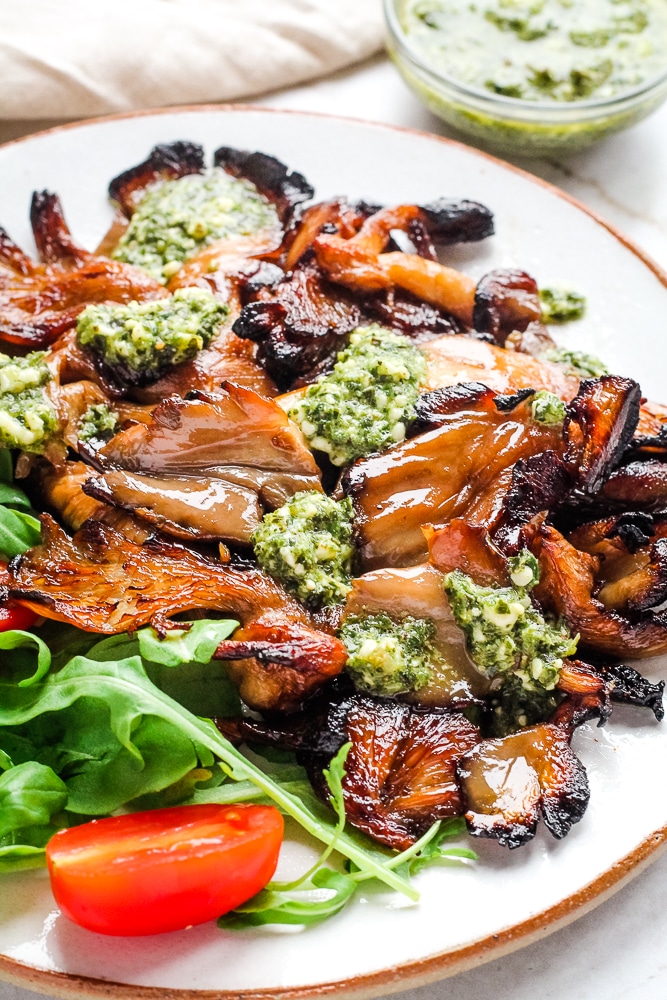 👩‍🍳 Christine's Notes + Why You'll Love Oyster Mushroom Steaks
Oyster mushroom steaks! This is a fun one. We take an oyster mushroom cluster, marinade it, smush it down to flatten it, then air fry it into a kind of "slab" resembling steak. Well. Very loosely resembling.
Since we're cooking the whole cluster, we get a lot of variation of texture here. Some extra crispy bits, some tougher bits, some softer bits. It's all good! Because we are air frying this recipe, we don't take it as seriously as some of the other oyster mushroom steak recipes I have seen where you need to tend to it more, continue weighing it down it as it cooks, and try to get it as flat as possible. This is the easy way to do things and yes our oyster mushroom will "spring up" a little in the process and not be so flat. That's OK with me!
You can slide this into any kind of recipe where you need a "meaty" meat sub, and you can ditch my marinade recipe for whatever you want to use! I've plated it up here as a salad with a pesto drizzle, because it's what I thought looked cute, but it's totally adaptable.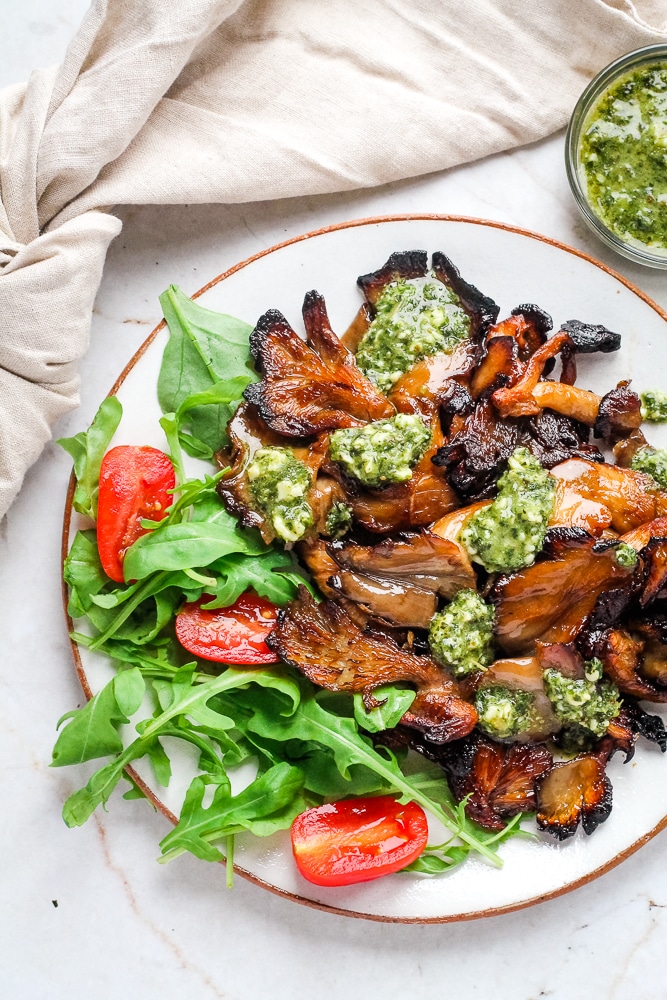 🍄 Selecting Your Oyster Mushroom Cluster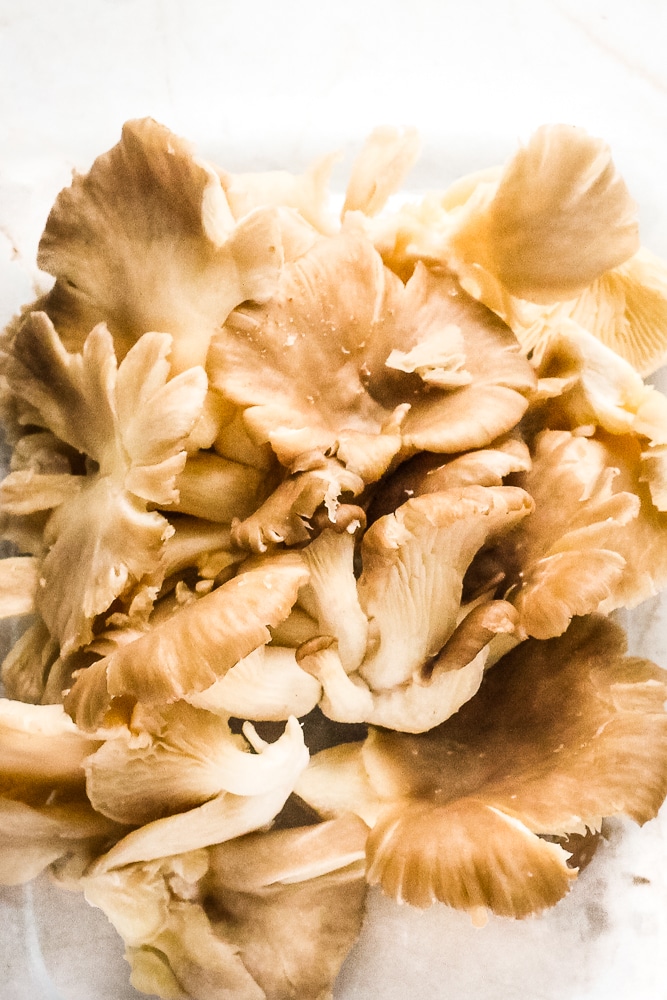 This recipe was written for a fairly small oyster mushroom cluster of 150g (5.3oz) which is what is available in my supermarket. You can definitely scale the recipe up if you can get your hands on something bigger.
And please remember that a little imperfection is OK here! I sat on this recipe for a loooong time waiting for the perfect oyster mushroom cluster to show in the supermarket. One that came whole, with large and evenly sized caps, super robust so that none of the caps fell off. I decided to stop being so picky and just roll with what I could find. It's all fine!
The packaged cluster can sometimes come as 2-3 smaller clusters, and usually there's some loose caps in there too. When you're smushing down and flattening the cluster, you can kind of force it together into one piece.
The Marinade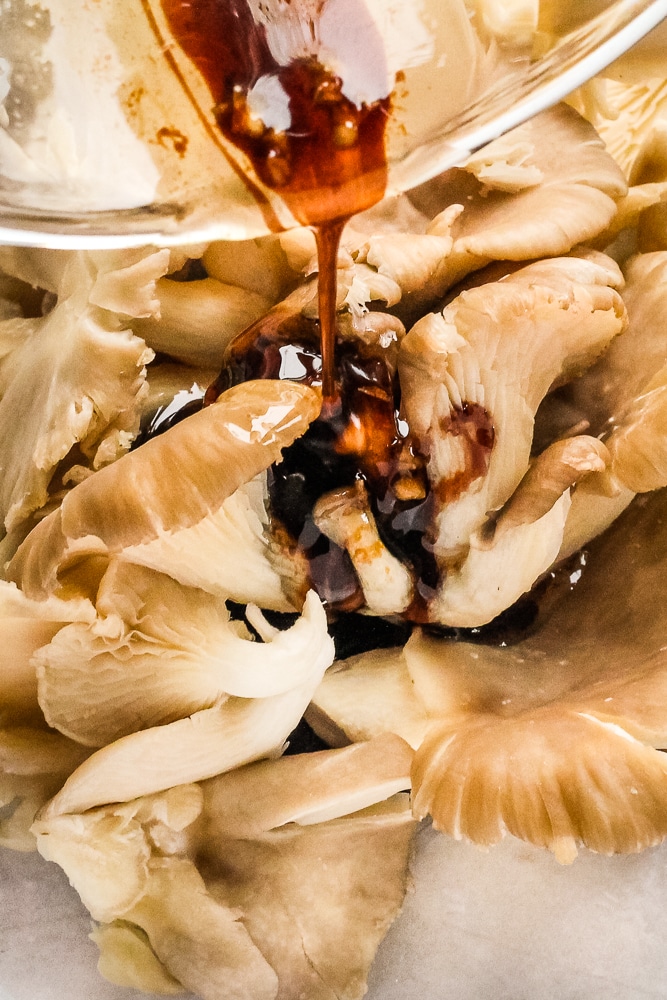 We use a marinade of olive oil, balsamic vinegar, garlic, maple syrup (or honey) and soy sauce. This has a great umami flavor with a slightly sweet edge and while it's very tasty, it's neutral enough to go with anything.
It is fine to just swap in any marinade or steak sauce that you wish! You can make it work with different genres – Mexican, Middle Eastern, BBQ, etc.
❗️Air Frying Tips & Troubleshooting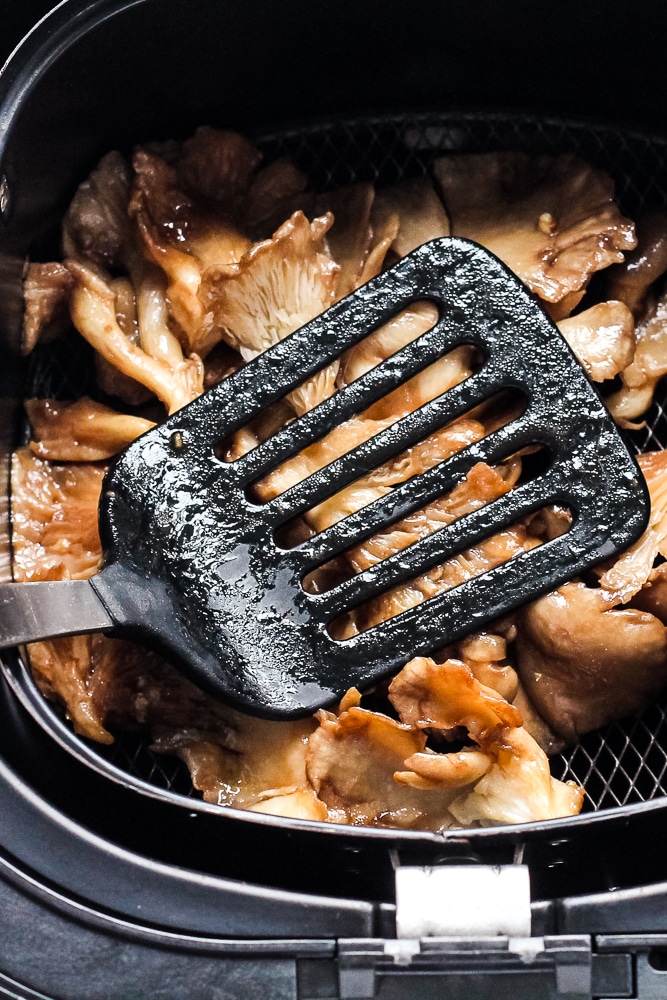 How many can you cook at once?
I tested and prepared this recipe in my (now very old) Philips Viva compact air fryer. I can comfortably make one steak at a time – going in raw it mostly fills the basket, coming out it's reduced and been smushed down enough that it doesn't take up a whole lot of space anymore.
If you have a much larger air fryer basket, or even if your oyster mushroom clusters are less splayed out, you may be able to do two at a time. Just remember that your cook time will increase.
Can I use a liner or a pan within my air fryer basket?
I don't recommend it for this recipe, because air fryers are designed to maximise air flow to the top AND bottom, and liners interfere with that a little. If you really want to, go ahead, with this in mind:
You might need to flip the steak at some point during cooking and your overall cook time may increase.
You may also experience the mushroom juices pooling around the mushroom, because they won't drain as effectively if the basket grates are covered, which may affect how crispy the steak ends up.
My steak needed more / less time to be ready
The more air fryers evolve, the more they vary in size and style, the less consistent they are in terms of cook times and temperatures and end results. So the first time you make this, do use your eyes to decide when it's ready. The same is true for all my air fryer recipes.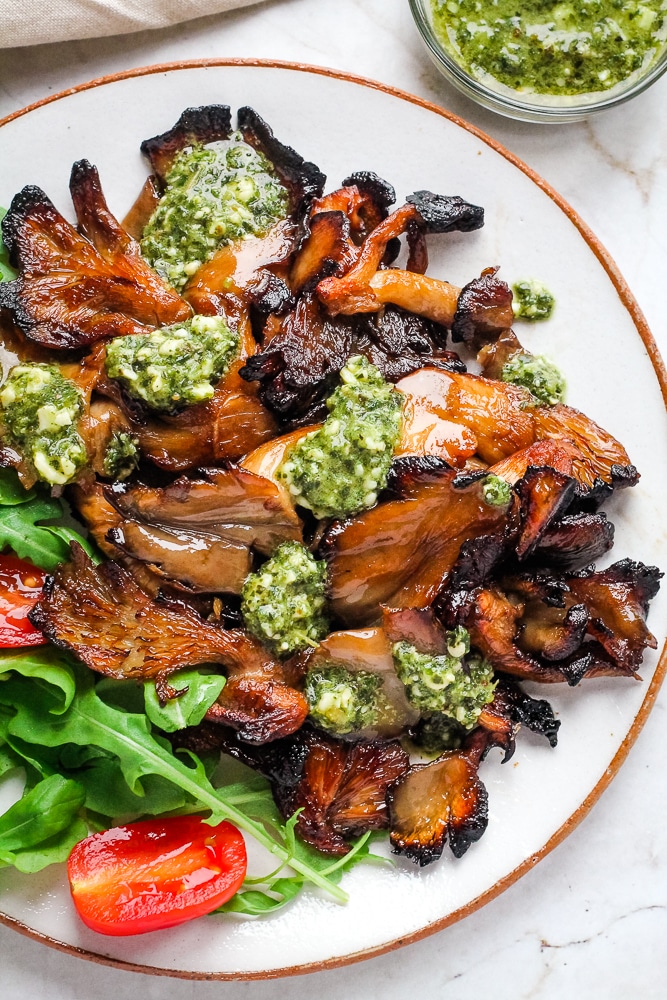 Serving Suggestions:
One "steak" will serve 1-2. You can make a meal of it in a few different ways:
Serve with salad for a low carb / gluten free dinner.
With mashed potatoes and grilled asparagus for a "meat and two veg" kind of meal.
On top of a bowl of risotto or pasta.
Some ideal side dishes would be: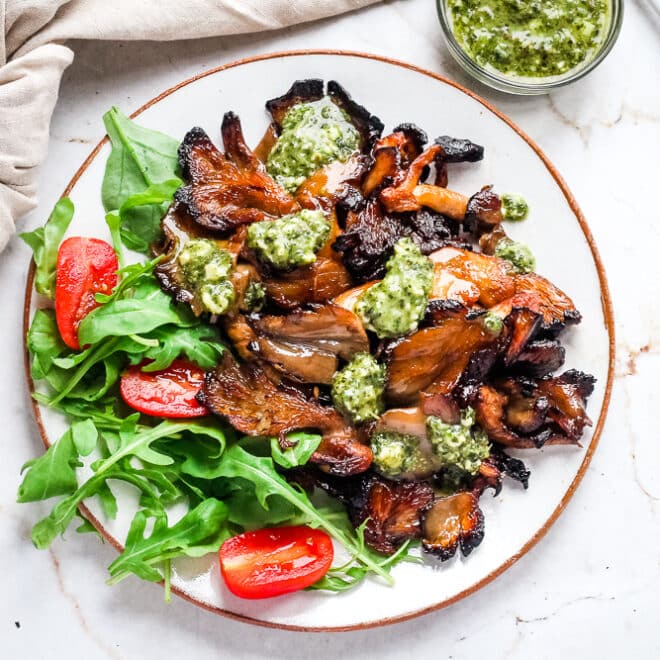 Air Fryer Oyster Mushroom Steaks
Transform your oyster mushroom cluster into a meaty "steak" with this easy air fryer recipe! We marinate it in a garlicky balsamic glaze, then air fry to crispy perfection. This is a great way to recreating favorite recipes to be vegetarian or vegan, or simply for enjoying oyster mushrooms in a new way!
Ingredients
1 small oyster mushroom cluster, see notes
Balsamic Marinade
2 tbsp vegetable or olive oil
1 tbsp balsamic vinegar
2 tsp maple syrup or honey
2 cloves garlic, minced
1 tsp soy sauce
Instructions
Prepare your marinade by whisking all ingredients together in a bowl until emulsified.

Place your oyster mushroom cluster in a dish large enough for it to lay flat. Pour the marinade over the top.

Use a brush or spatula to mix the marinade through the cluster, ensuring that every bit is coated. If you have any loose mushroom caps, just tuck them into the cluster somewhere.

While the mushroom marinates, we need to weigh it down to help it flatten. So find a smaller dish (the heavier the better) to place on top of the mushrooms, then fill that dish with some other heavy items. Place it in the fridge for at least 15 minutes.

When you're ready to cook, heat your air fryer to 180C (390F) and place the mushroom cluster in the basket. Use a spatula to press it down to help flatten it more before closing the basket.

Cook for 8-10 minutes, until the edges are caramelized and the mushroom is reduced and cooked through. During the cooking process, I like to go in 2-3 times to press down on it again with the spatula, helping it come together in a dense cluster (especially if my cluster has some breakaway caps). I usually end up pushing it into the corner to aid that process, as you can see in the photos. I don't feel the need to flip it over at any point, because the air fryer I use allows for very even air flow. If you're using an air fryer liner, you may want to flip it.

Once you're happy with the done-ness of it, lift it out of the air fryer basket and serve immediately.
Notes
Oyster mushroom cluster size: This recipe was tested on oyster mushroom clusters that were 150g (5.3oz) in size. Larger clusters could be used – just be mindful to scale up the marinade recipe.  If you're only making one of these, it will easily fit into a compact air fryer. When making two, you will need something a little larger.
Serving: 1steak, Calories: 304kcal, Carbohydrates: 26g, Protein: 6g, Fat: 22g, Saturated Fat: 3g, Polyunsaturated Fat: 2g, Monounsaturated Fat: 15g, Sodium: 368mg, Potassium: 692mg, Fiber: 4g, Sugar: 16g, Vitamin A: 73IU, Vitamin C: 2mg, Calcium: 22mg, Iron: 3mg