A creamy smoked cheese pasta with honey roasted parsnips and crispy sage! This is a flavorful, decadent and delicious winter pasta that can be made on a budget.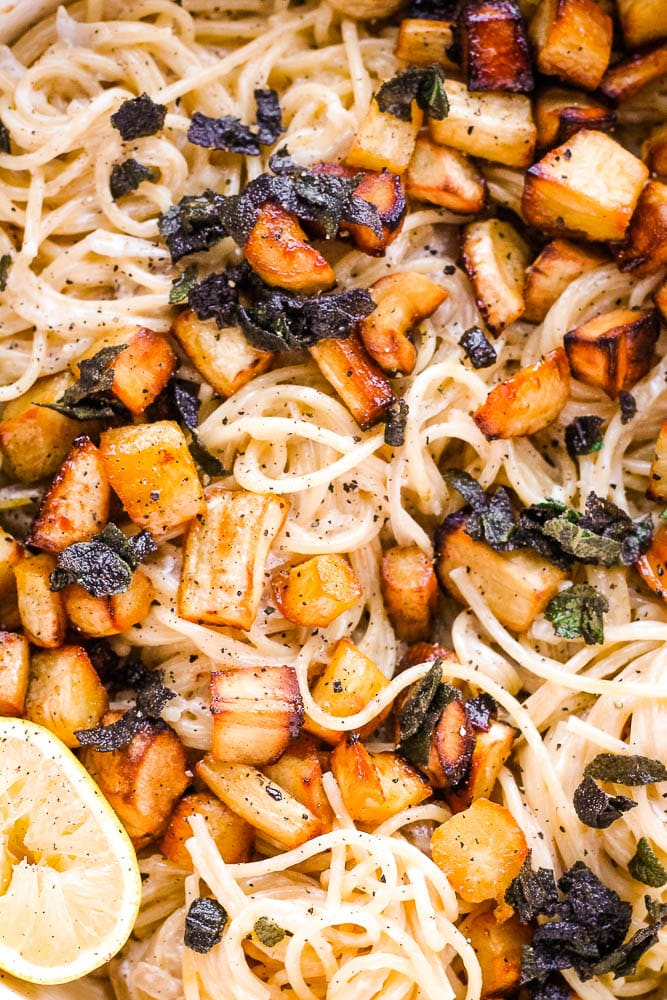 So parsnips are not my favourite, but I am learning to love them when they pop up in festive meals, deliciously roasted in honey. I always felt they were a good match for smoked cheddar to balance out the sweetness, and this pasta incorporates all of that niceness while also adding crispy sage to the party!
This recipe is not what you'd call "light". Mixing pasta with parsnips is a straight up carb-on-carb situation, but I love it for a warming meal around the holidays.
Ingredient Notes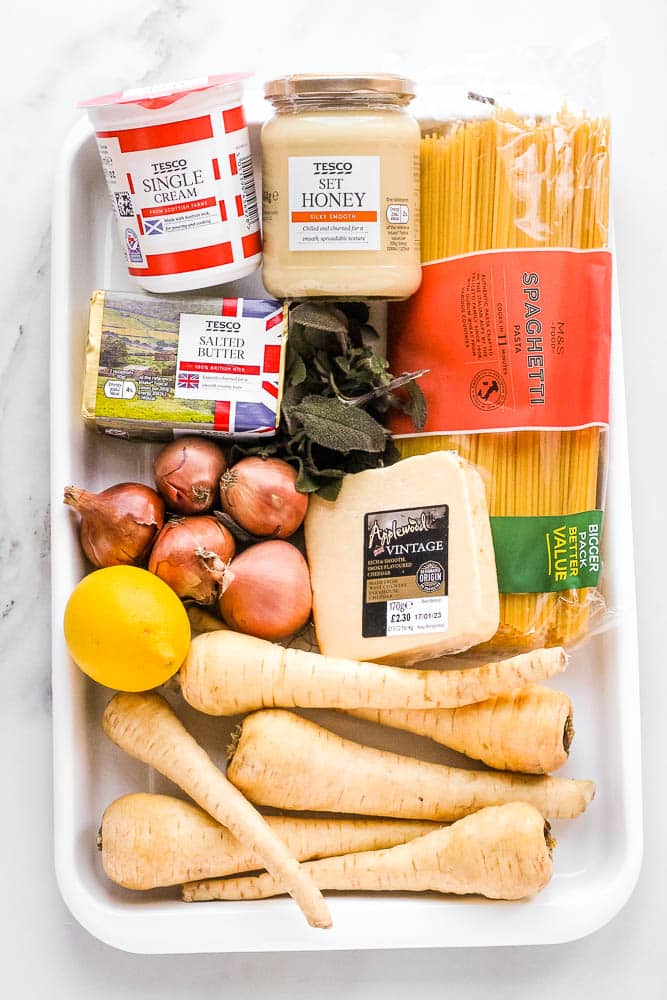 Parsnips are the main attraction here, you want around 500g / 1lb of them but it doesn't need to be exact. You want to peel the parsnips for the best results.
Spaghetti is my pasta of choice here, but linguine or tagliatelle would swap in well too.
Shallots (or red or sweet onions can be swapped in) provide a tasty base for the sauce. We fry them in butter for extra richness.
We use cream in the sauce, though it isn't too much because I didn't want the sauce to be over the top rich. Just 120ml (1/2 cup) is enough, and we thin out the sauce a little more with pasta cooking water. I use single cream (a UK ingredient) but if you're in the US, there is no exact equivalent so you could use half and half or heavy cream. If you use half and half, it will be a little thinner so you might wish to use more of it and you won't need so much pasta cooking water.
Smoked cheese is a star ingredient here giving so much to the flavor. I used Applewood smoke flavored cheddar, which was on a multi-buy deal from Tesco, and the Aldi smoked cheddar is a great option too. You definitely don't need to buy anything fancy, and if you only have normal cheddar that is fine too! (If it's available, you could add some smoked paprika or liquid smoke after the shallots are finished sauteeing).
Sage (which we crisp up in a little butter) makes a great topping for this dish, but if you don't have any fresh sage you could try adding a few pinches of dried sage to the cream sauce (add it alongside the shallots).
A squeeze of fresh lemon over the top is a great way to brighten this up, though optional.
Budget tips: All of these ingredients will be available from Aldi. In a normal supermarket, you can go for the budget version of every ingredient without the recipe suffering for it. Note the substitutions detailed in the ingredient notes (above) if smoked cheese or fresh sage are out of your budget.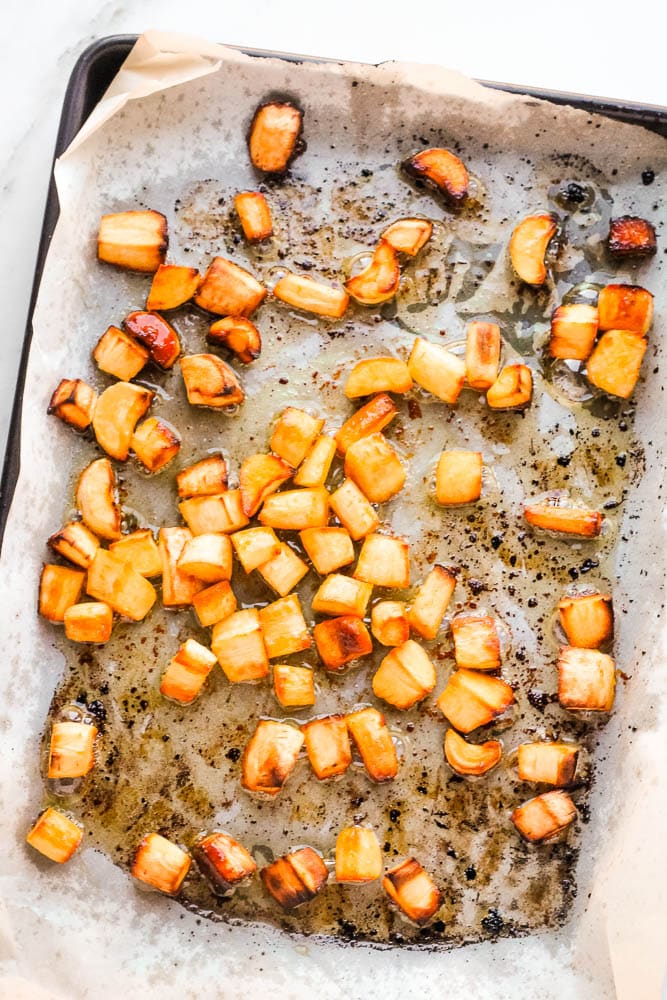 The Workflow
There are a few components that need to come together around the same time, so this is the kind of recipe where it is a good idea to have all of the ingredients prepped before starting to cook anything. Also read the instructions through a couple of times so you have a good sense of what you're working towards.
The first thing you do is get the parsnips roasting – they roast for 25 minutes during which time you can make your sauce, pasta, and crispy sage.
It's up to you whether to make your crispy sage BEFORE draining the pasta (which means the sage cools down a little while you mix the pasta and sauce) or AFTER the pasta and sauce are mixed together (this can work out fine if you cook on gas and can get the sage cooking really fast, but if you need to wait for a burner to heat up, your pasta will suffer from sitting in the pan too long).
More Warming Pasta Dishes
When carby, warming pasta dinners are on the agenda… try these other popular picks!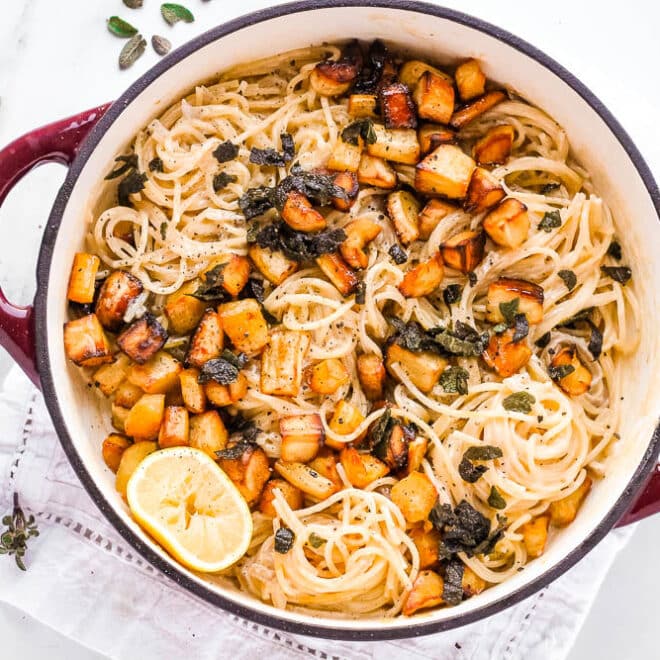 Cheesy Parsnip Pasta
A creamy smoked cheese pasta with honey roasted parsnips and crispy sage! This is a flavorful, decadent and delicious winter pasta that can be made on a budget.
Ingredients
500 g (1 lb) parsnips , peeled and cubed
4 tbsp olive oil
2 tbsp honey
2 tbsp butter, divided
4 small shallots, thinly sliced
175 g (6 oz) smoked cheddar, grated
300 g (10.5 oz) spaghetti
120 ml (0.5 cup) cream, either single or heavy cream will work
1 bunch sage leaves
Juice of 1/2 lemon
Instructions
Preheat the oven to 200C / 400F.

Prep your parsnips. In a small bowl, whisk together the honey and olive oil (it doesn't need to be perfectly emulsified but just mixed together as best you can) and add the parnsips, stirring to coat them.

500 g parsnips, 4 tbsp olive oil, 2 tbsp honey

Scatter on a baking tray and place in the oven for 25 minutes. After 10 minutes, take them out of the oven and and flip them all around to help them cook evenly.

Once you have 15 minutes left on the clock for the parsnips, start your spaghetti cooking according to package instructions.

300 g spaghetti

Cook the shallots. In a large deep pan, melt one tablespoon of the butter over a very low heat, add the shallots and saute for 10 minutes until they are soft and starting to brown.

4 small shallots, 2 tbsp butter

Add the cream and stir through, over a very low heat, until warmed through, and then remove from the heat, or turn off the gas, immediately.

120 ml cream

Add the cheese and stir through until melted. It will be very thick – take about 1/4 cup (60ml) of the pasta cooking water from the pan and mix through to thin the sauce out. You may need more or less depending on the thickness of the cream you're using. The sauce can sit, covered, if the pasta isn't ready quite yet.

175 g smoked cheddar

Remove the parsnips from the oven when they're ready and set aside to cool off for a few moments while you finish everything else.

Crisp the sage leaves. In a small frying pan or saucepan, heat the remaining tablespoon butter and sage leaves until the sage just begins to crisp up (a minute or two), then immediately remove from the heat and set aside. The residual heat of the pan will keep cooking them so remove them just as soon as they're starting to crisp as we don't want them to end up overdone.

1 bunch sage leaves, 2 tbsp butter

Drain the spaghetti (reserving some more pasta cooking water) and add it to the sauce. Toss to combine, and add some of the reserved cooking water if you want to thin the sauce out any more.

Assemble! Add the roasted parsnips to the top of the pasta, followed by the sage leaves and a squeeze of lemon juice. Serve immediately.

Juice of 1/2 lemon