Roasted Cauliflower Pesto Pasta
A delicious, rich and creamy pesto sauce made from smoky roasted cauliflower and cheddar cheese! There's an entire head of cauliflower in this nutritious pesto, which is roasted with smoked paprika and paired with strong cheddar cheese to give the whole dish an incredible depth of flavor.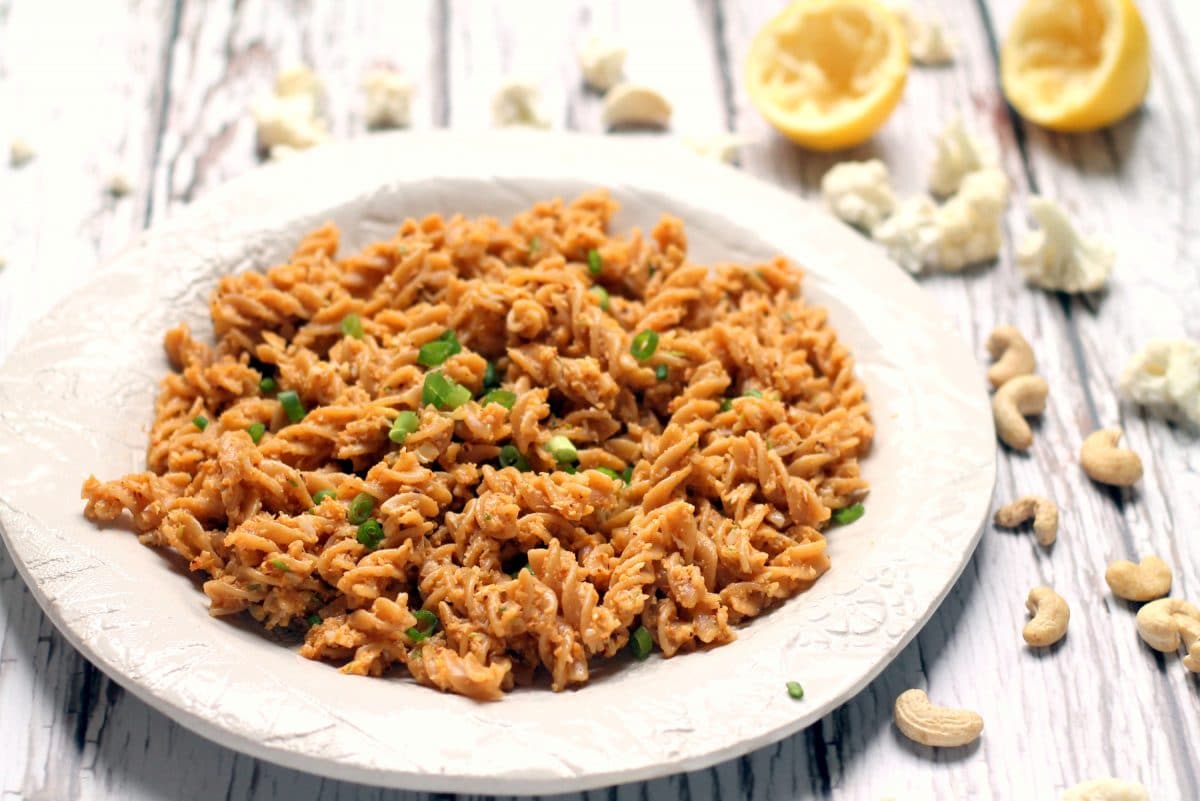 Oh how I love this roasted cauliflower pesto.
Roasted cauliflower is a little mind boggling. You take an otherwise boring, blah vegetable and transform it into something incredibly flavorful and delicious. Just by cooking it a certain way.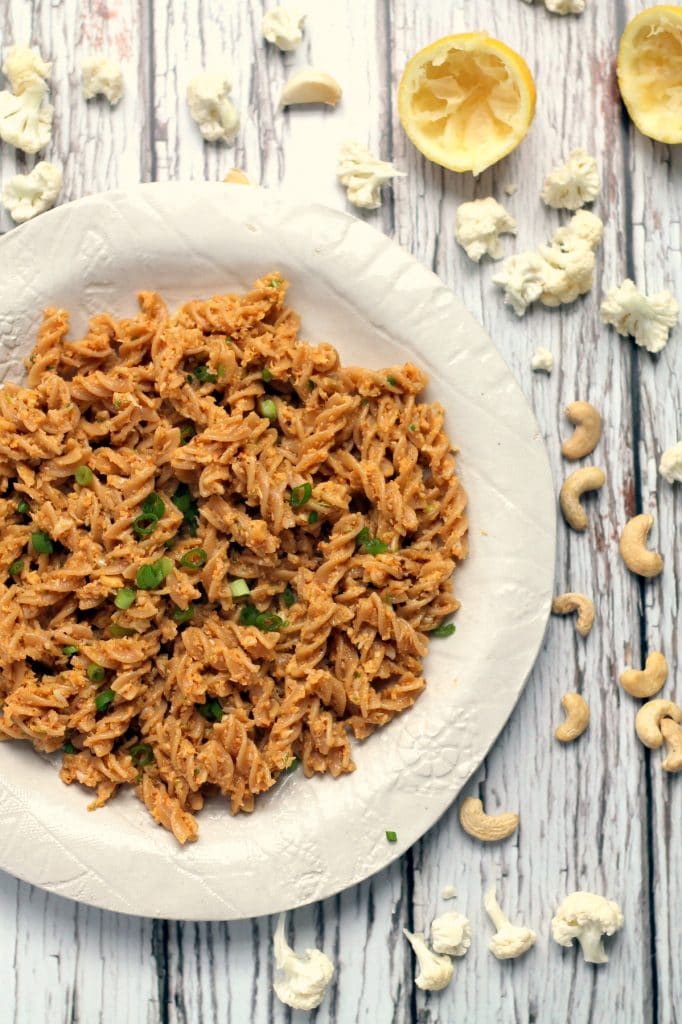 Of course, every vegetable has a range of outcomes depending on how you cook it, but the difference between boiled and roasted cauliflower feels so much more dramatic than with any other vegetable I can think of.
It's transformed cauliflower from something I used to avoid, to a must-have whenever I shop.
And recently, this pesto has been working its way into our weekly menu on the regular.
If you've spent any amount of time on this blog you'll know that pasta is my go-to dinner, so looking for ways to make a plate of pasta a complete meal is kinda my life's work here!
I love that this pesto uses a whole head of cauliflower! That's a decent portion of cauliflower per plate.  And it tastes incredible. You've got the nutty, savory flavor of roasted cauliflower – with smoky undertones thanks to all that paprika – paired with cheddar cheese, some fresh spring onion (scallion), and every now and again you get a hit of caramelized garlic. Yep, lots of different flavors knocking around in here.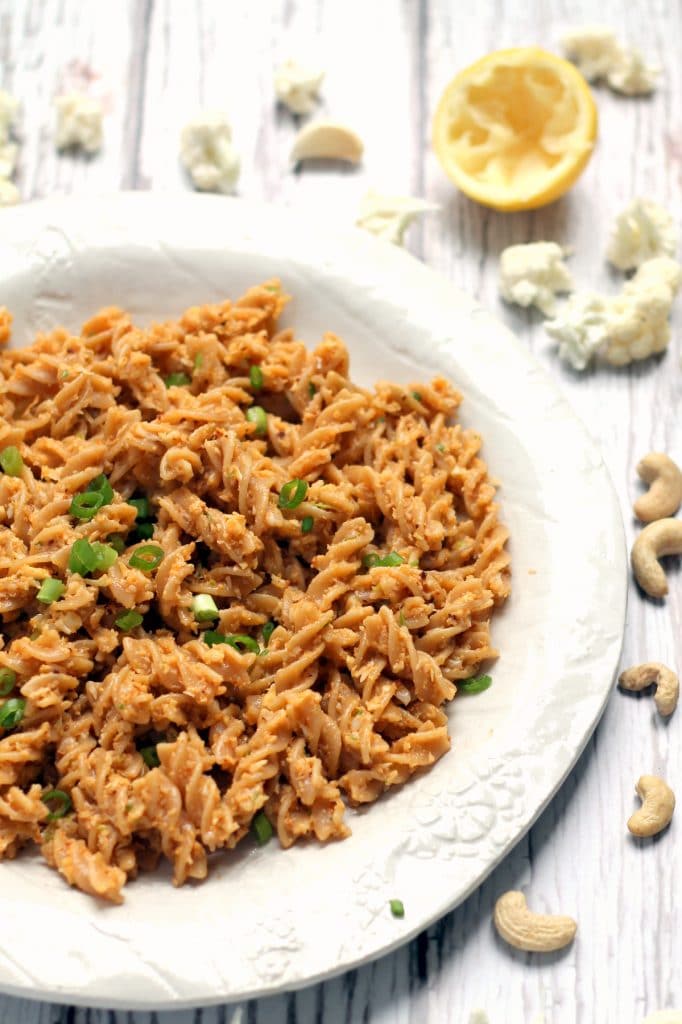 And look! It's a pretty pinkish color thanks to all the smoked paprika. Note that I'm in the UK, where cheddar cheese is universally white. If you're in North America and you use a more orange cheese, your pesto will be orange too.
I like to bulk it up with some extra veggies too. I will often add some peas or broccoli to the pasta when it's cooking, or roast some cherry tomatoes to throw on top, just so there is another vegetable on offer.
And it's really easy to make in about 30 minutes.
Interested? Great!
Let's make some roasted cauliflower pesto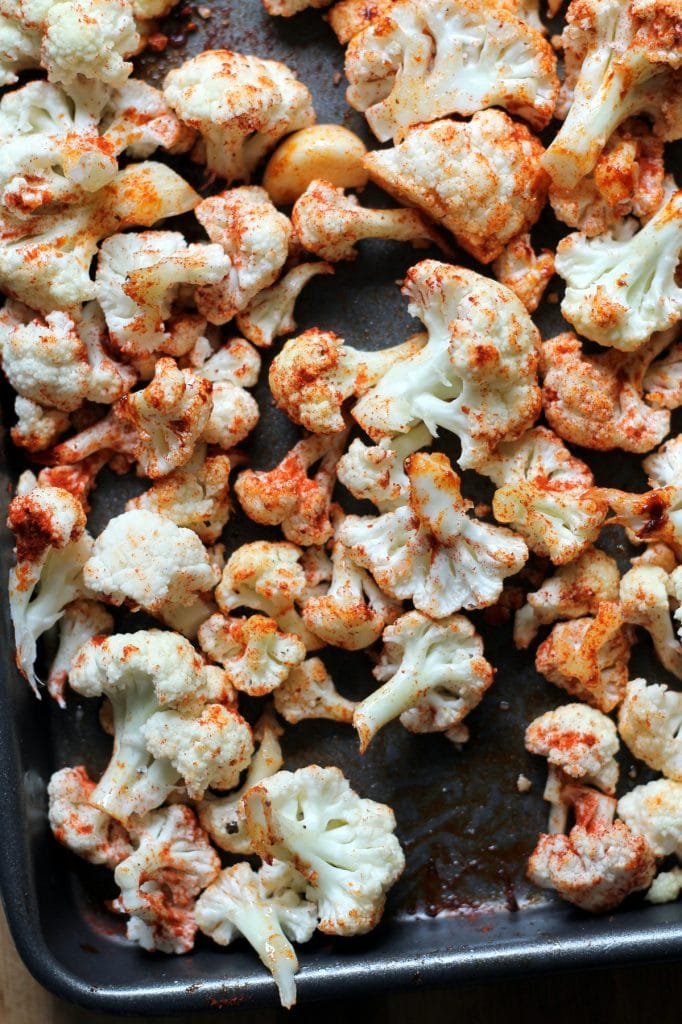 You will roast the cauliflower with a generous sprinkling of smoked paprika and some whole garlic cloves (which will caramelize in the oven), then blitz it with cashews, lemon, spring onions (scallions) and some strong  cheddar cheese in a food processor.
If you can't get properly strong cheddar cheese, maybe use half parm / half whatever cheddar you've got.
There's also a bunch of optional extras you could throw in.
A handful of basil or parsley
A drizzle of truffle oil
Some dijon mustard
Love Vegetable Pesto Recipes?
Awesome, me too! Check out this collection I put together of over 65 pesto recipes in every color!