A deliciously sweet red pepper pesto that is suitable for babies, and toddler / kid friendly too! This is an ideal baby led weaning recipe, and a way to bring some variety to toddlers and kids who love red pasta sauces. Packed with nutrients from red peppers and walnuts, this is a healthy pasta dish that the whole family would be happy to share.
Who else is raising a little pasta fiend?
Lots of you, I reckon, since my First Tomato Pasta Sauce for Babies is one of my most popular posts ever.
So I wanted to follow up with another great pasta recipe for babies! Babies and toddlers (and kids in general) who love red tomato sauces. Maybe you want to try them on something new.
This red pesto is great because it's somewhat familiar looking but it offers them something nutritionally different. It packs two freshly roasted red peppers (so much Vitamin C! yay!) into the sauce, alongside some walnuts (omega-3s! yay!).
This Pesto is Great for Babies!
Baby's first bowl of spaghetti with tomato sauce is always a monumental occasion. I'd recommend this pesto as your next step!
This pesto has been adapted to be baby friendly in the following ways:
We don't use parmesan, and instead opt for cheddar which is lower in salt.
No sugar. This is naturally sweet because roasted red peppers are naturally sweet!
We are super light on the lemon juice, so it is not very citrusy.
And we go light on the basil to keep it tasting sweeter and looking redder but you should adjust this if you know you have a basil lover on your hands!
We use walnuts, not pine nuts, because they're full of brain boosting omega-3s and quite frankly babies don't need the expensive nuts 😉

What age is this pesto suitable from?
6 months. Though that's up to you and the solids introduction plan you're following. Some plans introduce certain food groups later. Take a look at the ingredients, and plan it according to your own timeline.
You also need to consider the texture. Because of the nuts, pesto is usually gritty, which might bother babies who aren't used to many textures yet. You can make this pesto much less gritty if you want to though – just puree it for a while, and think about adding some of your baby's usual milk to soften things up. It will end up more like a cream sauce that way.
Is it OK to give my baby nuts?
Before you give this pesto to your baby, you need to be comfortable introducing nuts. Talk to your healthcare provider. (Here in the UK, the general advice is that if there is no family history of allergies, you're good to go on introducing nuts from 6 months.)
Pasta for Baby Led Weaning
This is a perfect baby led weaning recipe! Experiment with pasta shapes to see what works best with your baby. Many parents and caregivers find success with fusilli for the younger babies.
I personally had an easier time with finely chopped spaghetti or angel hair pasta with Odette.
How to add iron to this pasta for babies
Given the vitamin C content in the red peppers, this is a great meal to serve with some plant based iron, which is a big nutritional priority in year one (vitamin C significantly helps the absorption of iron).
Consider adding some white beans (haricot / navy beans, canellini beans or butter beans all work great) to the pasta. Or even blending some into the pesto.
Serve topped with a lentil or bean based "meatball" such as these Veggie Meatballs from My Fussy Eater.
Add some spinach to the pesto instead of / as well as basil (this will obviously impact the color).
It is also the Perfect Pesto for Toddlers and Young Kids
I guess it's no surprise that my toddler loves pasta. It's our own favorite food, and it's so kid friendly in its texture and carby-ness (is that a word?). Pasta with tomato sauce is an almost guaranteed toddler pleaser.
So fellow parents, let's work this to our advantage and use pasta to sneak different veggies into our toddlers' diets!
When the pesto sauce turns out an innocent shade of red, it's even easier to enourage that first bite. Two year old Odette happily gobbled up this pesto as enthusiastically as if it were her favorite tomato sauce. She won't eat red peppers any other way, so I was pretty happy to find a way of getting her to enjoy them.
I've heard from many parents that pesto pasta is a hit with their toddlers and young kids. It makes sense due to a) the toddler friendliness of carbs in general and b) the fact that pesto sauces can be a nice light coating of a consistent texture, not a lumpy sauce full of surprises.
If you're interested in experimenting with other hidden veggie pesto recipes, I have several ideas both on my blog and from other bloggers compiled in this article: How to Make Pesto in Every Color.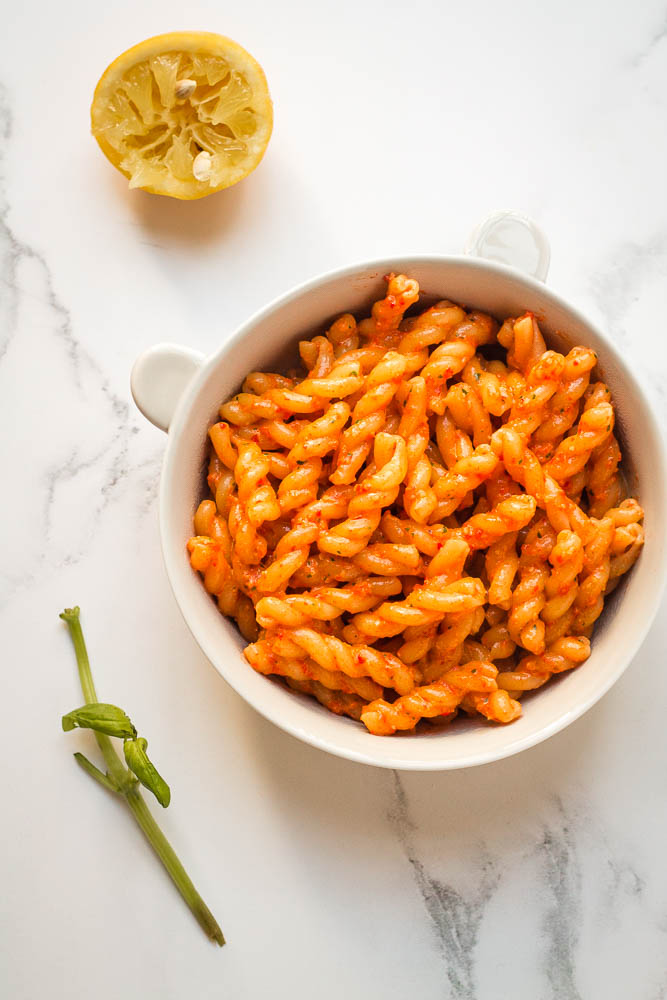 Variations on this Pesto for Toddlers and Kids
If your toddler or child is weird about tomatoes, and actually does not like red sauces or strongly colored food in general, try making this with yellow peppers and raw cashew nuts. It will look safely beige.
Feel free to use parmesan cheese at this age.
As per my suggestion for serving this to babies, you can add some plant based iron to this dish with the addition of white beans to the pasta or a lentil / bean based "meatball".
How to make this pesto for babies & toddlers… quickly! Some tips for roasting peppers.
You don't have time to mess around for hours in the kitchen, I get that. And roasting red peppers can take a little time. But you have some options for time saving methods.
My own favorite hack? Roasting the peppers in the air fryer! This is sooo quick and easy. Cut the peppers into quarters, lightly spray or brush with oil, and cook for 8-10 minutes at 200C / 390F.
Pre-roast the peppers the day before, while preparing something else in the oven. They'll ideally need around 25 minutes at 220C / 430F but you can get away with a little lower and slower if you need to.
You don't have to use the oven at all – you can quickly roast them under the broiler / grill.
Once your peppers are roasted, you will want to peel them. Just put them in a sandwich bag for about 20 minutes and then the skins will come away easily.
You can skip peeling them, if you're not overly concerned about the texture here. I don't bother if I am making roasted red pepper pesto just for me and Mr. Veggie, but the little bits of skin mixed in have been known to bother Odette, so to keep this sauce creamy and toddler proof it can be a good idea.