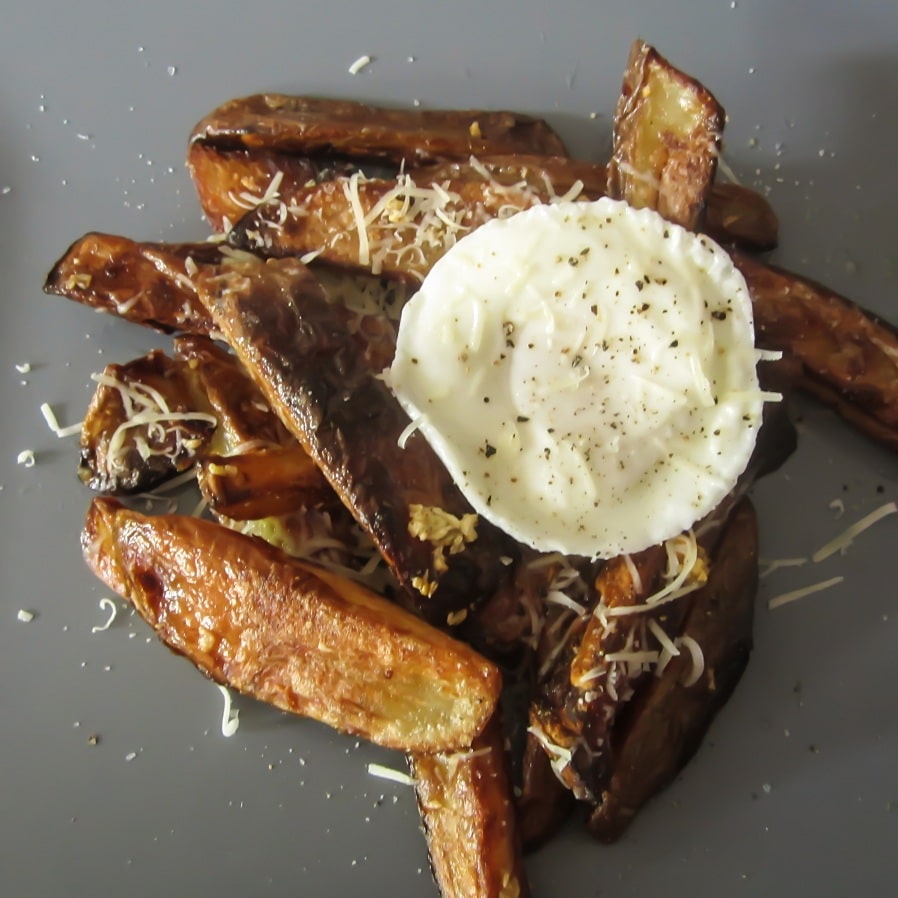 It's been a little quiet here for the last couple weeks. Sorry about that. It's not a case of "2 months in, I'm bored of this blog now" or anything… I was just very busy. The kind of busy that necessitated eating oven pizzas, pasta with whatever was in the fridge thrown in, and takeaway burritos.
Everyone who knows me knows I need my cooking time to wind down, so this has been a pretty tough couple weeks.
But its all come to an end now and this morning I was able to take some time out to make a leisurely brunch.
Ahhh. I have my life back.
So here we go. Today I have a recipe for you which, like my last post, follows a very big trend in food right now: the posh-ification of everyday food. This is a trend I love.
Egg and chips is a bit of a guilty pleasure for me but it can make for a very greasy plate, especially once I smother it in mayo. So in an attempt to keep this from being too heavy I decided to oven bake the chips and poach the egg, then ramp up the flavour by adding garlic and parmesean to the chips- which really reduces the need for mayo.
So all in all, its a much more delicate version of this greasy spoon classic.
posh egg and chips
Ingredients
3 medium potatoes
3-4 cloves garlic
Olive oil (I used extra virgin which worked well and felt extra virtuous)
Small handful grated parmesean (or parm style cheese if you are an animal rennet avoider like me!)
2 eggs
Salt and pepper
Instructions
Preheat the oven on the grill + fan setting at 220C. If your oven does not have this setting, use the grill but reduce the cooking time by about 10 minutes.
First, chop the potatoes into batons- keep them fairly chunky. I like to leave the skins on, but peel them if you like.
Boil them for no more than 4-5 minutes to soften them up, but be very careful not to over-cook.
Drain and leave to cool off and dry.
Cover a baking try with just enough olive oil to coat the bottom. Spread the chips-to-be on the pan and drizzle more olive oil over the top. Use a spatula to flip them and mix it all together in order to ensure the chips are all coated in a light layer of oil.
Bake for 35-40 minutes, flipping halfway through. Monitor them closely and turn the temperature down if they begin to burn.
Towards the end of the cooking time, take the chips out of the oven and scatter minced garlic, salt and parmesean over them. Put back in the oven for 1 to 2 minutes- until the garlic is crisp, but not burned.
Meanwhile, poach your eggs by your preferred method. I use silicone poach pods which are perfect because neither oil nor skill is required 🙂
To assemble, divide the chips into 2 portions and pour on plates. Make sure to get all the crispy bits of garlic off the baking tray!
Place the poached eggs atop the pile of chips, grind some black pepper over the top and serve with just a bit of mayo if you feel the need.
(or, if you are Mr Veggie, just ruin its poshness by adding a tin of baked beans)
Nutrition Facts
Serving Size serves 2
Amount Per Serving
% Daily Value
* Percent Daily Values are based on a 2,000 calorie diet. Your daily values may be higher or lower depending on your calorie needs.