This potato and carrot mash has a mellow garlic flavor that your baby will love. Tasty and filling, with a little bit of texture, this can be eaten on its own or as the base for a bigger meal. The ideal way to introduce garlic to your baby, and it works for both spoon fed babies and baby led weaning families.
We all need a freezer stash of easy, filling, tasty foods for our babies that will suit them through different stages. This one, for us, has stood the test of time with our second baby.
He first had it off a spoon as a textured puree, and now it regularly works its way onto his plates alongside things like beans and falafel, to complete the meal.
It's very easy to adapt and can be made with any root vegetables. Try it with sweet potato, parsnip or squashes too.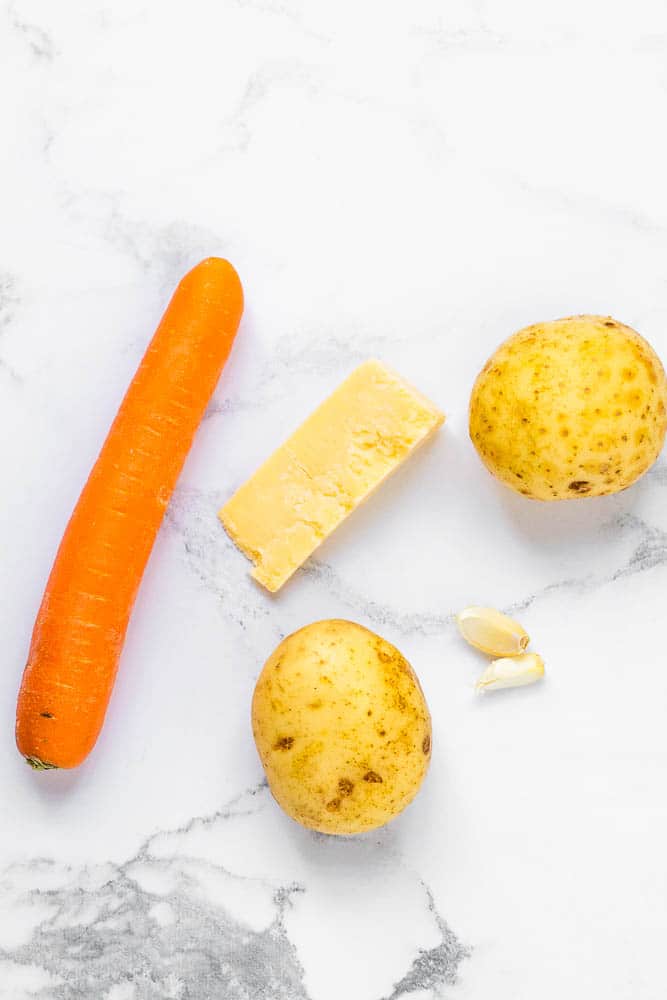 Garlic for babies – Ok from 6 months
There is no particular reason to hold back on introducing foods with garlic to your baby, even as early as 6 months. This recipe steams the garlic alongside potatoes and carrots, which is a gentle way to cook it, leaving a very mellow subtle flavor. Alongside some cheddar cheese, this makes for a super tasty bowl.
Some may prefer to use introduction schedules to introduce foods one at a time, working their way from blander to more flavorful foods, and so garlic may come in at the later stages.
Others take a more relaxed approach, introducing foods as and when they feel their baby might enjoy them, while watching for reactions.
Neither is right or wrong, so do whatever works for you.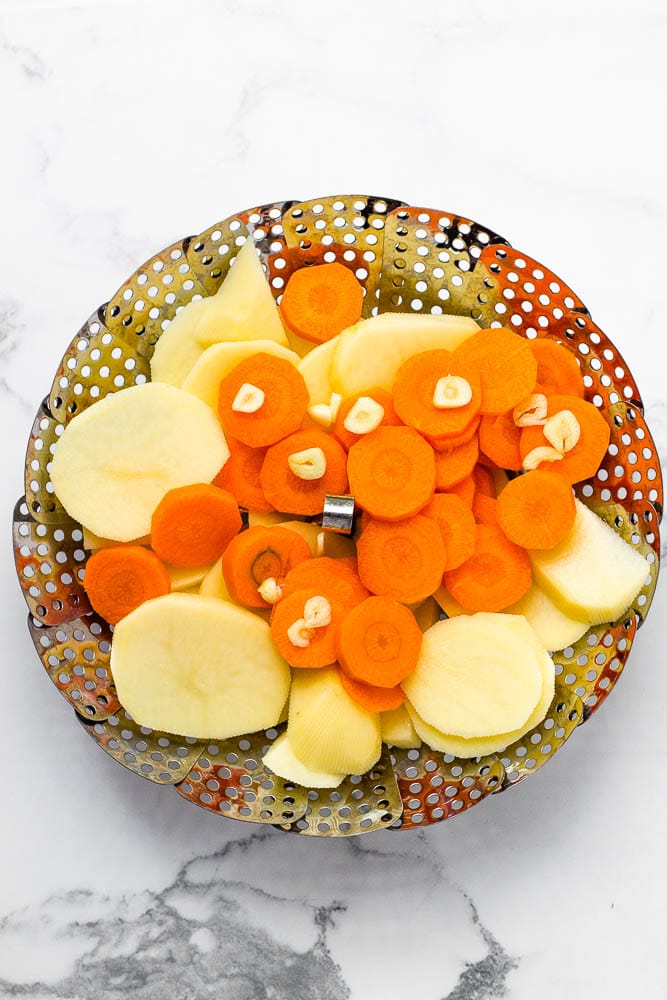 How to make potatoes for babies (ANd HOW NOT TO!)
This is an easy recipe to make but there's one thing you need to know. When you're making potato based baby food, step AWAY from the blender.
Just back riiiiight off.
Do not blend potatoes. Like, ever.
I actually knew this was a thing. Blending potatoes breaks down the starch and makes them very gummy. I'd heard it before and yet the first time I made this I tried my luck. I figured I'd just blend them for a minute so it wouldn't be a problem.
It was very much a problem. An edible mess.
For a baby who is just learning to eat the texture would be a legit choking hazard. So if you need confirmation, here it is: It's a serious NOPE on blending potatoes.
For this recipe, we will use a potato masher.
This is a textured baby food
Using a potato masher instead of blending does leave you with a more textured baby food. So this wouldn't be ideal during the early days of smooth, runny purees.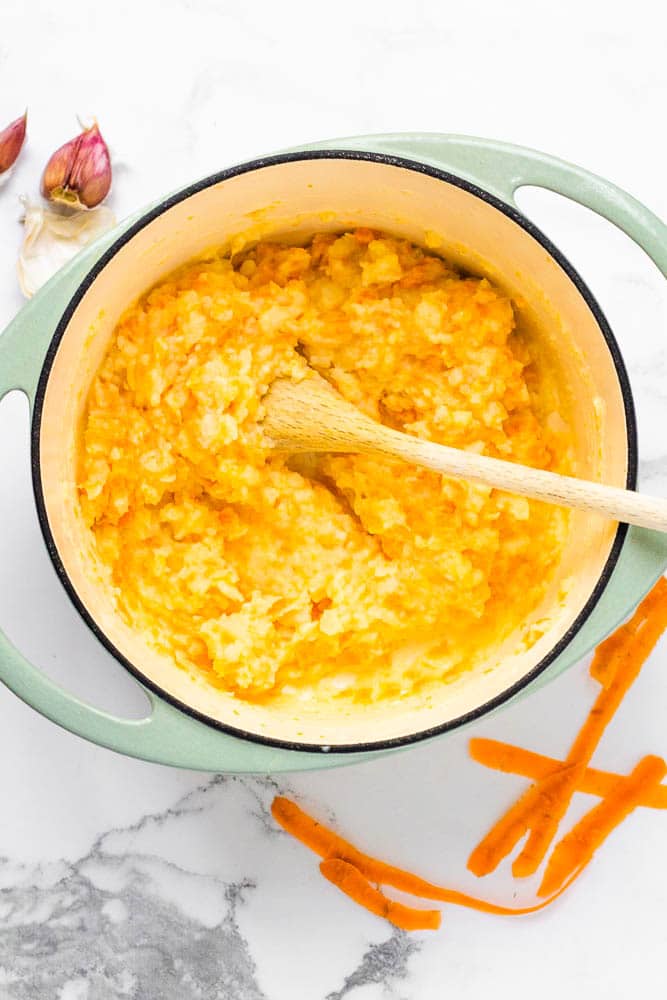 You will want to wait until they are ready for more thick and textured foods. That may put you around the 8-9 month mark depending on how your baby progresses.
If you really want to try this with a younger baby, you could make it into a smooth puree if you put a little extra effort in. You would blend the carrots and then run the potatoes through a potato ricer for the smoothest possible finish. Then mix them together and thin out with milk.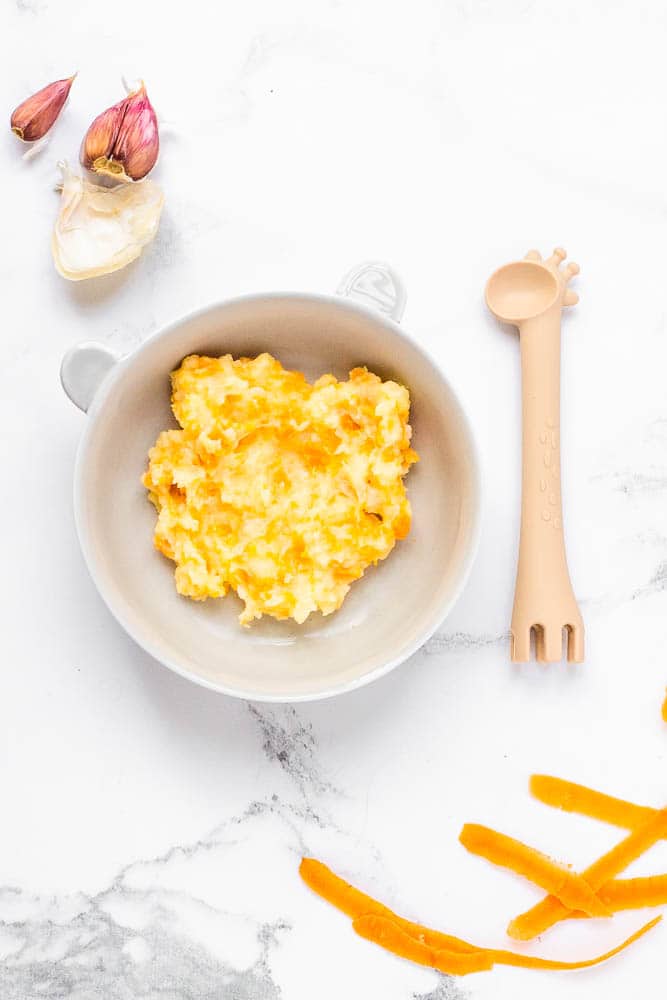 … Or can be served as part of a baby led weaning plate
This is thick enough for babies to pick up and feed themselves, so a little dollop would work well as part of a baby led weaning plate.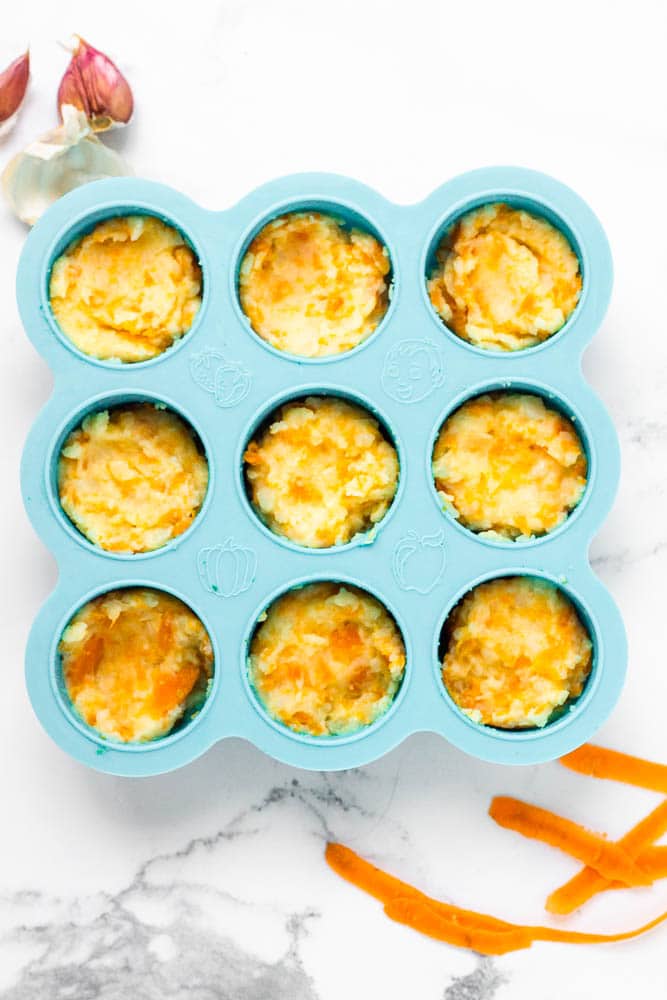 Serving suggestions for older babies and toddlers
It works well alongside vegetarian protein sources to complete the meal. Try adding baked beans, mini falafel, or scrambled eggs to the plate.
Some roasted peppers and tomatoes can make a tasty topping, and stop it from being too dry.