Perfect for kids and adults alike, these crispy, savory cauliflower nuggets are as tasty as can be. Roasting the cauliflower adds so much flavor that you can easily skip the salt if making for babies or toddlers. There are multiple flavor twists that you can add, so you will never get bored of making these!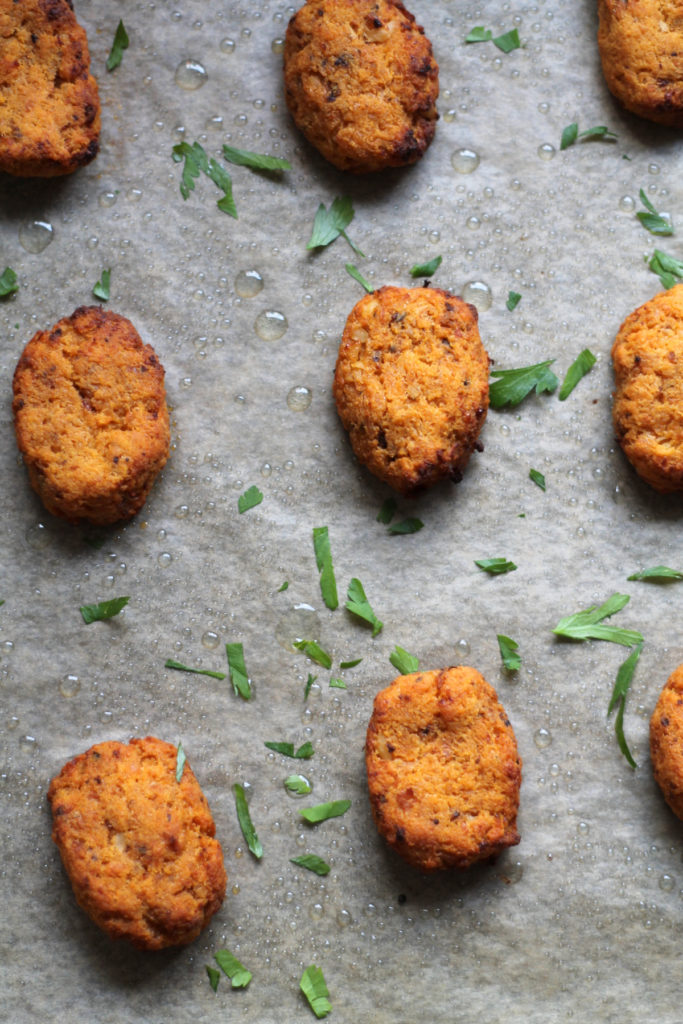 How amazing is roasted cauliflower? Turns out the boring, soggy vegetable of my childhood has a wild side!
Lucky Odette was born in the age of Grownups Knowing How to Treat Cauliflower Right, and these cauliflower nuggets are one of my favorite ways to prepare it. Not just for her, but for all of us! We are all hooked. They are crispy on the outside but moist and soft on the inside with that roasty, toasty flavor in every bite.
What's more, I can try a new spin on them every time I make them. Adding fresh herbs, truffle oil, changing up the cheese – it's always delicious and Odette seems happy enough with each variation.
Roasted Cauliflower Nuggets for Babies / Baby Led Weaning
The nuggets are baked with just a little bit of olive oil, and no added salt or sugar, so they're a great finger food for infants. However,  watch out for the salt content on your ready made breadcrumbs if making for a baby under one. You may prefer to make your own breadcrumbs to avoid that sodium.
You may also wish to bake them for the minimum time to keep them soft for the littlest babies.
Roasted Cauliflower Nuggets for Toddlers and Kids
You can bake them a little longer to get them super crispy. Serve them with a dip and some veggies for a great weeknight meal!
Your tot may enjoy making these with you! You can have them shape the nuggets themselves. Though with egg in the mix, they do need to be old enough to listen to you when you tell them not to eat any of the raw dough!
If your kiddo loves nugget dinners, try making a double batch and freezing the extra dough. Then defrost it overnight in the fridge, and you can get nuggets on the table easily for dinner.
How to Make Roasted Cauliflower Nuggets
These are a little bit of a project, mainly because we have to break it into two parts and use the oven for each. Thus, it's perfect for those of you organized folk who meal plan, meal prep and do make ahead meals.
In the Morning / The Night Before
You will roast the cauliflower and make the nugget mixture. This will be about 30-40 minutes. Then you will put it in the fridge to chill.
When it's Time for Dinner 
You will form and bake the nuggets. This will be about 30 minutes.
As I explain in the recipe card, chilling the mixture really helps you to keep your nuggets moist without them melting or spreading on the baking tray. It makes the recipe a little more forgiving too. If you don't get the texture exactly spot on, or if your ingredients are quite different to mine, chilling your mixture can help to even things out and ensure they will still come out of the oven delicious.