A pan of roasted tomatoes with creamy mascarpone make the perfect sauce for gnocchi. Feels like a treat while using inexpensive ingredients, and low effort enough for a weekday dinner!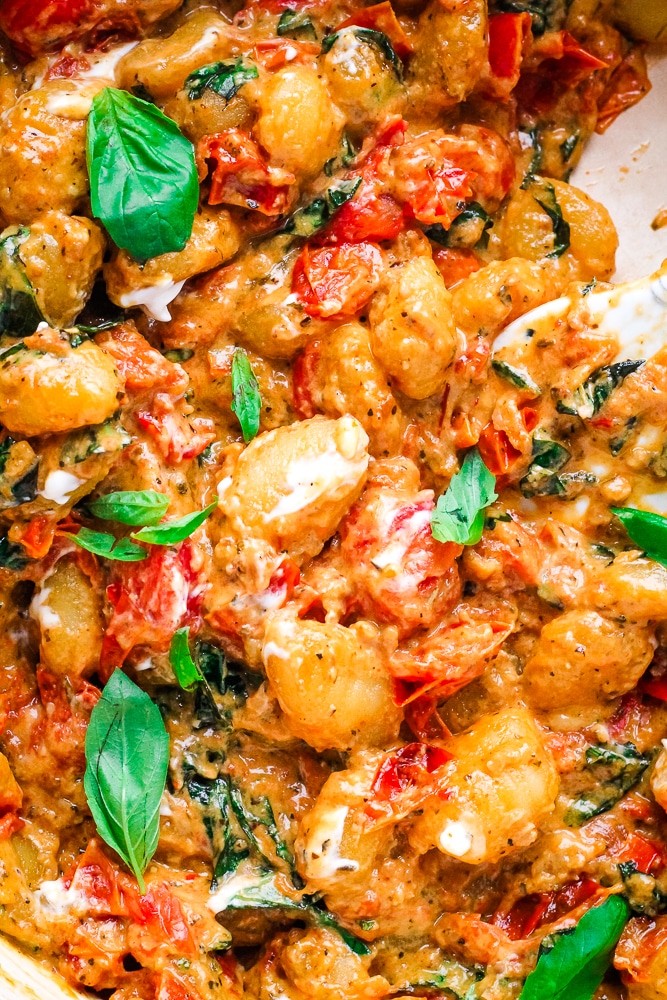 Oh, this gnocchi. So easy, so tasty, so cheap (Aldi friendly!) – I think we may have found your new favorite dinner?
I love the process for making this gnocchi, which keeps your time fairly free and flexible. We roast the tomatoes and the gnocchi in the oven (in separate pans). Then we put it all together in the tomato roasting pan with some mascarpone transforming it into a creamy sauce.
And when I say creamy sauce, mascarpone is not messing around. It is the creamiest of the creamy, with a very high fat content and a sweet flavor that makes it beautiful to pair with tomatoes. If you're intrigued by this recipe but can't find / don't want to buy mascarpone, I do have some suggestions for alternative approaches below.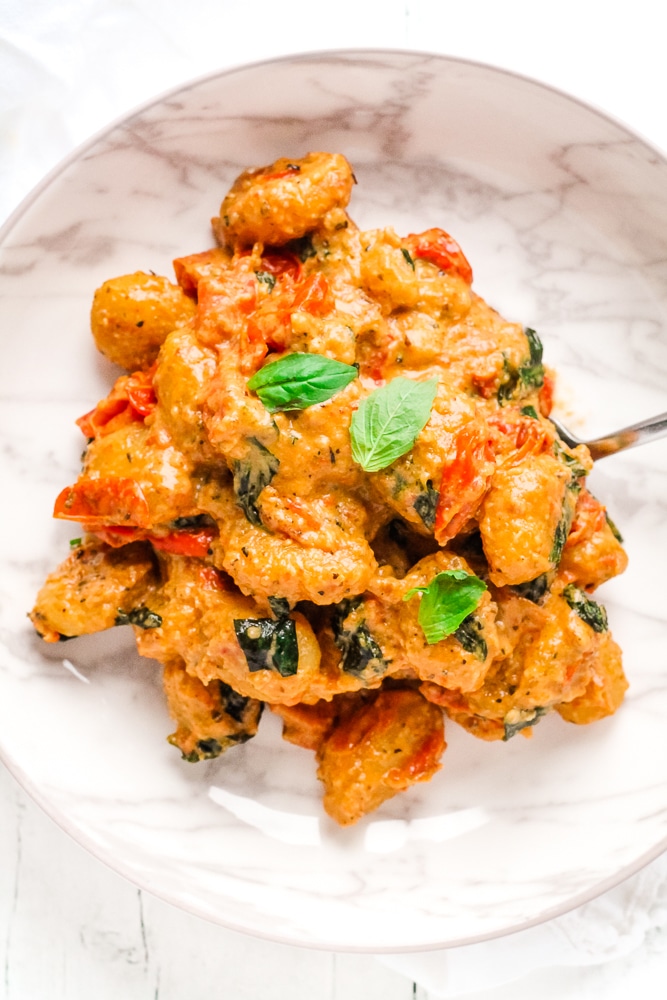 Ingredient Notes
These are all easily available ingredients which can be sourced from Aldi. In other supermarkets, you can find many of these items in the budget ranges and you do not need the top quality stuff to make this recipe work well.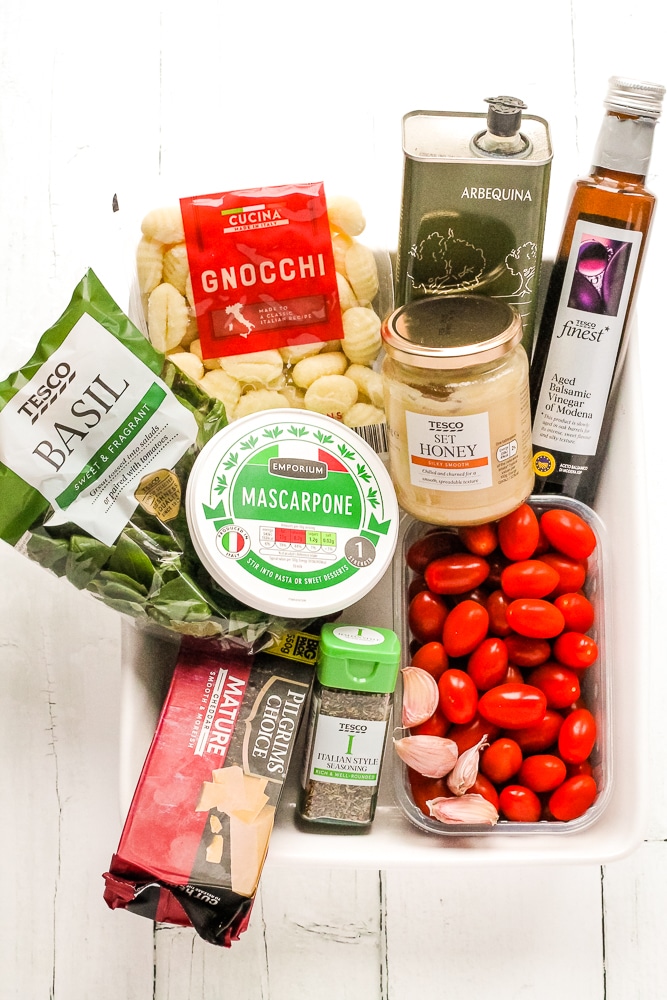 Gnocchi: Dried shelf stable gnocchi.
Tomatoes: Baby plum or cherry tomatoes. We roast them with lots of flavor boosters so winter tomatoes, or cheaper tomatoes, will work out fine here.
Balsamic vinegar: For roasting the tomatoes in.
Honey: adds sweetness to the tomatoes; you can leave this out if you are working with some amazing peak summer tomatoes.
Italian mixed herbs: if you don't have a mix, just throw in some basil, some oregano, some thyme, whatever you have to work with.
Mascarpone: the star ingredient that turns the roasted tomatoes into a decadent sauce in just a matter of minutes. You can replace it with normal cream if you need to (it will just end up a little runnier) or even cream cheese (it will have a tangier flavor).
Cheddar cheese: You can of course use some kind of parmesan style cheese for a more proper Italian finish, but I find cheddar adds a lot of flavor for a lower cost so I'm very happy to use it here.
Fresh basil: adds a beautiful fresh flavor, but you can leave it out if you need to, or replace with parsley.
What to do with your leftover mascarpone…
This won't use up the whole package of mascarpone, but since I cook with it so much I have plenty of ideas for how you can use the rest:
Tips and Variations
We are going to oven roast the gnocchi and it doesn't need to be pre-boiled first. It's really up to you how crispy you want to go with your gnocchi. My preference for this recipe is just 15 minutes in the oven, so the gnocchi is very lightly browned. It still has some bite to it, and doesn't just melt into the sauce, but is still very soft. Another 10 minutes and you would have deeper brown crispy gnocchi, much more chewy with a distinct crunch to it, almost like it had been fried. And then there is a whole middle ground. Neither is right or wrong, so go with what works for you. If you prefer to cook your gnocchi longer, this recipe allows for that, just take the tomatoes out of the oven when they're done and make your sauce a little earlier. No problem.
If you're concerned with the amount of mascarpone in this sauce, I hear you! It's a lot. You can see from the photos how creamy and decadent this sauce gets so I kinda love it this way, but you could absolutely make it with half the amount of mascarpone and the sauce will still turn out great.
Let's discuss adding veggies. Always a solid idea. Treat this as a base recipe you can build upon. For a hit of green, try adding some frozen peas or spinach leaves to the sauce when you add the mascarpone. You can also add veggies to roast alongside the tomatoes. Mushrooms, zucchini, peppers, whatever you like. This is very saucy and can handle some extra "stuff" in the mix.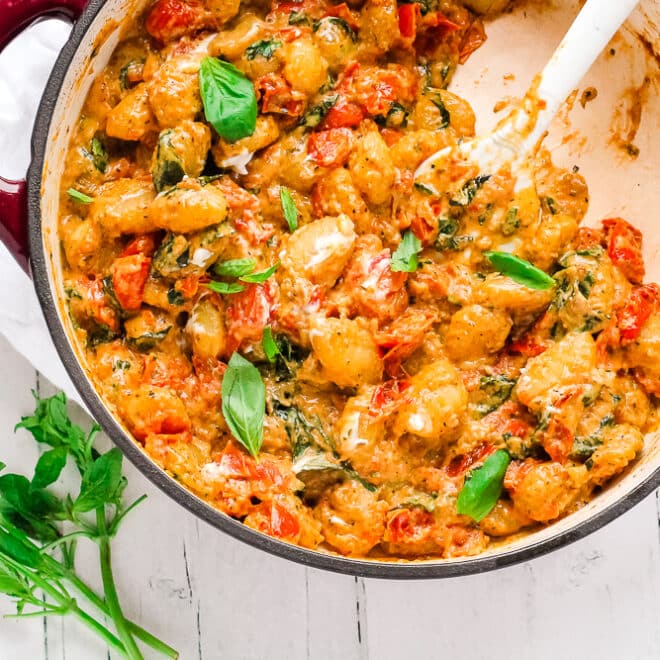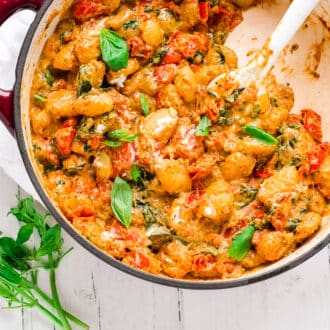 Roasted Tomato & Mascarpone Gnocchi
A pan of roasted tomatoes with creamy mascarpone make the perfect sauce for gnocchi. Feels like a treat while using inexpensive ingredients, and low effort enough for a weekday dinner.
Ingredients
1 package dried gnocchi, (500g or 18oz)
3 ⅓ cups (500 g) cherry or grape tomatoes, halved
4 Tbsp olive oil
1 Tbsp balsamic vingear
2 tsp honey
4 cloves garlic, minced
1 Tbsp mixed Italian seasoning
½ cup (110 g) mascarpone
½ cup (50 g) cheddar cheese, grated, tightly packed
1 bunch fresh basil
Instructions
Preheat the oven to 180C / 360F.

In a large mixing bowl, whisk together the olive oil, honey, balsamic vinegar and garlic. Add the cherry tomatoes and Italian seasoning, then mix to get them all coated in the glaze.

3 1/3 cups cherry or grape tomatoes, 4 Tbsp olive oil, 1 Tbsp balsamic vingear, 2 tsp honey, 4 cloves garlic, 1 Tbsp mixed Italian seasoning

Pour into a casserole dish (something large enough that they don't overlap too much, but small enough so they aren't too far apart because we don't want them to dry out, we want the juices to come together and form a sauce). Place in the oven on the top shelf for 20 minutes.

Meanwhile, prepare the gnocchi. Scatter on an oiled baking tray and drizzle with enough olive oil to lightly coat the gnocchi.

1 package dried gnocchi

Once the tomatoes have been in the oven for 20 minutes, move them to the lower shelf of the oven and place the gnocchi on the top shelf. Bake for a further 20 minutes until the gnocchi is lightly browned and crispy and the tomatoes are well roasted (most of the liquid in the pan should have evaporated leaving them sticky and jammy). All ovens are different, so do keep an eye on things. If your tomatoes seem ready early, just take them out and let them sit while you wait for the gnocchi to be done.

When the tomatoes are ready, add the mascarpone and grated cheese right to the pan and stir through to form a sauce.

1/2 cup mascarpone, 1/2 cup cheddar cheese

Add the gnocchi and basil to the pan and mix to combine.

1 bunch fresh basil

Serve immediately.
Calories: 740kcal, Carbohydrates: 74g, Protein: 16g, Fat: 44g, Saturated Fat: 17g, Polyunsaturated Fat: 2g, Monounsaturated Fat: 15g, Cholesterol: 56mg, Sodium: 730mg, Potassium: 429mg, Fiber: 6g, Sugar: 9g, Vitamin A: 1693IU, Vitamin C: 40mg, Calcium: 278mg, Iron: 8mg