Pan fried gnocchi is always a winner, and this simple tasty recipe is packed with greens to make it a nourishing meal! With a light lemony goat cheese sauce, this feels like a real of a treat of a dinner while being budget friendly and incredibly quick and easy to make.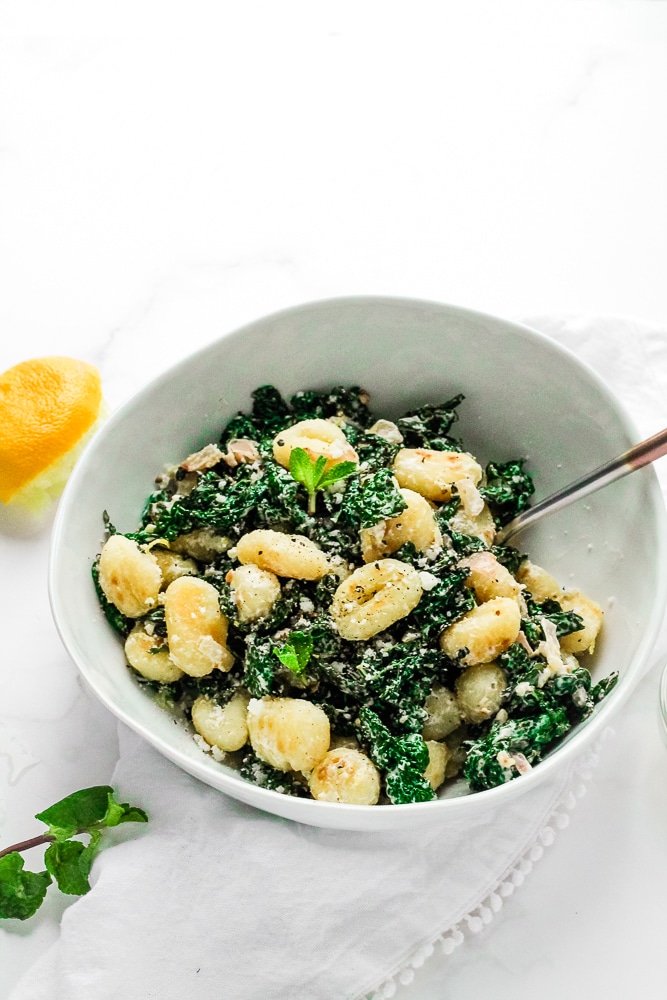 This is the kind of recipe we love best – an easy dinner which can be ready in 20-30 minutes without too many ingredients, lots of greens, a low price point, and only one pan to wash. All the best boxes ticked.
The gnocchi is pan fried, crispy on the outside but soft on the inside, and it's mixed with a LOT of stir fried kale (I used lacinato kale aka cavolo nero). The kale ratio is really high here, there is a lot of green goodness packed into this meal! And it's all coated in a light goat cheese lemon sauce with a pop of fresh mint which is an actual delight.
I will admit that the sauce being such a light coating does not look as good as if it were a rich, creamy flowing sauce, but it's really tasty and I enjoy the lightness here. The kale is juicy from all the lemon and the creamy goat cheese in its ridges, so it works well to complement the dense gnocchi.
How it works
This is so perfect for weeknights because it comes together so easily. We quickly pan fry the gnocchi, set it aside, then use the pan to prepare the kale, melt in the goat cheese, and then add the gnocchi back in.
The bulk of the work here is simply chopping your kale, onion and garlic. If you're starting from scratch, this will be about 30 minutes. With pre chopped versions of these ingredients, or if you meal prep in advance, it's more like 15 minutes.
Make sure to prep everything before you start cooking
It is important for the success of this recipe that all of the ingredients are prepped and ready to go before you start cooking anything. Once the gnocchi is out of the pan, you want to get the kale cooked and the gnocchi back into the pan as quick as possible, so there's no time to waste chopping or prepping at that point.
Ingredient Notes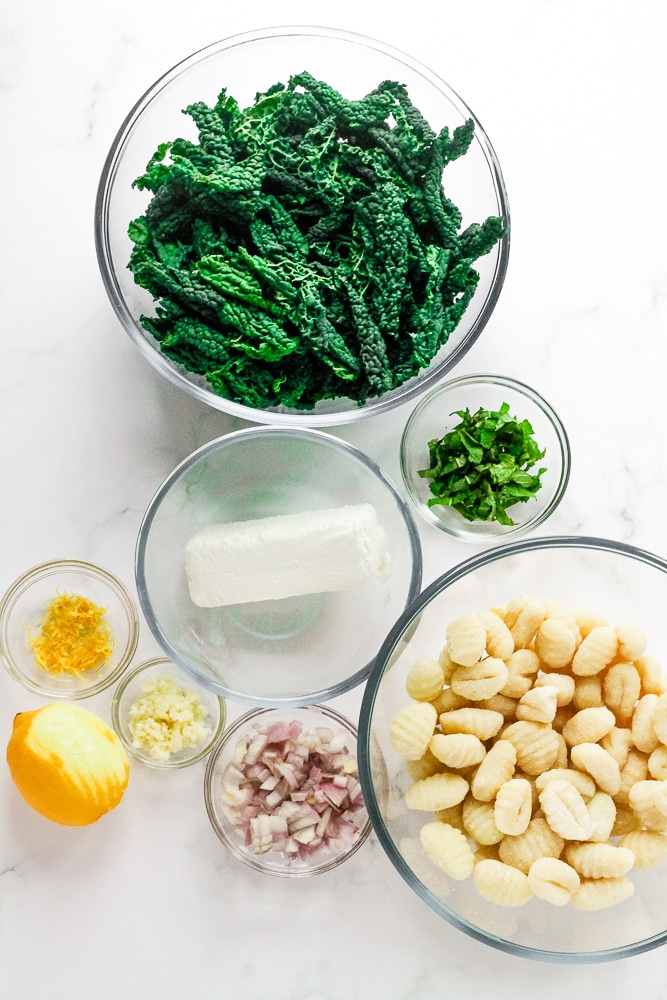 Gnocchi – I am using shelf stable dried gnocchi here. No need to precook this stuff, it can just be pan fried.
Kale – You can make this with curly kale OR lacinato kale (cavolo nero, black kale, dinosaur kale, Tuscan kale, this stuff has so many names?!?!). I used the latter.
Shallots and garlic – feel free to use red onion instead of shallots, whatever works.
Goat cheese – the soft creamy kind, NOT the aged goat cheese with rind.
Fresh mint leaves – Pleeeeease try this with the mint leaves. They're so good. If you need to swap another fresh herb, it will be fine of course, but I just love how mint works here. Unexpected but perfect.
Optional – you can add some grated parmesan style cheese for topping but it's not essential.
And that's it! It's a really short list. Everything is available in a budget supermarket like Aldi, or you're welcome to shop in the budget ranges at another supermarket, so it needn't be an expensive meal at all. The goat cheese is probably your priciest ingredient here, but don't hesitate to get the cheapest one available.
Variations:
You can add a little cream if you want to go down a more saucy, creamy avenue with this recipe and that will be great too. If you do this, you probably also want to throw a handful of parmesan style cheese into the mix too.
Don't hesitate to use spinach instead of kale. It will cook a fair bit quicker, too.
Consider a creamy blue cheese if goat is not your thing.
Adding some chopped cherry tomatoes into the pan (just at the end, so they warm a little but don't break down) would be super tasty.
Chili or red pepper flakes, added at the same time as the garlic, would give this a nice kick.
Side Salads
These Italian inspired side salads would pair nicely with this dish, if you're making it as part of a larger spread of dishes.
More Recipes with Mint
If you bought a pack of mint for this recipe, here's how to use it up!
More Ideas for Kale
If you have a big kale haul, I can certainly help with that too.
Easy One Pan Kale Gnocchi
Pan fried gnocchi is always a winner, and this simple tasty recipe is packed with greens to make it a nourishing meal! With a light lemony goat cheese sauce, this feels like a real of a treat of a dinner while being budget friendly and incredibly quick and easy to make.
Ingredients
olive oil, for cooking
18 oz (500 g) gnocchi
7 oz (200 g) kale, chopped, tough stalks removed
1 lemon, all of the juice + 1/2 of the zest
4 oz (125 g) goats cheese
2 shallots, finely diced
3 cloves garlic, minced
1-2 Tbsp chopped fresh mint leaves
salt and pepper, to taste
Instructions
In a wide, deep frying pan, heat a couple tablespoons of olive oil. Add your gnocchi (straight from the packet – no need to preboil!) and toss through until it's all well coated in the oil. Allow it to sit for about 2 minutes, without mixing it, until the bottom sides of the gnocchi are browned. After this, keep turning it every couple of minutes to get the remaining sides browned. It doesn't have to be perfect so don't worry if some sides don't get browned – the gnocchi will still cook through. Once it's finished, pour it onto a plate and set aside.

Return the pan to the heat and add another bit of olive oil to the pan. Quickly soften the onions and garlic.

Add the chopped kale to the pan and stir fry until bright green. Add half of the lemon juice. It will steam and soften it, so the kale will reduce in the pan.

Once the lemon juice is fully absorbed, add the goat cheese, lemon zest and remaining lemon juice, and salt and pepper to taste. Mix through until the goat cheese is melted.

Put the gnocchi back in the pan, toss to combine, and serve immediately.
Notes
The stated servings are 4, though realistically that's more like 2 adult dinners + 2 kids size or lunch portions. If you're making this for 4 adults, you may want a side dish. Nutritional information assumed 3 tablespoons of olive oil were used for cooking. 
Calories: 407kcal, Carbohydrates: 51g, Protein: 12g, Fat: 18g, Saturated Fat: 6g, Polyunsaturated Fat: 2g, Monounsaturated Fat: 9g, Cholesterol: 13mg, Sodium: 566mg, Potassium: 246mg, Fiber: 6g, Sugar: 2g, Vitamin A: 5303IU, Vitamin C: 51mg, Calcium: 204mg, Iron: 6mg