Fusion halloumi wraps with sweet chili satay sauce! These protein packed wraps are full of different flavors and textures for a satisfying vegetarian lunch, hot or cold.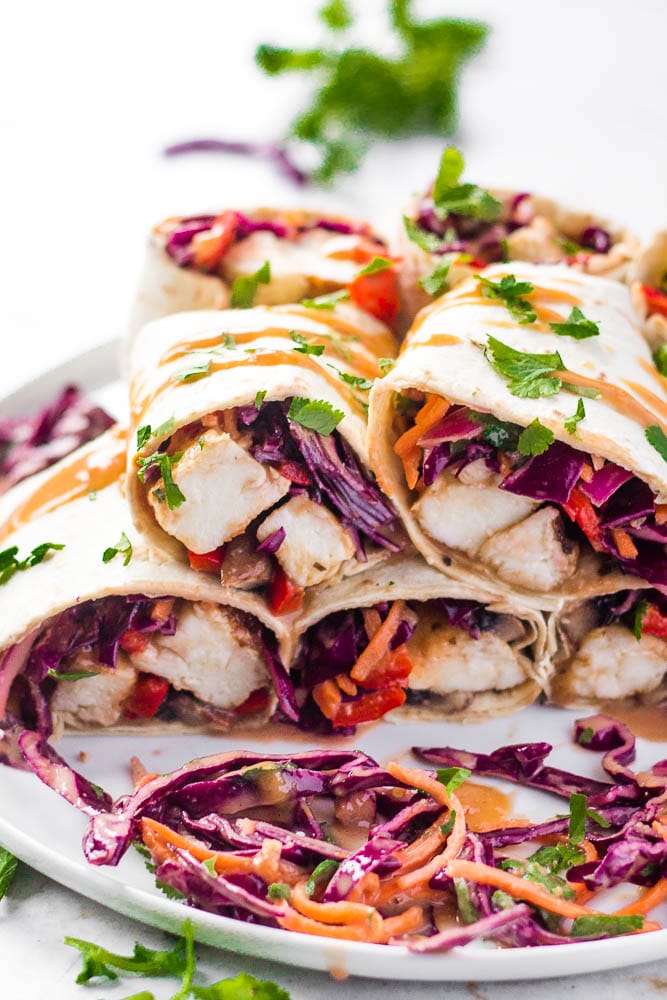 Pairing halloumi with a satay sauce is an excellent, excellent idea. I have seen chicken satay wraps on some menus and I wanted to steal that concept for the vegetarian side, with halloumi being the perfect stand in.
The range of textures in this wrap is amazing. Squeaky halloumi, crunchy slaw, creamy satay sauce, juicy mushroom, melty pepper… lots of things which work surprisingly perfectly together, which is exactly what you want from fusion cuisine.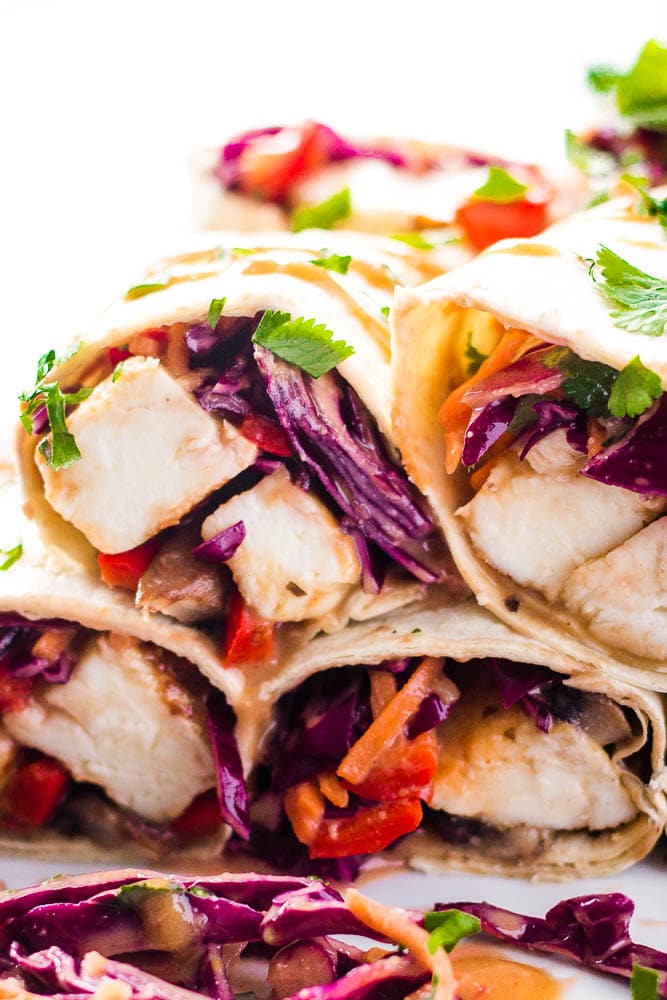 Wrap rolling isn't my greatest skill, which is why these don't have that perfect finish some wrap photos have (completely evenly stuffed with each individual ingredient cleanly on show, nothing contaminating anything else, the sauce dripping out only in the most controlled and deliberate fashion? You know the type? How do they do this?)
But you also kind of want these to be messy. The cooked peppers and mushrooms give off some juices which mix with the peanut sauce and make it all a little runnier and drippier. And unable to be controlled by my amateur self. But you better believe it tastes amazing.
The Components
Let's walk through each of the components in these wraps and discuss your options. (If that sounds boring, you can of course scroll to the printable recipe card below!)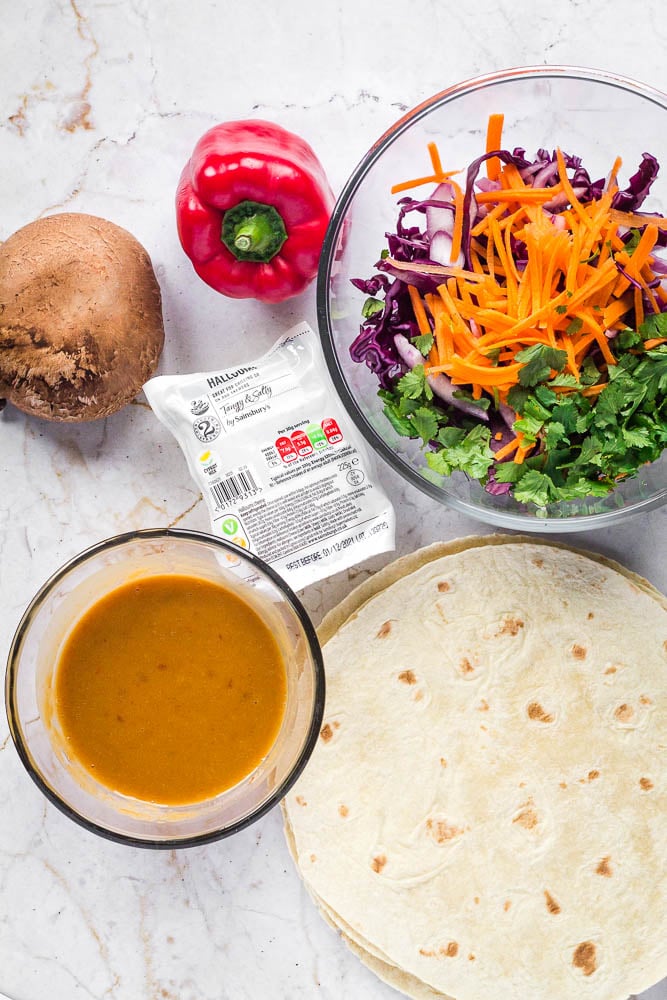 You've got your halloumi, pepper and mushroom as your hot part. The veg is optional but bulks out the portions nicely. If you want to ditch the 'shroom, put the pepper into the slaw raw and only cook the halloumi, your finish would be a little lighter and more salad wrap-y.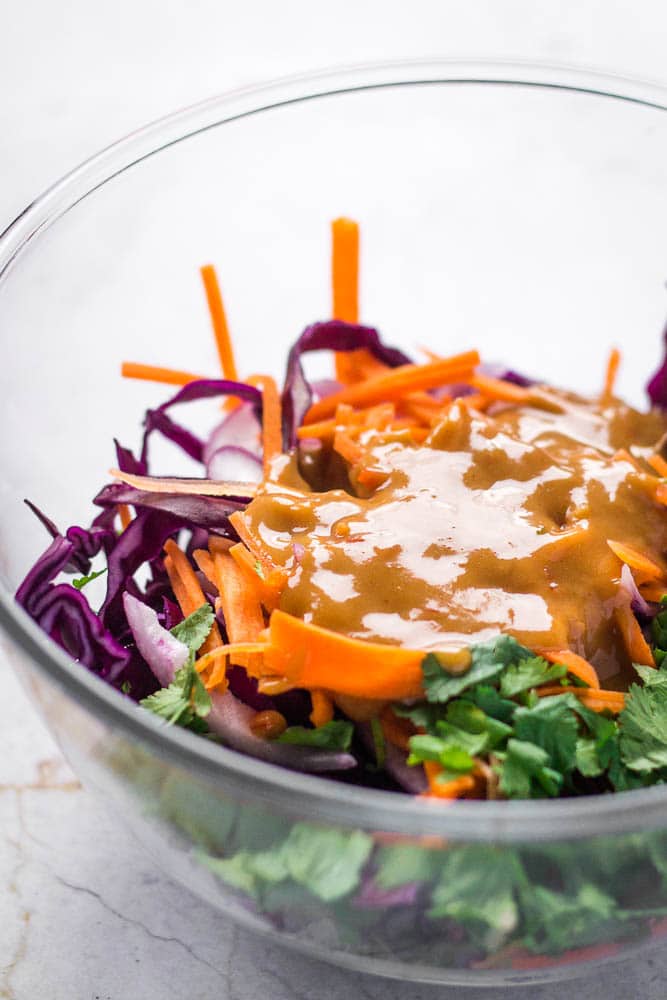 You've got your slaw, which will be cooler and crunchy. I usually buy a bag of pre chopped coleslaw mix for this, discard the pack of sauce it comes with and add some coriander (cilantro). The week I came to photograph these wraps the coleslaw mix bags were sold out. Doh! So I've just put together some chopped cabbage, onions and carrots and called it a slaw mix. You can do whatever you want in this regard.
And finally you've got your sweet chilli satay sauce, which will tie it all together. We add it to both the hot and cold ingredients, for extra peanutty goodness, and to make sure the wraps aren't too dry.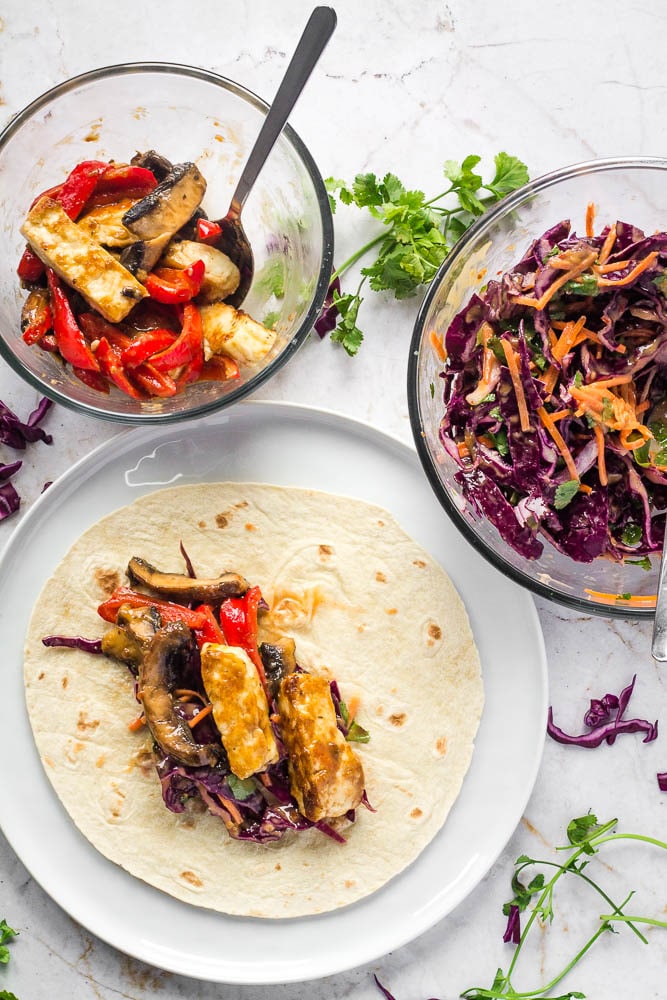 You can use a ready made satay sauce if you prefer, but I mix something up very quick with ingredients I usually have to hand: peanut butter, sweet chilli sauce, soy sauce, lime and honey. Easy.
How to Serve Your Wraps
This recipe makes four wraps, so if you're looking for a nice lunch for four… bingo! Otherwise, you can roll up and then store them for the next day. While intended to be hot, they taste fine cold too, but I wouldn't leave them in the fridge for too long.
I choose to roll these wraps burrito style, and then slice them to make two sides with a bottom to them. You could serve them with smaller wraps in more of a taco style, just folding the wrap over and not trying to seal it.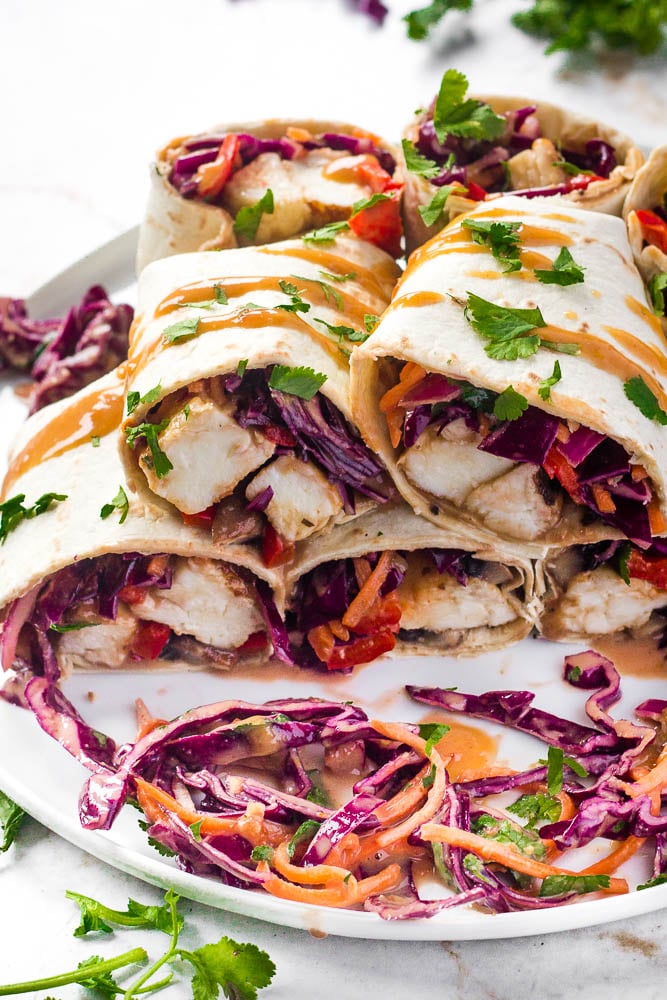 If you're looking at these wondering if it's too much effort for a lunch (I hear ya), I will point out that adding fries or potato wedges, or a cup of soup, would bulk this out to a good sized dinner.
Enjoy!