A lighter, healthier stovetop mac and cheese, with a luxurious texture and a big flavor boost from roasted butternut squash, goat cheese and smoked paprika. An easy kid friendly vegetarian dinner.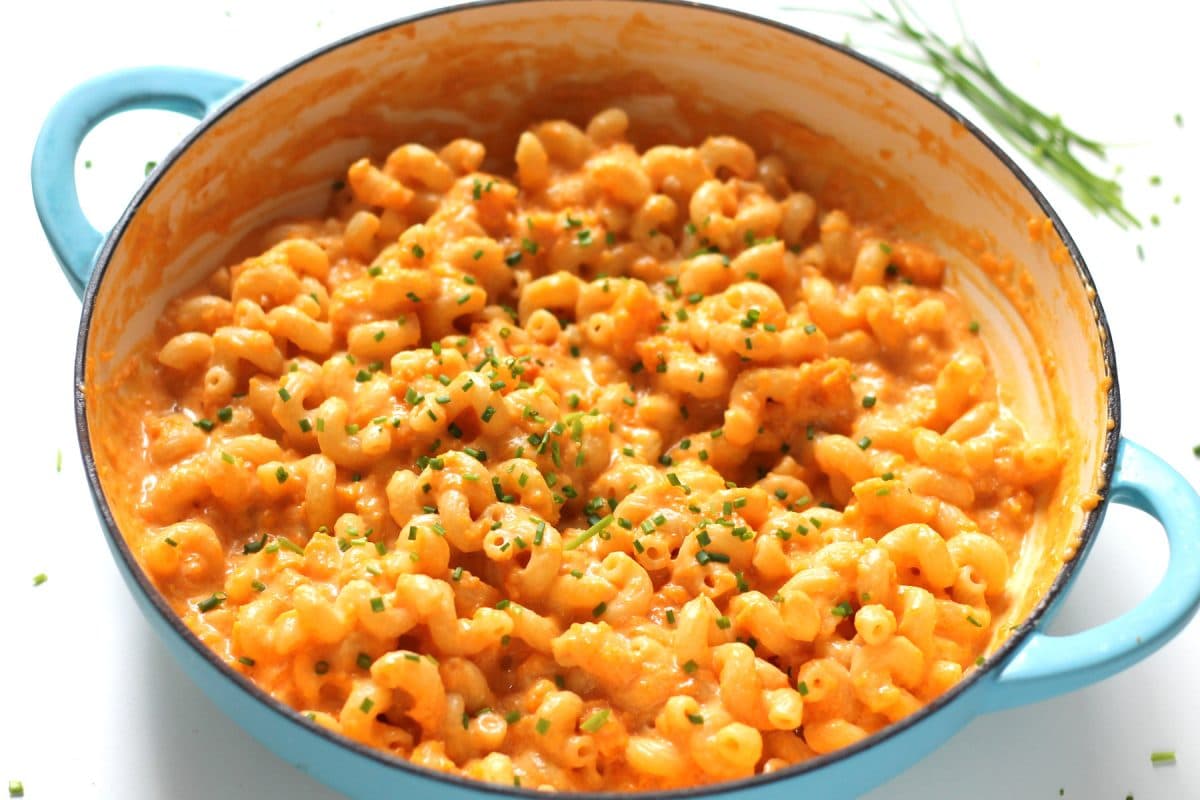 So it seems like I just go ahead and add smoked paprika and goat cheese to everything now. Not a bad way to approach things. Especially not macaroni and cheese.
Butternut squash could not be a more perfect match for mac and cheese, and adds a sweetness and little bit of body to the sauce that makes it a touch lighter and easier to eat. I am certainly not the first to discover this, but I decided the world needed my happy veggie version.
Tangy goat cheese adds to the a beautiful creamy texture and extra umami factor, with smoked paprika giving a little kick and elevating the cheese (it's not hot, just flavorful!).
With all the butternut squash floating around in here, it makes a more complete meal out of mac and cheese and the sauce is much healthier for it too.
For parents, butternut mac and cheese is also an excellent way to get babies and toddlers accustomed to eating a healthier version of mac and cheese from the start. So much baby food contains butternut squash (or sweet potato, another ideal mac and cheese ingredient), they will be used to the flavor and so hopefully accepting of it in their mac and cheese.
This was the first mac and cheese recipe that Odette was happy to eat, maybe because of the butternut squash, but maybe because our little flavor fiend needed her mac and cheese with several flavor upgrades. At 19 months, she is keeping me on my toes! She loves things I wouldn't have expected (like curry and peppers) and rejects things all other babies eat at that age (like bread and fruit and every normal lunch food item you can think of).
At this rate, by the time she's in school she will reject everything I cook as, like, soooooo dull, and feel the need to take over this blog with her superior concoctions. Hmmm. Something to look forward to.
On that note, if you have kids with more adventurous taste buds, this makes a great family dinner that everyone will appreciate. But if yours prefer things a little more bland, leave out the paprika and it's still a wonderful classic butternut mac and cheese.
And if you have no kids, throw in some white wine reduction please, because frankly that's what I'd have done a few years ago.
How to Make this Butternut Mac and Cheese
This will never be the easiest mac and cheese to make, with the addition of the roasted butternut squash in the mix, but I've kept it as simple as possible for you. First, it is a stovetop mac and cheese recipe. No baking, so it's on the table a little quicker (and I personally prefer it this way because it's soooo creamy!).
Second, we are going to roast the butternut squash in two pieces rather than chopping it all up (because chopping raw butternut squash is the worst). I love it this way, because it keeps the flesh of it soft, sweet and melty – which we can then scoop into our roux-based cheese sauce, and mash it all in. So decadent.
If you're a planning and prepping ahead kinda person, roast the squash a day or two beforehand as part of your weekly meal prep, or while you're cooking something else. Winning.
Let's do this.
Smoky Butternut Squash Mac and Cheese with Goat Cheese
A lighter, healthier stovetop mac and cheese, with a luxurious texture and a big flavor boost from roasted butternut squash, goat cheese and smoked paprika. An easy kid friendly vegetarian dinner.
Ingredients
1 small butternut squash
50 g (3.5 Tbsp) butter
2 Tbsp flour
1 tsp smoked paprika
1 tsp dijon mustard
125 g (4.4 oz) goat cheese
200 g (7 oz) strong cheddar cheese, grated
400 ml (1.6 cups) milk
250 g (9 oz) dried macaroni
A handful of chopped chives for garnish
Instructions
First, roast your butternut squash. Cut lengthways into two pieces, and scoop out the seeds and pulp. Place face down on a baking tray lined with parchment paper. Bake in the oven at 205C / 400F for 45 to 50 minutes. Use a fork to check when it's ready – it should be soft and tender throughout.

Boil your macaroni according to the package instructions.

Next, make your cheese sauce. In a large saucepan or skillet, melt the butter and add the flour. Whisk quickly and constantly to form a roux (a paste) and let that cook until it is smooth and smells toasted.

Add the smoked paprika and cook for another minute or two.

Add the mustard and goat cheese. Whisk until it has melted in and a smooth, thick, creamy mixture has formed.

Now gradually pour in the milk, whisking constantly as you do, to keep the sauce smooth.

Add the cheddar and stir through until melted.

Finally, scoop the butternut squash into the cheese sauce and use a wooden spoon to mash it up. Whisk it through until it's as smooth or as lumpy as you prefer.

Drain the macaroni and mix into the sauce.

Serve, garnished with chives.
Serving: 1g, Calories: 608kcal, Carbohydrates: 46g, Protein: 27g, Fat: 36g, Saturated Fat: 22g, Polyunsaturated Fat: 11g, Trans Fat: 1g, Cholesterol: 99mg, Sodium: 646mg, Fiber: 7g, Sugar: 4g