A nutritious, iron rich first food for babies with an irresistible texture! Coconut milk, butternut squash and lentils combine to make a silky sweet puree which can be eaten plain or given different flavor boosts to suit your family's tastes. This can also be watered down to make a delicious lentil soup for babies!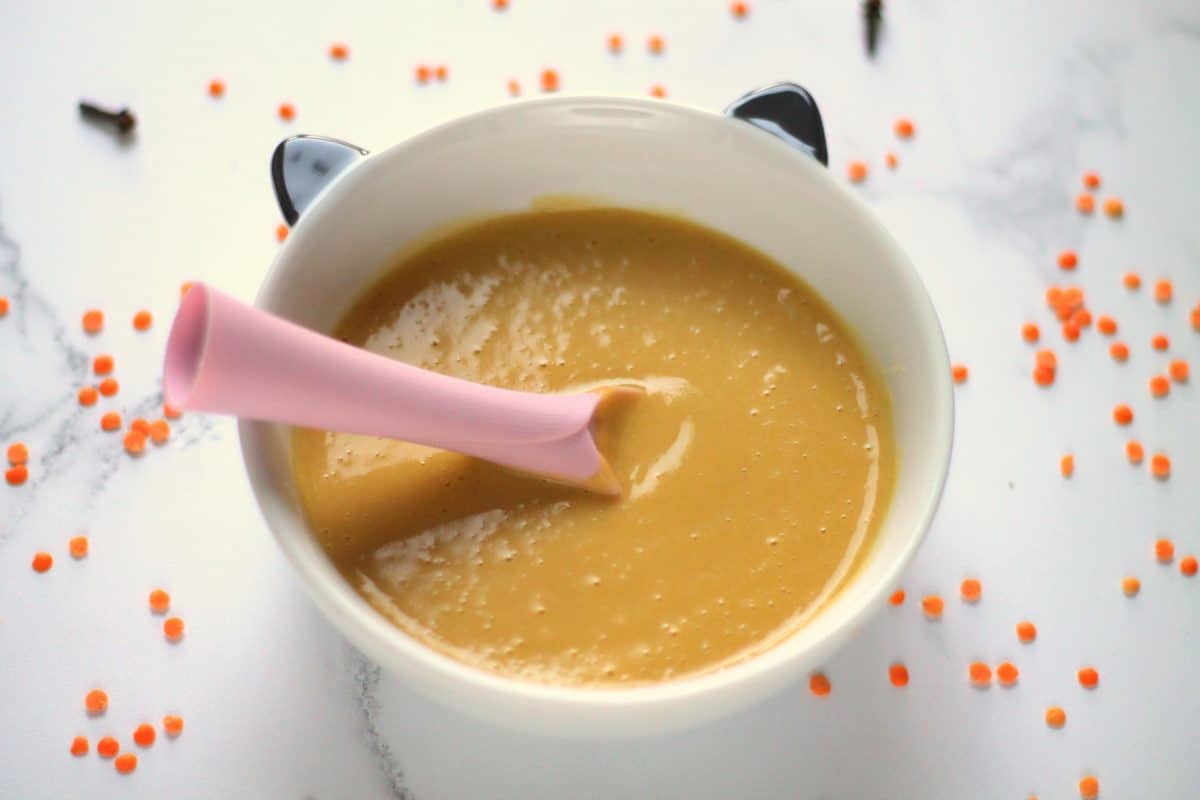 This is part of my iron rich baby purees series, where I am offering ideas for meatless first foods that make the most of plant based irons.
Red lentils are a source of iron, and an all round great first food for babies. In this baby food recipe, lentils are combined with butternut squash as a source of Vitamin C to aid absorption, lightly spiced with some cloves, and finished off with coconut milk to bring everything together with a silky texture and irresistible flavor.
I love using coconut milk in baby food. It adds sweetness, a silky texture and lots of fats, vitamins and minerals. But there's actually a lot of talk against coconut milk for babies online, so let's address that.
The gist of it is that coconut milk is not a great milk substitute for babies and toddlers. As a cooking ingredient, it's got lots to offer, but I am not looking at it as a milk, per se.
This is an easy win for babies who prefer very smooth purees, and sweeter tastes. Lots of babies fit this description when they first start on solids!
I've given these a tiny hint of spice by cooking the lentils with some cloves. For those with more adventurous tastebuds, there's lots more you can do to add some excitement to this dish. I've listed some ideas in the recipe card!
Please note, my photos it looks quite thin and a little soupy. It was hot from the pan when I photographed it, but after being stored in the fridge or freezer it will thicken up. You can water it back down when you reheat it if you want to.
Can I freeze this baby puree?
Yes, this freezes for up to 6 months. In the fridge or freezer the puree will thicken quite a bit so might need to be diluted a little
Serving Suggestion : A lentil soup for babies
Water this down a little to make a delicious warm lentil soup! Especially great for those who are very new to solids or like their purees extra thin.
What can I do with leftovers?
If your baby moves on from the puree stage before you've used this up, you can make some great meals for older babies and toddlers with this puree.
They will continue to benefit greatly from the goodness of lentils, and this has a sweet taste that they should hopefully continue to accept into the toddler years. Each idea uses one portion quite nicely.
Watered down a little, as a soup or a sauce for a baby curry with mixed vegetables
Mixed with couscous, quinoa or rice
As a baked potato topping
More baby food recipes with iron