Baked sweet potatoes topped with kale and chickpeas cooked with Mediterranean flavors, and finished off with a creamy basil yogurt sauce. Everything bakes together in the oven in one pan, making this easy to prepare and clean up after! A healthy tray bake / sheet pan dinner for two or a substantial side dish for four, which is gluten free, vegetarian and easily adapted to be vegan.
This is not the quickest recipe on this blog, and it's realistically going to take an hour for it to be on your table, but it is one of the more leisurely. It's perfect for those who don't like or need to rush, and want to enjoy their time in the kitchen a little, slowly putting together a healthy and delicious dinner.
That's not to say it's difficult, it's actually really simple and cooks on one tray! Minimal clean up! It just takes time. Time you can spend sipping wine and catching up with your family; you just need to return to the oven a couple times to add stuff and make a quick sauce. Easy.
So let's talk about how tasty it is! Oh so tasty. I've called it a Mediterranean Sweet Potato Bake. What does that even mean?
Well, I've just kinda packed in a ton of flavors that I associate with Southern Europe. So, the kale and chickpea topping is infused with capers, olives, lemon and cherry tomatoes. Mmm. There's also melted goat cheese and a basil yogurt sauce to add some creaminess and tang.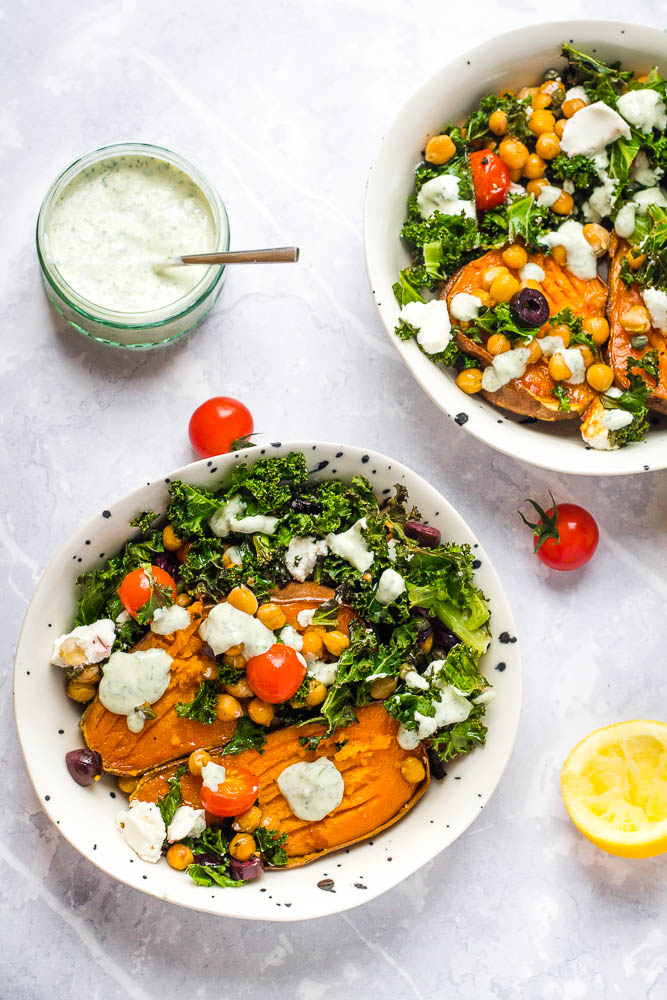 I cook a lot with these ingredients, so they're always hanging around in my fridge which makes this tray bake really accessible if I just remember to pick up some sweet potato and fresh kale. If you have similar tastes and fridge stocking tendencies, you may find the same thing.
How to Make your Mediterranean Sweet Potatoes in One Pan
Everything bakes together in the oven, over the course of 50 minutes.
The first thing to go in is the sweet potatoes, sliced and placed face down on the tray. After 25 minutes, you add the chickpeas and put the pan back in the oven.
After another 15 minutes, you cover the chickpeas with the kale and all of the other ingredients. Then you bake it for another 10 minutes.
Meanwhile, you can quickly make the sauce with a blender or hand blender.
Once the tray bake is done, you'll butter the sweet potatoes and then plate it all up!
Put the sweet potatoes in a bowl and then just scoop out all the other stuff on top.
And drizzle with the sauce.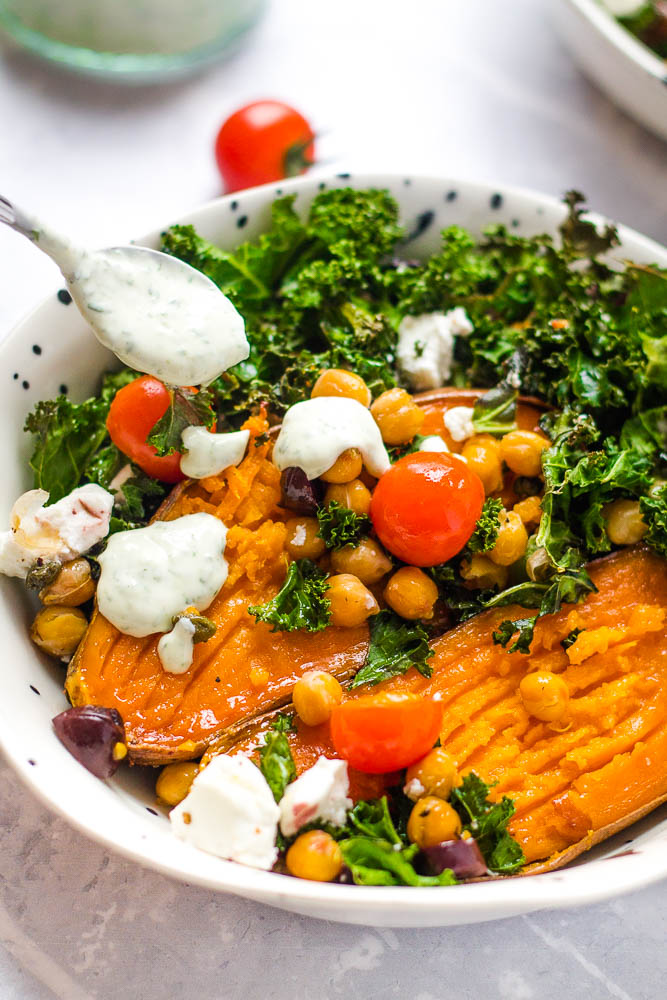 Variations and Adaptations for this Mediterranean Sweet Potato Tray Bake
This can easily be made vegan. I'd replace the goat cheese with some dollops of tahini, and use coconut yogurt. (In fact this vegan version might even be tastier? Hmmm.)
Change up your greens. Try kalette, chard or broccolini. They will need different cook times though, so do some research first on how long each takes to roast and add them to the tray sooner or later.
Change up your roots. You could use white potatoes if sweet potatoes don't float your boat, or a couple butternut squash halves to make a stuffed squash (again, cooking time will need to adjust so do some research).