Healthy vegetarian and vegan weeknight dinner, packed full of stir fried veggies and noodles with a quick and easy homemade seitan mock duck. I'll show you how to make mock duck from scratch… it's easier than you think!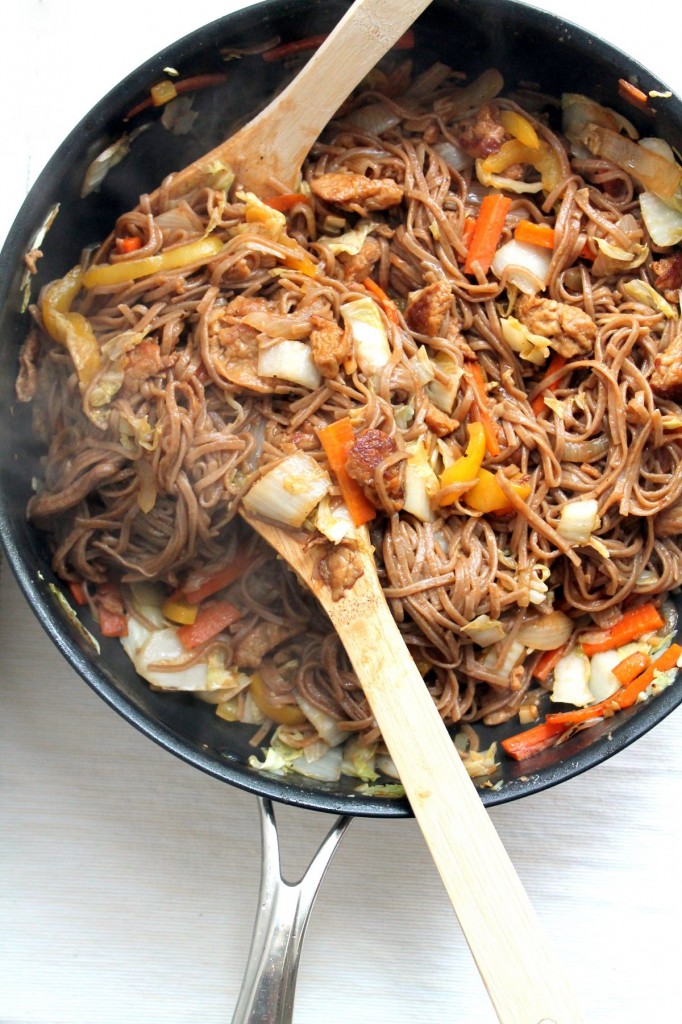 This blog has been light on Asian food thus far, but not because we don't like it. It's one of the best!
In most Chinese, Japanese or Thai restaurants, a plate of vegetarian noodles is full of veggies, tofu and so-called mock duck (the name that UK restaurants often give to seitan) and is just this big ol' mix of delicious textures, flavours, proteins and carbs.
Veggie perfection.
Get in mah tummy!
With home cooking, I used to have a harder time with Asian food. I think that a good noodle dish needs that tofu or "mock duck" protein, and I had no ideas for what to use at home.
No one's ever seen mock duck on a supermarket shelf and I can't stand supermarket tofu. (I don't know why. Yes I press it, yes I marinade it, yes I have tried deep frying it- nothing works for me!)
When I discovered that "mock duck" is just seitan, and is totally easy to make at home from scratch, I was pretty excited, and this recipe is the result of a couple years worth of practice.
I just love it.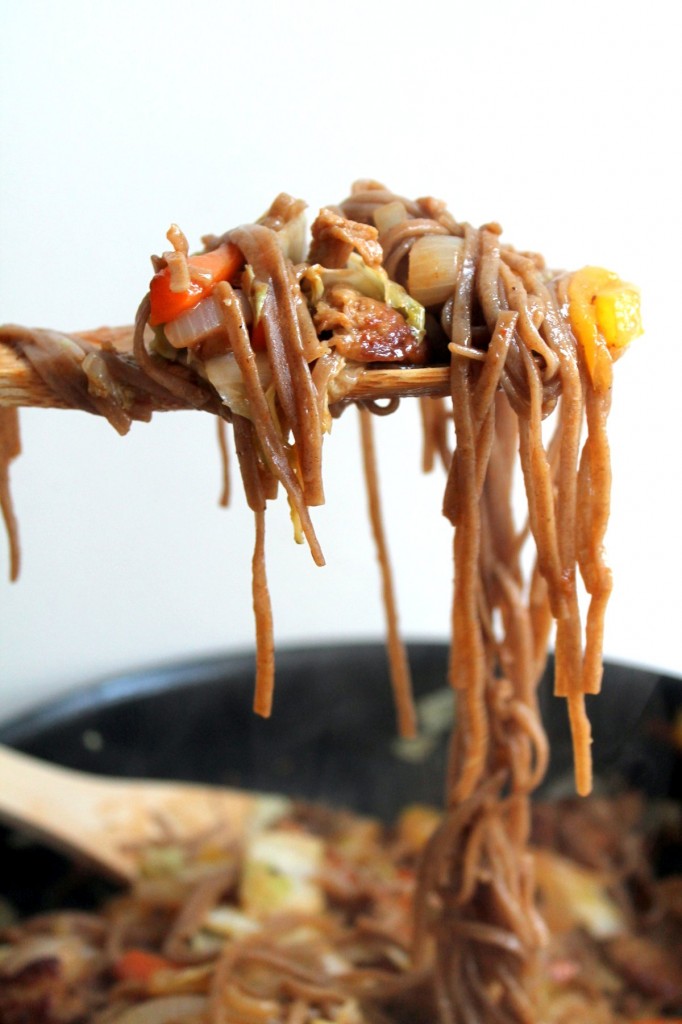 How to make mock duck / seitan
There's a lot of advice out there about how to make the perfect seitan. Lots of recipes are much more complex than mine, and those recipes are great if you're going for something particular with your texture and flavor, like a cutlet, but for this dish you honestly don't have to make much effort.
This mock duck is light and a little spongy, but the outside goes crispy when stir fried.
Seitan is made from wheat gluten, and that is the only key ingredient.
Wheat gluten (or "vital wheat gluten" as it's often called) is a type of flour in which most of the starch has been removed leaving just gluten. When you mix it with water, it will come together to form a stringy mass….
… which you can knead into a proper dough…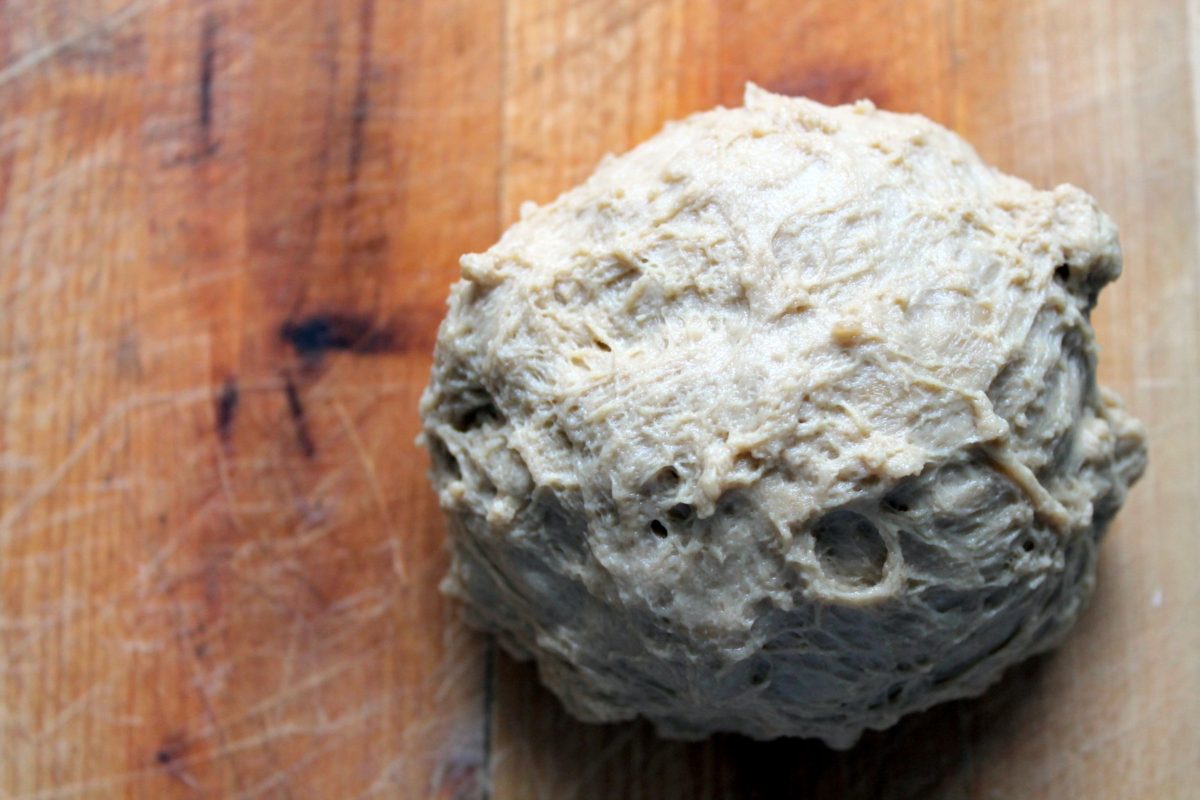 … break into pieces…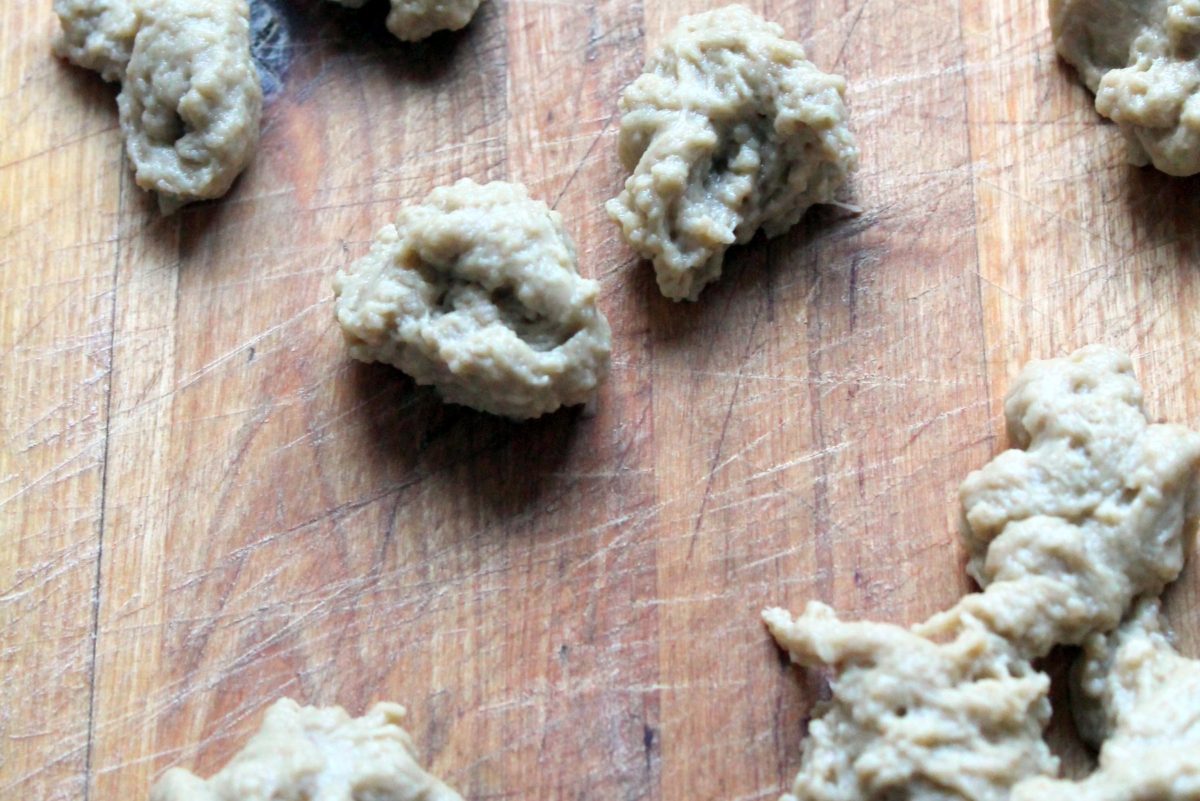 … and boils into a meaty texture.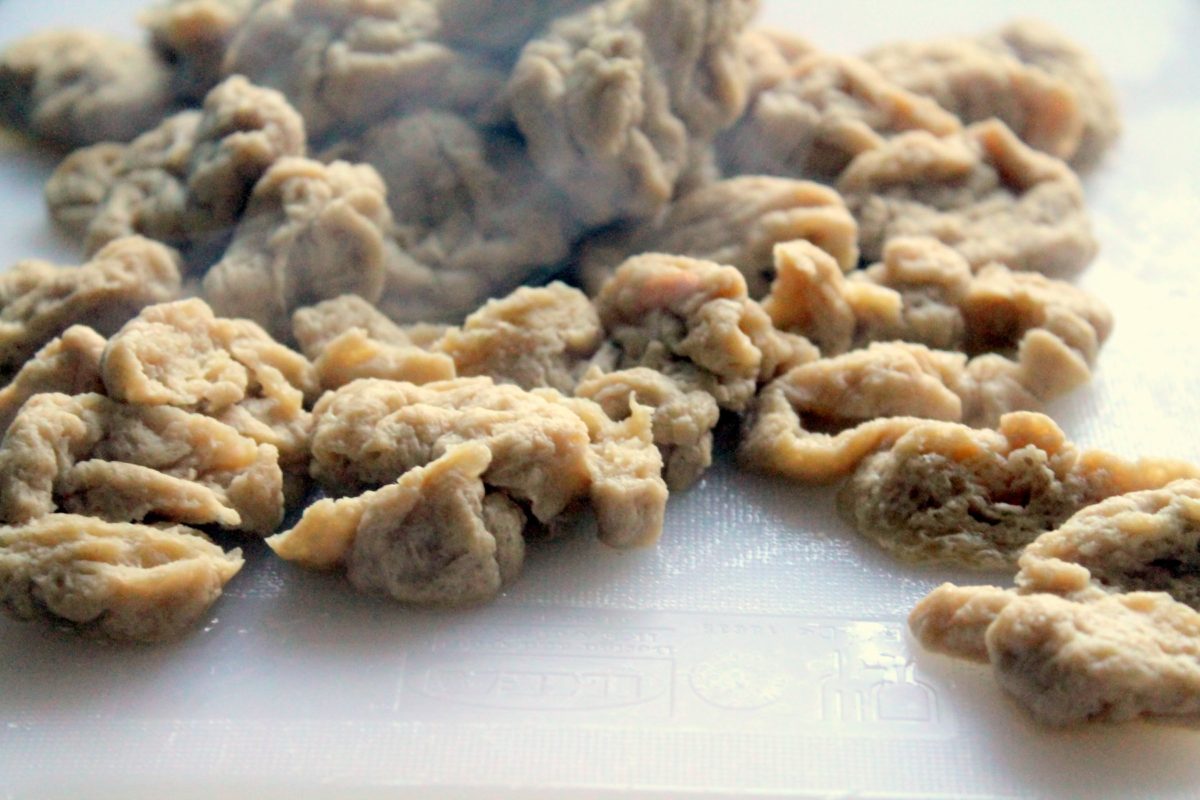 It's that simple.
Getting your hands on wheat gluten can be less simple, depending on where you shop. I order it online, because I frankly order everything online, from honest to goodness.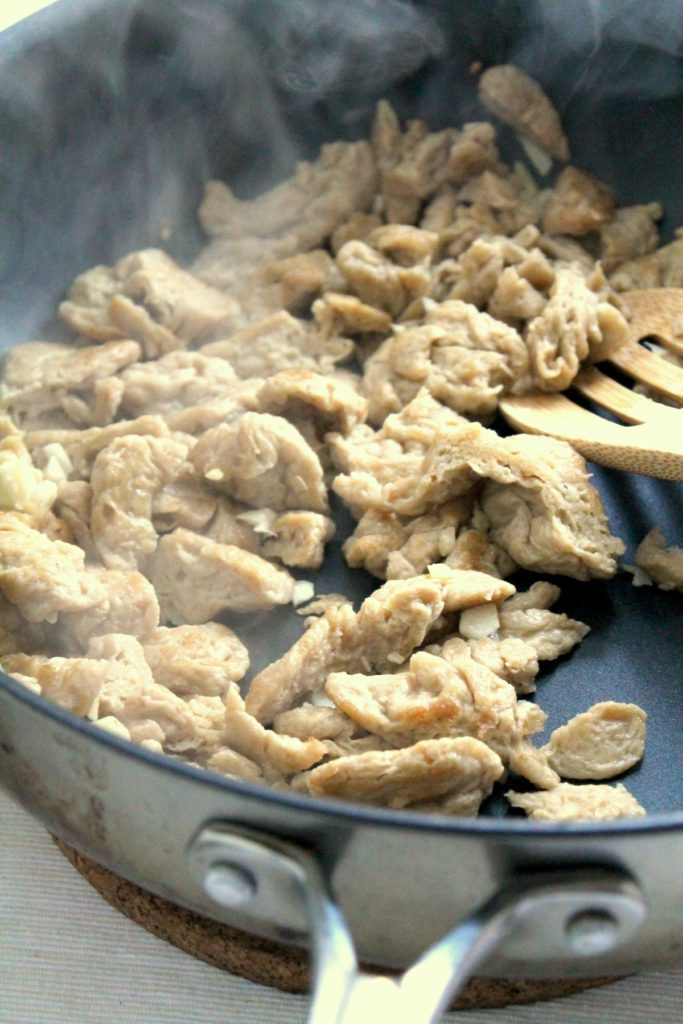 See how meaty that seitan looks? It's so weird.
Making Vegetarian Yakisoba
I have based the yakisoba on Mark Bittman's recipe on the New York Times website, and the sauce is a very near copy.
I know it seems a little weird having Worcestershire sauce and ketchup in an Asian dish. I was skeptical, but it really is delicious, and this way it can be made with ingredients you probably already have in your fridge, and no fish sauce.
Being a vegetarian, I use an anchovy-free Worcestershire sauce. Mine was from the brand Biona. It can be tricky to track down (you either need to go to a health food store or order online) but really worth having around.
This is going to take around an hour, but it's an easy time.
You don't need to try too hard here. Just recruit a helper for the chopping, and enjoy the process!
More Recommended Recipes:
Yakisoba with Easy Homemade Seitan "Mock Duck"
Healthy vegetarian and vegan weeknight dinner, packed full of stir fried veggies and noodles with a quick and easy homemade seitan mock duck. I'll show you how to make mock duck from scratch… it's easier than you think!
Ingredients
Seitan
½ cup (90 g) vital wheat gluten
½ cup (120 ml) water
Noodles
Oil
½ – 1 Tbsp sliced garlic
½ – 1 Tbsp grated ginger
1 head of napa cabbage / chinese leaf / any soft cabbage, shredded and rinsed
1 carrot, julienned
2 small or 1 large onion, sliced
1 red or yellow pepper, sliced
3 Tbsp soy sauce
3 Tbsp vegan Worcestershire sauce, I use Biona brand
2 Tbsp ketchup
1-2 tsp chili garlic sauce, depending on your heat tolerance levels
1 tsp brown sugar
1 tsp mirin
9 oz (250 g) package soba noodles
1-2 tsp toasted sesame oil
Instructions
To make the seitan

Mix the vital wheat gluten and water together in a bowl, using a fork. It will quickly come together to form a spongy mixture.

Use your hands to knead the mixture for a few minutes. It will become very thick and binded, and it will tear when you stretch it.

Fill a large saucepan 2/3rd full of vegetable stock, with a tablespoon or two of soy sauce, and bring to a boil.

Tear off walnut-sized pieces of the seitan dough and drop into the pan.

The pieces will all start to float and expand (they look a bit like popcorn!). Simmer for about half an hour, regularly stirring and pushing the floating pieces back into the water, before draining and patting dry on a chopping board. This is a good chance to chop all your vegetables and prep your sauce.

To make the yakisoba

Make the sauce by whisking together the soy sauce, Worcestershire sauce, ketchup, chili garlic sauce, mirin and sugar.

Cook the soba noodles according to your package instructions. Drain, and add a little toasted sesame oil to stop them sticking. (You could cook them while the veggies are frying if you're good at multi-tasking. This will enable you to eat a little quicker. If not, do them first!)

In a large wok, heat a generous glug of oil.

Throw in the seitan chunks, ginger and garlic and fry until you see the seitan starting to brown.

Now add all of the veggies to the pan, excluding the cabbage, and fry for 3-5 minutes, until they are almost cooked. You want them to stay a little crunchy.

Finally, add the cabbage. It's best to do this in 2 or 3 batches because it will shrink down quite a lot after a minute of stir frying.

Finally, when all the veggies are well cooked, add the sauce and the noodles and toss through to combine.
Serving: 1g, Calories: 442kcal, Carbohydrates: 60.5g, Protein: 21.4g, Fat: 14.8g, Saturated Fat: 2.1g, Sodium: 962mg, Fiber: 2.7g, Sugar: 10.2g