A filling chickpea salad full of delicious ingredients! Bright cherry tomatoes, creamy avocado and mozzarella, tangy feta and fresh herbs. You'll love the simple flavors and contrasting textures of this quick and easy salad.
You wouldn't know it from looking at my recipe index, but I really do love these big bowls of salad that you can keep in the fridge and feast on for a few days.
This recipe isn't new new… it first appeared here during my second pregnancy in 2019. I was really weird while pregnant and preferred cold salads to anything else, so even in the middle of winter I was making this salad with chickpeas constantly. I shared it here but have now updated it for 2022 because when I looked back on it, I wanted to add a little more to it, now that I am normal about food again! The recipe card Notes section will cover what's new and how to make it the old way, if you're a returning visitor.
This Chickpea Salad is a Nutritious Choice
It is worth mentioning how healthy this recipe is!
One serving of this Chickpea Salad has 440 calories, and it's a really hearty lunch that keeps you full for a long time. A better choice than a sandwich or wrap, if you're watching your calories / caloric density.
You can lighten the salad up pretty easily: just use one avocado instead of two, and halve the amount of mozzarella, while increasing the amount of tomatoes and red pepper.
You get all of the macros here: protein (19g), carbs (28g) and fats (30g).
How to pick the right ingredients
It's a really simple recipe so you want the ingredients you use to be as tasty as can be.
Canned chickpeas are FINE, but if you can make some from dried (might be realistic if you own an Instant Pot?) please do, because the flavor will always be better that way.
Make sure to buy a ball of fresh mozzarella, the kind that comes packaged in water. And then just chop it all up. Mini mozzarella pearls or bocconcini would be aesthetically pleasing but frankly the premium you pay isn't worth it in my mind.
I love to use sweet heirloom cherry tomatoes or grape tomatoes when they are at their best. If they're not at their best, just remember to add lots of salt and pepper, and you may want to add a more punchy dressing to the salad.
Make sure your avocado is perfectly ripe. Ha, good luck planning that in advance. The recipe calls for two avocados but if they're really big, just use one or one and a half. You can choose to cut back to one avocado if you want to, it's not a big deal.
I love using both mozzarella and feta but it may feel a little extra, especially since we only use a part of the block of feta. You are very welcome to only use one or the other. I'd probably choose feta in that instance and use much more of it. My original version of this recipe only had mozzarella, but I now think the saltiness of the feta brings more to the table.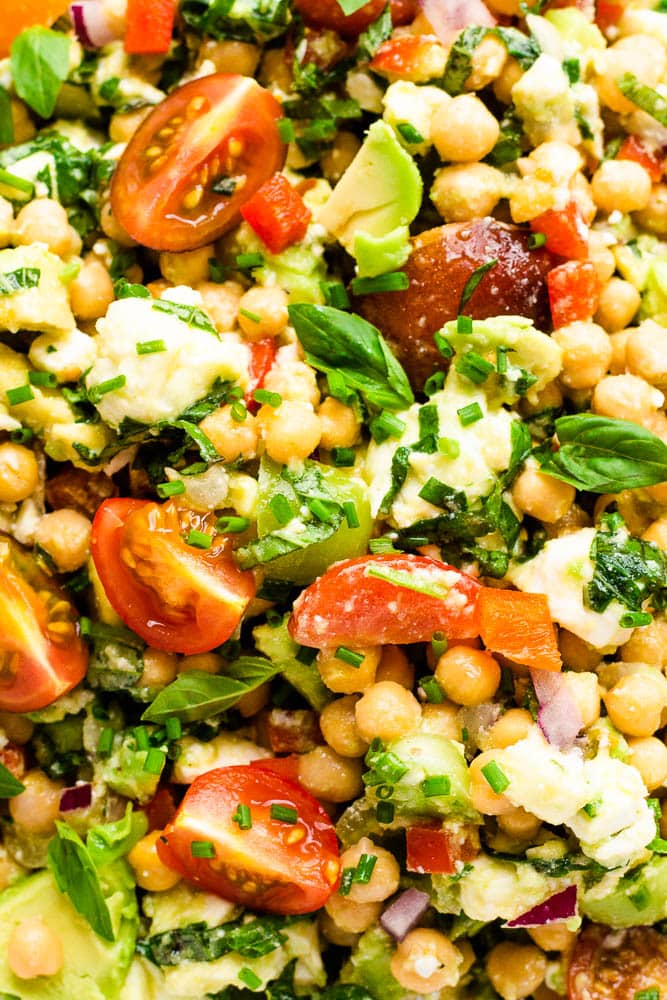 The Dressing
There are a few different ways to go with this one:
A very simple idea is just to add some olive oil, lemon juice and fresh herbs. With lots of salt and pepper, this just enhances the flavor of all the ingredients in the bowl. This is what I have done for the recipe pictured and it works well when you have really fresh flavorful ingredients and access to a nice bounty of herbs. But if your tomatoes, avocado and herbs are a little on the "meh" side, it could be a little too bland.
You can also make a simple balsamic chive vinaigrette by mixing 2 Tbsp olive oil + 2 tsp balsamic vinegar and 2 Tbsp chopped chives. Shake it together and pour it in. I did this in the original version of the recipe and balsamic definitely brightens things up, but it isn't as nice visually, because the balsamic stains the mozzarella, if that matters to you.
A bottled or homemade Italian dressing is a great easy solution if you'd prefer something stronger and/or don't have any fresh herbs.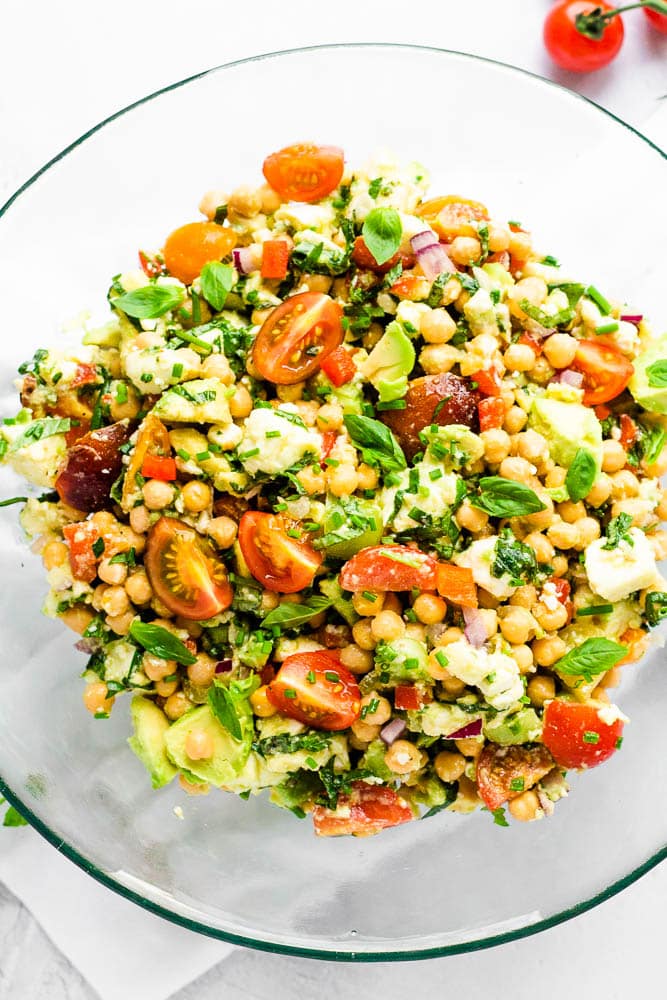 Serving Suggestions
This salad can find a home in many different meals, but I love to serve it alongside a baked sweet potato or some fresh bread.
It would make a great side dish to some of my other recipes:
Making it Ahead
Two things are true here.
It TASTES even better after being in the fridge for a while, when the herbs and onions really pop and the tomato juices kind of penetrate into the cheeses.
It LOOKS so much worse after being in the fridge when the avocado goes a little lacklustre and the cheeses aren't so pure white anymore. Hmmm.
So the best compromise if you need to make it ahead of time, but also wish to bring it to an event or something where you want it to look appetizing, is to add the avocado at the last minute. You could also hold the mozzarella until the last minute if you're feeling extra concerned.
Storage
You can store this in the fridge for a couple of days. As we already discussed, the avocado is going to take a little hit in appearance and quality. It is somewhat protected from browning by the oil and lemon, but it's still not perfect so you want to use it up fairly quick if you can.
Chickpea Salad with Avocado, Mozzarella & Tomato
A filling chickpea salad full of delicious ingredients! Bright cherry tomatoes, creamy avocado and mozzarella, tangy feta and fresh herbs. You'll love the simple flavors and contrasting textures of this quick and easy salad.
Ingredients
2 cans chickpeas, drained and rinsed
250 g (9 oz) cherry tomatoes, quartered
250 g (9 oz) fresh mozzarella cheese, chopped
75 g (0.5 cups) feta cheese, crumbled
½ red bell pepper, chopped
¼ red onion, finely minced
2 avocados, chopped
2 Tbsp extra virgin olive oil
1 lemon, juice
1 bunch fresh chives, finely chopped
1 bunch fresh basil leaves, finely chopped
Instructions
Add the drained chickpeas, tomatoes, avocados, pepper, onion, mozzarella, feta, and cherry tomatoes to a salad bowl.

Add the olive oil, herbs, the juice of 1 lemon and salt and pepper to taste. Toss until just combined.
Notes
2022 Update
New ingredients: Feta, onion, pepper, lemon and basil. 
Previous dressing: 1 Tbsp olive oil, 1 tsp balsamic, 2 Tbsp chopped chives – shake together and pour over salad.
The recipe volume has also doubled to make a larger batch by default.
Calories: 438kcal, Carbohydrates: 30g, Protein: 19g, Fat: 28g, Saturated Fat: 9g, Polyunsaturated Fat: 3g, Monounsaturated Fat: 14g, Cholesterol: 44mg, Sodium: 419mg, Potassium: 706mg, Fiber: 11g, Sugar: 6g, Vitamin A: 1066IU, Vitamin C: 35mg, Calcium: 325mg, Iron: 3mg