Angel hair pasta noodles are tossed with a pan of lemony roasted mushrooms and cheese in this easy meatless dinner recipe. Keep it light or add cream for a richer finish!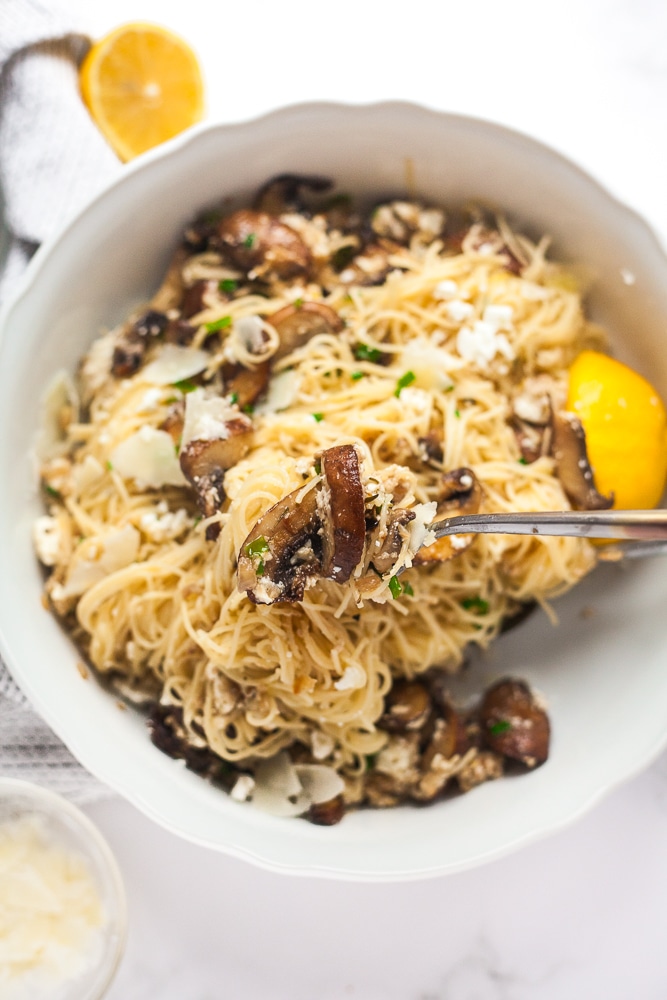 👩‍🍳 Christine's Notes
Angel hair pasta is one of my favorites! Its short cook time and its versatility make it work well for quick and easy recipes like this one, where it's tossed with a pan of roasted mushrooms, lemon and feta. The extra thin noodles grab onto flavor really well, making every bite super tasty.
You can keep it light or you can add some cream for richness if you prefer. There's plenty of flexibility here, and I've got some tried and tested variations to share below as well.
👩‍🍳 Ingredient Notes: What you need to know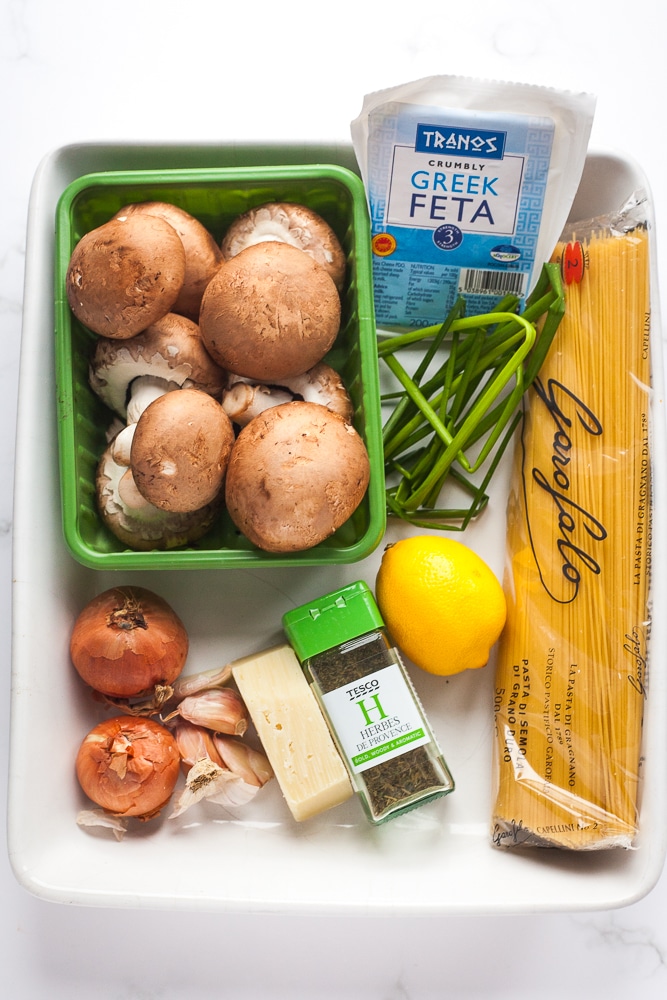 Mushrooms: I use chestnut mushrooms, but any kind of mushrooms will work!
Garlic and shallot: for a nice base flavor. You can use red onion instead of shallot if you like.
Herbs de provence aka Provencal Herbs: This is a great herb mix to go with mushrooms, but it will also work out fine if you just throw in some thyme, rosemary and any other dried herbs you have.
Lemon: You will want half of the lemon's zest and all of the juice.
Chives: Parsley would work well too! It's also OK if you don't have any fresh herbs, you can leave them out.
Pecorino, parmesan or any Italian hard cheese: You just want something with a strong salty flavor here. (If you follow a vegetarian diet, be mindful of animal rennet in parmesan and many other Italian cheeses. There are plenty of cheeses available which are similar but use microbial rennet, you just have to read the labels.)
Feta cheese: Buy a block to crumble by hand, or ready crumbled, either is fine.
Angel hair or capellini pasta: The ideal pasta for this dish because it's very delicate, so the subtle flavors can cut through. This means it doesn't have to be quite so "saucy". If you want to use spaghetti or linguine, go ahead, but it will probably feel a little dry – consider adding some cream and additional cheese to make it more saucy.
This recipe has an easy and relaxed process
While it isn't the fastest, it's very easy and relaxed. The mushrooms roast while we prep the remaining ingredients and cook the pasta, and then it can all mix together in the mushroom roasting dish at the end (this will ensure the pasta grabs onto every bit of flavor in there!)
(And by the way, if you like this method, you can also try it with broccoli! My Roasted Broccoli Avocado Pasta and Roasted Broccoli & Blue Cheese Pasta both work in very similar ways to this recipe.)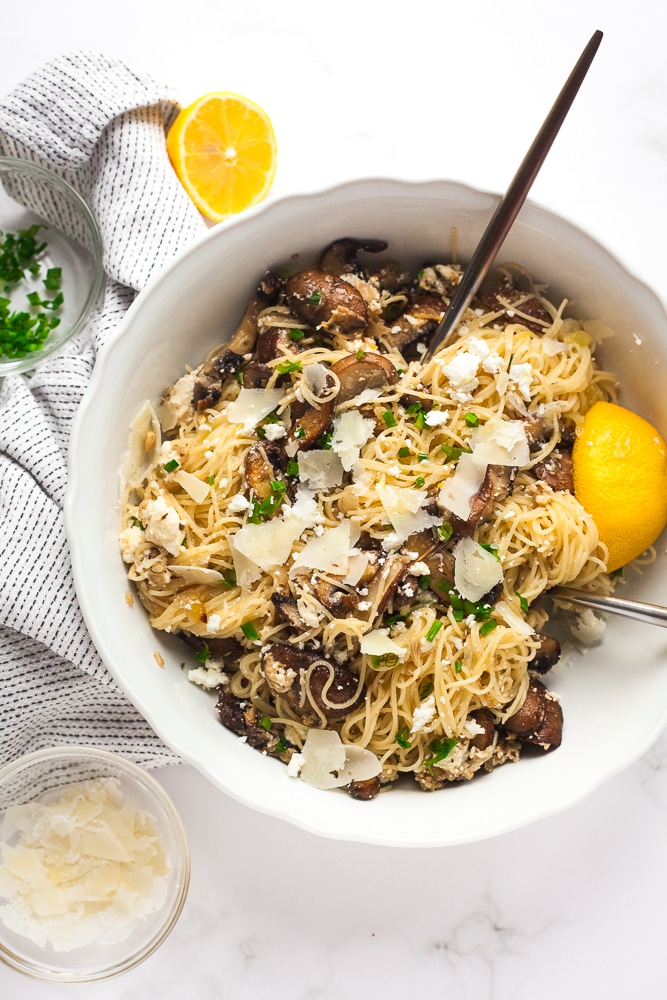 Variations I've tried (and recommend!)
Adding heavy cream will make this simple, light recipe a little more luxurious and treat-like. You would pour 3-4 tablespoons into the dish the mushrooms roasted in, alongside the cheeses, before tossing in the pasta. Thin it out with pasta cooking liquid if it's too thick.
Swapping the feta for blue cheese is deeeeelish if you are a blue cheese fan. With or without cream.
Mixing in some fresh baby spinach works well – add it just before tossing the pasta in, and it will wilt as you toss it through.
Make it spicy by adding chili flakes alongside the lemon zest, after the mushrooms have roasted.
How to use up your ingredients…
This recipe only uses half the box of pasta and half the block of feta, so here are some ideas for the rest!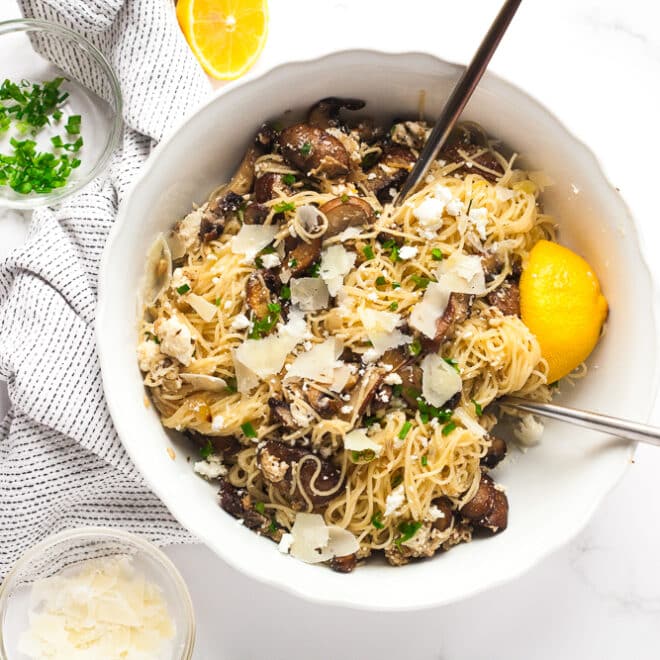 Angel Hair Pasta with Lemon & Mushrooms
Angel hair pasta noodles are tossed with a pan of lemony roasted mushrooms and cheese in this easy midweek dinner recipe. Keep it light or add cream for a richer finish!
Ingredients
7 oz (200 g) angel hair pasta
10 oz (300 g) mushrooms, sliced
4 cloves garlic, crushed
2 shallots (or 1/2 a red onion), finely diced
2 tsp provencal herbs
3-4 tbsp olive oil
1 lemon, all of the juice and 1/2 of the zest
¾ cup (100 g) crumbled feta cheese
½ cup (50 g) pecorino or other Italian hard cheese, grated
1 small bunch chives, chopped
Instructions
Preheat the oven to 200C / 400F.

In a large bowl, toss together the mushrooms, garlic, shallots and provencal herbs. Add salt and pepper to taste. Drizzle with enough olive oil to coat all of the mushrooms lightly.

10 oz mushrooms, 4 cloves garlic, 2 shallots (or 1/2 a red onion), 2 tsp provencal herbs, 3-4 tbsp olive oil

Scatter in a baking dish and place in the oven for 25 minutes, or until the mushrooms are well roasted. They will be reduced in size and browned.

When they're ready to come out of the oven, set the angel hair pasta to cook. It only takes a few minutes so while it's boiling, finish preparing the mushrooms.

7 oz angel hair pasta

Immediately after taking the mushrooms out of the oven, add the lemon zest and juice, and mix to combine.

1 lemon

Add both cheeses to the pan and stir until just combined with the mushrooms.

3/4 cup crumbled feta cheese, 1/2 cup pecorino or other Italian hard cheese

Once the pasta is cooked, reserve a little bit of the cooking water and then drain and add to the pan with the mushrooms. Use tongs or a spaghetti fork to mix it all together until just combined. Assess the texture – you can add some pasta cooking water back in, or some additional olive oil, for moisture. Once you're happy, add the chives and give it one final toss.

1 small bunch chives

Serve immediately.
Calories: 483kcal, Carbohydrates: 55g, Protein: 19g, Fat: 21g, Saturated Fat: 8g, Polyunsaturated Fat: 2g, Monounsaturated Fat: 10g, Cholesterol: 38mg, Sodium: 480mg, Potassium: 457mg, Fiber: 3g, Sugar: 4g, Vitamin A: 172IU, Vitamin C: 6mg, Calcium: 298mg, Iron: 2mg