An easy, simple risotto for kids that packs a portion of sweet potato into the creamy cheesy sauce! This is an easy win for picky eaters, and also suitable for toddlers and babies. You can adapt this into a family meal with a few upgrades for the adults!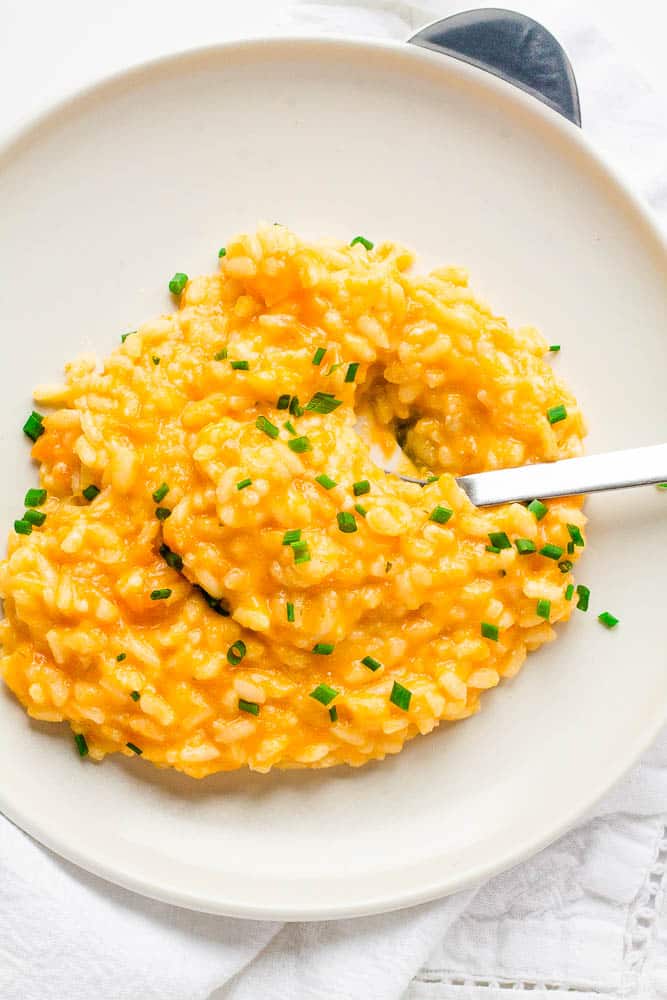 This risotto has become a regular dinner for my kids, who are, at 5 and 3, both in a zone where they like predictable, easy foods with consistent textures. For weeknight meals, this is the kind of thing that works, especially because it contains ingredients that I always have to hand, and there isn't any precise measurement required. Once you've made it once you don't need the recipe again. It's pretty easy to just wing it.
What makes this a recipe for kids?
In a nutshell, it's the simplicity of the recipe that makes it "kid friendly". This is very stripped back.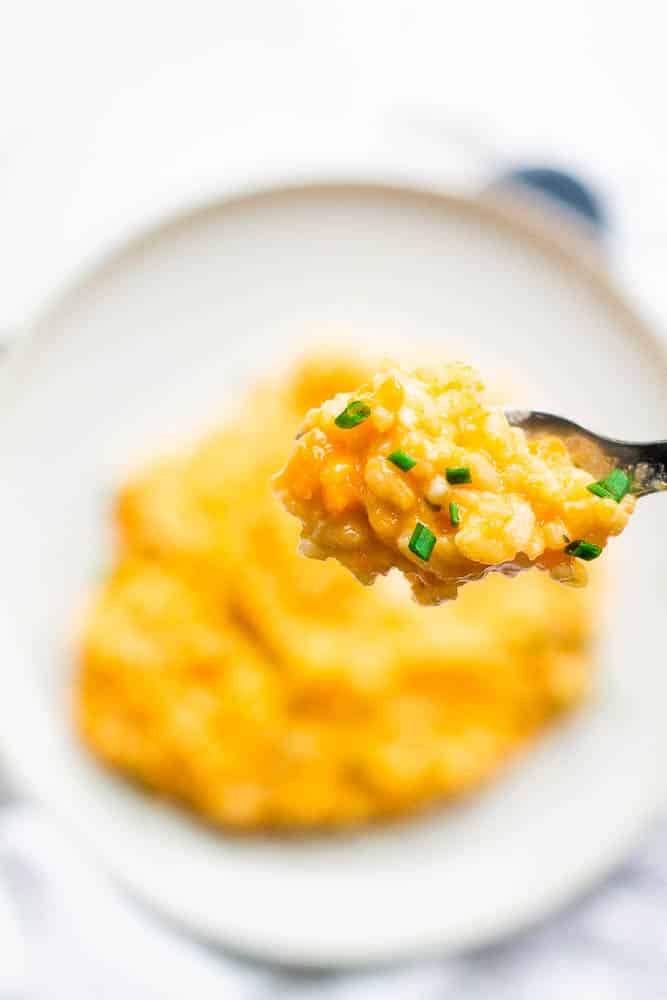 The texture is pretty consistent. To some kids this is essential. There's no onion or celery floating around – we only use garlic as a background flavor. The sweet potato can be mixed until it's all broken down and creamy without chunks, if you need it to be.
Low sodium. I like to use a half-strength vegetable stock to prepare this, and I don't add any salt, this keeps it baby and toddler friendly too. You can adjust this, of course, if you want to boost the flavor but your kids may not need that.
An adaptable base recipe. Your kids are getting a portion of sweet potato in this, even if you only make the base recipe. I usually serve it plain, with fruit for dessert, because my kids just won't eat any extra veggies in it. But if yours will – go ahead and add them! I'd suggest stirring in some frozen veggies right towards the end, until they're cooked, before adding the sweet potato and cheese.
Easy to keep and freeze. This makes 4-8 portions, depending on your kids' ages, so you may have some leftovers. Freeze for 3-6 months and defrost in the microwave. It also keeps well in a thermos or flask for school lunches.
And it's easy to make when you're frazzled.
Because with kids around, you might be. Yeah. Probably are.
It's got minimal ingredients, minimal prep and I personally always have these things to hand so I can make it without pre-planning. So it doesn't take a lot of your headspace.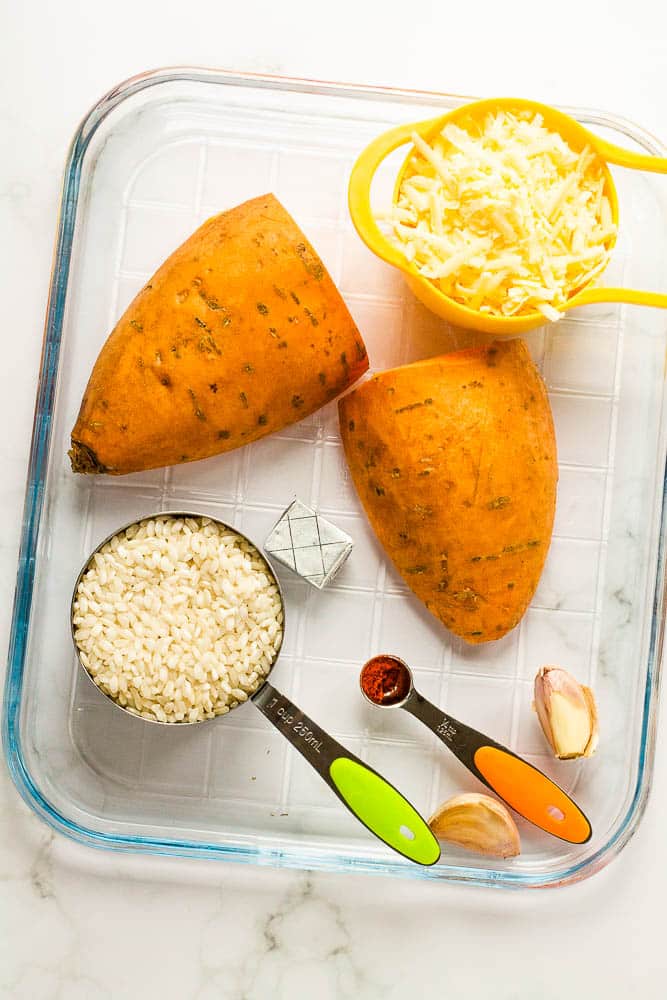 That said, it does take some time and it's not hands off.
With all the stirring involved, it might not suit you if you have babies and toddlers who need hands-on input, but if your kids are older and they are only calling you away for a little bit here and there, it's fine and do-able.
For me, stirring this is actually kind of relaxing.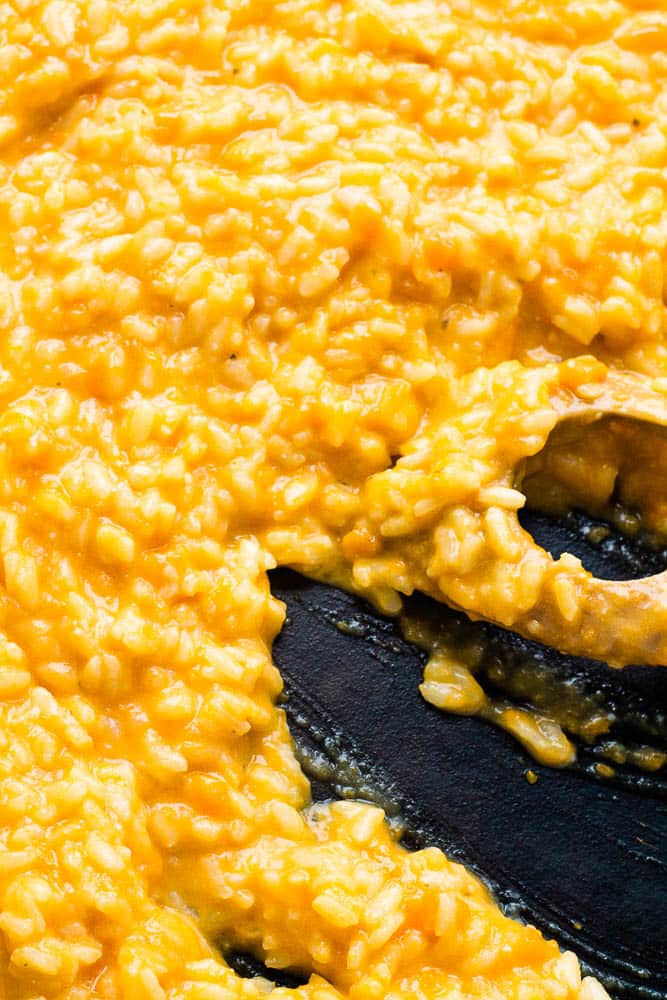 When you just can't stir / won't stir
If you want to make this, but the stirring is putting you off, consider preparing the arborio rice in an instant pot or even the microwave – this guide to cooking arborio rice will show you the way. You would saute the garlic, then add the cooked rice, sweet potato and cheese all at the same time.
Cooking this risotto with kids
If you have a keen helper who you feel is ready to help stir, it can be nice to do this one together.
I use a paella pan to make this risotto, and with my 5 year old in her learning tower, she can very safely help stir because the pan is so shallow she can stand a little back from it and still reach.
I keep the heat extra low when I have a little helper, to avoid the water bubbling up too much.
Serving Suggestions
Since this is super filling and has one portion of veggies in it, I consider it a good enough dinner all by itself. I generally serve it with a plate of fruit to up the fruit and veggie portions. There are course some good ways to add to the plate when you have time and resources:
I like to add a fried egg to the top to boost the protein.
If your kids like peas or frozen mixed vegetables, you could add some at the very end of the rice cooking time. If you do this, add a little extra cheese too, so the flavor doesn't get spread too thin.
It's a great base with which to try new side dishes or vegetables on the plate – if they won't eat the vegetable, no stress, because they'll be able to fill up on the risotto.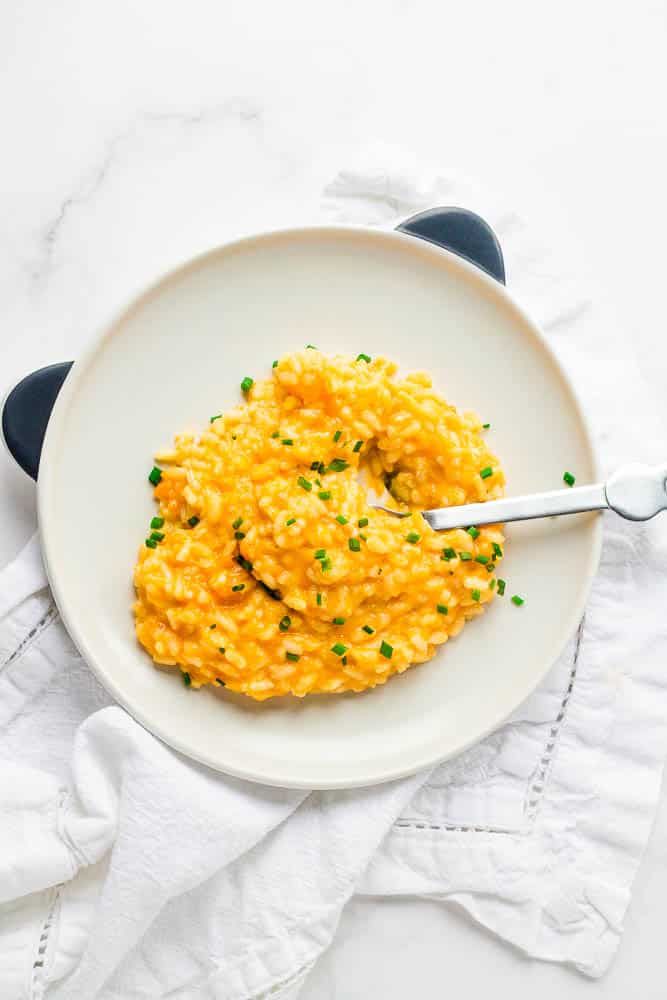 How to adapt it for adults
If this is being prepared as a family meal for adults to share, you may want to consider some optional embellishments for adults to add at the table. Bearing in mind how we've kept this very uniform in texture and low sodium, I don't want the grownups feeling short changed!
Lots of salt and pepper
Some lemon zest and a squeeze of juice
Fried sage
A crumble of blue cheese
Fresh herbs
A pan of roasted veggies to put on top
Other Kid Friendly Vegetarian Recipes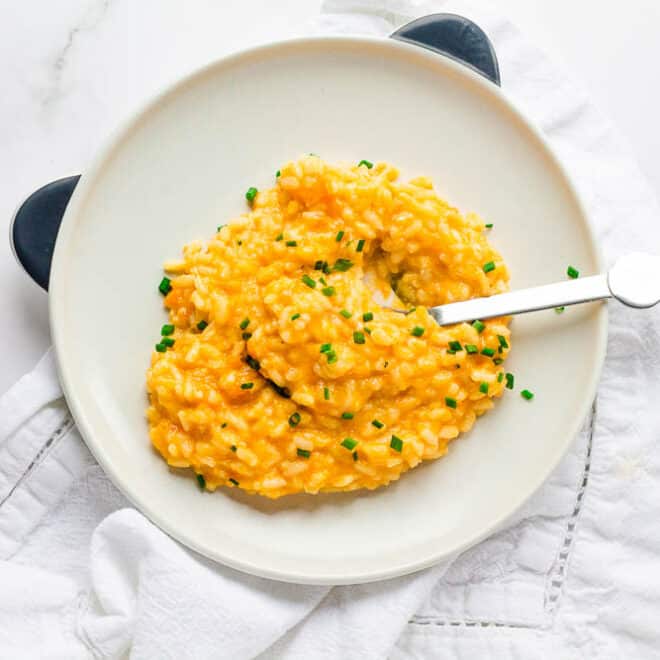 Sweet Potato Risotto for Kids
An easy, simple risotto for kids that packs a portion of sweet potato into the creamy cheesy sauce! This is an easy win for picky eaters, and also suitable for toddlers and babies. You can adapt this into a family meal with a few upgrades for the adults!
Ingredients
1 cup (200 g) arborio rice
2 cloves garlic, minced
1 very packed cup cheddar cheese
1 small-medium sweet potato
⅛ tsp smoked paprika
3-4 cups (700-950 ml) vegetable stock
Instructions
Roast the sweet potato. Cut your sweet potato in half and place both sides face down on a baking tray brushed with oil. Place in the oven (at 200C / 400F) for 30 minutes, or until very soft and a little melty – a knife should go through very easily. You can prepare the risotto in the meantime.

1 small-medium sweet potato

Start the risotto. Heat a little olive oil in your risotto or saute pan, then add the minced garlic and cook until soft, over a very low heat. Add the rice and cook for a few minutes until it's a little toasted.

2 cloves garlic, 1 cup arborio rice

Add stock + repeat until cooked. Now add a pour of vegetable stock, enough to immerse all of the rice, and let it cook, stirring constantly, until absorbed. Add more stock, and repeat this process; you will need to do this several times until the rice is cooked through. After 15 minutes give the rice a try to assess how cooked it is. Continue to add more liquid, and stir until absorbed, until you are satisfied that the rice is cooked. You may not need all of the stock, or you may run out of stock and need more (you can just use water if this happens and you don't have any more stock available). This is usually 20-25 minutes.

3-4 cups vegetable stock

Add the sweet potato. Once the risotto is cooked, scoop the sweet potato flesh out of the skins and add it to the pan. Use the spoon to stir it through and break it down until it's just like a creamy sauce. You may not need all of the sweet potato, you can stop if it starts feeling a little too much.

Add the cheese and smoked paprika. Stir through until melted.

1 very packed cup cheddar cheese, 1/8 tsp smoked paprika

Serve.
Calories: 306kcal, Carbohydrates: 43g, Protein: 10g, Fat: 10g, Saturated Fat: 6g, Polyunsaturated Fat: 0.4g, Monounsaturated Fat: 2g, Cholesterol: 28mg, Sodium: 891mg, Potassium: 68mg, Fiber: 1g, Sugar: 2g, Vitamin A: 725IU, Vitamin C: 0.5mg, Calcium: 204mg, Iron: 2mg