If you love carbs, you will adore this recipe for Spaghetti Genovese with a superfood twist – avocado pesto adds an amazing creaminess and richness to this Italian classic!
I know what you're thinking.
If there is one meal in the world which does not require the addition of potatoes, it is surely spaghetti.
But wait! There is precedent here.
Introducing Spaghetti Genovese…
It's totally a thing.
This dish originates from the Ligurian region of Italy, and has become a popular way to eat pesto. I won't go too much into that, because there is a great summary of the history of this dish over at Live Blissful which you should totally read if you're interested!
My own history with this dish starts one night a few years ago when Mr. Veggie decided he would cook me dinner.
Mr. Veggie is actually a great cook himself, but he had gotten himself into a rut. This is my fault, you must understand. I never use up all the vegetables I buy and so he tries to take responsibility for that on his cooking nights.
This involved him making the (now infamous) "pasta with veg" over and over again. He would cook up a big huge pan of penne, then saute whatever vegetables we had in olive oil and garlic, chuck it all together, and we'd have leftovers for days on end.
He came to enjoy these kitchen sink pasta nights, because he has a real ability to appreciate simplicity and the organic, seasonal vegetables we were using were super tasty… but I bore way too easily. I started being all awkward and food-blogger-like about it:
…"Why penne? Usually people would have penne with a thick sauce, not plain… and… it doesn't reheat all that well but… just… yeah."
…"What prompted you to add carrots to this? Just… the fact that they were there?… Oh. OK. Yeah, no, I see."
…"So… how much garlic is here? Ever considered maybe roasting a couple heads of garlic, adding some pine nuts, some fresh herbs, the tiniest bit of balsamic vinegar and some shaved manchego maybe? Sundried tomatoes. Kalamata olives. Give it a whole mediterranean vibe. I mean, the carrots would have to go, and also the red cabbage so it would pretty much just be with spinach but… just a thought…"
Long story short, we scaled back on our vegetable box deliveries to alleviate some of the pressure.
And the next night he cooked, I was presented with a big plate of traditional spaghetti genovese.
And yes. It did look like a crazy random combination of vegetables and pasta, however… it is actually a beautifully thought out dish.
There was a delicious home made basil pesto sauce that enveloped everything.
There were chewy and flavourful green beans.
There were chunks of potato floating around, which made some bites super creamy and comforting.
An array of textures, without too many competing flavours, and my two favorite carbs right in the same bowl. A winning formula.
Now, whenever we get green beans in our vegetable box delivery, I make spaghetti genovese, but we have moved away from the traditional recipe by using avocado pesto makes it extra creamy and luxurious, and vegan to boot.
The avocado imparts such a delicious richness that the pesto needs no cheese.
Mr. Veggie, on the other hand, has pretty much given up on cooking because it would appear that I am quite annoying to cook for. I'm going to have to work on that. This is the man who brought spaghetti genovese into our home. He has plenty more to offer.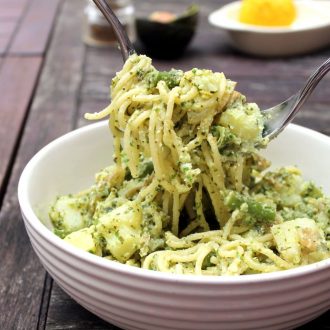 Spaghetti Genovese with Avocado Pesto
If you love carbs, you will adore this recipe for Spaghetti Genovese with a superfood twist – avocado pesto adds an amazing creaminess and richness to this Italian classic!
Ingredients
300 g (10 oz) spaghetti
300 g (10 oz) potatoes, sliced into small chunks
200 g (7 oz) green beans (runner beans), sliced into 1-2 inch long pieces
For the avocado pesto
70 g (½ cup) pine nuts
3 cloves garlic, sliced
Juice of 1 lemon
2 ripe avocados
A couple handfuls each of basil and parsley
120 ml (½ cup) extra virgin olive oil
Instructions
Boil a pot of water and add the potatoes. Bring to a simmer.*

Add the spaghetti 5 minutes later. (You will need to put the heat back up to bring back to a simmer.)

When there is 5 minutes left, add the green beans.

Meanwhile, make the pesto by adding all of the ingredients to a food processor and pulsing until well mixed and creamy.

Drain the pasta, potatoes and green beans.

Return to the pan and mix the avocado pesto in over a low heat.

Grab your fork and spoon and start twirling!
Notes
* I like to give the potatoes a 5 minute head start on the spaghetti but it will depend how large you sliced the potatoes and how long your spaghetti needs to cook. Use your judgement. You should feel free to mix up these proportions, by the way. A little more spaghetti, a little less potato, a little more green bean, a little less spaghetti… it's all good.
Serving: 1g, Calories: 686kcal, Carbohydrates: 53g, Protein: 12g, Fat: 51g, Saturated Fat: 6g, Polyunsaturated Fat: 41g, Sodium: 20mg, Fiber: 10g, Sugar: 5g